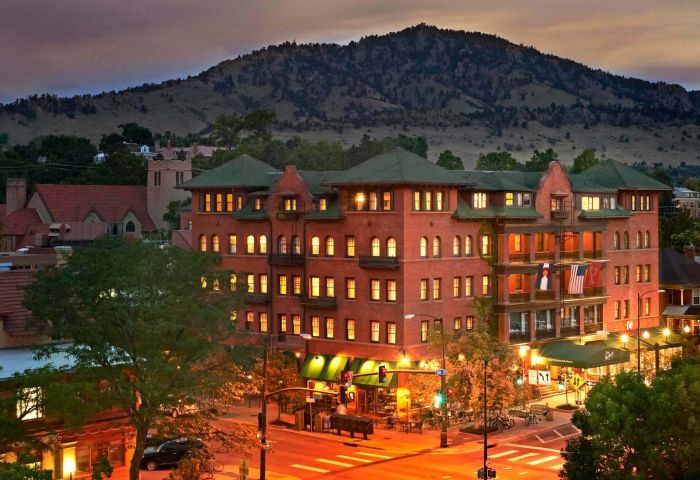 Hotel Boulderado
Established in 1909, the Hotel Boulderado is a nod to Victorian elegance, statuesquely situated in the convenience of downtown Boulder near the University of Colorado. The grand property boasts fine dining, highly attentive staff, commanding views, and proximity to entertainment and commerce. Throughout the building, period photographs pay homage to the grandeur of the Boulderado's early years, staff, events, and the downtown which would grow around it. This was the Rockies' first luxury hotel. You may experience some of what guests did a century ago, via its original lobby Otis elevator, operated by a staffer. Over the decades, evangelist Billy Sunday, Louis Armstrong, bandleader Benny Goodman, legal legend Clarence Darrow, and Douglas Fairbanks, Jr. stayed here.
For modern amenity, there is Boxcar Cafe Bar. Diners will enjoy the tasty fare of the restaurant Spruce (Farm & Fish), where among the seasonal options are deviled eggs or duck confit as a small plate, blue crab cakes as an app, and smoke prime rib or rocky mountain trout as an entree. The Verlasso salmon with quinoa is special, the atmosphere is bright, and the views are great. Burgers are a more casual choice here- and the Verlasso salmon is offered in that style as well. There are gluten free choices. The presentation at Spruce is tremendous and photogenic. License No. 1 Bar, an homage to speakeasies, earned its name as one of the first local licenses to serve liquor. Among Boulderado activities are live music in the Lobby Lounge on Fridays, and Open Mic Nights on Mondays. Rooms range from kings or queens to suites, and much of the clientele is of the business and meeting variety. The Boulderado offers business center services such as the printing of boarding passes, etc., at the front desk. There's also a fitness center, and Marianna's Spa offers specials for guests. The property is fun to walk for exercise, more views, or taking in all the vintage photography, ornate ceilings, and brilliant chandeliers. A Boulderado stay is an experience in time travel. Across the street, the Boulder Theater features nationally & internationally known performers and musicians. It also hosts the Boulder Film Festival in March. The Boulderado is a short walk from galleries, banks, bars, and the Pearl Street Mall.
Boulder is a hip, picturesque campus city with a sensibility all its own. College football weekends here are awash in black and gold fun. Whether its conferences, skiing, relaxation, or college sports which brings you to Boulder, The Hotel Boulderado is a historic haven that makes for a good time.