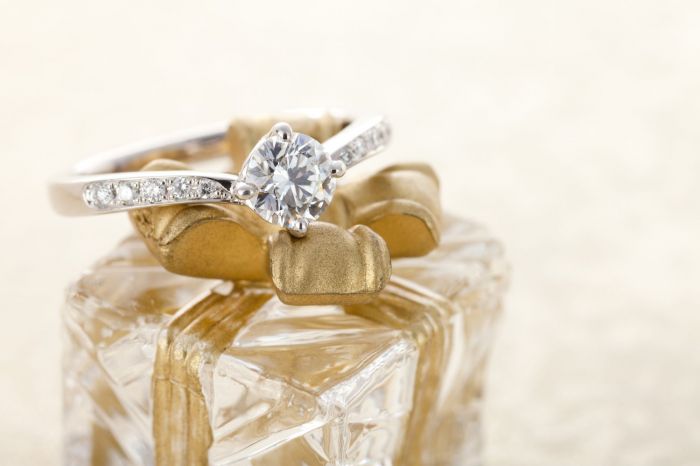 Photo Credit: Shutterstock
This is it! You're about to propose and to do so, you need a ring! Just a piece of jewelry, you might say. And yet, the engagement ring is of the utmost importance because it's the symbol of your first step towards commitment, and it's got nothing to do with choosing a piece of men's jewelry you want to wear every day.
One of the questions most often asked by the soon-to-be-married couple is, "Where did your engagement ring come from?' to get ideas.
You may know each other well enough, but there's always that 1% of unsureness about choosing an engagement ring. This is because each woman has specific tastes. Some women prefer shopping for their ring with their fiancé whereas some fiancés prefer surprising their fiancée.
There's also loads of fun to try on different jewelers and engagement rings together. It's a precious experience for the couple in the run-up to our wedding!
The engagement ring is a jewel rich in symbols and emotions! Quite different from wedding rings, an engagement ring represents the freshness of your relationship! Here are five essential tips for choosing an engagement ring to make your proposal perfect!
1. Gold, silver, or platinum: the ideal engagement ring!

Engagement rings come in a variety of materials. Gold, silver or platinum. These are the three primary metals you'll find in jewelry stores. Platinum has become the favorite among couples in recent years.
How do you choose between a gold and a silver engagement ring? It's all a question of taste! If you know your future wife well, by observing the jewelry she wears daily, you'll already know which metal to choose. Gold comes in 4 colors: yellow, pink, white, and gray. The difference between these three colors lies in their gold, silver, copper, and palladium composition. These metal alloys are as attractive and resistant as gold or silver engagement rings.
White platinum jewelry, on the other hand, is heavier. This metal is much denser than white gold or silver. It is, therefore, the metal of choice for engagement rings because, as a rule, jewelry designed in platinum is relatively sober and perfectly rust proof.
2. Match the engagement ring to the bride-to-be's personality
A must-follow advice is to choose an engagement ring based on the bride-to-be's personality. Indeed, when you're in a jewelry store, the jeweler will offer you a wide range of models. These include engagement rings set with stones of many colors, shapes, and sizes.
If you are still deciding, opting for a monochrome ring is the best choice for an engagement ring. That way, you're on the safe side!
If your future wife is more romantic and discreet, choose a relatively thin ring set with a small stone that reflects her temperament. If your fiancée is more expressive, she'll most likely appreciate an elegant, original jewel with more colorful stones.
Sometimes, it also helps to consider your future wife's occupation. For instance, does she always need to wear medical or safety gloves? Constantly removing and wearing the engagement ring daily might be a hassle, so a ring with a massive stone might be an impediment.
3. Choosing an engagement ring with or without stones
When choosing an engagement ring, deciding whether you want a model with or without a stone is essential. But also, do you prefer a solitaire or a jewel composed of several pieces? Or you'd also want to expand beyond the conventional standards and opt for a unique Moissanite stone instead.
Traditionally, an engagement ring consists of a solitaire. Whether set with diamonds, sapphires, rubies, or emeralds, this jewel must be exceptional and perfectly harmonious with your future wife's image and personality.
Of course, budget is also a significant factor. Depending on your budget, you can choose other semi-precious stones, such as lapis lazuli, jasper, quartz, or carnelian. The advantage of these semi-precious stones is that they bring great originality to jewelry, as these materials are very natural.
4. Opt for an engagement ring that matches your wedding rings
Before buying your engagement ring, it's essential to think about the type of wedding rings you plan to wear. It's true that, when you proposed, you probably didn't even think about your wedding rings!
Why is it essential to find an engagement ring that matches your wedding bands? Simply because most women like to wear these two rings simultaneously and on the same finger!
In this case, you can use an unstoppable trick: choose the color of the engagement ring according to what you want! If you prefer a silver wedding band, choose a silver, platinum, or white gold engagement ring! And if you prefer a gold wedding band, in that case, choose a yellow gold or rose gold engagement ring. Think in pairs; this will also solve the issue of the band's color.
5. Setting a budget for an engagement ring
Setting a budget for your engagement ring is the first step you should take! After all, organizing your engagement and wedding plans requires careful budgeting.
By setting your budget, you can more easily guide your choices in the jewelry store. You'll be able to directly select the engagement ring models that correspond to the price range you've set for yourself. Especially since prices can soar very quickly depending on the store you go to!
After that, you can indulge yourself by going slightly over budget. There are no actual rules for this because when you love, you don't count - or almost don't!
This is a bonus tip- have a conversation with your future wife to determine and set expectations for your future, the wedding, and the perfect engagement ring. Knowing her expectations before you buy the ring can help guide you into choosing one that best fits her personality, her style, your wedding bands as well as your budget.
An engagement ring is a jewel rich in symbolism and emotion. It's often the man who chooses it since he's the one who proposes. And if you follow the five tips, you'll have every chance to select the right engagement ring and delight your future wife!