Kahani
Kahani means 'Story' in Urdu; the story in question being that of Michelin-starred and celebrated chef-owner Peter Joseph, whose influences include his Indian heritage, the concept of sharing food picked up on his travels in Spain, and the best of British produce. Originally from Chennai, Joseph trained at ITC Sheraton and then moved to London. He worked for 14 years at Tamarind, Mayfair (the first Indian restaurant in the world to receive a Michelin star), originally joining as sous chef in 2004 and becoming head chef there in 2012. Kahani represents Joseph's first solo venture.
The restaurant is located in a charming subterranean setting in Wilbraham Place – a stone's throw from Sloane Square. In previous incarnations, this was home to European and French cuisine in the guises of Canvas and Le Cercle, respectively. Kahani is the first Indian restaurant to occupy these particular premises, and it is a welcome arrival. Chelsea has a paucity of upper-rung Indian restaurants, and has quickly attracted a loyal local following as a result.
Past a large green door and down a wooden staircase, gently glowing with warm uplighting, the restaurant has been tastefully redesigned, with an intimate and sophisticated ambience. With its exposed brickwork, high ceilings, brass details, plush mossy furnishings, funky light fittings and indoor palms, the 90-cover dining room is elegant and modern. For those seeking seclusion, there is also a private dining room for up to ten guests, set apart from the main restaurant on a separate floor.
The front of house are immensely affable, and very smart too, in their Harrods-green waistcoats. A wine cellar is visible behind a glass window and the kitchen is also semi-open. Light muzak played as my husband and I contemplated the menu of exotica such as guinea fowl tikka chettinad spices with smoke tomato makhni sauce.
The menu is set out as a "Small Plates", "Kahani Klaasik", and "Curry & Biryani" format and several dishes are available either as starters or mains. There is a tasting menu at £75, as well as a vegetarian version at £70, but we went a la carte. There is an extensive wine list, ranging in price from around £40 to £800.
The arrival of the poppadoms, accompanied by three sensational traffic light-colored chutneys, confirms from the get-go that you are in for quite some culinary ride. The "small plates" (read: starters) then take it up a gear – spiced chickpeas, attractively drenched with sweet yoghurt and tamarind chutney, show-stopping soft-shell crunchy crab, grilled scallops served in a shell with an unctuous coconut and curry sauce.
The mains make use of the finest British produce, spiced up and at its most mouthwatering. Think Guinea fowl enmeshed in chettinad spices, aged tandoori grilled Ribeye steak, and perfectly smoked Malabar Prawns. There are curries, of course – a mild but flavorsome Goan fish curry, and Kahani's signature butter chicken - bright orange and super-silky, best mopped up with garlicky naan.
We nearly made the grave error of not ordering pudding, but fortunately our waiter looked aghast when we pronounced ourselves too full to carry on. Had we not heeded his advice, we would have missed out on the sublime chocolate delight with tart mandarin ice cream and scrumptiously decadent date and walnut toffee pudding - the perfect conclusion to a night of gastronomic decadence.
Kahani is the Indian restaurant that Chelsea has been longing for - with flavoursome food, a fabulous atmosphere, and spot-on service (our waiter Akil was charm personified). An experience at Kahani is at once satiating, enthralling and above all, enjoyable: the ultimate combination in both story-telling and gastronomy.
Address: 1 Wilbraham Pl, Belgravia, London SW1X 9AE Phone: 020 7730 7634 Website: kahanilondon.com
Kahani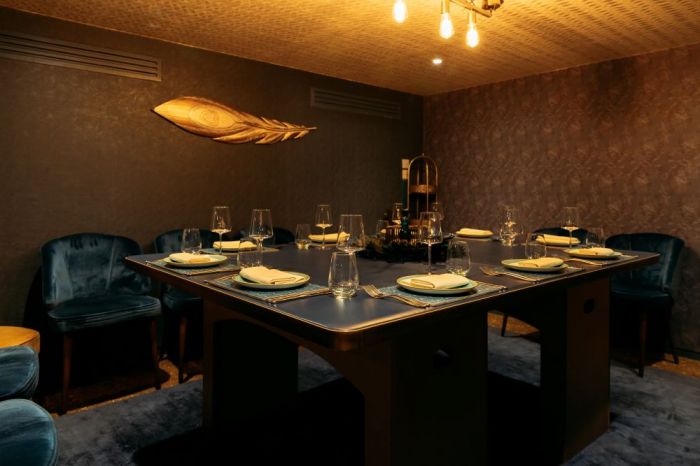 Kahani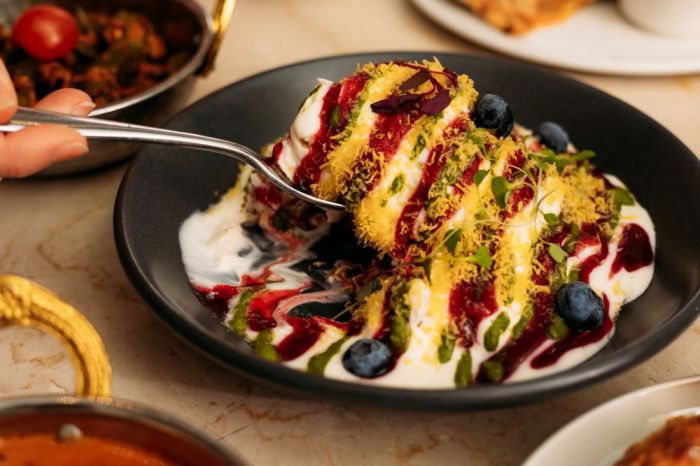 Kahani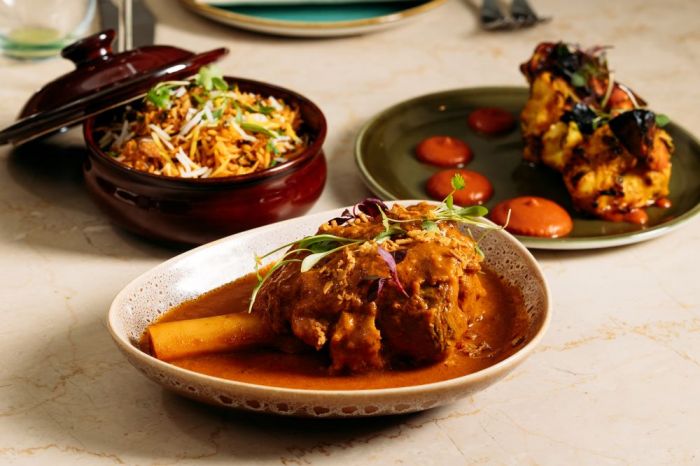 Kahani