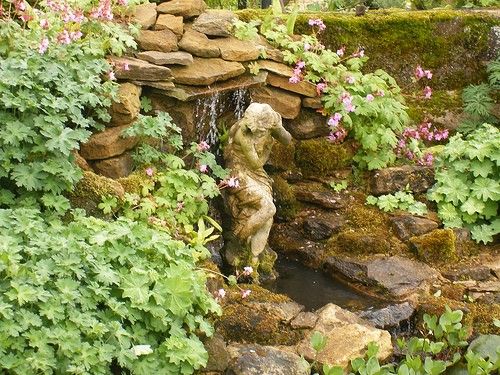 Enhanced landscaping is well known to improve a property's value. Having water features probably is the best way to improve the appearance of your home, making it stand out among the other houses in the neighborhood. A waterfall in your back or front yard can provide more appeal to your home. Just like a gazebo, patio, or deck, a water feature will increase the value of your home. In addition, a water feature will even become a great place to seek entertainment during a party or get together. Adding water features is the best way to incorporate water to your family's outdoor living without you having to move near an ocean or lake.

The Benefits To Having A Water Feature

- Enriches The Space Of Gardens

The main benefit to having a water feature is the fact that it will enrich the space of your garden, back or front yard. A simple looking home will instantly look classier and more valuable once it has a water feature. Though water featurs are not cheap, they are a really great investment that will do wonders to your homes appearance.

- Environment Conservation

Environmental sustainability definitely has taken the center stage within today's world, making water the world's greatest and most needed resource. Ecosystem ponds are self-sustaining with minimal maintenance. Although it will take lots of water for you to initially fill it entirely. However, fortunately, water features will attract may types of wildlife, from butterflies to birds to, and from frogs to salamanders. By getting a water feature, you are helping these wild litle creatures to stay alive, ad basically, you are helping the environment in various ways.

- Promotes Health And Wellness

Water features are highly capable of providing soothing sounds and sights which will help you to relax and be more calm. In today's really stressful world filled with polution and jammed streets, it is hard to feel relaxed and calm. With the help of a water feature, you will be able to lower down your blood pressure as well as improve your mental and physical health. With the help of a water feature, everyday you will be able to enjoy the relaxing smell and appearance of Mother nature. As long as you control the water usage of your water feature, you will be able to avoid over using water.

- Brings More Families Close Together

Water features have become a great gathering spot for friends and family. Teenagers, adults, and young children will definitely enjoy the relaxing sounds and appearance of a water feature. Relaxing is so much easier when you are near a beautiful water feature. It also allows parents to easly educate the young kids on the benefits to being surrounded by nature. Everyone in your family will definitely love to see the interesting creatures that are around the water feature.

If you want to increase the value of your home and be able ot relax more often, then you should most certainly should consider to get yourself a water feature.