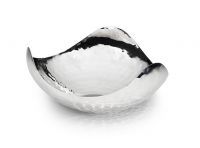 Food & Spirits:
Whether for yourself, a wedding registry or another gifting opportunity, innovative kitchen gadgets, gear and décor are always in demand - particularly for the forward-thinking foodie and entertaining enthusiast.
When making your lavish living gift list, whether for yourself or others, consider this roundup of killer kitchen accouterments:
Mary Jurek Design Hand-Hammered Stainless Steel Bowls
A bold and elegant statement for any counter top or table setting, Mary Jurek Design's chic, hand-hammered stainless steel bowls are as captivating as they are functional. Made of magnificent hand-wrought stainless steel polished to a high luster, these sleek and sophisticated bowls command attention, and are a must for those who like to entertain with panache. Though exquisite, these contemporary yet classic bowls are also surprisingly multi-purpose for both food and décor purposes, and are easy to care for - they're even dishwasher safe! Woman owned and operated, Mary Jurek Designs prides itself in the fact that all products are hand-made by artisans throughout the world at female-owned factories in areas where economic development is desperately needed - with Mary's direct input and oversight, of course.
(www.MaryJurekDesignInc.com)
American Masala Mortar & Pestle Sets by Wade Ceramics Ltd.
Suvir Saran, Chef-Owner of New York's Dévi restaurant, now offers Mortar & Pestle sets as part of his American Masala Collection. A practical yet distinctive culinary tool for making spice blends and rubs, flavorful dips,
chutneys, herb mixtures, and marinades for meat, fish, poultry or veggies, these eye-catching Mortar & Pestle sets are offered in two colors - Cardamom Green or Saffron Orange - and are available in both 2-cup and 5-cup capacity. Co-designed with his partner Charlie Burd, the pair thoughtfully re-fabricated the pestle with a wider base to make it more user friendly and prevent spices and other ingredients from jumping out of the mortar as grinding occurs. The Pestle handles also feature a lovely decorative motif representative of heirloom Indian quilts. These substantial and sturdy sets are dishwasher safe, odor and stain resistant. The packaging also uniquely showcases a recipe from the chef.
(www.TheKitchenStoreOnline.com)
ORO FINO (Edible Gold) and ARGENTO FINO (Edible Silver)
All that glitters is gold as they say, and that now applies to fine dining with Easy Leaf Products' ORO FINO (Edible Gold) and ARGENTO FINO (Edible Silver) product lines. Once only available to food service professionals, this 23 karat genuine gold leaf and pure silver leaf culinary delight comes in full sheets (fogliettes) for full coverage, petals/small flakes (petalis) for strategic placement or fine or coarse grind sprinkles (pagliuzze) for delicate dusting, all providing the ease and versatility to decorate a wide variety of foods, beverages, and desserts for the desired, and entirely spectacular, visual effect. ORO FINO and ARGENTO FINO offer gorgeous gilding of cocktail glassware, hors d' oeuvres, petit fours and really any other fine fare you can imagine. The company's press materials included photos of a completely gold gilded turkey...the ultimate in holiday dining decadence. Next time you are entertaining, add a touch of ORO FINO or ARGENTO FINO - your guests are sure to be enthralled by your shimmering gold or silver-embellished edibles. And, with
Choclatique's
use of ORO FINO in its fine chocolate champagne truffles, gifting gold has never been so delicious.
(www.EasyLeafProducts.com)
Grill Charms
Similar in concept to wine charms, these dime-sized solid stainless steel Grill Charms are intended to help distinguish spices and flavors, meat temperatures and other concerns to avoid health and allergy issues. Placed in your food before grilling, the serrated stems hold each charm securely in place while the item - meat or veggie - is moved and flipped about while cooking. When done, the grill master will avoid the troublesome guesswork - he or she will know exactly which item goes to which individual. And, the company offers a multitude of designs, each in sets of 6, for various purposes, including the Steak Collection indicating temperatures ("MR" for Medium Rare, for example), the Spicy Collection and others that are lifestyle-driven such as The Charmed Life Collection. Grill Charms are perfect for any cooking enthusiast, whether in your own home or another.
(www.GrillCharms.com)
La Plates Personalized Plates
For those occasions when fine china or even your every day tableware just won't do, La Plates' decorative, personalized 10-inch melamine plates offer a stylish, Earth-friendly solution over paper and plastic. These chic plates, which come in an array of patterns and designs, may be personalized with your desired colors, font and text, adding a chic and sustainable custom touch to your table. They're perfect for backyard BBQs, picnics, themed parties and also make great gifts. Durable, lightweight and unbreakable, these La Plates are also BPA free and dishwasher safe. Keep them out of the microwave, however. The company also offers an array of accessories, including reusable cups, coolers and platters to match the custom plates for a completley purposeful and finished look.
(www.LaPlates.com)
Kitchen Basics: Rules, Tools & Etiquette Cookbook
Ginger Kids is a company that offers fun, interactive and educational products that are centered around cooking. Its Kitchen Basics: Rules, Tools & Etiquette Cookbook is intended to promote family togetherness, introduce kids to the kitchen, teach them the importance of safety, the proper use of kitchen tools and cooking etiquette, and generally cultivate a love of cooking at an early age. Written and moderated by the company's president and founder Patti Green and packaged with a "Cooking with Kitchen Basics" DVD, Kitchen Basics: Rules, Tools & Etiquette is presented in a fun and easy-to-digest format that includes three fun loving characters that help impart important lessons and multi-cultural themes along the way. Content includes recipes, of course, along with information on safety, basic nutrition, baking terms, kitchen tools, mealtime manners and behavior.
(www.GingerKidsFun.com)
The Luxe List product review editor Merilee Kern scours the luxury goods marketplace for new and innovative must haves. Product submissions accepted via e-mail at Merilee@JustLuxe.com.
- Merilee Kern
JustLuxé.com's "The Luxe List" Product Review Editor