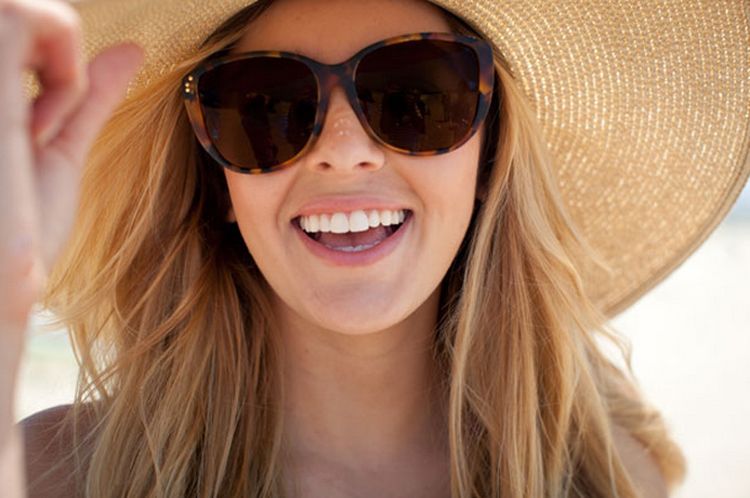 Photos Courtesy of Shauns
You can't get any more California cool than a bikini, sunglasses and ocean tussled hair. But while you can't buy beach-ready tresses (although you
can try
) you can always toss on a pair of stylish shades to look like you're hitting the seaside every day. With most sunglasses channeling classic Hollywood glamour while covering half your face,
Shauns
shades are mixing a little retro and modern fun into new shapes to frame your eyes. Not just creating luxury eyewear, Shauns also participates in the program "Give Sight" to help the visually impaired around the world.
Shauns started in California with founder Shaun Paterson, who began creating sunglasses as an "accessory for a life well lived." Designed for the fun, rich style of California living, each pair is made in family owned workshops in Belluno, Italy, the famous glass blowing area of the country. Using fine materials like Italian acetate and specifically crafted wire frames, each pair of glasses is made for luxury. Their signature Braile "S" is embedded on every temple tip and the upper corner of each frame. Partnering with
Carl Zeiss
, who produces some of the finest quality lenses available, Shauns features these lenses on both the wire and acetate framed collections.
Paterson believes that "Living well also means giving something back. That's why, for each pair of shades we sell, we donate a pair of prescription glasses to someone in need in the developing world." By pairing with the foundation,
Give Sight
, every pair of glasses purchased means Shauns gives a pair of eyeglasses to someone in a developing country. Without this help, these people would be unlikely to have the corrective lenses needed to improve their quality of vision. Partners around the world test patients for the correct prescription and fit them with a new pair of glasses.
Designed with life in mind, their styles are fun, beachy and just a little bit hipster. Gradient lenses with updated colors bring classic shapes like circle lenses and aviators, modern. Redefining classic frames for an updated look, Shauns sunglasses are going to be your next go-to pair of sunnies; plus you'll feel good about helping a great cause while you're at it.
Shauns sunglasses are available at Neiman Marcus and Shauns online. Priced from $215-$355.