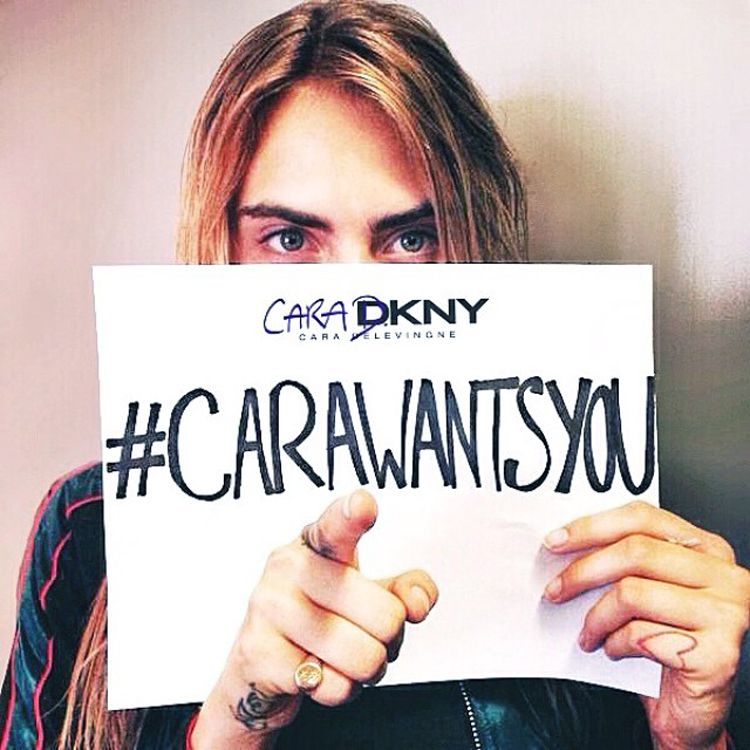 Photos Courtesy of Cara Delevingne via Instagram
We should be sick of hearing about Cara Delevingne by now. With the runway shows, campaigns, acting, magazine covers, singing and insane social media accounts that keep us tuned in like a Game of Thrones episode, we should be totally over the British model. But we aren't. Not even a little bit. And while her recent acting chops left us a little—let's say wanting—the thought of wearing a piece designed by the supermodel leaves us practically squealing in delight. Sharing an Instagram last night, Delevingne posted a photo of an official looking logo for a DKNY x Cara Delevingne collaboration—which the label confirmed this morning.
The 15-piece capsule collection will be a unisex line of t-shirts, sweat suits, leather jackets and accessories that have small detailing that is meaningful to the model. As of right now the release is slated for November and we've never wanted winter to get here sooner. "I can't believe that some random, rough ideas have finally turned into my own collection […] designs with my own name on them and in collaboration with the iconic DKNY brand," Delevingne told WWD. "It is so wild to realize that it has been an entire year since we began planning this project together […] goes to show that time does fly when you're having fun."
With the announcement of the collaboration also comes a competition to win a spot with Delevingne in her upcoming DKNY campaign. "Guys! So, I created a sick special-edition collection with @donnakarandkny coming later this year, and I WANT YOU to be in the campaign with me! I'm CASTING for a few lucky fans to come to New York City and model my new #DKNY collection in a special photo shoot with me [sic],"she posted on Instagram. With her 5.5 million followers the competition will be fierce, but not as fierce as her new collection. Personally, we're kind of hoping she chooses us.