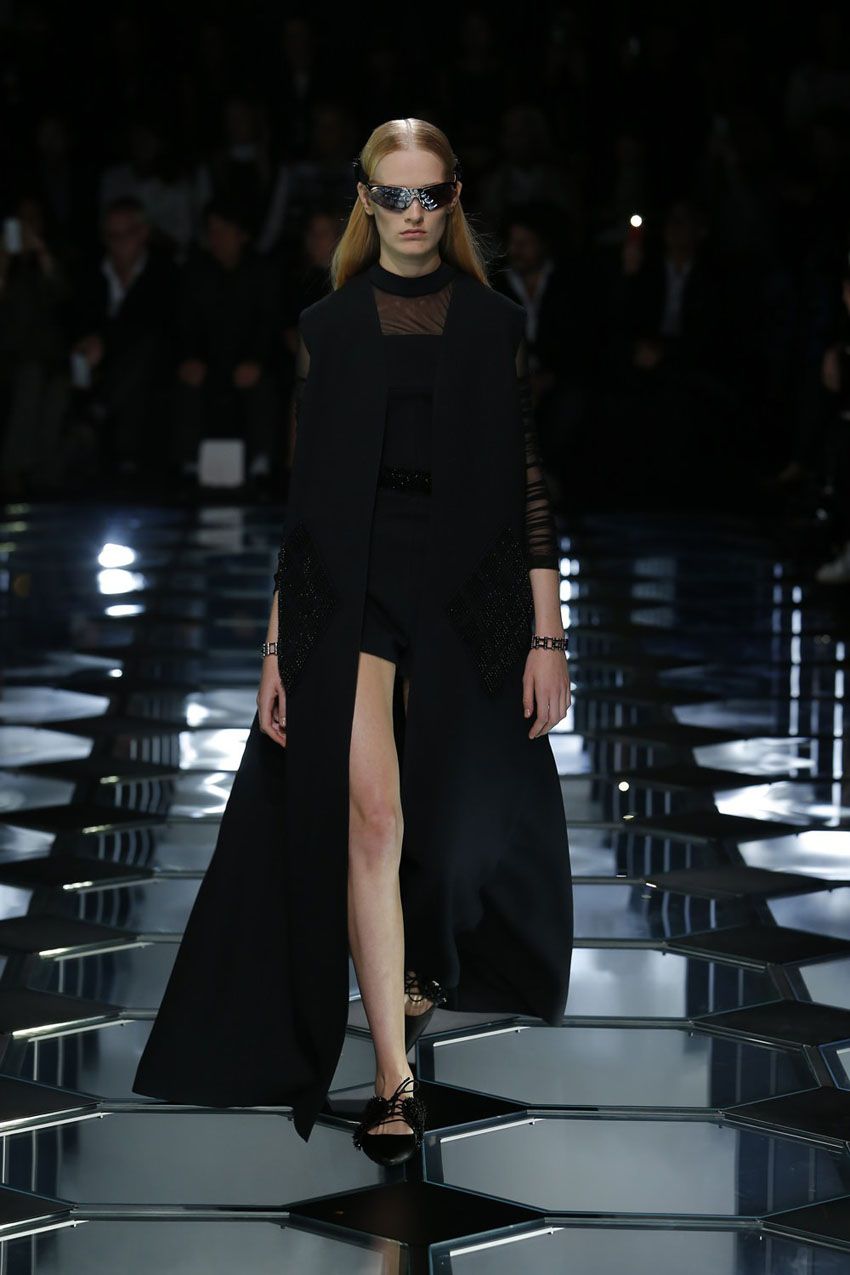 Photos Courtesy of Balenciaga
While everyone was busy freaking out about North West's fashion week debut as she sat front row on the lap of her mother Kim Kardashian, the fashion set was falling in love with the looks from the Balenciaga Spring 2014 collection. Alexander Wang brought much of himself into the collection blending feminine looks with sportswear into a dark, urban collection that was perfect for fashion lovers. Starting the show with dark androgynous looks, he followed with light colors and softer looks that played to the more traditional Balenciaga aesthetic.
While there has been quite a bit of street meets athletic wear in Wang's own brand, those lines translated well here, creating a silhouette and structure that Wang has long been applauded for. In the French house, it was elevated to include more feminine lines, materials and embellishments; this season saw him using ribbons, beading and latticework stitching that was out of Wang's normal comfort zone but looked on point on the Balenciaga runway. Crystals were added to sporty tops, cocktail dresses were left with athletic shapes and rope netting hung off of tops and skirts in a casual, but almost delicate way. It was a blend of concepts that he made work.
Looks for the most part had very distinctive Wang influences which are an instant win for street style lovers and global celebrities. He incorporated chic cocktail dresses, on-trend high-waisted shorts and the kind of casual luxury that well-heeled clients crave. Standouts of the show included his longline coats, off-the-shoulder necklines and beaded lattice pieces. With an entire collection in black, white and nude the small splashes of lavender made a huge impact and were among some of our favorite looks.
With such a successful collection one would think Wang could do no wrong—that is until we looked down and saw this season's shoes. Inspired by his summer in Paris where he took in the Tour de France, he was drawn by the look of the biker's shoes inside their petal clamps and decided to emulate the look for the runway. It wasn't the best—fabric laced around model's feet looked unkempt and, dare we say, a little sloppy. Personally we're not fans, but they'll undoubtedly sell out when spring hits.