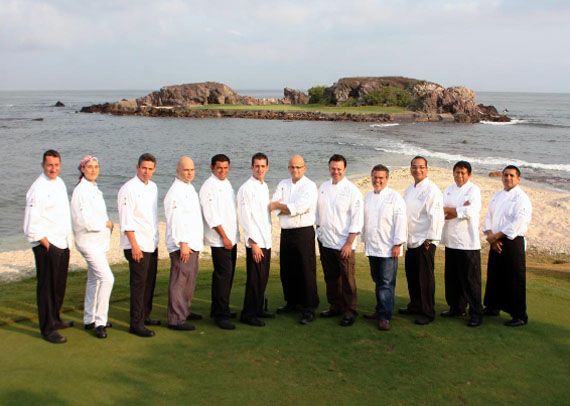 Photo Courtesy of Punta Mita Resort
"It has always been both challenging and ultimately rewarding to host an event like this," said Carl Emberson, General Manager of The St. Regis Punta Mita Resort and conceptualizer of the inaugural Punta Mita Golf & Gourmet Event, held at the luxury Mexico resort from April 28-May 2.


"What we wanted," he said, "and what we achieved, was to provide a taste of Mexico's essence through playing great golf and tasting great food and drink, mostly of Mexican and Latin American origin. Combined, our event activated all the senses: touch, taste, smell, sight, hearing - all, in their own ways, defining the colorful, diverse spirit of Mexico."

"Specifically," he continued, "golf was played on the two Jack Nicklaus courses set along the coast. For lunch and dinner, talented chefs, winemakers and tequila masters came from Mexico and around the world, and provided wine and tequila tastings, as well as opportunities to create their own special dishes for the guests invited to the event. They were also always available to talk and share their views on their food and food/wine combinations."

The event was hosted by The St. Regis Punta Mita Resort in collaboration with Four Seasons Punta Mita, the Riviera Nayarit Tourist Board, DINE developer of Punta Mita, LVMH Group (Louis Vuitton Moët Hennessy), Veuve Clicquot, and FIJI Water.


Led by Sebastian Fontes, executive chef of the AAA Five Diamond St. Regis Punta Mita Resort and Sylvain Desbois, executive chef of the resort's AAA Five Diamond Carolina restaurant, a team of guest chefs from around the globe were in attendance during the events, including Frederic Castan of The St. Regis Monarch Beach; Enrique Farjeat of The St. Regis Mexico City; Phillipe Piek of Four Seasons Punta Mita; Gaston Yelicich of Isla de Flores in Jose Ignacio; Paola Carosella of Arturito, and Chef of the Year 2010 in San Paolo, Brazil; renowned local French Chef Thierry Blouet of Café des Artistes in Puerto Vallarta; Andrew Ormsby of Ormsby Catering in Dallas and Abraham Salum of Salum Restaurant, both in Dallas; and Mexico's top chef Patricia Quintana of Izote and Enrique Olvera of the famed Pujol, both in Mexico City, allowed guests to taste and talk about all of their culinary specialities.

Special guests, deeply involved in great food/wine/golf included Anthony Dias Blue, Executive Director of the San Francisco International Wine competition and influential wine and food personality; Arturo Lomeli, developer and producer of Clase Azul Tequila and La Pinta Pomengranate Infused Tequila, Edgardo Schiller, a renowned Latin American Sommelier, Hans Joseph Backhoff, General manager of Monte Xanic Winery and Pepus Trauwitz, Pro Golfer.


While enjoying culinary works from these chefs and guests, famed sommeliers and tequila masters Charlie Arturaola of Miami-based Grappolo Blu, considered one of the nation's top 10 palates by the American Sommelier Association; and Laura Catena, president of Bodega Catena Zapata, author and daughter of Argentina's most celebrated winemaker, Nicolas Catena, Humberto Falcon, Humberto Falcon Wines, Maria Laura Bevilacqua of Casa Madero, Arturo Lomeli, Founder-Owner of Clase Azul Tequila, Christopher Gaertner, Enologist of Macuzet Wines, and German Ibarra, tequila master Casa Noble - all allowed tasting of their finest wines and tequilas.

Highlights included a Veuve Cliquot St. Regis Champagne Savoring Ritual at sunset and multiple course lunch and dinner menus paired with wines from around the globe. As I was fortunate enough to attend, here is the lunch menu from the St. Regis Mondrian Yacht event, where guests traveled by sea out to the Marietas Islands in the Bahia de Banderas.


First Appetizer: Mixed Mediterranean Lettuce salad with sautéed squid in parsley, white wine, garlic and sweet balsamic reduction paired with a Nerone Monte Fiori.

Second Appetizer:
Italian tricolor Gnocchi in tomato sauce, served with fresh arugula and goat cheese.

Main Course: Seared tuna with aragula and spinach pesto, with classic peperonata accompaniment paired with Villa Montefiori Sangiovese Rose.

Dessert: Italian Panna Cotta paired with Croft Pink - a Pink Port from Portugal.

During the event, education was a big part of the program, with multiple wine and tequila tastings. The Altamira Lounge of the St. Regis Punta Mita was transformed into a Wine Library where each day the guests could sample some of the best California wines and discuss them with renowned wine and food experts, Anthony Dias Blue and Peter Marks.

Also at the Wine Library was a discussion of Malbec wine and a vertical tasting with expert Charlie Aturaola. At the Four Seasons, there was a traditional Mole and tequila tasting, with chef and tequila master, Raul Lucido, chef at Bahia, the Four Seasons restaurant and German Ibarra, Tequila Master.


At both resorts, The St. Regis Punta Mita and the Four Seasons Punta Mita, there were multiple other gastronomic events that paired chefs, wine, tequila and unique food creations. But there was golf also. As a part of the three-day event, guests played in the Four Seasons Cup on Friday (individual medal play) and St. Regis Cup on Saturday on Jack Nicklaus' oceanfront courses.

The Pacífico, with eight holes directly facing or playing alongside the Pacific Ocean, featured the "Tail of the Whale," an optional par-three hole and the world's only natural island green. The Bahía, Nicklaus' second championship course in Punta Mita, has six ocean holes and opened in late 2008.

Because this event was such a success, it was announced that plans were already in the works for a second annual Punta Mita Gourmet & Golf Classic 2012 and will take place between April 19-22 of next year.