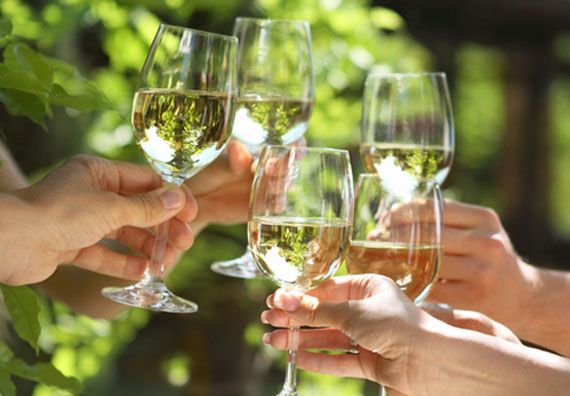 Photos Courtesy of Dean & Deluca
Interested in wine, but don't have time to make forays to Napa or Sonoma? Tired of buying the same old place settings from friends' wedding registries? Already planning ahead for your holiday gift-buying lists? Or maybe you're just sick of dropping by the wine store every week (or day!) to see what's new?


To help manage all your wine conundrums for everyone from sophisticated wine connoisseurs to amateur enthusiasts, Dean & Deluca, the go-to purveyor of all things gourmet, has launched a new wine section to its website called Your California Wine Source that includes a guide to California's various wine countries specially curated by the company's wine director, Kerrin Laz (right with Sean Larkin of Larkin Wines), along with interactive educational tools, pairing tutorials and vintner interviews.

Dean & Deluca's wine director, Kerrin Laz, and her entire team actually live and work in Napa Valley (though the wines she talks about come from farther afield than that), and use their access both to landmark estates as well as under-the-radar newcomers to bring Dean & Deluca customers some of the most interesting wines coming out of California.

Laz and her team of wine gurus have also translated the wine tasting and collecting services they once offered to private clients for a larger audience with the launch of a series of new Wine Clubs for Dean & Deluca customers — providing a sort of personal wine shopping experience to the general public

Welcome to the Club
There are four wine clubs to choose from, each customized to appeal to a certain kind of oenophile.


The California Wine Discoveries Club ($50 a month) is for newbies looking to get an education in what Napa has to offer, and to try benchmark wines and varietals that might not be available to them at home. Just because this is the basic level wine club, however, doesn't mean you'll be getting plonk. Some examples of wines include Margerum Pinot Noirs from Santa Barbara, County Line Sonoma Coast Pinot Noir, Fisticuffs Cabernet Sauvignon from Napa, and a Tallulah Grenache-Syrah-Mourvedre Rhone-style blend from the Sierra Foothills.


California Wine Rendezvous Club ($100 per month) is for wine-lovers who have more than a basic knowledge of the American wine scene but who still are looking for value bottles, and can expect to find wines from such illustrious names as Napa's Cliff Lede and Orin Swift, and Copain from the Russian River Valley in their monthly delivery. Wines for these members are meant to be enjoyed either upon delivery or after cellaring for a few years.


Cellar Rarities Wine Club ($300 per month) is for serious wine aficionados who are looking to acquire unique, hard-to-find bottles of wine for their home cellars, and will receive three rare vintages a month. Space in this club is limited to just 50 people, and includes access to an invitation-only event at the Dean & Deluca Wine Hall in Napa. Some of the sample wines for this club include a Keever Estate Cabernet Sauvignon made by up-and-coming winemaker Celia Welch (she's consulting with some very upscale wineries in the Napa Valley), a small-batch production Rudd Oakville Estate Red, and the Rhone-style Sanguis Backseat Betty Proprietary Red blend from the Central Coast of California.

Finally, Cult Wine Club ($1000 per quarter) members will receive at least three ultra-exclusive wines each quarter that have been hand-selected by Kerrin Laz and a brain trust of wine experts she puts together. Plus, members will have access to a Cult Club exclusive annual Napa Lifestyle Event. Recent additions to the list of wines selected for members have included BOND Quella Red made from intensely flavored Howell Mountain grapes by famed vintner Bill Harland, Hundred Acre Ark Vineyard Cabernet Sauvignon from the stellar 2007 vintage, and an entry from one of Napa's first so-called "cult producers," Grace Family, their 2008 Cabernet Sauvignon sourced from a five-acre vineyard on the western side of St. Helena.

If you're lucky, maybe someone's bought you a membership and your first package of California wines might already be on its way to you. Visit DeanDeluca.com to learn more.