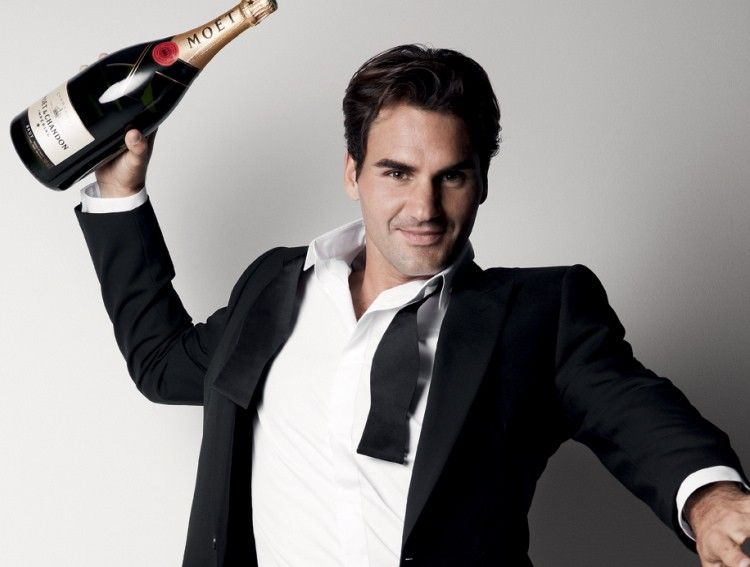 Photo Courtesy of Moet & Chandon
Famed French
champagne
house Moët & Chandon, founded in 1743 and now part of the LVMH luxury goods empire, has just named tennis champion Roger Federer as its new brand ambassador. Federer will make his debut for the brand in a series of advertisements to be revealed in March 2013. Meanwhile, to celebrate the prestigious new partnership, Moët commissioned legendary fashion photographer Patrick Demarchelier to shoot some images of Federer in Paris, brandishing a bottle of the world-renowned bubbly, which holds a Royal Warrant to supply champagne to the Queen of England.
The Moët venture adds luster to the Swiss-born Federer?s portfolio of high profile commercial connections. In 2006 he became one of Rolex?s brand ambassadors in what is thought to be the world's most lucrative watch deal ever signed by an athlete. Federer, who is ranked World No. 2 by the ATP (Association of Tennis Professionals) and is considered by many to be the world?s best tennis player, is one of the world?s richest athletes. He is thought to earn some $30 million a year from various sponsorships, which include the likes of Nike and Wilson, on top of significant prize money.
The connection beyond the acclaimed champagne brand and the sport of tennis goes beyond merely celebrating victories. Moët & Chandon sponsors several international tournaments and generally seeks to promote excellence in tennis. It is the official champagne of a number of the sport?s most illustrious events, including the US Open, the French Open, the ATP World Tour and ATP World Tour Finals, and the Shanghai Masters. lltitle=Tennis Pro Roger Federer is Moët & Chandon's New Brand Ambassador### llcontent=Moët & Chandon has announced that they've chosen Roger Federer, thought to be the world's best tennis player, as their new brand ambassador. The tennis pro will star in a series of advertisements for the champagne house starting in March 2013.
"It's more than just an honor to be Moët & Chandon's brand ambassador, it's an invitation to be part of a very glamorous tradition," Federer commented upon announcement of the deal. "Moët & Chandon has always been the champagne of international trendsetters and I'm proud to be part of a brand that is as dedicated to the pursuit of excellence as I have been throughout my career."
"Roger Federer personifies the glamour of achievement, great generosity and tremendous style values that have been key to our House throughout its long history," added Stéphane Baschiera, President and CEO of Moët & Chandon. "As the champagne of victory and an enthusiastic supporter of major tennis tournaments around the world, we are extremely proud to welcome Roger Federer with Moët & Chandon's hallmark hospitality."