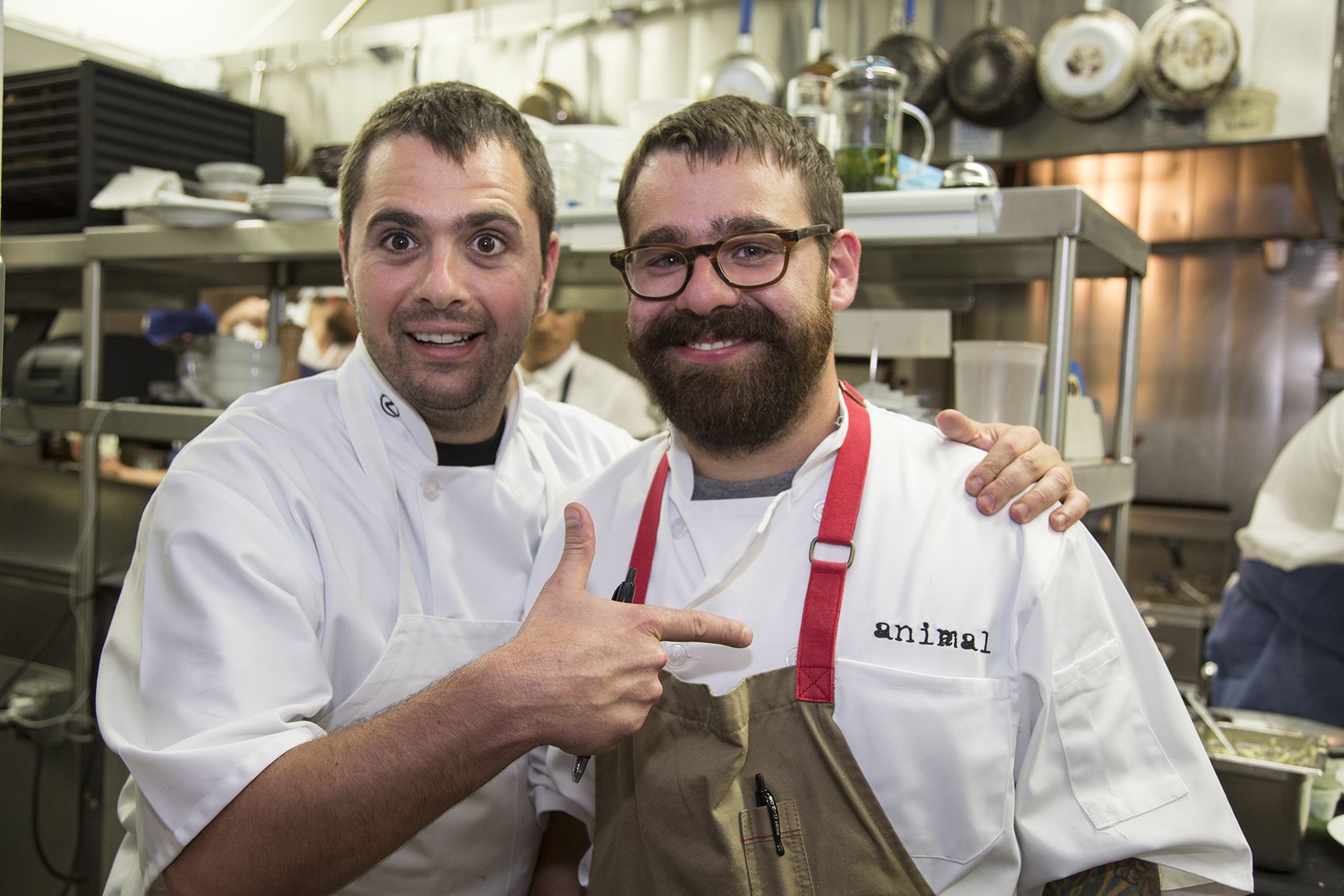 Photos by Lexus USA
As more and more
luxury car brands
begin to find their way into the culinary landscape,
Lexus
remains in the lead with its impressive lineup of culinary partners. The Culinary Masters program, which was first unveiled in 2011, recently welcomed two new epicurean talents, Jon Shook and Vinny Dotolo, to its outstanding roster of highly-acclaimed chefs.
The announcement dinner on Sept. 11, was held at
Animal
, the duo's carnivore-centric small plates restaurant located on Fairfax Avenue in
Los Angeles
. More than 100 diners gathered at the award-winning restaurant for "Cooking with Friends: Lexus Culinary Masters" to celebrate the achievement with a decadent eight-course menu crafted by Shook, Dotolo, and longtime mentor and fellow Culinary Master, Chef Michelle Bernstein.
The Lexus Culinary Masters Program purposefully seeks out chefs whose values reflect the company's own pursuit of perfection, according to Brian Smith, Lexus vice president of marketing.
"Jon and Vinny are an exciting, edgy addition to the Lexus Culinary Masters lineup. Their bold and provocative style of cooking echoes the new Lexus attitude, especially the performance-focused IS, and we're thrilled to welcome them to the team," said Smith.
Hailed as being among the most influential chefs in Hollywood, Shook and Dotolo ─ who both also happen to be major Lexus enthusiasts ─ appear to be a perfect fit for the brand.
"It's pretty cool to be part of this great group of chefs. Who wouldn't want to be called a Master?" said Shook.
"We're always trying to come up with new and innovative dining experiences for our guests. It's great to team up with a brand that also regards their customers so highly," Dotolo added.
Since 2008, Animal has served as a favorite among L.A.'s epicurean crowd and has received widespread acclaim from notable food critics and publications such as The New Yorker Magazine, Wall Street Journal, The Los Angles Times, and Wine Enthusiast. Animal has since been dubbed one of the most important restaurants in America by Bon Appetit.
As Shook and Dotolo step into their new roles as Lexus Culinary Masters, they join the ranks of world-renowned chefs Daniel Boulud, Micheal Chiarello, Dean Fearing, Christopher Kostow, Masaharu Morimoto, Michael Symon, and Michelle Bernstein.