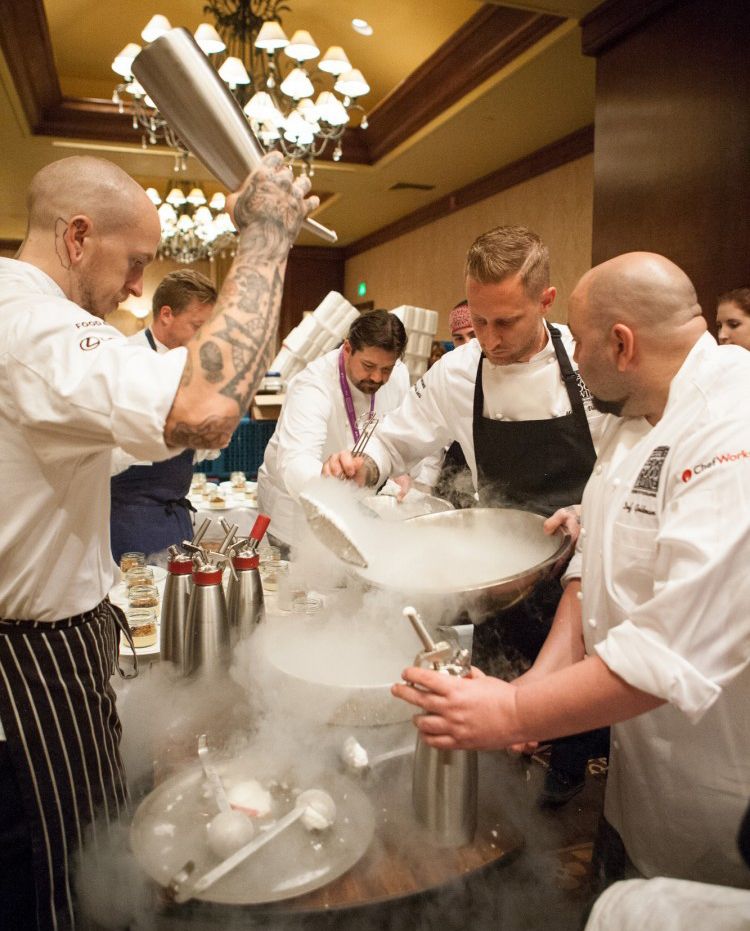 Photos Credit: Pebble Beach Food & Wine
Prepare your taste-buds for "umami" and head to California's Monterey Peninsula April 9-12 for the Pebble Beach Food & Wine festival, one of the West Coast's most exclusive foodie events. Hundreds of the world's greatest chefs will be taking over the kitchens of Pebble Beach Resorts' luxury properties for four days of epicurean tastings, cooking demonstrations, exclusive dinners, and spirited collaborations for 8,000 savvy guests.
Event highlights include "An Evening at Maude" with star chef Curtis Stone; wine tastings with Chateau Margaux, Domaine Faiveley, Kosta Browne, and Penfolds Grange; a "Meatopia" carnivorous celebration produced by Esquire's Food Editor and Meatopia founder Josh Ozersky; and cooking demos with Food & Wine Editor-in-Chief Dana Cowin as well as Iron Chefs Jose Garces and Masaharu Morimoto.
The pinnacle for the majority of festival-goers this year is sure to be the April 11-12 Lexus Grand Tasting tent at the Equestrian Center, which will serve up endless fine foods and wine from one of the greatest lineups of culinary talent since the festival's inception. More than 250 wineries will be presenting this weekend, so hats off to event co-sponsor Lexus for providing luxury transportation between events and Pebble Beach Resorts properties—including The Lodge at Pebble Beach, The Inn at Spanish Bay, and Casa Palmero.
The weekend's charity cause will leave a good taste in everyone's mouth. Pebble Beach Food & Wine Festival and Coastal Luxury Management is teaming up with Ment'or BKB Foundation founders Daniel Boulud, Thomas Keller, and Jérôme Bocuse, in support of young culinary professionals. The funds will help with the selection and training of Team USA to compete in Bocuse d'Or, the biennial event in Lyon, France that stands as one of the most rigorous culinary competitions in the world. The "Pebble Beach Food & Wine Festival is continuously striving to bring attention to the level of excellence in our culinary community," says David Bernahl, CEO of Coastal Luxury Management. "We couldn't be more thrilled to raise much needed funds for this great culinary program."
Want to enjoy Pebble Beach Food & Wine like a rock star? The all-inclusive $4,750 Imperial Package reserves your spot at 14 events with a VIP four-day pass that chauffeurs you to and from events in a new 2015 Lexus fleet. It also includes perks like attendance at rare wine seminars, and insider access to chef and winemaker after-hours parties. Two other weekend packages ($2,000 and $995) are available to suit every appetite. Tickets for a few events are sold-out, but some are still available à la carte for $100 to $500—such as the Celebrity Chef & Winemaker Golf Tournament at Pebble Beach Golf Links.