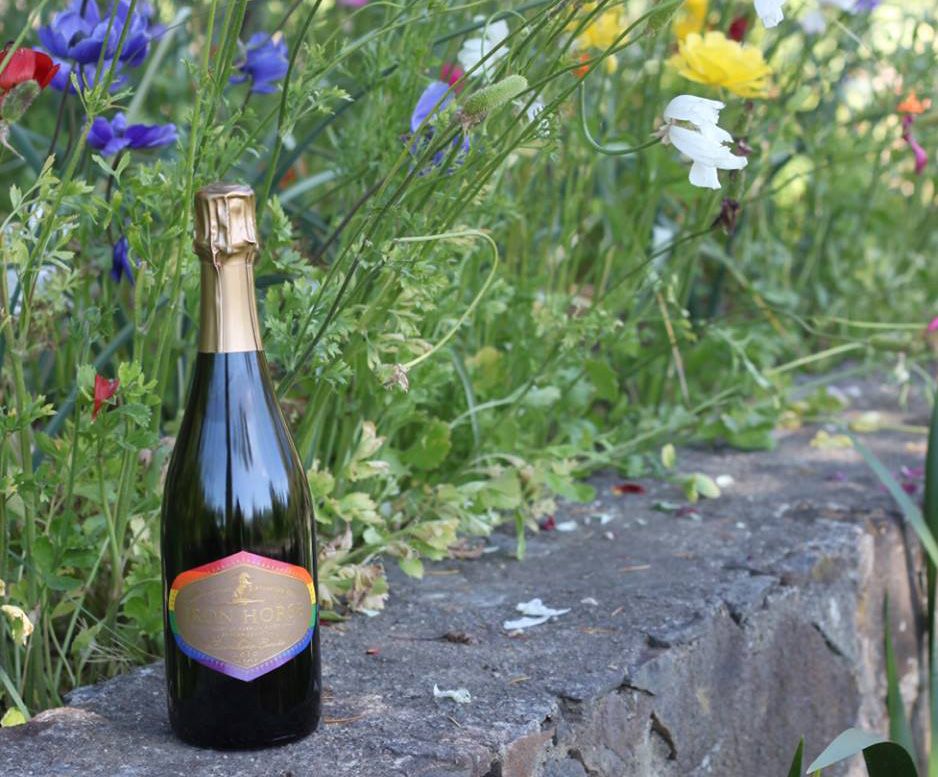 Photos Credit: Iron Horse Vineyards
With wedding season and June's LGBT pride celebrations on the horizon, it's the perfect time to introduce vineyard Iron Horse's latest sparkling wine release, the colorful estate-bottled 2010 Vintage Rainbow Cuvée. With a total production of just 250 cases, it won't be long before the coveted $58 bottles (available only through the winery) are sold out.
California sparkling wine doesn't get any better than the artisanal vintage releases from venerable Iron Horse, the legendary Green Valley wine estate that has produced top caliber American sparkling wines that sit at the same table as the finest Champagnes. Plus, Iron Horse bubbly has been served at the White House for 30 years, beginning with the historic Reagan-Gorbachev Summit Meetings ending the Cold War.
"Rainbow Cuvée […] holds a special place in our Sparkling line, and in our hearts," says Iron Horse CEO Joy Sterling, daughter of the winery's founders, master vintners Audrey and Barry Sterling. "It's our toast to marriage equality. Stylistically, Rainbow is bright and exciting, dry, surprisingly rich, and made for celebration. It is meant for everyone who believes in love, justice and equality—and nothing says marriage quite like a gorgeous bottle of bubbles."
This is the second vintage of this special cuvée and like all of Iron Horse's bubblies, it's estate-bottled and aged three-plus years. Notably, the first Rainbow Cuvée vintage was served at President Barack Obama's LGBT reception at the White House last June. The new release is again a classic blend of Pinot Noir-Chardonnay grapes grown exclusively on Iron Horse's Northern California estate through its "precision winegrowing" method of pruning, irrigation, and vine-by-vine management.
"Precision harvesting is key," says Sterling, who was recently named Winery CEO of the Year by the North Bay Business Journal, covering Marin, Sonoma and Napa. "It never ceases to amaze me how a few milliliters can change the color, bouquet, weight, flavors and finish. Rainbow Cuvée is certainly one of the most delicious we have ever produced."