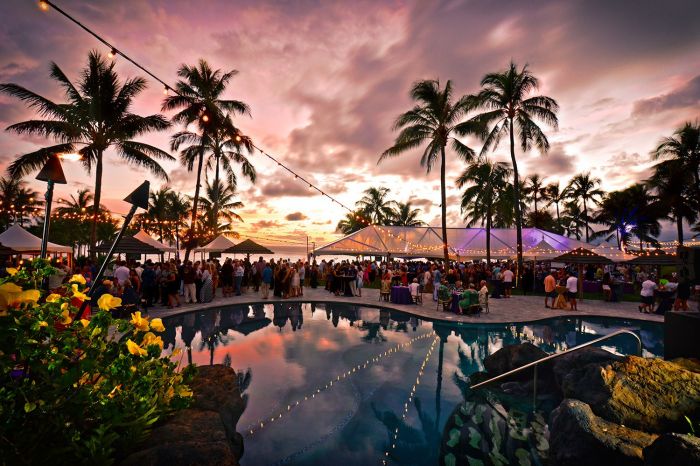 Photos Credit: Chad Chisholm
Amidst the whisper of swaying palm trees in the tropical breeze and the sound of a knife dicing fresh herbs on a cutting board was the 34th annual Kapalua Wine and Food Festival in Maui. Dominating the island, the event was held June 11-15 and was host to countless culinary masters, sommeliers and anxious imbibers. We caught Charlie Palmer's culinary demonstration, sipped Taittinger while overlooking the swelling ocean, and savored bites from renowned restaurants—such as Merriman's and Morimoto's.
Michael Jordan
The first day of the event was peppered with activities, such as a master class introduction to wine tasting and a local industry wine trade show to warm up festival-goers. At Merriman's, the invitation-only welcome reception turned up the heat with passed appetizers and wine of every varietal. Master Sommelier Michael Jordan welcomed guests with the Spirit of Aloha as the sun sunk into the Pacific in a blaze of colors.
Strawberry and Cream Cookies
"Great Wines Made by Amazing Women Wine Seminar and Tasting" was promised as the first annual roundtable, where veteran winemakers and industry innovators commented on wines from the Napa region. The crown jewel of the day belonged to the Grand Tasting at the Montage Kapalua Bay. Bites from more than 10 restaurants were excellently paired with wines from every imaginable region, which served to complement the sunset and blanket of stars. Live music wafted through the balmy air while over 1,000 guests enjoyed everything from savory grilled prawns to sweet bites—such as strawberry and cream cookies from The Maui Cookie Lady.
Charlie Palmer
June 13 featured a cooking demonstration by celebrity chef Charlie Palmer and winemaker Daryl Groom. The two best friends bantered back-and-forth over gourmet dishes from Palmer's cookbook, all while regaling us all with tales of culinary adventures (our favorite story was how Groom grilled shrimp for Palmer and proceeded to drop the shelled dinner before serving). Our favorite dish of the night was a green tea soba noodle salad with ahi tuna.
Pork Belly at La Crema Dinner
Guests were also able to participate in winemaker dinners at an additional fee. Deciding on the La Crema dinner on property, we were treated to a multi-course meal alongside the La Crema winemakers and owners. We especially loved the Warm Kona Lobster with Tahitian Vanilla crème paired with La Crema Nine Barrel 2011 Chardonnay and the Berkshire Pork Belly with Raspberry Hoisin Barbeque sauce paired with the La Crema 2014 Rosé of Pinot Noir. The rare occasion of trying some of La Crema's rarer (and often not publicly accessible) wines left us with a deeper appreciation for the festival.
The Grand Tasting
June 14 welcomed the celebrated chef Michael Mina for a culinary demonstration hosted by winemaker Dan Kosta. Taking questions from the crowd as he cooked, Mina's sense of humor, timing and nonchalance were well at home at the Maui culinary event. A Brioche Banana Custard Brûlée just begged to be finished, which put us into a later-afternoon food coma before the Seafood Festival at Ritz-Carlton Kapalua later that night.
Caviar at Grand Tasting
With over 800 guests converging on the seaside lawn at the property, this was a perfect ending to the festival with 14 restaurants competing for the titles of "Best of the Fest" (ultimately going to Joe's Nueva Latina Seafood Ceviche with a Shimp Chip) and "Fan Favorite" (going to Star Noodle). Morimoto Maui created a Hood Canal Oyster Watermelon Gazpacho with Cucumber and Marigolds that was also a contender, as well as Paniolo Bar and Grill's Ceviche with Coconut Yuzu-Cured Hawaiian Marlin. The celebratory atmosphere was accentuated by the sounds of ocean waves and live music, while guests enjoyed a wide variety of culinary delights, a canopy of bubbles overhead and the scent of freshly-bloomed plumeria.
The Grand Tasting
A huge success, Kapalua Wine and Food Festival offers a special atmosphere that seems to be lacking from other food and wine events. Is it the stunning backdrop? The Spirit of Aloha felt from the resorts and restaurants hosting the famed event? We aren't sure what the secret ingredient is, but you should definitely experience it for yourself at the 35th annual Kapalua Wine and Food next year.
Women in Wine Seminar
La Crema Dinner