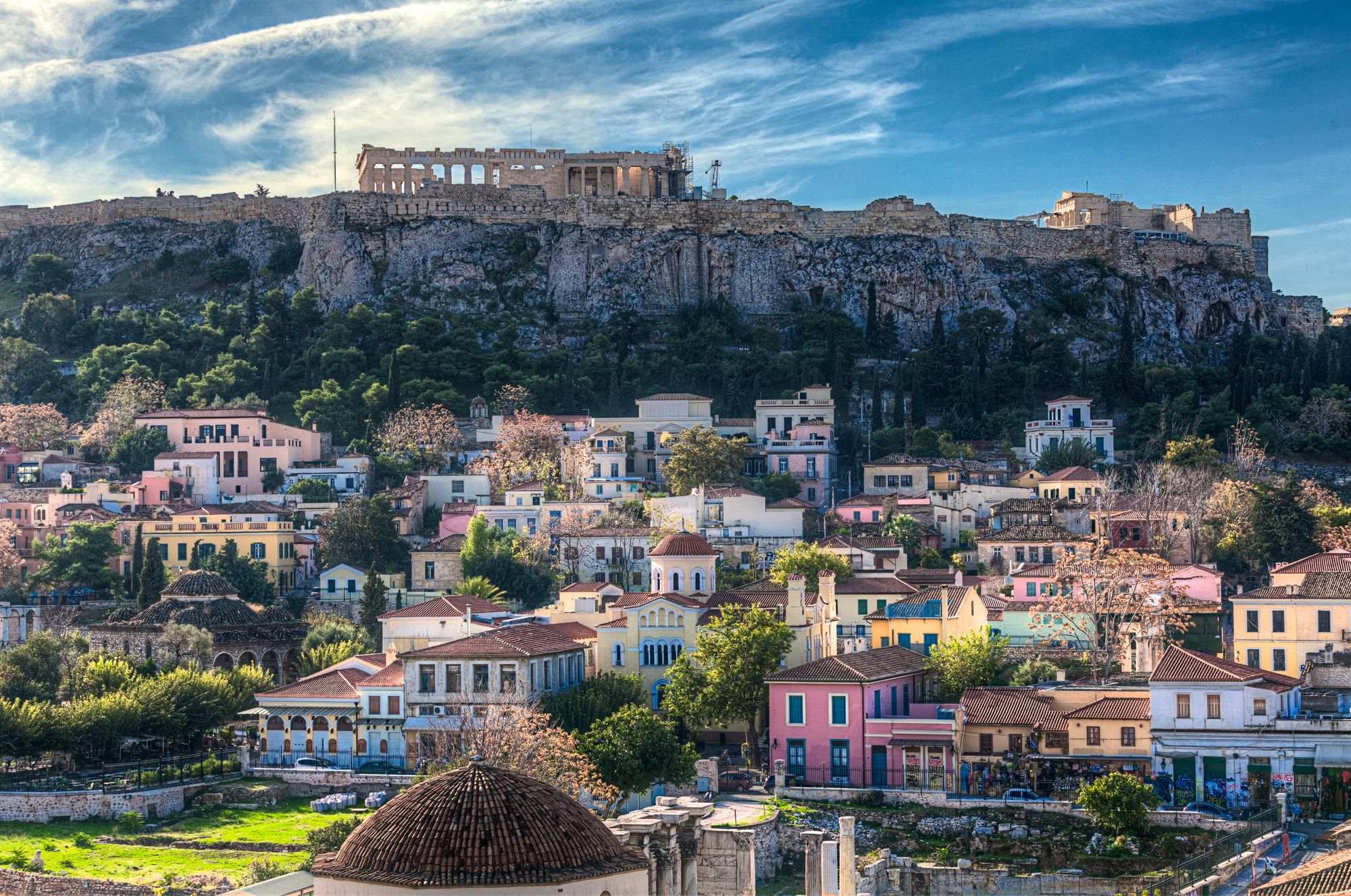 Photo Credit: Anastasios71/Shutterstock.com
Athens has long been known for its history and gastronomic expertise, but the emerging importance of the local wine industry adds an exciting new dimension. Vintners are rediscovering indigenous grapes (like Assyrtiko, Moschofilero, Savatiano and Xinomavro), meaning that discerning wine connoisseurs are getting a whole lot more to sip than the usual international staples of Cabernet Sauvignon, Chardonnay and Pinot Noir.
Photo Credit: Nataliia Zhekova/Shutterstock.com
When visiting fine restaurants in Athens, there will always be a sommelier to guide you to wines that suit your flavor profile. For instance, Evangelos Psofidis, Head Sommelier of Hotel Grande Bretagne and the King George, has an extensive cellar featuring sought-after wines that include the Grand Cru Burgundy and Domaine de la Romanée-Conti. However, Psofidis is especially proud of his remarkably broad Greek wine list. Our seven-course, wine-paired Tudor Hall Dinner began with an Aegean sea bass tartare accompanied by the Amalia Brut sparkling Moschofilero. I would compare the sparkler's floral nose and finesse to some of the world's most intriguing sparkling wines. Executive Chef Sotiris Evangelou crafted our main course of Corfu Sofrito (a mini veal fillet), which was paired with a 2008 Tsantali Rapsani Grand Reserve, a deep red, spicy blend of the Xinomavro, Krassato and Stavroto grapes.
Photo Credit: ileana_bt/Shutterstock.com
At the Electra Hotel's Roof Garden Restaurant, Executive Chef Petros Kalevrosoglou and the maître d'hôtel Dimitris Kyrchanidis presented a five-course tasting menu which featured fillet of grouper paired with Ktima Avaton Gerovassiliou, a dark ruby red blend with a depth and spiciness to match the fennel and lemon cream sauce. A nest of kataifi (shredded fillo dough) with citrus marmalade and pistachio dessert completed our meal and was paired with Vinsanto Argyros, Santorini, a sun-dried dessert wine made with Assyrtiko, Athiri and Aidani grapes. Its creation and flavors are reminiscent of the famous Tuscan Vin Santo wines.
Photo Credit: Nick Pavlakis/Shutterstock.com
It's not a coincidence that you can enjoy these elegant pairing menus while within sight of the Acropolis and Parthenon, both of which light up the night sky spectacularly. Surrounded by some of the most historic and architectural achievements in the world, the Electra Hotel, Grand Bretagne and the King George all feature convenient rooftop restaurants that offer the perfect setting for dinnertime selfies.
Photo Credit: Papagiannakos Winery
The Wineroads of Athens trail in the Attica wine appellation is within easy reach of Athens. This group cultivates ancient vines and connects each winery with scattered archeological sites via a network of trails and routes. Close enough for a day trip, the Attica appellation has been nurturing grapes for more than 3,000 years. During our tour of the region, Vassilis Papagiannakos (owner and winemaker of Domaine Papagiannakos) guided us through his beautiful tasting room. Papagiannakos has won numerous Decanter magazine awards for his wines, including his exceptional oak-aged, citrusy white Savatiano wine and his deep red Agiorgitiko/Cabernet Sauvignon blend with its complex aromas of black cherry, white pepper, vanilla and toast.
Photo Credit: Nataliya Nazarova/Shutterstock.com
Papagiannakos asked his fellow winemakers of the Wineroads of Athens to bring their own creations to his tasting room for our group's convenience, which included bottles from Kokotou Winery, Anastasia Fragou Winery, Markou Vineyards and Mylonas Winery. Anna Kokotos presented Kokotou's portfolio wines, including a dry rosé of Agiorgitiko with flavors and aromas of bright raspberry, strawberry and dried herbs reminiscent of a Provence-style wine.
The next time you find yourself in Greece, maybe take a break from the standard Tuscany and Bordeaux jaunts to discover all that the country truly has to offer as the evolution of the indigenous grapes continues. Besides, if the god of the grape harvest, Dionysus, decided that Athens (historically encompassed by the Attica region) was a good place for his favorite vine, that's more than good enough for us.