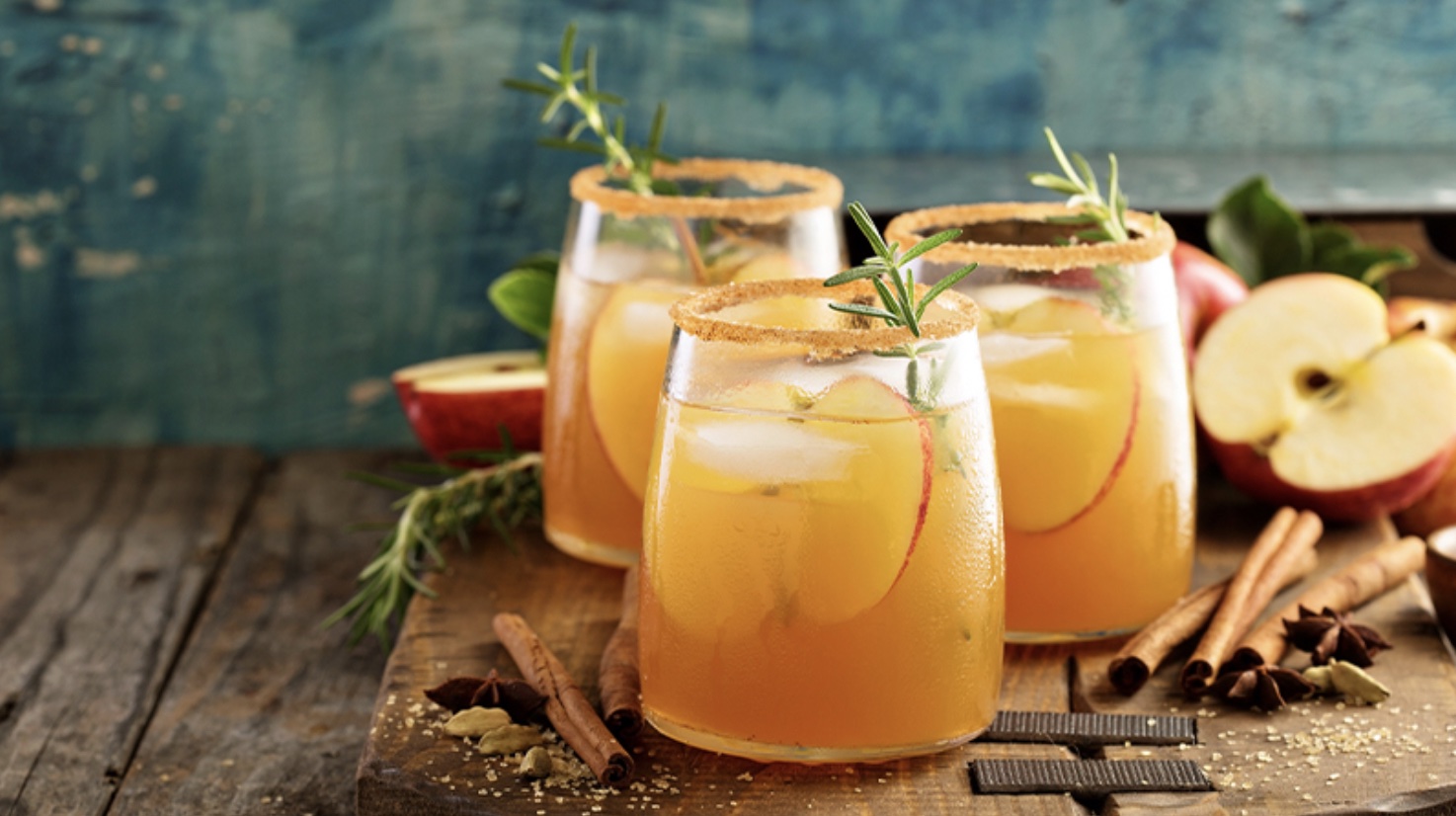 Temps are finally dropping as the festive season approaches. Warm-up with one (or more) of these crafted cocktails that are best enjoyed by a roaring fire, or huddled under a lofty blanket with a good read, or shared with friends during a lively game night. Each is guaranteed to promote holiday cheer.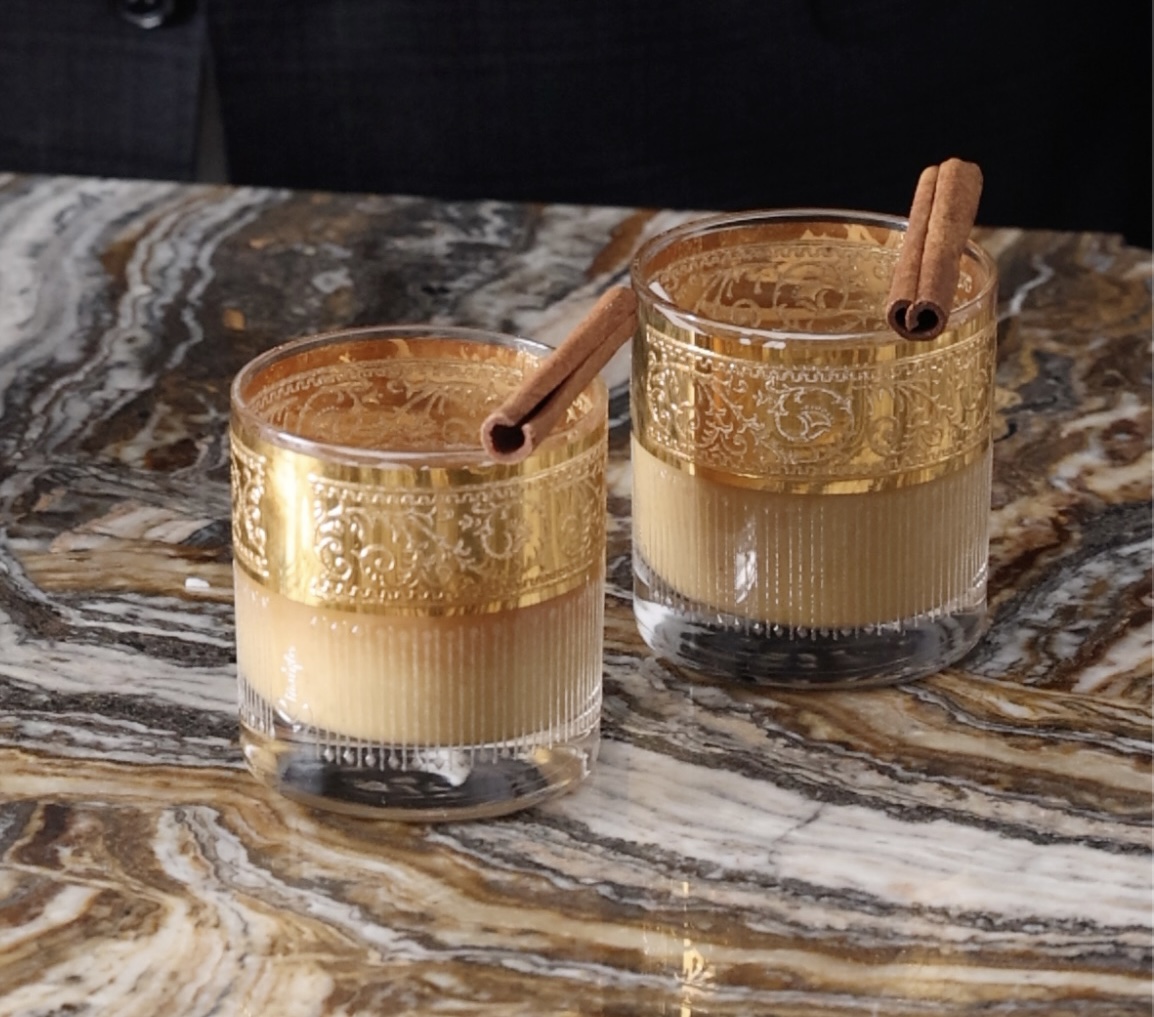 Coquito Oscuro
Coquito Oscuro
A traditional Puerto Rican Christmas drink, Coquito's origins date to the island's colonial period when the Spanish combined their version of eggnog with local rum. There are variations of this drink throughout the Caribbean; families have passed down recipes for generations. Paying homage to the tradition, Rasasvada's Coquito Oscuro features Black Ginger Spirit Restorative. Rich and creamy with layers of bitter baking spice, this cocktail can be made with or without alcohol and is perfect for your vegan sibling who visits during the holidays. This recipe serves 8 – 10.
Ingredients:
1 part Rasasvada Black Ginger
1 oz rum or spirit of choice
3 parts Coquito mix
Coquito Mix:
1 cup lite coconut milk
1 cup coconut cream
1 cup condensed coconut milk
½ cup agave nectar
½ tsp vanilla extract
Baking spices
Method: Combine coconut milk, coconut cream, and condensed coconut milk into a saucepan. Add agave nectar and vanilla extract. Grate in cinnamon, allspice, and nutmeg to taste. Bring to a soft boil and simmer for 15 minutes. Chill coquito mix before serving. Garnish with cinnamon.
Empirical Eggnog
Empirical Eggnog
This cocktail revisits the holiday classic with a twist featuring The Plum, I Suppose. The marzipan-like plum kernel and floral marigold petal spirit's sweet spices are brightened by the subtle spiciness of ginger for a smooth and heartwarming drinking experience. This recipe serves four.
Ingredients:
17 oz quality apple juice
5.5 oz The Plum, I Suppose
1'' piece of ginger peeled and cut in small pieces
Freshly grated cinnamon stick to taste
2 egg whites
Grated nutmeg for garnish
Method: Combine all ingredients in a blender until the mix gets very frothy. Pour in a favorite glass and garnish with freshly grated nutmeg.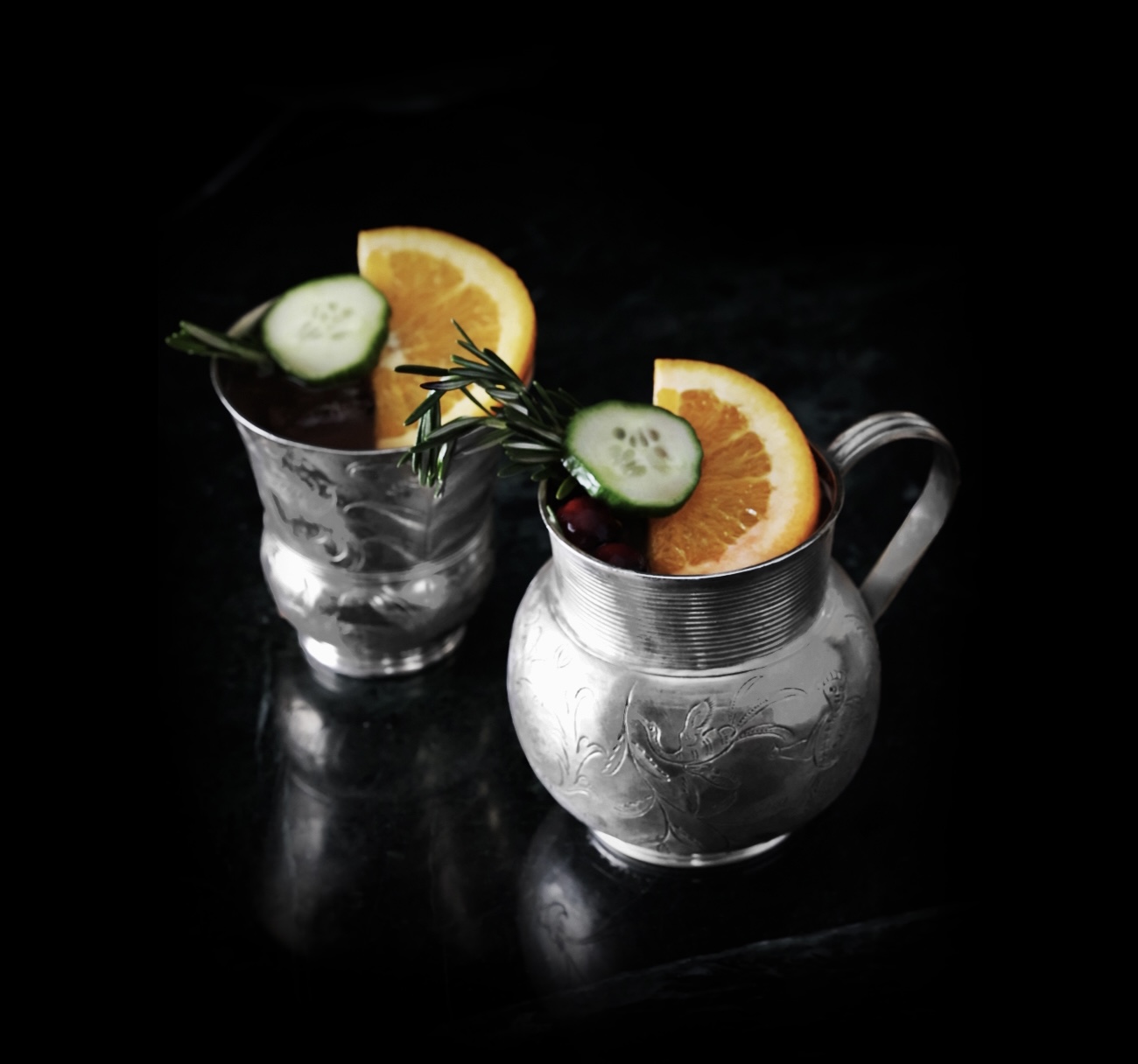 Pandora's Punch
Pandora's Punch
Punch is the origin for modern cocktails and is considered to be the earliest cocktail dating to 1632. Widely used as a restorative, punch helped sailors survive long voyages due to the citrus which protected from scurvy. As trade expanded, rarefied ingredients were incorporated into punch. This recipe pays homage to the history and creativity of the early punch recipes and celebrates the ritual of sharing a drink with loved ones around the holidays. This recipe serves 8 – 10 and features refreshing cucumber with a snap of ginger on the finish.
Ingredients:
1 cup lemon juice
1 cup simple syrup
10 oz Rasasvada Ruby Artemisia
10 oz Rasasvada Rose Bergamot
1 oz Gin or spirit of choice
Top with ginger beer
Garnish with seasonal fruits and herbs
Method: Mix all ingredients in a large punch bowl, serve over ice in individual glasses and garnish with mint, cucumber, and citrus of choice.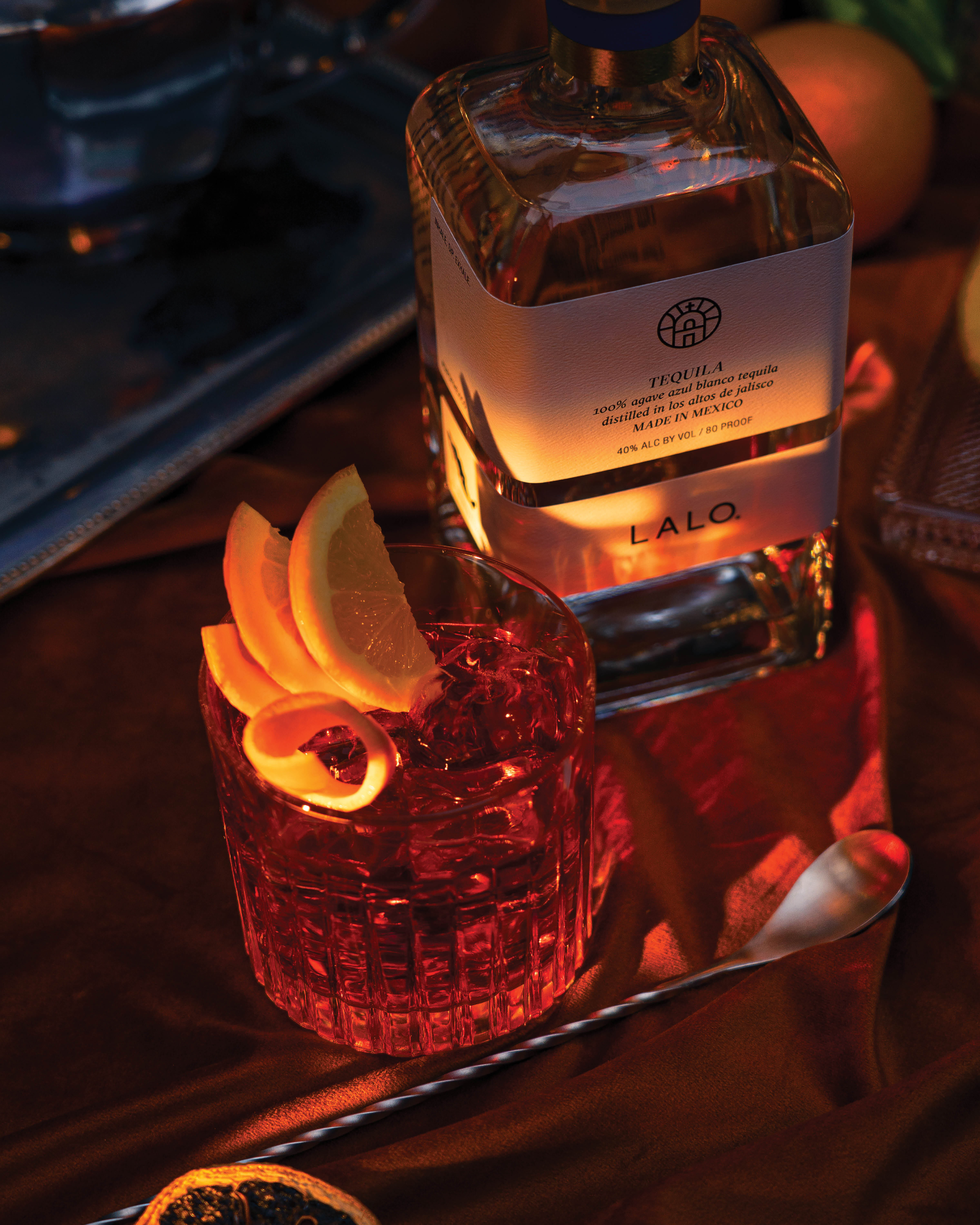 LALO Negroni
LALO Negroni
LALO tequila is named after the co-founder's father Eduardo "Lalo" González, the son of Don Julio González of the iconic Don Julio premium tequila. Everything about LALO pays homage to Lalo's upbringing among the agave fields in Guadalajara. What began as a small, private batch for friends and family in Guadalajara turned into a tequila high in demand for its taste and purity.
Ingredients:
1 oz LALO Tequila
1 oz Sweet Vermouth
1 oz Campari
Method: Add LALO, sweet vermouth and Campari to an ice-filled mixing glass. Stir to chill and dilute. Strain over an ice filled rocks glass, or up in a cocktail coupe. Garnish with orange twist.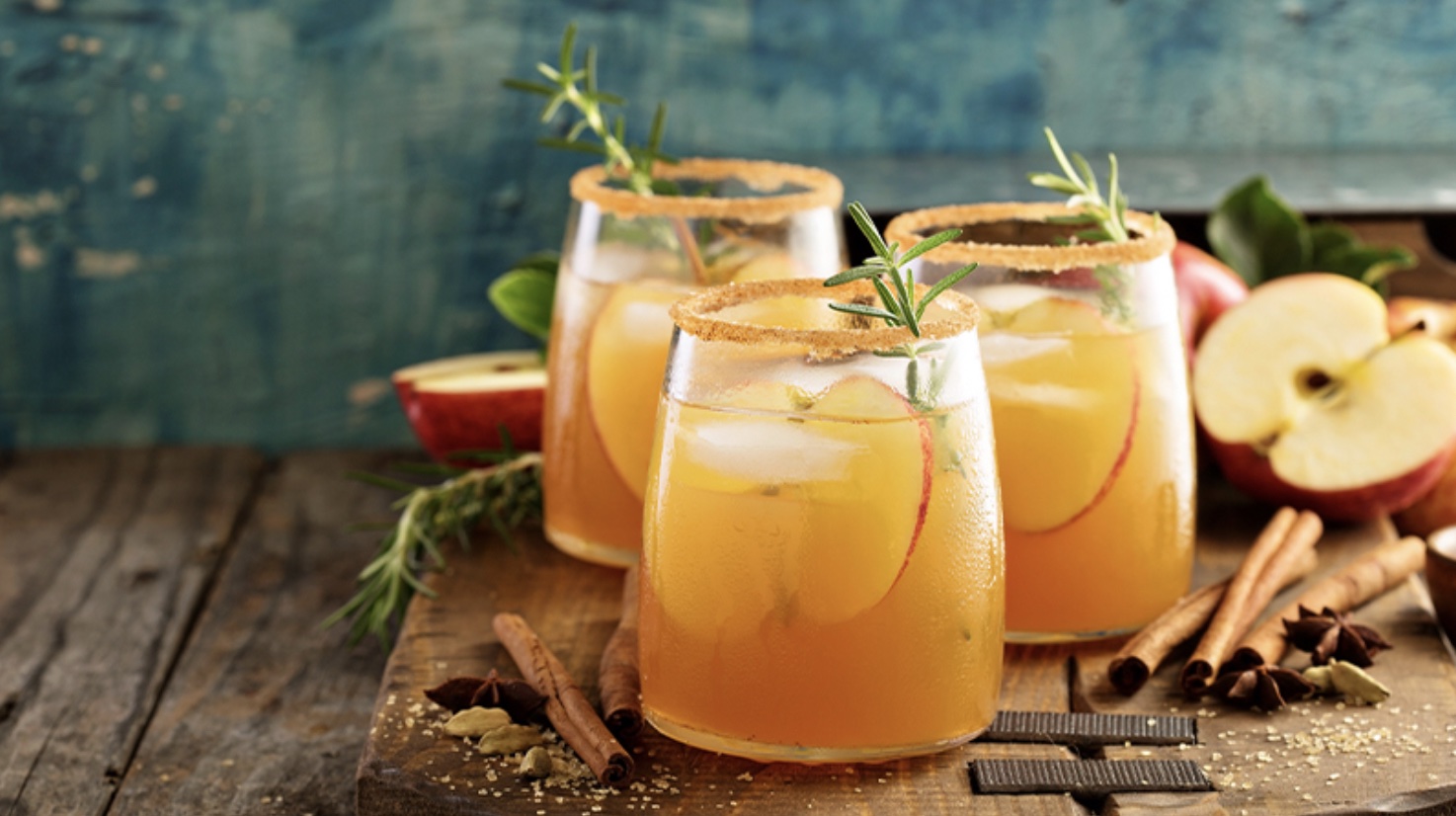 Appily Married
Appily Married
Cozy up to a cocktail reminiscent of your grandmother's apple pie. Ketel One's Appily Married pairs apple juice with a cinnamon sugar rim. Both are a perfect match for those who want the flavors of fall front and center.
Ingredients:
1 1/2 oz Ketel One Vodka
1/2 oz apple juice
1/2 oz pink grapefruit juice
2 bar spoons honey syrup
Cinnamon sugar for the rim
Method: Chill a cocktail glass and coat the rim with cinnamon sugar. Add vodka, apple juice, pink grapefruit juice, honey syrup, and ice to a cocktail shaker. Shake until well chilled. Strain into a cocktail glass.
Hot Buttered Rum Runner
Hot Buttered Rum Runner
Cocktail historians believe that the use of butter in this libation was due to accessibility. On a rum-running schooner such as that after which Kirk and Sweeney Rum is named, it was likely easier for sailors to store butter than other dairy products that spoiled easily. Butter and spices would have been great and easy additions to the rum they had aboard, and the heat provided warmth on the cold seas! (The ice cream addition is a modern twist on the classic.)
Ingredients:
1 Tbsp Hot Buttered Rum Batter
3-4 oz hot water
Hot Buttered Rum Batter: Combine in a bowl 1 lb. of butter, 2¼ cups packed brown sugar, 2 cups sugar, 1 tbsp. ground cinnamon, 1 tsp. ground clove and 1 tsp. ground nutmeg. Add 1 qt. of softened vanilla ice cream and stir. Use immediately or freeze for future libations.
Method: Place hot buttered rum batter in the bottom of an Irish coffee glass or mug. Pour in rum and top with hot (not boiling) water. Stir, garnish with a cinnamon stick, and enjoy hot.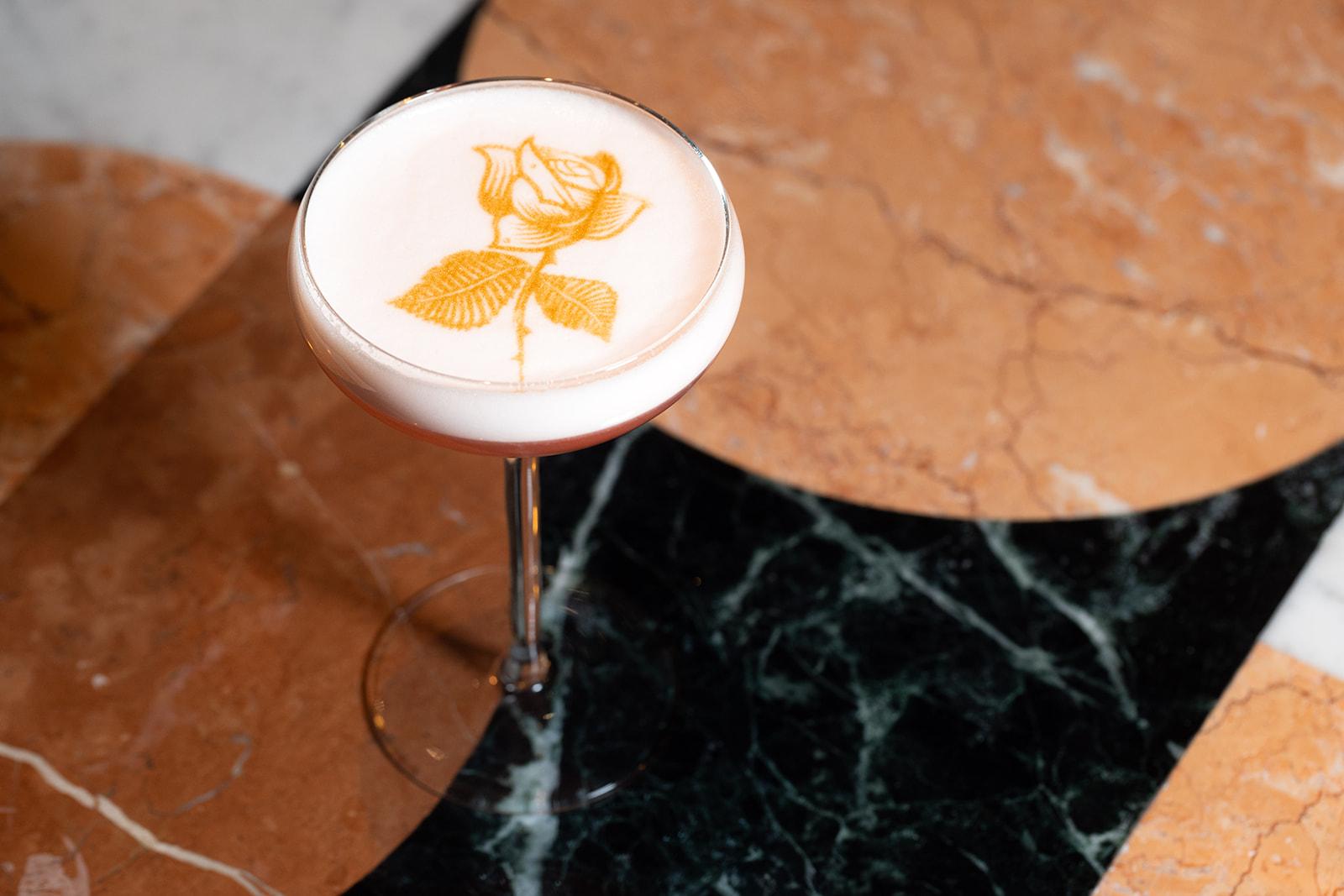 La Piña
La Piña
The Fleur Room in Los Angeles celebrated actor Aaron Paul's birthday this year with the creation of the La Piña cocktail which utilizes Paul's Dos Hombres Mezcal, a collaboration with his friend and Breaking Bad co-star Bryan Cranston. Ripple Machine design or not, this one is a refreshing start to any holiday celebration.
Ingredients:
1 ½ oz Dos Hombres Mezcal
½ oz Herradura Reposado Tequila
1 oz pineapple juice
¾ oz lemon juice
½ oz Chambord
1 egg white
Method: Add all ingredients in shaker and dry shake. Add ice, shake and strain into a coupe. Place under Ripple Machine to print floral design.