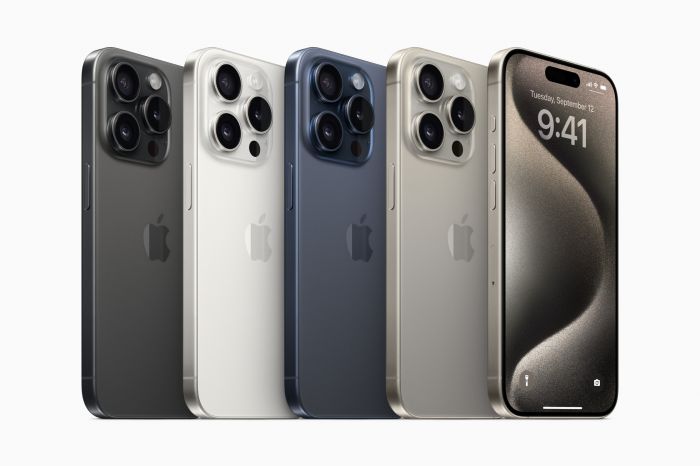 Apple
On the surface, there is not a huge amount to differentiate the iPhone 15 Pro from its predecessors. Dig deeper, however, and the improvements, though subtle, are nevertheless significant.
The iPhone 15 Pro is made of titanium as opposed to the stainless steel of its predecessors, shaving 19g off the weight and substantially changing the feel of the phone. It is lightweight, easy to handle and fit in a pocket, which is immediately noticeable if you're transitioning from any of Apple's older Pro models.
The 6.1in OLED screen is genuinely brilliant, and superior to any you'd find on similarly sized devices, reaching an extremely bright 2,000nit peak when outdoors for easy viewing even in the brightest sunlight.
The brand-new action button supplants the mute switch from former iPhone models. It can be set to launch assorted apps or tasks, for instance the torch, or changing focus modes instead of muting the phone. The Face ID system within the dynamic island at the top of the screen, moreover, remains one of Apple's top features.
A17 Pro Chip and USB-C Port
Another notable upgrade is the switch from Lightning to USB-C charging, which for most people migrating from older iPhones will merely involve replacing the cable, one of which comes with the phone. Those with accessories may need to purchase adaptors, but the changeover means that the 15 Pro can charge from virtually any charger and USB-C cable used by all Android devices, iPads, PCs, Macs, and other tablets – the need to buy designated Apple cables is finally obviated.
The switch also opens the scope to connect numerous accessories, including audio adapters, display cables, SD card readers, game controllers, and a plethora of other USB-C equipped products.
The new A17 Pro chip is fast and supports sophisticated ray tracing graphics (similar to consoles) for the first time for superior gaming. It is swift now and will remain speedy for the foreseeable future.
Battery life is exceptionally good for this size of phone, lasting approximately 38 hours between charges with the screen actively used for five hours during that time period. Even on heavy usage days (spent predominantly on 5G using maps and shooting videos) the battery still managed to last for around 30 hours. A nightly charge would more than suffice to make it through the day, no matter how active your usage.
Camera
The camera on the iPhone 15 Pro has an optical zoom range of 0.5 to 3x, versus the 5x optical zoom telephoto camera of the Pro Max.
The main camera captures 24-megapixel photos on its default setting, can shoot at a choice of three different focal lengths (24, 28 or 35mm) and capture full 48MP photos in either ProRaw or HEIF formats, which will delight keen photographers. The camera also features the useful 2x zoom mode from last year, while all three cameras also now automatically capture portrait photos without requiring a specific mode, which is a helpful improvement.
Overall, the 15 Pro's ultrawide, main and 3x telephoto cameras are unsurpassed at this size of phone, producing really excellent images in most conditions with very little effort needed.
Sustainability
Apple's commitment to sustainability continues apace. Apple states that the battery should last for more than 500 full-charge cycles, retaining a minimum of 80% of its original capacity, and can be replaced for £95/$99. Out-of-warranty screen repairs are priced at £349/$429. The 15 Pro adopts the same internal repair-friendly design that was pioneered with the iPhone 14, however it should be noted that Apple uses software to restrict third-party repair.
The 15 Pro is comprised of recycled aluminium, cobalt, copper, gold, plastic, rare earth elements, tin and tungsten, and Apple provides an analysis of the phone's environmental impact in its Environmental Progress Report. In addition, Apple offers trade-in and free recycling schemes, which is also available for non-Apple products.
Conclusion
The iPhone 15 Pro is without doubt the best smaller phone on the market, but it no longer has the best camera on an iPhone: for this, look to the iPhone 15 Pro Max, which features 5x optical zoom. Aside from the camera, the majority of the hardware is identical in both the 15 Pro and Pro Max. The smaller 15 Pro is nevertheless a meaningful upgrade on previous 6.1in iPhone Pro Phones: perceptibly lighter, with the additional advantages of USB-C, the nifty action button, great battery life and top performance across the board.
Specifications
Screen: 6.1in Super Retina XDR (OLED) (460ppi) Processor: Apple A17 Pro RAM: 8GB Storage: 128, 256, 512GB or 1TB Operating system: iOS 17 Camera: 48MP main, 12MP UW and 12MP 3x zoom, 12MP front-facing camera Connectivity: 5G, wifi 6E, NFC, Bluetooth 5.3, Thread, USB-C, Satellite, UWB and GNSS Water resistance: IP68 (6 metres for 30 mins) Dimensions: 146.6 x 70.6 x 8.25mm Weight: 187g
Price
Apple iPhone 15 Pro costs from £999 ($999) with 128GB of storage.
To purchase the iPhone 15 Pro, please visit apple.com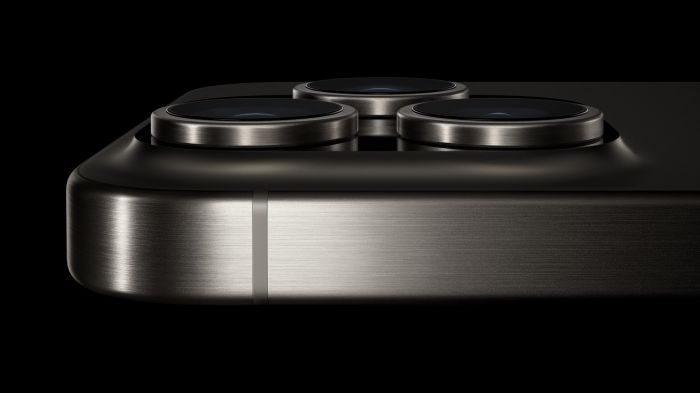 Apple
The premium titanium used on iPhone 15 Pro has one of the highest strength-to-weight ratios of any metal, making it Apple's lightest Pro phone to date.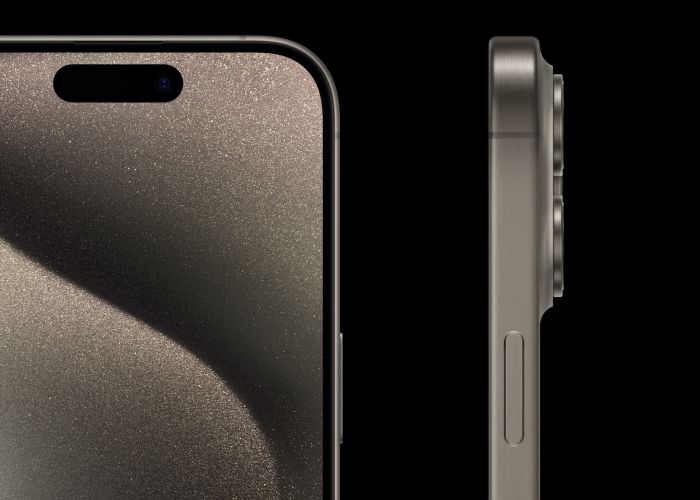 Apple
iPhone 15 Pro features the thinnest borders ever on iPhone, the Ceramic Shield front cover, and new contoured edges.