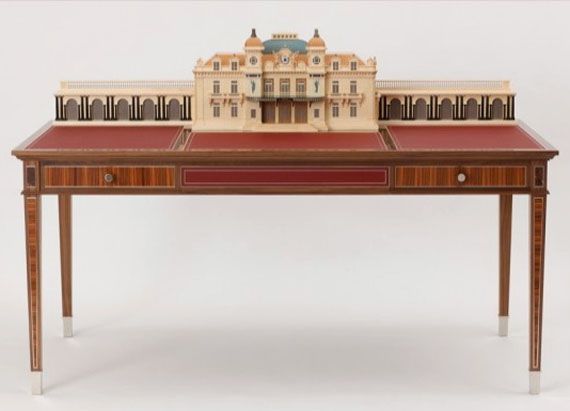 Home Decor:
Viscount David Linley, the bespoke cabinetmaker who's a nephew of the Queen of England, has created an incredible architectural writing desk which pays homage to one of Monaco's most notable landmarks – the
Monte Carlo
Casino. Priced at about $100,000, the desk epitomizes the intricacy and precision of fine craftsmanship Linley has become known for. Featuring the famed Beaux Arts landmark as its central gallery, with stylized archways on either side, it bears marquetry detailing in various veneers representing the windows, columns, galleries and balusters of the casino.
The main body of the desk is constructed in American walnut with inlays of Santos rosewood and sycamore, while the surface of the desk is covered in dark red leather. On the underside of the domed lid of the architectural box is a marquetry depiction of the Monegasque flag in red sycamore and holly. Six hand-carved figurines surmount the rooftop,and six secret drawers are each opened by a different mechanism. The Monte Carlo casino is probably best known these days for is association with the James Bond films; it's been used as a location for Never Say Never Again, GoldenEye, and of course Casino Royale.