Luxury Condo Residences in Sunny Isles and Miami Beach You Must See
Barrier islands make up more than 700 miles of Florida's coastline, and support more than 35 species of plants and animals that are listed as either rare, threatened or endangered. Two of the islands also support the ultimate in elite Florida living.
Florida's most sought-after real estate lie on the barrier reefs of Sunny Isles and Miami Beach. Connected by the famous Collins Avenue, this is where you'll find many ultra-high-end condo residences that are near the best that urban life has to offer: fine dining restaurants, shopping, active nightlife, and the world's best beaches. And yet, in contrast, also near to the overarching peaceful moods of the ever-changing Atlantic Ocean.
It is the best of the best, a win-win for a lively, yet serene life.
Regalia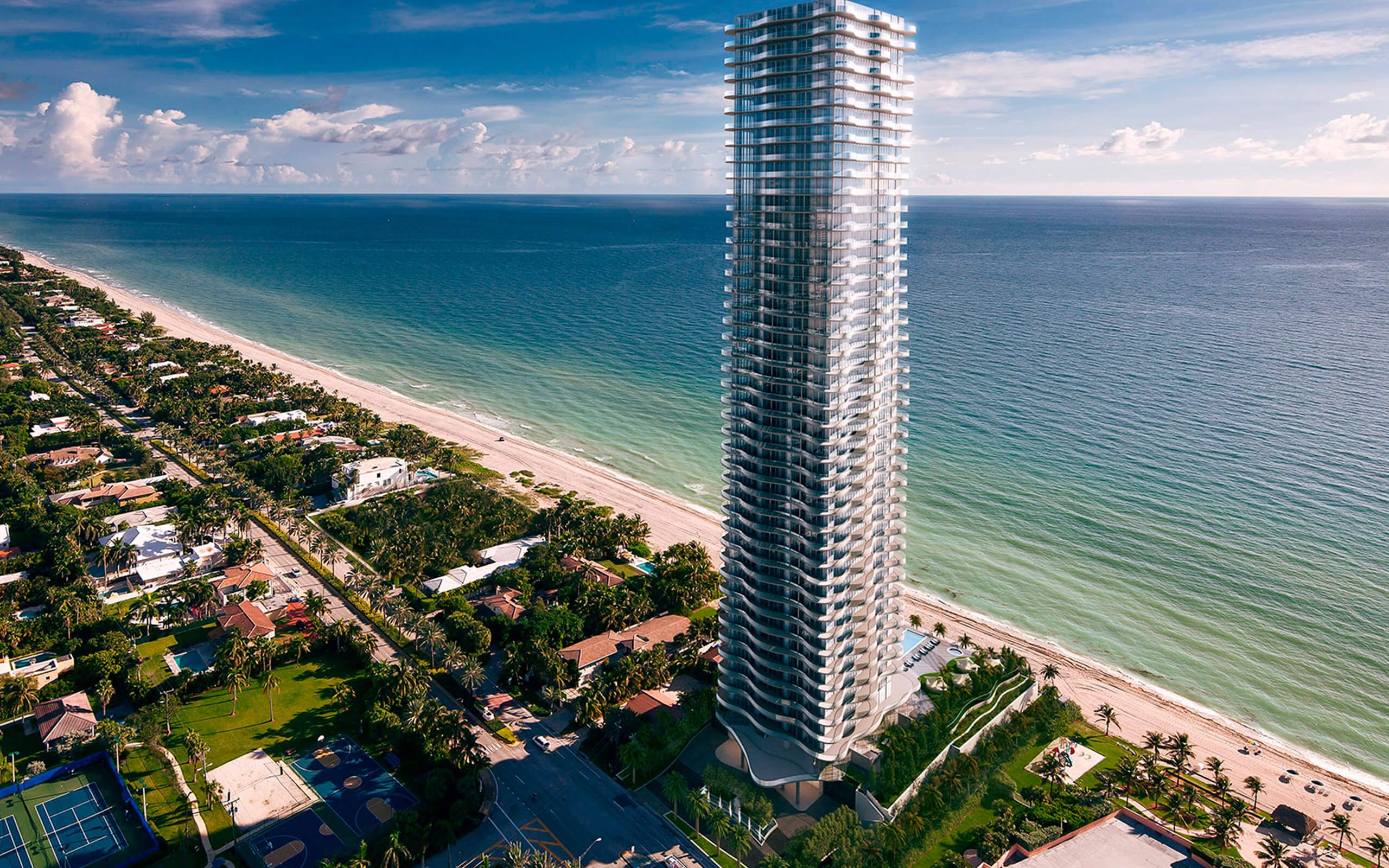 Regalia, Sunny Isles Beach - By Regalia Beach Developers LLC
It has been said that water and breezes define Florida and are the essence of the oceanfront. Bernardo Fort-Brescia, the co-founder of Arquitectonia, and the architect of Regalia Miami, took inspiration from these two things. The undulating surfaces recall ocean waves, and yet it also looks like rock crystal, shaped by ocean breezes, eroded into a natural form. Water and wind, according to Mr. Fort-Brescia, shape this architecture.
Situated along a private, one-acre stretch in Sunny Isles Beach, Regalia in Miami is the perfect representation of limited edition living.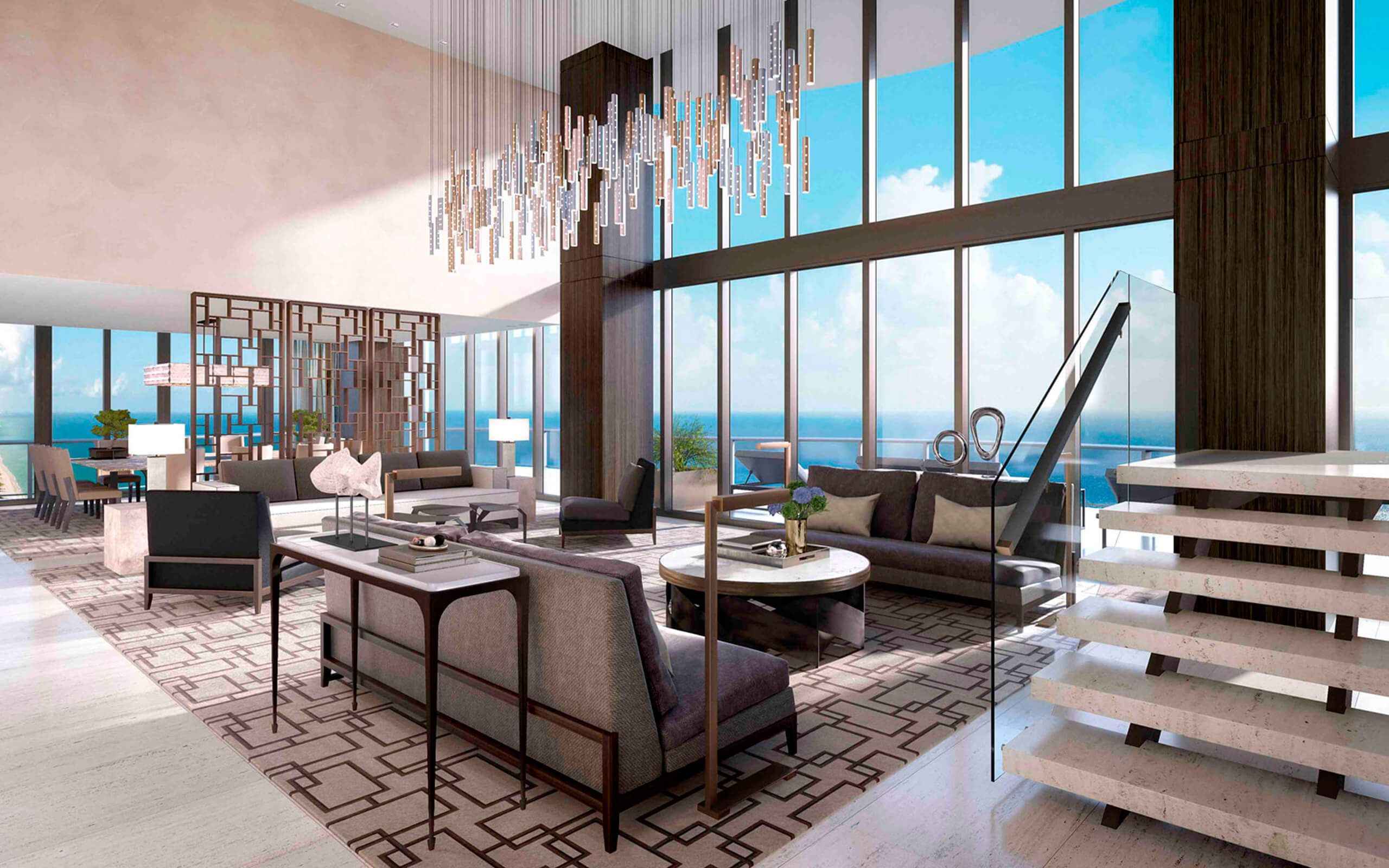 Regalia, Sunny Isles Beach - By Regalia Beach Developers LLC
It is a unique building, comprised of 46 floors and 39 residences — one unit per floor, providing the ultimate privacy with 5515 square feet of indoor space and 2100 square feet of lavish terrace space. Regalia Miami was decorated by interior designer Charles Allem, a South Africa based designer recognized worldwide.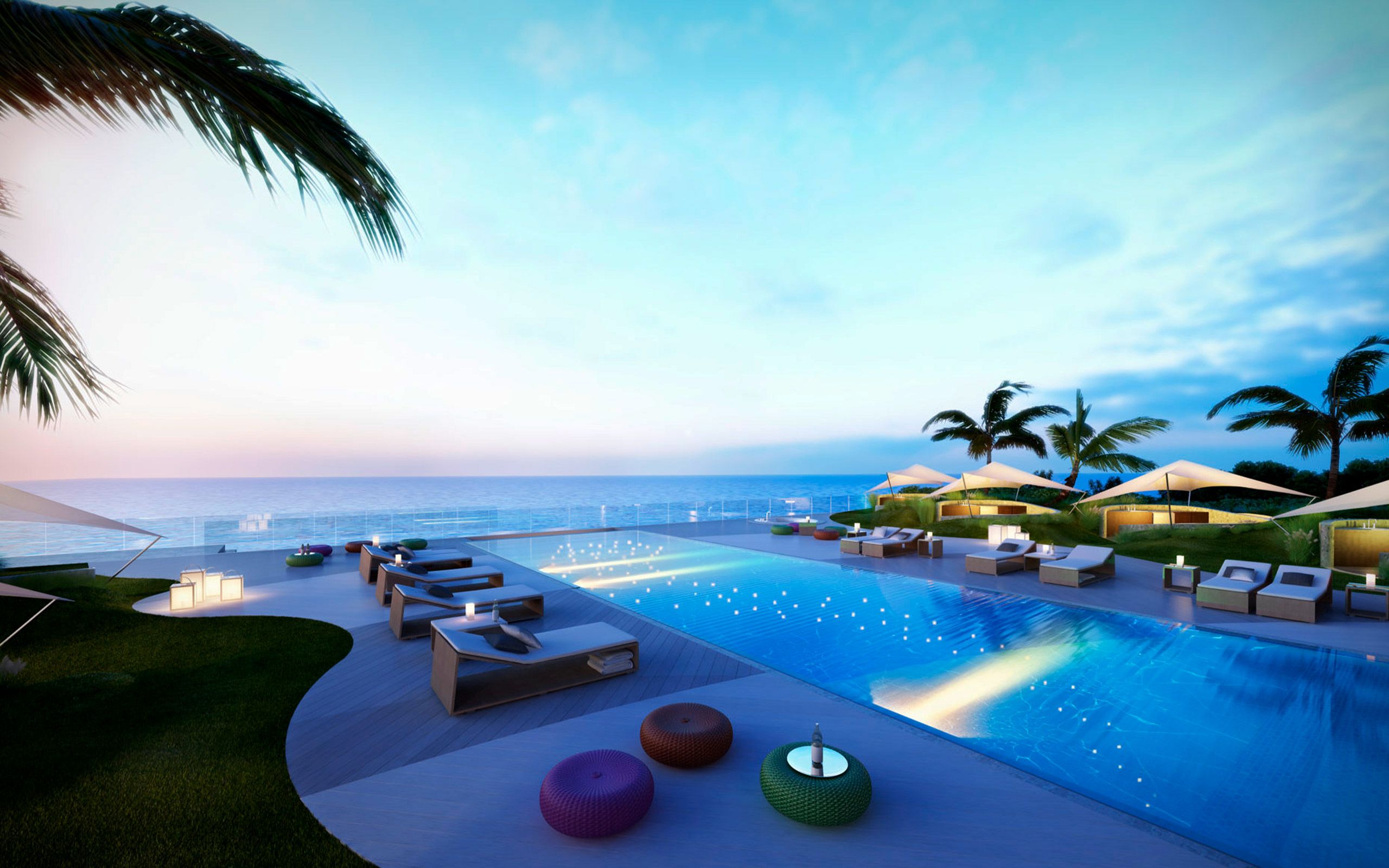 Regalia, Sunny Isles Beach - By Regalia Beach Developers LLC
Regalia offers an oceanfront jacuzzi, private beach and poolside service, private poolside cabanas equipped with refrigerator and sink, state-of-the-art fitness center, yoga room, business center with video conferencing, children's playroom, an infinity-edge pool overlooking the ocean, and exclusive spa service including aromatherapy and chromotherapy.

Finally, Regalia offers its residents two unique habitats: Sunny Isles by day allows time to rejuvenate, living a life by the ocean. At night, there is the activity of Sunny Isles electric nightlife near South Beach. A combination of life and light, all around.
Muse Residences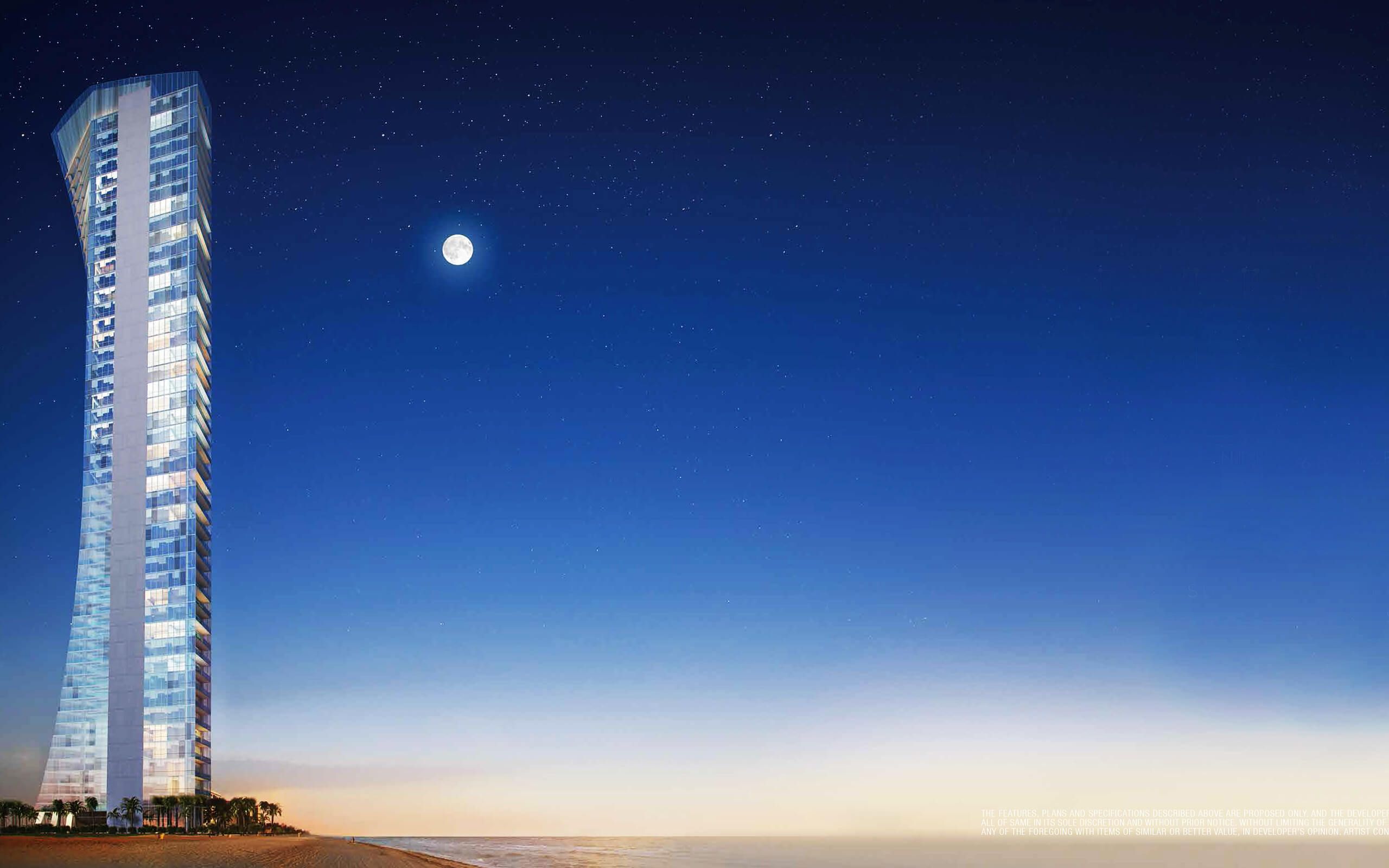 Muse Residences, Sunny Isles Beach - By Property Markets Group and S2 Development, LLC
Emphasizing a rare union of artistic inspiration, superlative home technology features and exclusive oceanfront property, Muse Residences in Sunny Isles offers residents a life concealed from rushes, lines and crowds.
Muse was designed by the renowned architects Carlos Ott, and Sieger Suarez. Antrobus and Ramirez, yet another renowned architectural firm, were commissioned to design the common areas. This condo building has 68, 2 and 3 bedroom, formidable residences.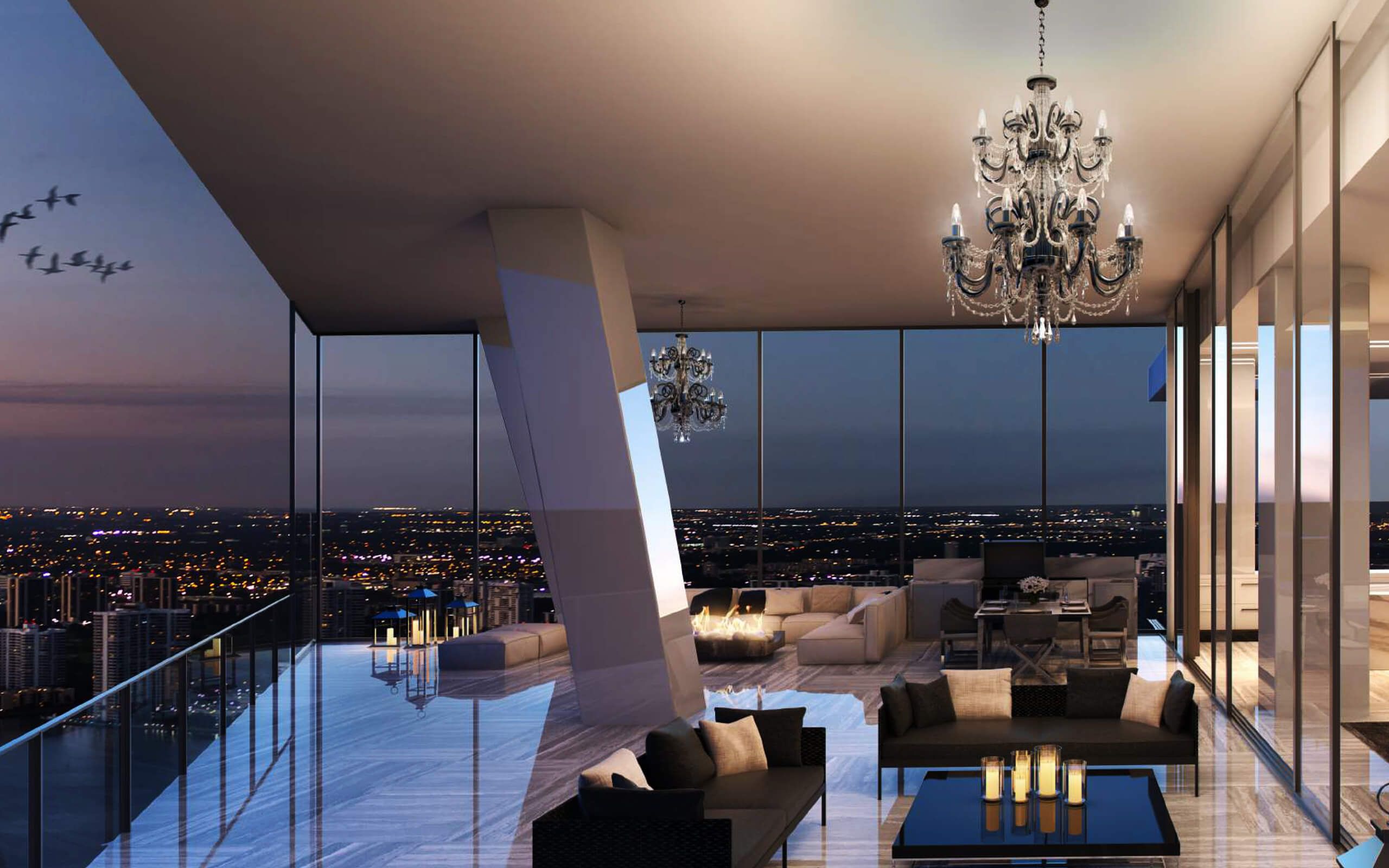 Muse Residences, Sunny Isles Beach - By Property Markets Group and S2 Development, LLC
Muse Sunny Isles was inaugurated in early 2018, and it remains a standout on the Miami-Dade skyline because of its unique engineering -- a twist at the building's core creates an optical illusion of movement. The building was designed with only glass and steel on the outside, giving it a distinctive look and exclusive feel.
The Muse residences have 12-foot high ceilings, automated smart home features, and private elevators with biometric technology. Also, the condos at Muse Sunny Isles come fully finished with 8-foot-tall Italian entry doors, rare marble and wood flooring, custom Italian cabinetry, and personalized art from Helidon Xhixha, the renowned contemporary sculptor from Albania.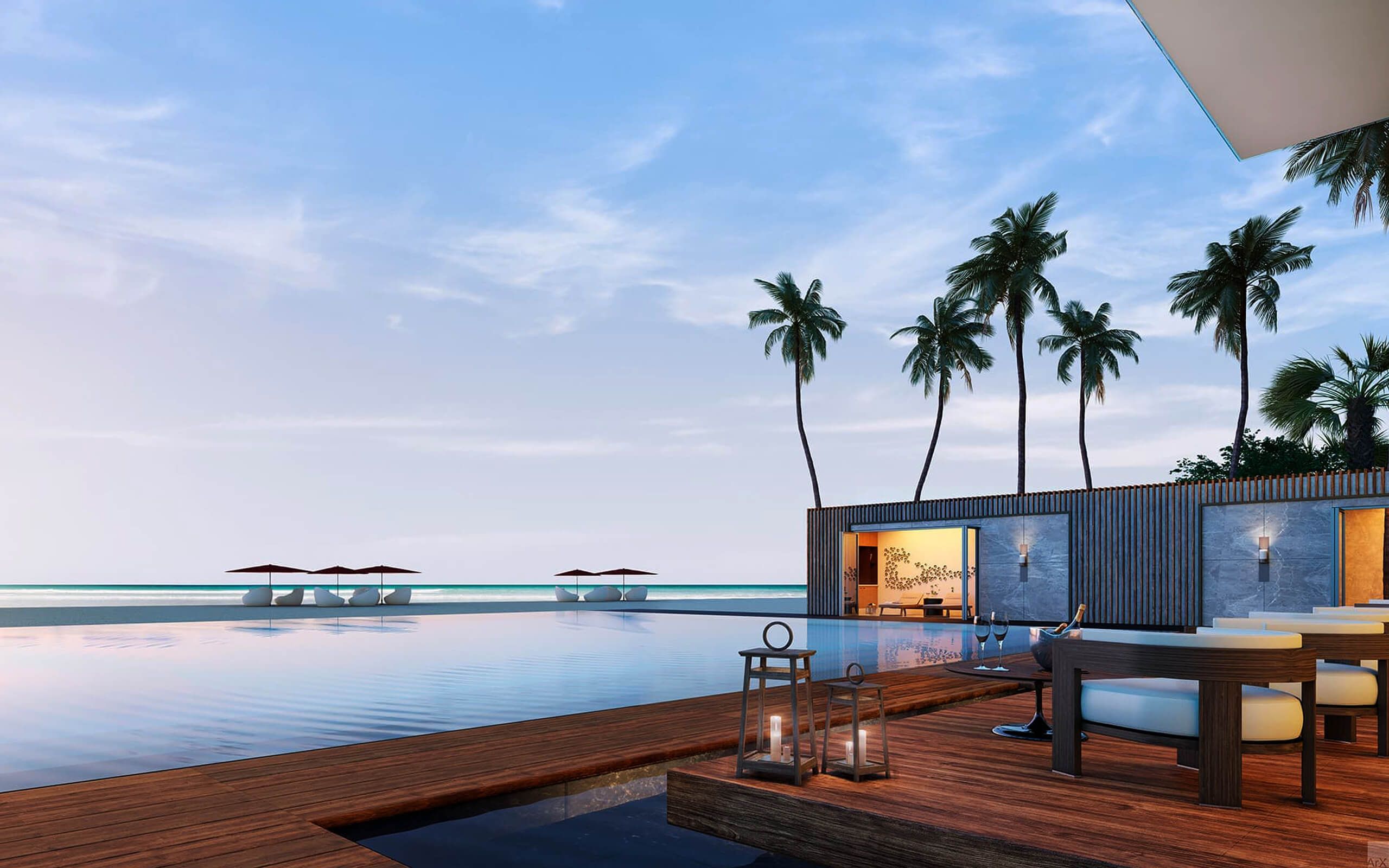 Muse Residences, Sunny Isles Beach - By Property Markets Group and S2 Development, LLC
Other amenities include a swimming pool with vanishing-edge, an automated parking system, and an exclusive Resident's lounge. Additionally, each residence at Muse have 60-foot-wide, and up to 38-foot-deep terraces, as well as outdoor living spaces complete with summer kitchens and weather-resistant entertainment systems, and custom smart-home technology.
Muse is located in Sunny Isles, Florida, a city bounded by the Atlantic Ocean on the east and the Intracoastal Waterway on the west. Muse is within walking distance of elite urban necessities, like remarkable restaurants and lively nightlife.
57 Ocean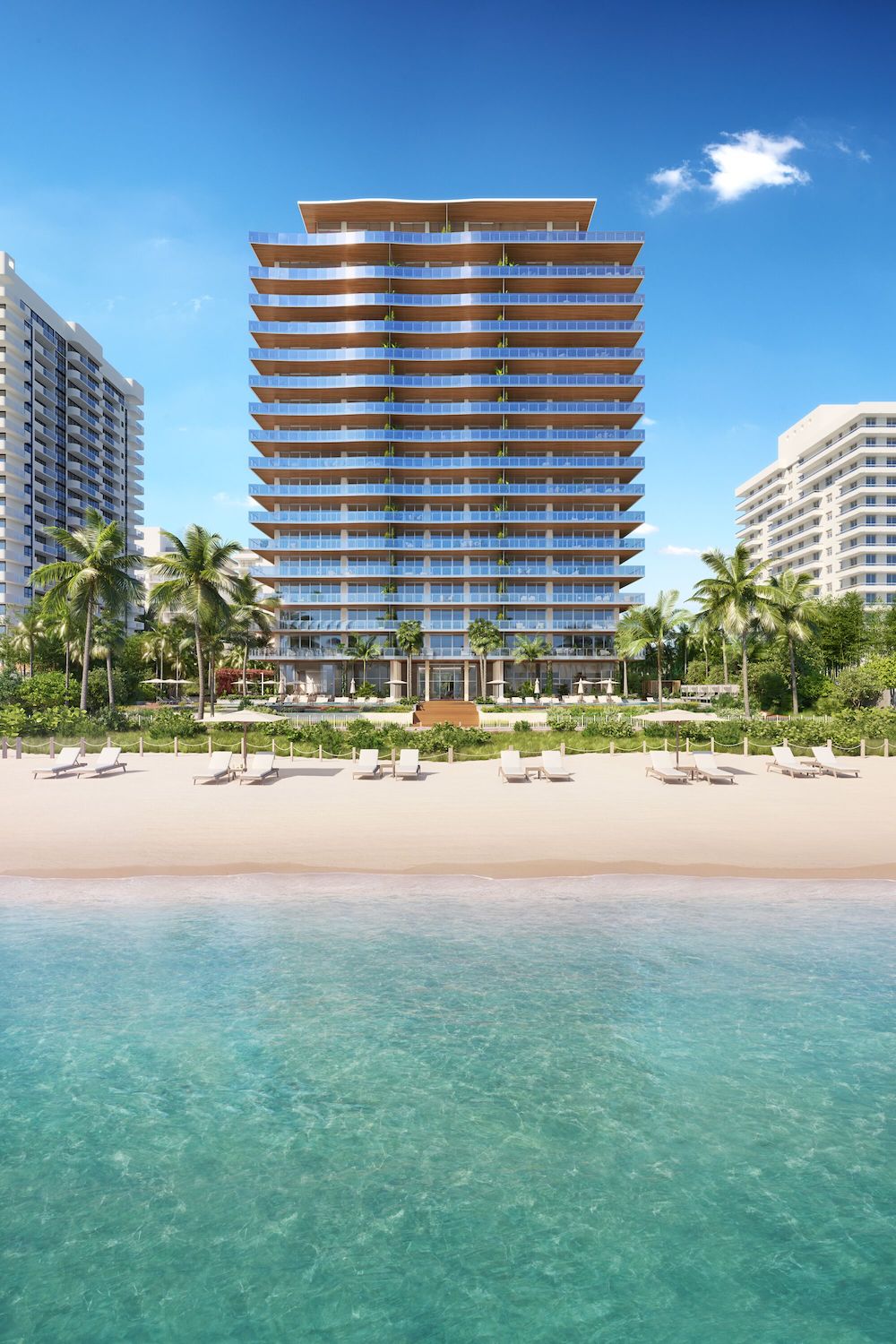 57 Ocean Miami Beach - By Multiplan Real Estate Asset
A haven for quality time, introspection and tranquility. Here, the cadence of the Atlantic sets the pace for a life lived in full. At 57 Ocean, water is a source of well-being, inspiration and harmony: the ocean as muse.
57 Ocean Miami Beach is an 18-story residential tower, offering a sleek glass design complimented by various wood details with lush foliage and vertical gardens. This tower offers 81, two to four-bedroom, luxury residences, each featuring private elevator entries, designer Italian kitchens and bathrooms by Poliform, 10-foot ceilings, 12-foot-deep private terraces, with ocean and city skyline views.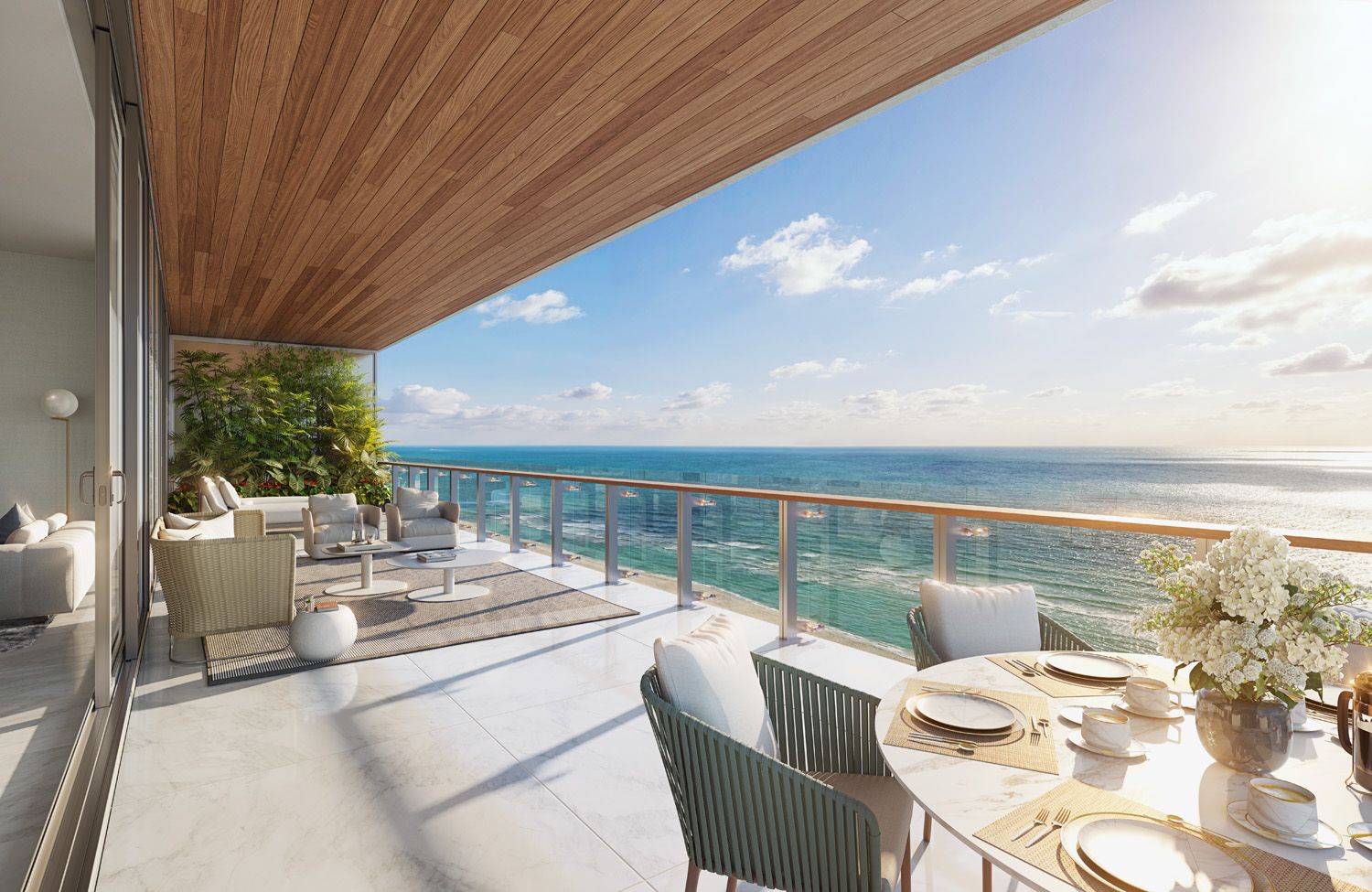 57 Ocean Miami Beach - By Multiplan Real Estate Asset
57 Ocean also offers substantial amenities -- 220 linear feet of beachfront offering beachside services, two cabana-lined oceanfront infinity pools, poolside bar, a sunset terrace featuring a spa pool, fitness center with Technogym equipment, a sunset terrace featuring a spa pool, wet deck and lounge area, and a children's playroom.
But the one-of-a-kind Wellness Pavilion Spa is a 57 Ocean differentiator. It is a holistic indoor-outdoor space, offering a thermal suite with aromatherapy saunas, steam rooms, as well as private indoor and outdoor treatment suites.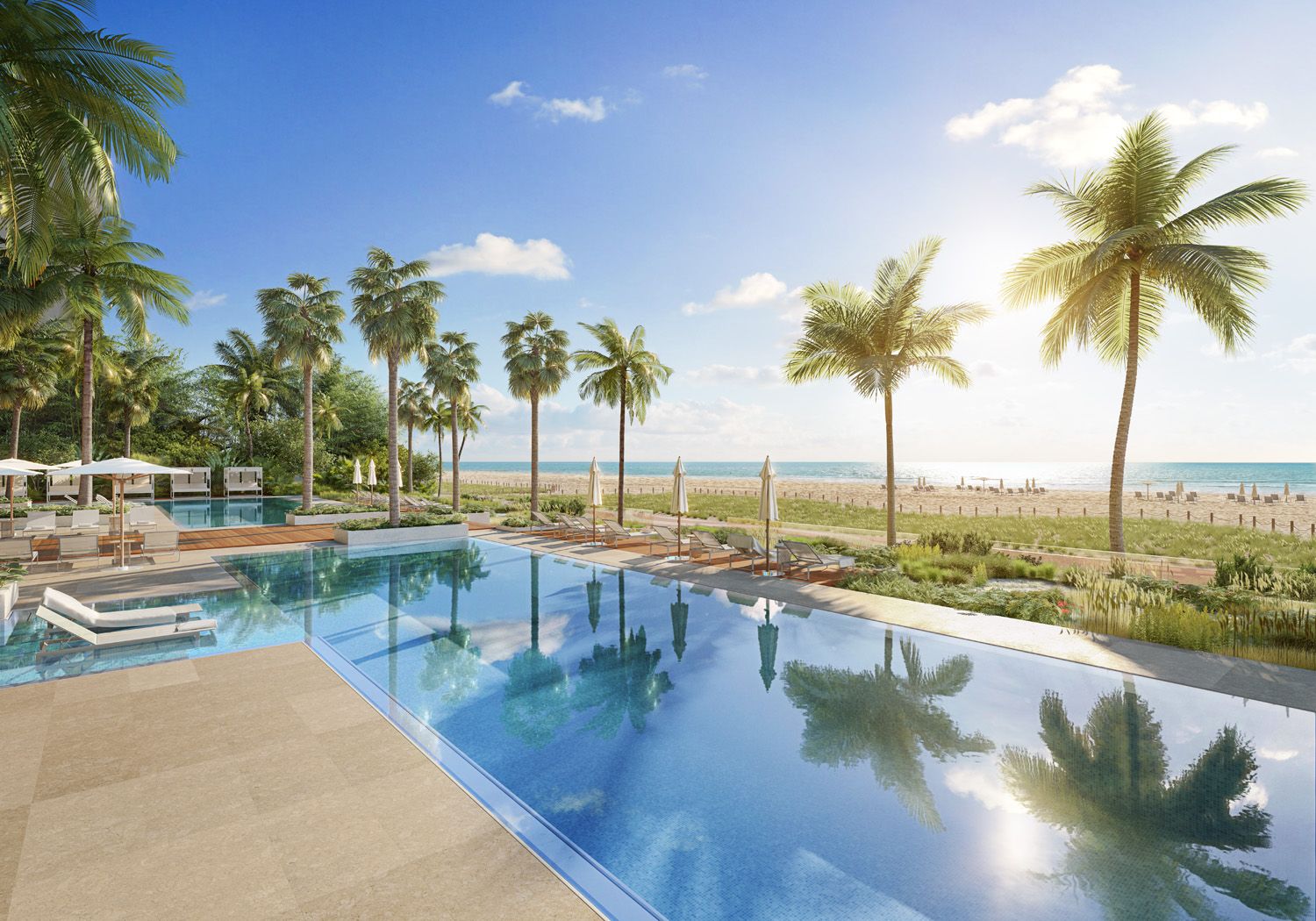 57 Ocean Miami Beach - By Multiplan Real Estate Asset
There is, of course, an on-site concierge, but there is also 24 hour valet and security services, one-call fitness trainers, and spa treatment specialists and private chefs.
57 Ocean elevates Miami mindful living, with true wellness dimensions, to an elite-defined level of complete well-being. This ultra-luxe condo property is situated on the Millionaire's Row stretch of Collins Avenue in Miami Beach. The condo building is designed by Bernardo Fort-Brescia of Arquitectonica with interiors by Brazilian designer Patricia Anastassiadis.
Eighty Seven Park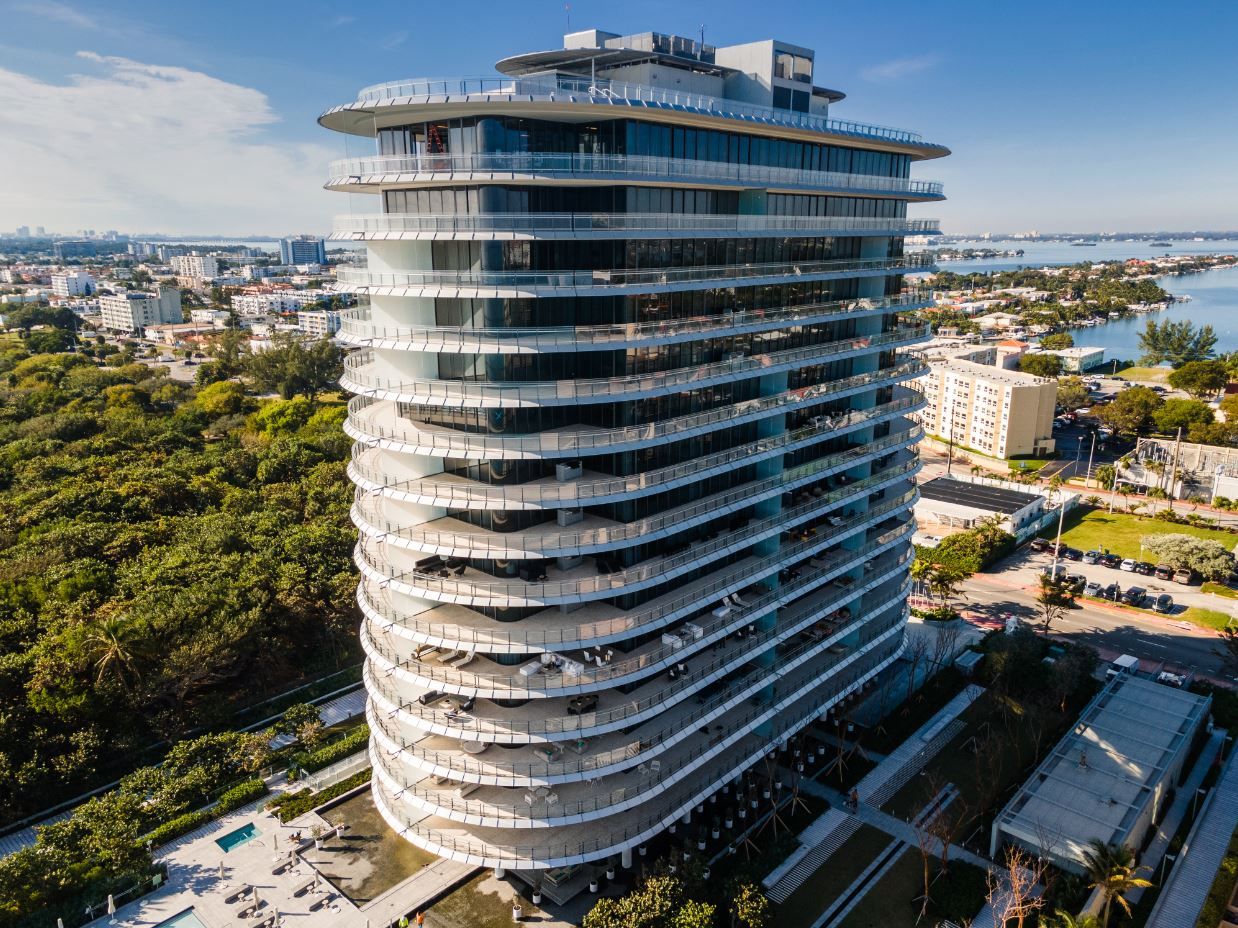 Eighty Seven Park, Miami Beach - By Terra and Bizzi & Partners Development
A place bound by land and sea, but rising free of both. Eighty Seven Park Miami is more than a building, it's a landmark that blurs the line between imagination and knowledge.
The new Eighty Seven Park includes seventy beachfront residences. There are 18 floors, including the penthouse. Buyers have been impressed with the unique architecture, created by Pritzker Prize winner, the renowned Renzo Piano.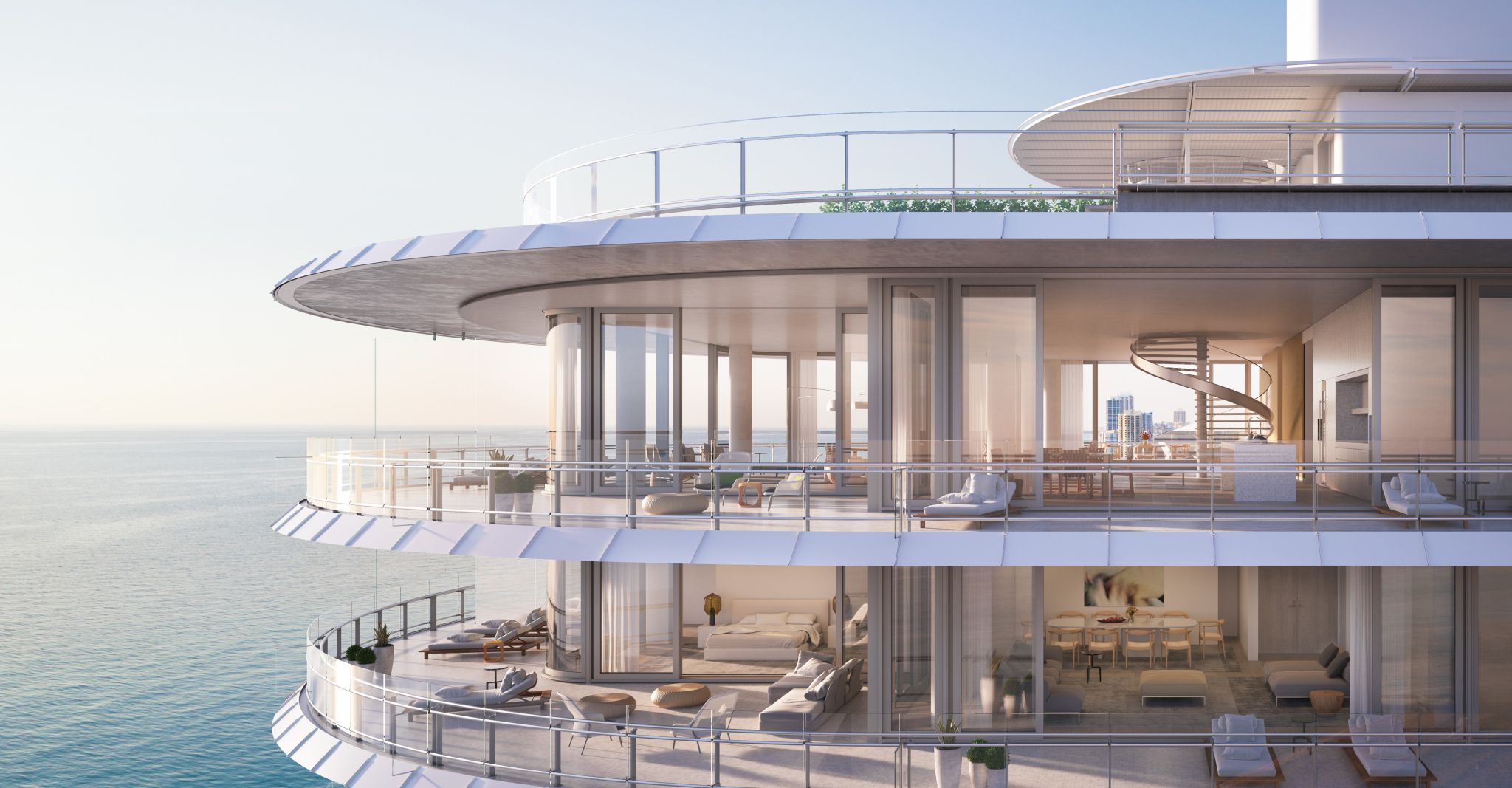 Eighty Seven Park, Miami Beach - By Terra and Bizzi & Partners Development
Floor-to-ceiling glass walls, Italian cabinetry with glass doors, Natural stone countertops, Oak veneer panels, Wolf Sub-Zero appliances, all blend to make residents say they feel as if they are part of both the interior and the exterior landscape. The residences also offer smart technology open floor concept layouts.
Mr. Piano said recently that the building speaks the language of lightness. His residences reflect and refract this view, with terraces that feature outdoor kitchens and unobstructed views of the varying Atlantic blue ocean moods.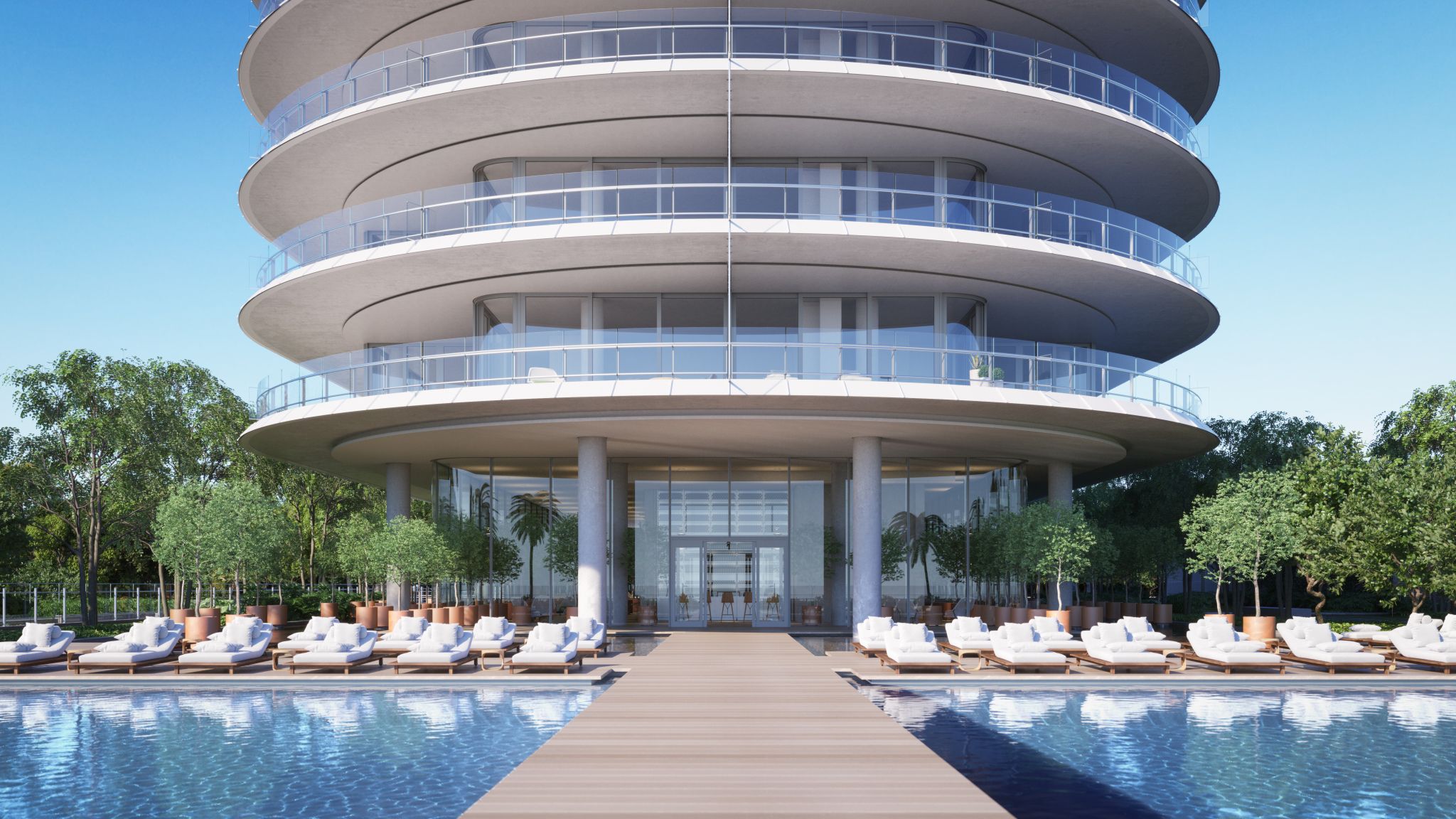 Eighty Seven Park, Miami Beach - By Terra and Bizzi & Partners Development
This one-of-a-kind creation features 16 suspended decks arranged to capture both ocean light and sound, bringing a sense of sanctuary to the 70 condominiums with its wraparound architecture. Indeed, Eighty Seven Park Miami features some of the largest terraces in the area.
Unique amenities include an ever-changing botanical exhibition and balconies to create unimpeded ocean views. In addition, an organic lobby connects the public park and private gardens, providing residents with spectacular scenery that is second to none in Miami.
Eighty Seven Park offers what most desire but rarely own: open spaces, full of painterly light and ocean air, all showcasing the Atlantic Ocean vistas from terraces, balconies and floor-to-ceiling windows.