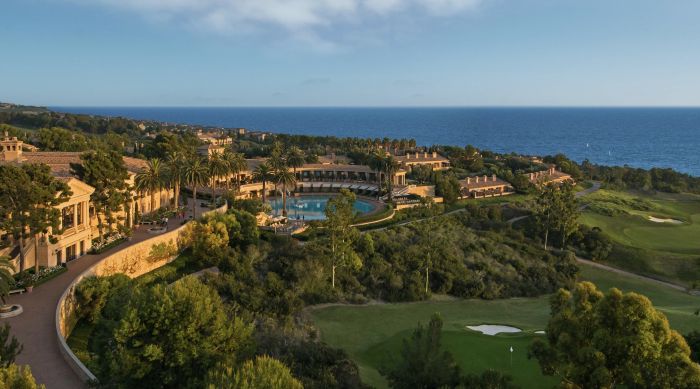 Courtesy of Pelican Hill
In case you missed the entertainment news from this past weekend, Chance the Rapper and his longtime girlfriend Kirsten Corley got married at The Resort at Pelican Hill in Newport Beach, California on Saturday, March 9th in an exclusive seaside ceremony overlooking the Pacific Ocean. The pair exchanged vows before 150 guests, including family and celebrity friends with famous faces such as Kim Kardashian, Kanye West and Dave Chappelle in attendance.
With its whimsical ceremony venues and the finest five-star personalized service, it's no wonder that the famed couple chose to tie the knot there. Selecting the perfect location for one's special day is one of life's most memorable decisions and The Resort at Pelican Hill transforms every day of one's stay into an unforgettable experience.
Upon arrival to Pelican Hill, guests are immediately greeted with breathtaking panoramic views of the Pacific set next to stunning terra cotta Italian architecture. Nestled along one of the most pristine and protected coastal enclaves remaining in Southern California, this sprawling resort is scattered amidst hundreds of ancient olive trees bringing a love of all-things Tuscan to the chic town of Newport Beach.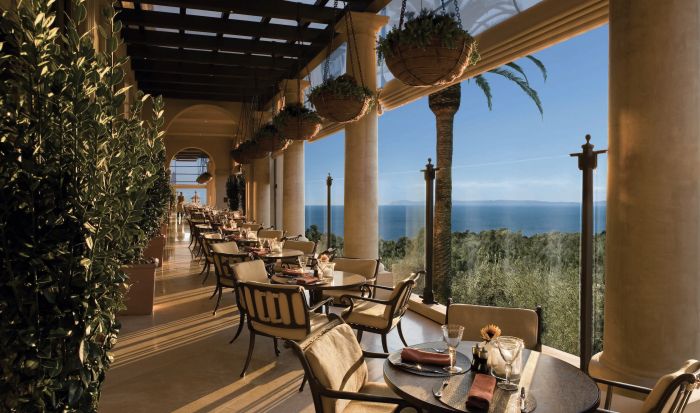 Courtesy of Pelican Hill
Couples enjoy the ultimate in personalization throughout every step of the wedding planning process to confirm that even the tiniest of details of their big event is arranged and implemented to their heart's desire. Pelican Hill limits celebrations to just one wedding at a time, guaranteeing unwavering attention and heightened exclusivity. Once the couple checks in for their wedding weekend, a wedding butler is assigned to tend to their every need. Wedding guests are also looked after by a dedicated concierge team, who ensures that the wedding weekend goes off without a hitch.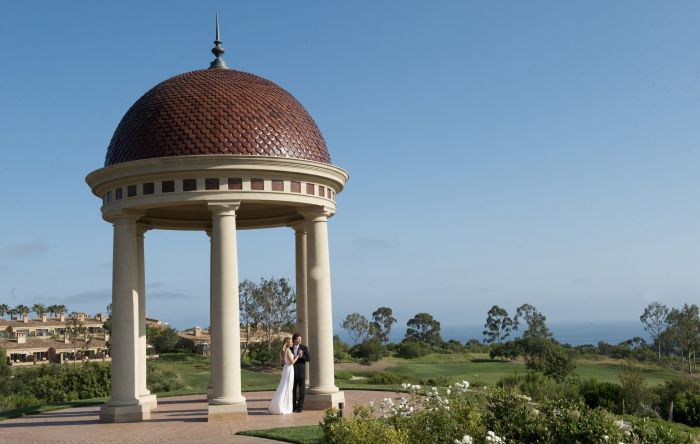 Courtesy of Pelican Hill
The sprawling cliffside resort offers 300-plus accommodations in all. There are several room categories to choose from including bungalow guest rooms and suites and larger-sized villas. The former provides apartment-style lodging, all of which feature terraces, fireplaces, lavish bathrooms and décor that highlights soft neutrals and natural textures. The resort's villas are larger in size and particularly attractive to brides and grooms and their guests. These 2-, 3- and 4-bedroom villas are the most luxurious option with their own dedicated staff and around-the-clock butler service. Each villa includes the typical upscale features – a fireplace, walk-in shower and 500 thread-count linens to name a few of the offerings – in addition to a well-equipped kitchen and private garage for each villa. Guests staying in the villas are also granted private access to the 10,000-square-foot clubhouse, which provides a more intimate environment, as well as a villa-only restaurant, fitness center and private pool and cabanas.
Courtesy of Pelican Hill
In addition to offering nearly every comfort one can find at a five-star resort, Pelican Hill boasts not one, but two, 18-hole golf courses – perfect for a round of golf for the guys before the wedding ceremony. If the spa is better suited for you, there's 23,000 square feet of pure tranquility – a haven within a retreat. The world-renowned spa includes 22 private treatment rooms and separate men's and women's locker rooms with steam/sauna facilities and saltwater Roman soaking tubs. Visitors should also be sure to also check out the hotel's main Coliseum Pool - one of the most strikingly unique pools! The show-stopping structure is the world's largest circular pool at 136 feet in diameter. It was based on the renowned Rome landmark of the same name and features more than one million hand laid glass mosaic tiles.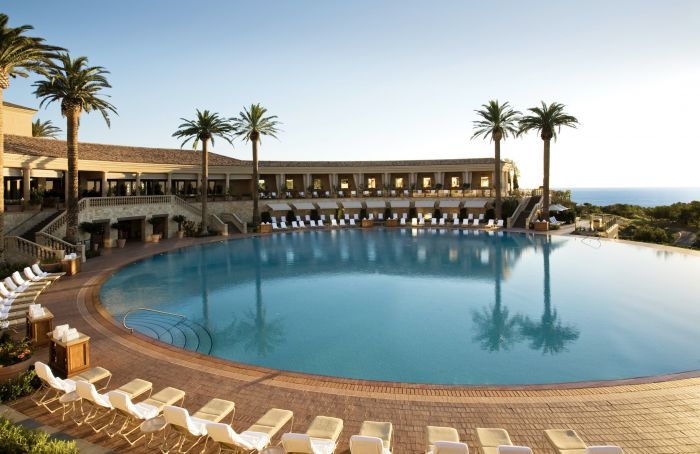 Courtesy of Pelican Hill
The Resort at Pelican Hill provides numerous on-site activities well suited for your guests – including a beautiful beach club that's accessible via a five-minute shuttle ride to the sand and a kids/teen club should children be in attendance. Additionally, the resort is perfectly situated for day trips to Disneyland and Legoland should that be on your guest's agenda.
There is no more exquisite place, and no more exclusive resort, to celebrate the exchange of vows on the Southern Cali coast. The Resort at Pelican Hill has a timeless prestige about it – an iconic place that allows you to build memories to last a lifetime. This extraordinary destination resort has set a new paradigm in exclusivity, service and guest experience and should be on anyone's list considering a California celeb-worthy destination wedding.