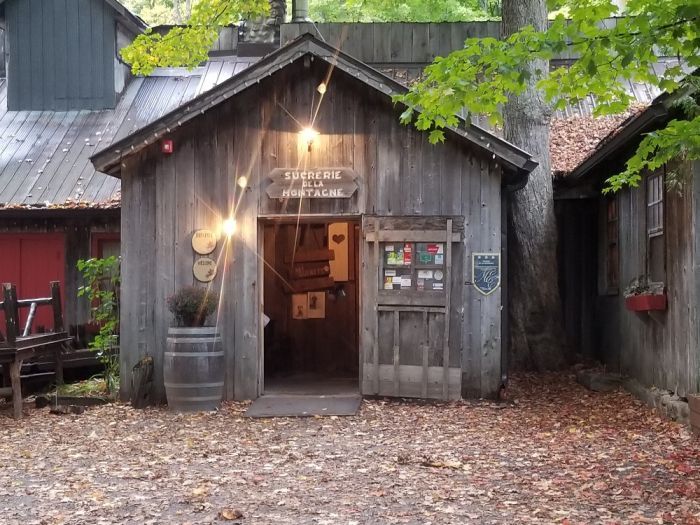 Steve Mirsky
In a rough equidistance between Montréal and Quebec City as well as sharing a multistate northern U.S. border spanning New York State to Maine, Canada's Southern Quebec is renowned for unique gourmet experiences, distinctive lodging, and unspoiled natural beauty. Here are 11 can't-miss road trip worthy attractions to add to your GPS next time you head over the border: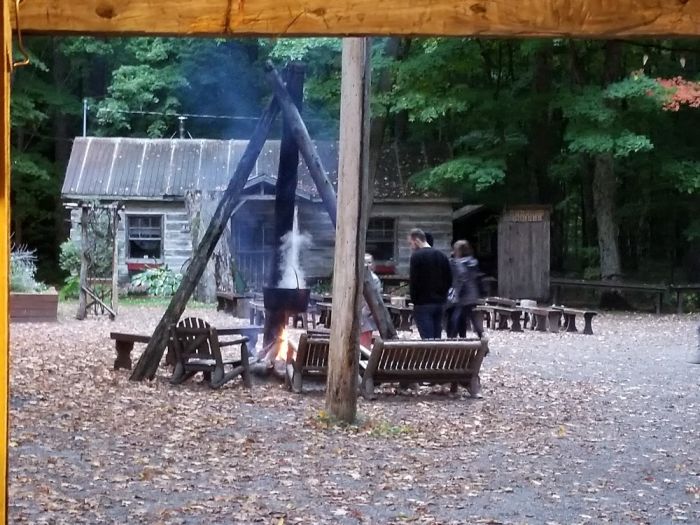 Steve Mirsky
Open year-round and designated an official "Site du Patrimoine Québécois" (Québec Heritage site), La Sucrerie de la Montagne is an authentic sugar shack in the middle of a 120-acre forest of century-old maples atop Mont Rigaud. Pierre Faucher started the venture in 1978 with his wife, Sandra, on land where syrup had been produced since the 1930s. He worked with the previous owner in 1977 and enjoyed it so much he bought it a year later becoming Canada's first year-round maple-syrup farm. La Sucrerie takes visitors back in time with momentary glimpses of Quebecois pioneer life with both Pierre Faucher and his son Stefan curating the experience dressed in period clothing including circa-1906 handwoven, arrowhead-patterned sashes used as scarfs.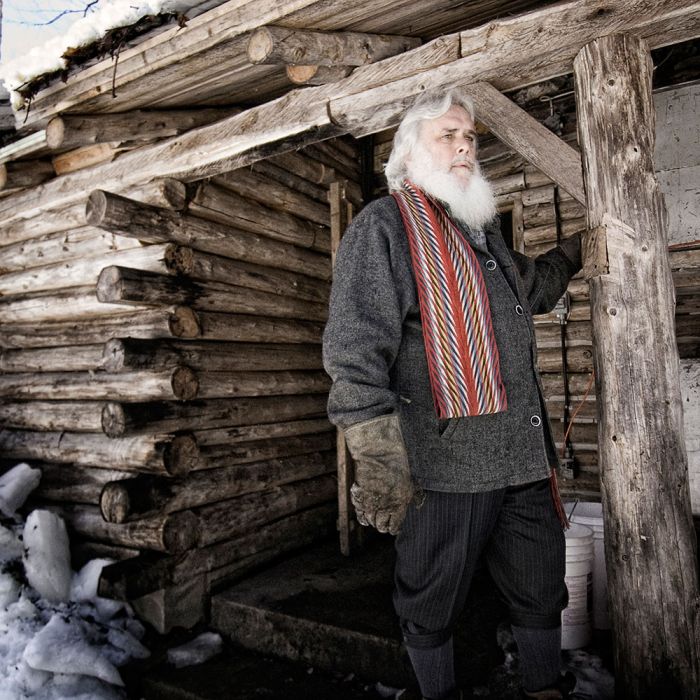 La Sucrerie de la Montagne
A single clapboard building in the heart of the grove grew into a village-like cluster of buildings recreating the milieu of French-Canadian frontier culture from the 1800s. 4 traditional log cabins host overnight visitors, a fieldstone bakery produces bread baked in an 8x10-foot wood-fired oven, and a general store sells all things maple. Pierre and his team created the structures from centuries-old log dwellings disassembled in neighboring towns, transported, and rebuilt here.

Steve Mirsky
Two dining halls outfitted with floor-to-ceiling stone fireplaces and communal tables made from barn board planks are frequently laden with their Canadian lumberjack all-you-can-eat feasts of pea soup, farm-style crusty bread, maple-smoked ham, wood-fired baked beans, farm-style omelet soufflé, country-style sausages, traditional meatball stew, grilled salt pork, old-style mashed potatoes, meat pie from Québec's Beauce region, and homemade fruit ketchup & pickles. Sugarpie & pancakes with maple syrup tempt those who somehow have room for dessert.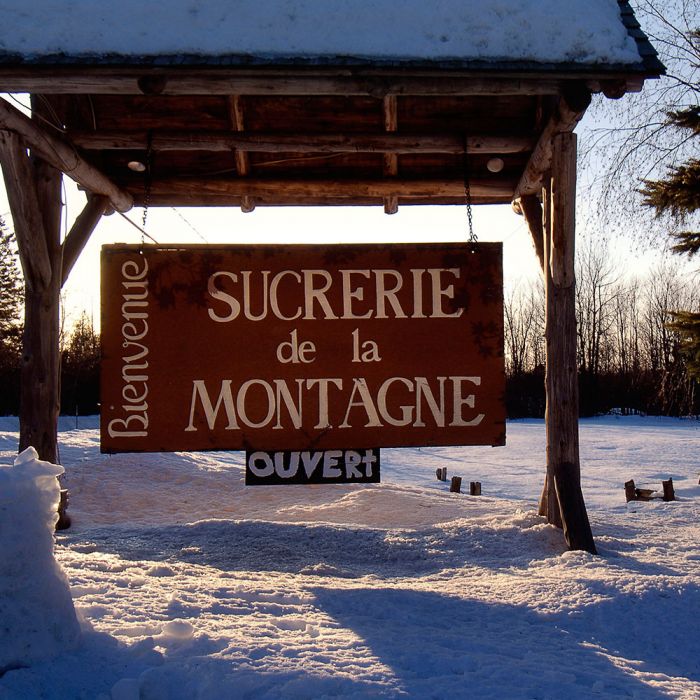 La Sucrerie de la Montagne
From Feb-April, you can get hands-on with "sugaring off", Quebec's traditional maple sugar harvest, by tapping maple trees with a spout, collecting the sap in a pail and pouring it into a traditional wood-fired evaporator creating an aromatic cloud of maple steam while maple syrup gets left behind. You also get the unique opportunity of savoring maple taffy on snow, a classic treat only available during this time of year.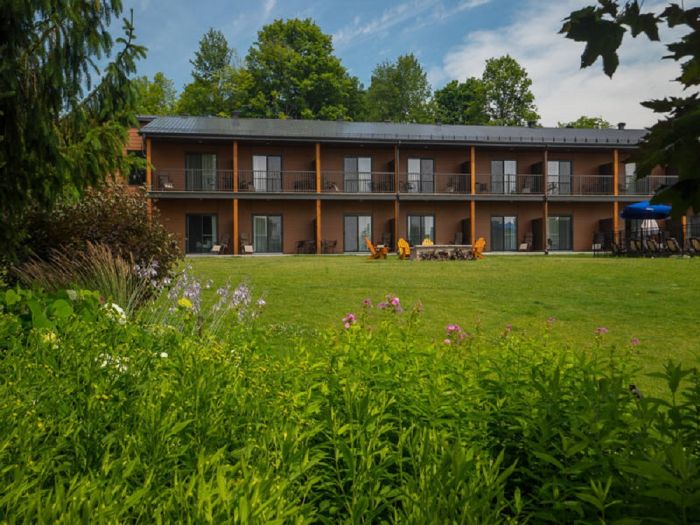 Auberge des Gallant
Nearly equidistant between Montreal and Ottawa in the heart of a bird & deer sanctuary on Rigaud mountain, Auberge des Gallant got its start in 1972 when owner Gerard Gallant opened a small 6 bedroom inn with a 26-seat dining room. Word quickly spread about the Gaspé native's skill with super fresh seafood dishes.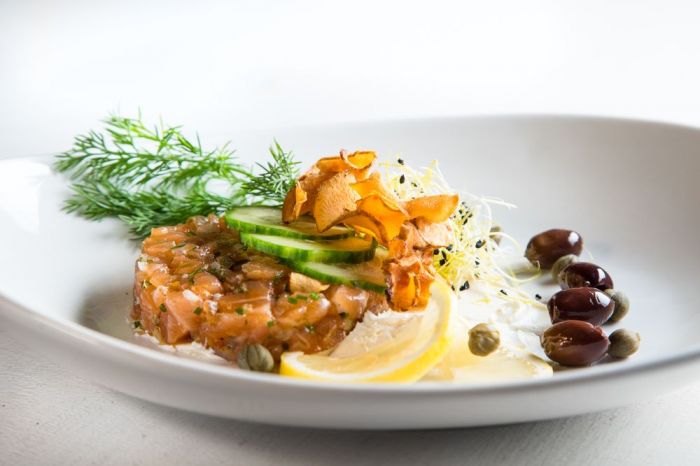 Auberge des Gallant
Fast forward to 2012 when a major renovation and architectural upgrade bumped the property up to 4-stars with 41 new rooms, meeting space, Spa Gallant with two 4-season outdoor tubs, and Guide Debeur rated60-seat restaurant 1171. Helmed by Chef Neil Gallant, 1171's menu showcases local ingredients from Quebec and Ontario on their A la Carte and Table d'Hote menus.
Auberge des Gallant
Commemorating a 1998 ice storm which felled countless trees in the area cutting power for days, 120 residents sought emergency refuge at the inn. Their Maple Pavilion is built from the wreckage and stands to this day as a special event space for guests.
Cirerie Michel Jodoin
Michel Jodoin's life with apples began as a child helping his father Jean and grandfather Ernest in the orchards making him the 4th generation of Jodoin's apple farming since 1901. But Michel knew early on that he wanted to go beyond the seasonal dependant enterprise of selling apples to making craft cider. Since the popularity of cider in Quebec had been declining year after year throughout the 1970s, people thought he was crazy. But Michel knew that the sweet and tasteless apple soda that passed for cider at the time directly resulted from Canada's short experiment with Prohibition that amazingly kept cider illegal until 1988.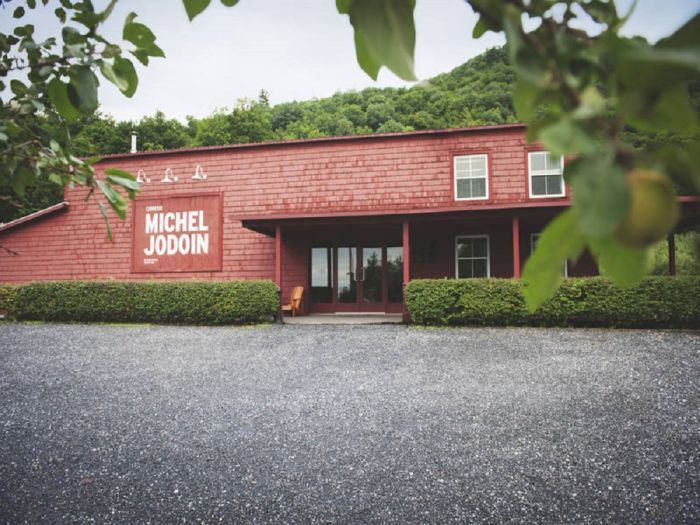 Cirerie Michel Jodoin
As soon as Jodoin took over operations from his father, he headed to France's Champagne region to learn the traditional method of making sparkling wine from the masters. Upon his return, he outfitted his garage with fermentation equipment and set a goal of selling 100 bottles a month but only sold 150 bottles in 6 months. Undaunted, he went door to door to spread the word eventually gaining market share.

Steve Mirsky
Today, his children are taking over and the cider house welcomes 42,000 visitors a year with a diverse lineup going beyond the familiar still cider to Ice rose, sparkling, and crackling ciders. They even expanded to apple brandies and vermouths. In a nod to Provençal pink wines, their signature cider Lèger Rosé, made from the pink and fleshy Geneva apple blended with Québec mainstay McIntosh, is sold in Bordeaux-style bottles.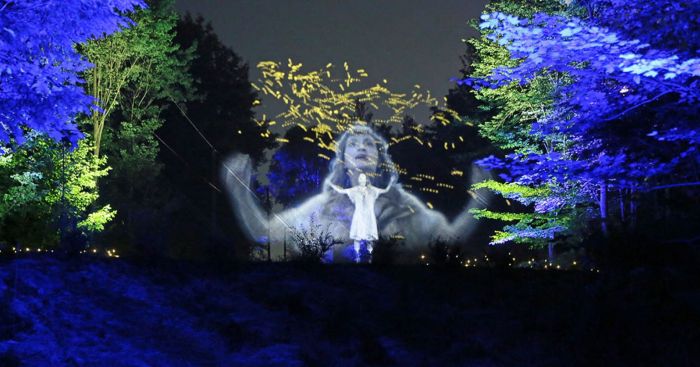 Foresta Lumina
Every June - October in the village of Coaticook, Parc de la Gorge transforms at night into Foresta Lumina, an enchanting 2.5-km pathway of 11 different interactive multimedia experiences inspired by the uniquely Quebecois tale of Margaret, a mystic who at one time experienced a parallel reality of supernatural life forces, mythical creatures, and fairies in the woods nearby. The remarkably diverse terrain surrounding the pathway provides a perfect backdrop for digital scenes projected onto rock cliffs and trees seemingly animating their natural attributes using barely visible netted screens, creative lighting, and video mapping choreographed to music.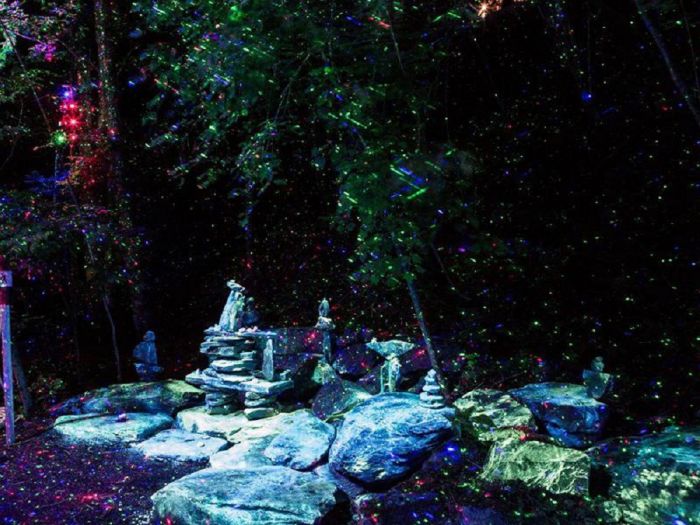 Quebecoriginal.com
Highlights include a projected scene of lava running down a cliff followed by rocks crumbling into a river below. Behind the rubble, a glowing hidden chamber appears containing a young woman dancing surrounded by fairies. You'll also cross a swaying 554-foot suspension bridge illuminated with white lights that strikingly contrast with small blue and red lights in the gorge below. A set of drums that light up as you hit them presents the most interactive experience along the pathway. Foresta Lumina certainly brings the supernatural to life making it an attractive autumnal alternative to the fright fests and haunted house attractions so widely promoted elsewhere.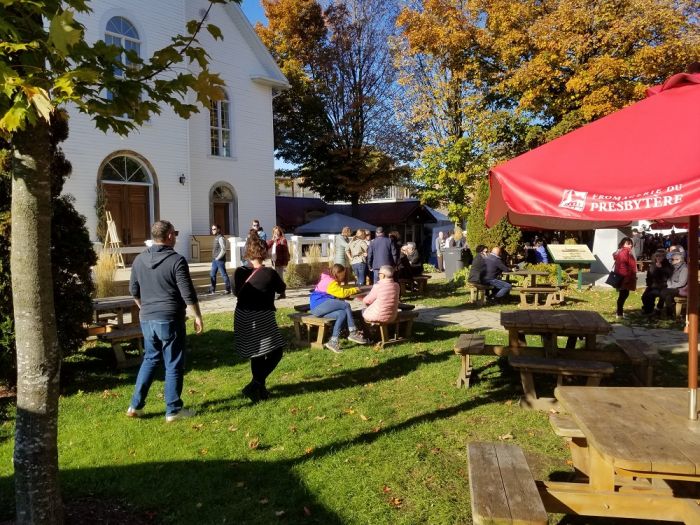 Steve Mirsky
As a child living just across from the church that Fromagerie du Presbytere now occupies, Jean Morin crossed Sainte-Élizabeth-de-Warwick's main street most mornings from his family's Louis d'Or dairy farm to deliver cakes to the village priest.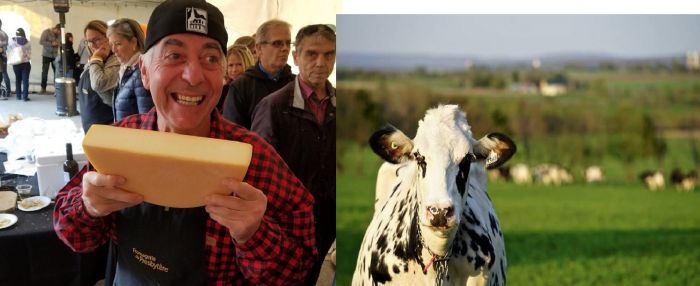 Steve Mirsky
Fast forward to the early 1980s when Jean took over the dairy farm as a 4th generation owner with one of his brothers and committed to a fully organic operation where milk production is now entirely used for cheesemaking. His team of 15 cheesemakers operates under the basic premise that the cheeses' quality entirely depends on the milk's quality. Varieties include Brie Paysan, Champayeur, Laliberté, Louis d'Or, Religieuse, Taliah, Pionnier, and a Bleu d'Élizabeth that has been awarded year after year including Canada's best cheese 2 years in a row.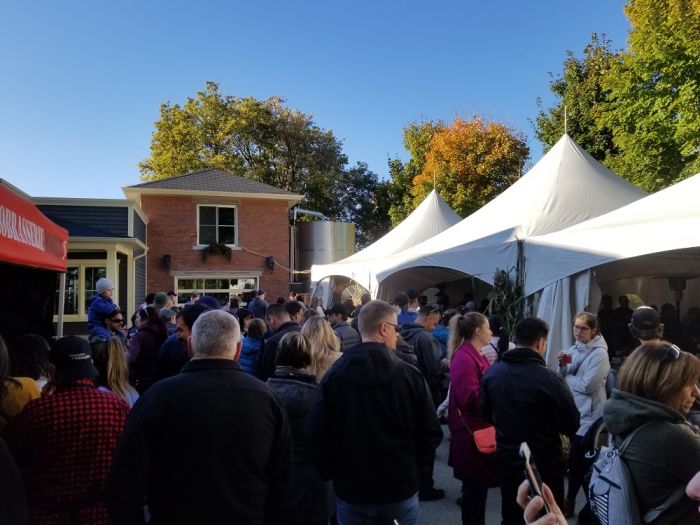 Steve Mirsky
After watching the old presbytery fall into ruins over the years, Morin decided to purchase it in 2005 converting it into Fromagerie du Presbytere's aging room. Since it's considered a sacred place, taking possession of a church stirs many emotions and for this reason the Prebytere continues to be a communal place. Fridays at the Fromagerie" during summer is a perfect example attracting thousands of people every week arriving with coolers and bottles of wine claiming their picnic table for the afternoon.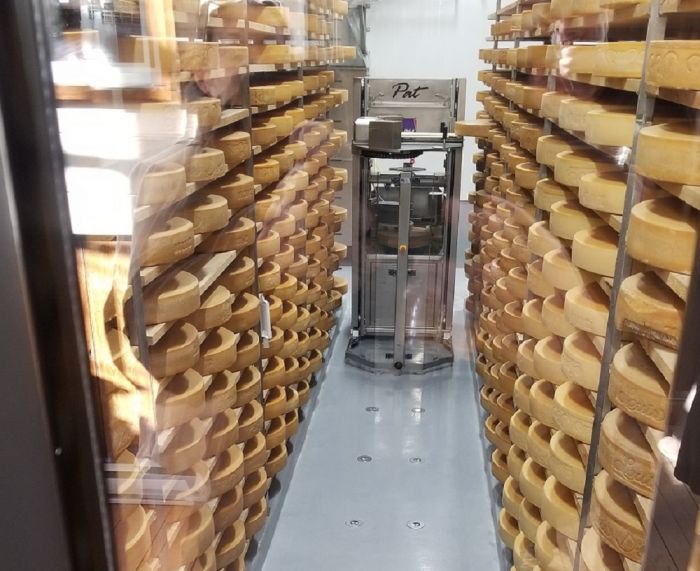 Steve Mirsky
La Fromagerie's latest addition, a $300,000 Swiss-made robot, lifts, brushes, and rotates 40-kilo cheese wheels that age for 9 months in the ripening room. Since the chamber is more than 5 meters high, the robot not only ensures uniformity but also protects employees from the hazards of doing it manually while happily freeing them to make even more tasty cheeses.

Steve Mirsky
Perched at the edge of an alpine pasture at an altitude of over 1,000 feet, Au Diable Vert lies between the summits of Mont Sutton, Jay Peak, and Owl's Head. Their VeloVolant resembles something like a ski resort chairlift only instead of the chair, you sit back on a recumbent bicycle pedaling at your own pace as high as 100 feet above the ground into the surrounding forest canopy. The 1,000-meter circuit meanders above ravines and waterfalls with Green Mountain and nearby Missisquoi River Valley views in the distance.

Le Sainte Helene
Situated in the heart of the village of Sainte-Hélène-de-Chester in the foothills of the Appalachians, an old schoolhouse now converted into a Nordic inn and spa, Le Sainte-Hélène offers the perfect place to recharge your batteries in its 2 outdoor spa tubs, relaxation Pegoda, and plunge pool as well as an indoor sauna and steam room. No matter the season, a relaxation canopy, 20 acres of open space, pond, and access to hiking trails provide ample opportunities for escaping the treadmill of life for a stretch. Their onsite dining taps into the bounty of local farms and nearby artisan producers including a serve yourself continental breakfast each morning.

Quebecoriginal.com
Situated on the Bécancour River, Saint-Louis-de-Blandford is surrounded by a patchwork quilt of bogs marking Quebec's epicenter of cranberry farming.From mid-September to mid-October, the Cranberry Interpretation Centre rolls out the red fruit carpet for visitors to experience cranberry harvesting first hand. Accompanied by a guide, climb aboard a covered wagon pulled by a tractor and tour the nearby bogs where you'll learn interesting factoids like how they're flooded with water only during harvest and that the berries are uniquely 100% sugar-free in their natural state. Chances are you'll get to sample fresh raw cranberries by the handful while watching teams of workers vacuuming up the fruit into large dump trucks.Your journey culminates at the Centre with a discovery room filled with exhibits as well as a wide variety of unique handmade treats ranging from cranberry jams and candies to sparkling wines.

Steve Mirsky & Hydravion Aventure
Did you ever wonder how people explore vast tracts of wilderness within a weekend or several day excursion? When in Canada, especially Quebec's Mauricie National Park, hiring a floatplane is the only way to go. Hydravion Aventure, based on the Saint-Maurice River offers a flotilla of seaplanes including a legendary de Havilland Beaver helmed by a team of former fighter pilots. You'll be hovering above rugged terrain filled with beauty and can usually count on a soft, slow landing gliding up to the dock. Their packages include professionally organized point-to-point flights as well as excursions with your choice of flight/restaurant or flight/picnicking packages.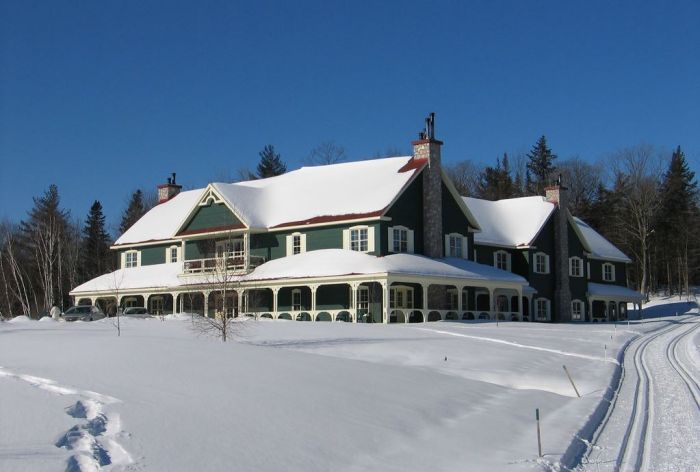 Baluchon Eco Resort
Surrounded by a 1000 acre wilderness preserve interwoven with 25 miles of trails, Baluchon Eco-Resort offers the perfect opportunity to escape into nature yet with all the amenities of a luxury resort at your fingertips.

Steve Mirsky
A wood-planked boardwalk parallels the Rivière du Loup's tumultuous rapids interconnecting Baluchon's Nordic Spa and Dining Room at one end passing the resort's individual lodges, main lobby & adjoining Eco Cafe eventually leading to an overlook above Chute aux Trembles (Aspen falls) and L'Archipel du Sabot de la Vierge (Lady's-Slipper archipelago) in the distance below.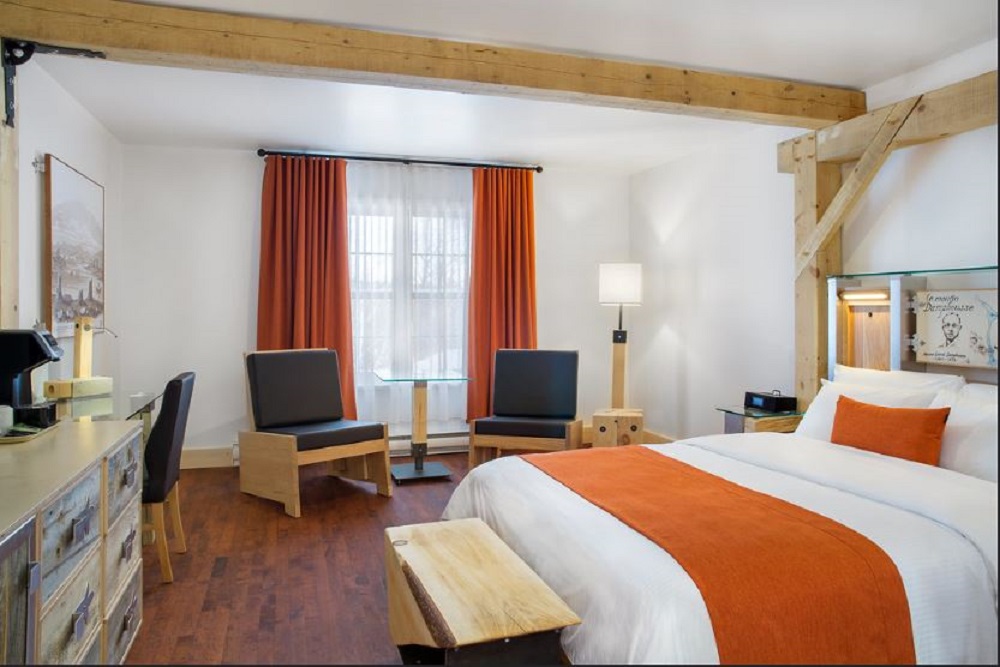 Baluchon Eco Resort
Baluchon was an early adopter and remains on the cutting edge of environmentally friendly practices like using marsh vegetation as a filtration system for waste water, incorporating biodegradable products into every point of service, and collecting all recyclable paper and glass. Each employee plants a tree every spring in a grove on the property as part of their Fôret de Notre Reconnaissance ("A Forest of Appreciation") program. Their laundry facility's heat recovery system saves over 5,000 gallons of propane each year while an extensive solar wall significantly reduces CO2 emissions.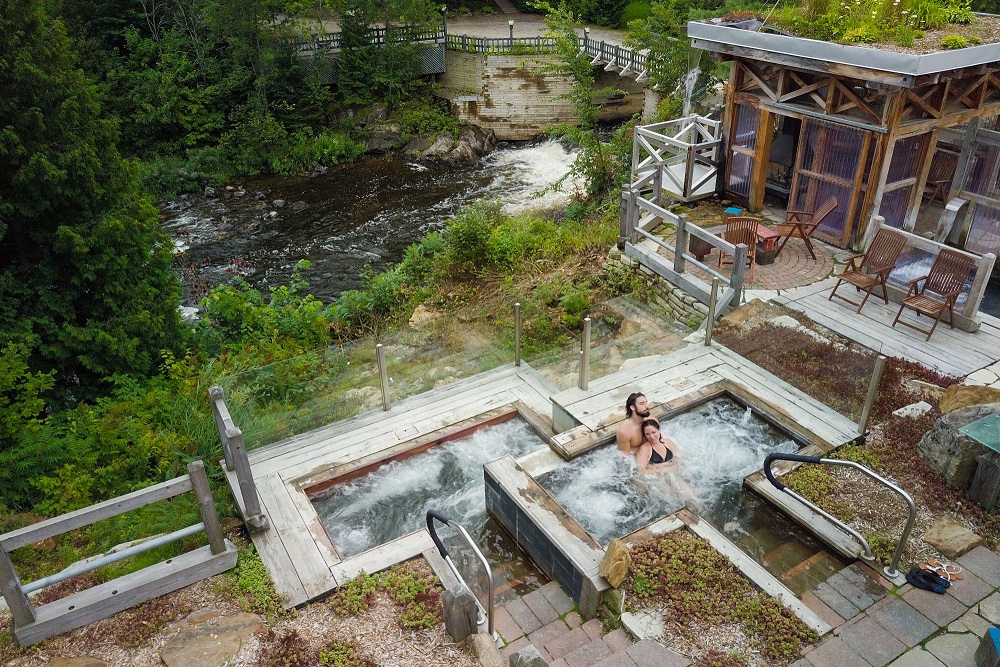 Baluchon Eco Resort
Baluchon's Nordic spa with outdoor hot tubs and saunas built into the river bank overlooking the Loup offers a wide range of treatments featuring their classic Archipelago Isles and Masso-Kinesiology Therapeutic massages Their organic cosmetics and massage gels made with natural botanicals and Quebec made soaps contain seaweed and goat milk bring you back to earth.

Baluchon Eco Resort
The resort shares farmland on the estate with local food producers who have formed the 'Le Voisinage' cooperative. Much of this organic produce is used in their kitchens property wide.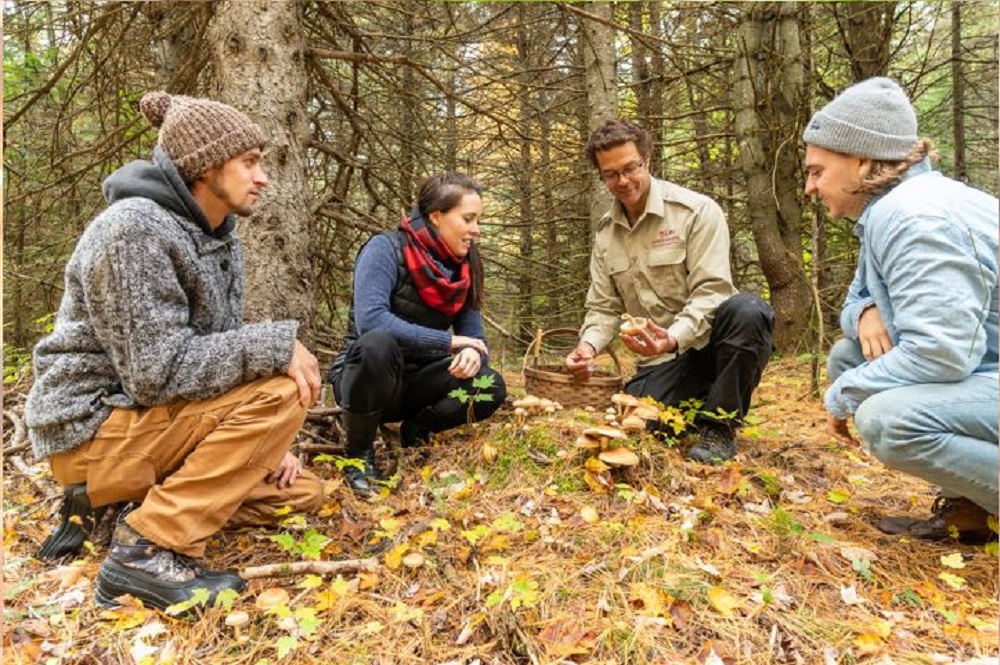 Baluchon Eco Resort
Other popular onsite attractions include a historic sugar house converted into event space and a chapel readymade for weddings. Guided outdoor activities include foraging for mushrooms & other Nordic wild edibles with a local mycologist. When it's time to sample the bounty, you'll gain a newfound appreciation of tasty treats like Burdock roots, cattail shoots, vitamin intensive sumac berries, and the flavorful meatiness of wild chanterelles growing on the forest floor.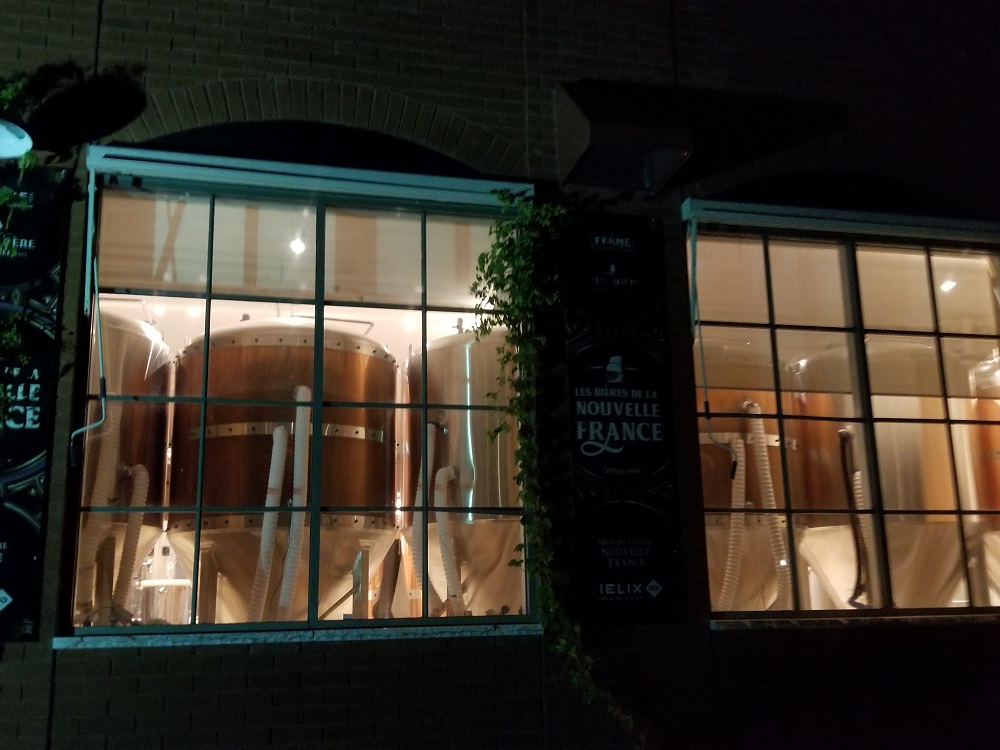 Steve Mirsky
Microbrasserie Nouvelle France
After traveling to Belgium with their folk band in 1998, Marc and Martine Lessard were so inspired by the burgeoning microbrew scene that upon their return, Marc sold his window & door workshop and launched a brewery. Starting with Clare Fontaine, Spelled Blonde, and buckwheat Amber, they continue offering new varieties earning them distinctions like the second brewery in the world to produce gluten-free beer and first field-to-bottle microbrewery in North America to have their entire production in house.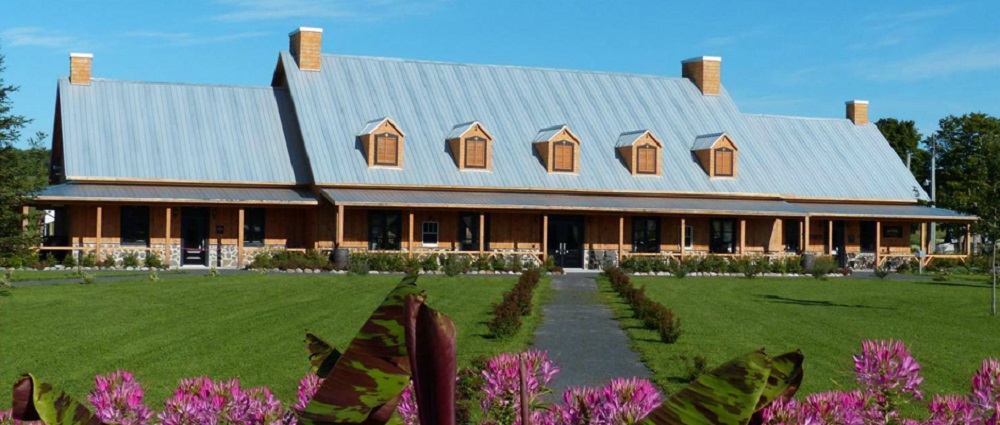 Microbrasserie Nouvelle France
Their own Ferme Nouvelle-France has been supplying all its ingredients starting in 2009 when their main buckwheat supplier closed down. The micro brasserie acquired the farm which happily came with all the machinery needed to grow their buckwheat and millet. Over time they added a hop yard, fields of amaranth and canola, orchard, vineyards, and vegetable gardens making it a tourist attraction all its own.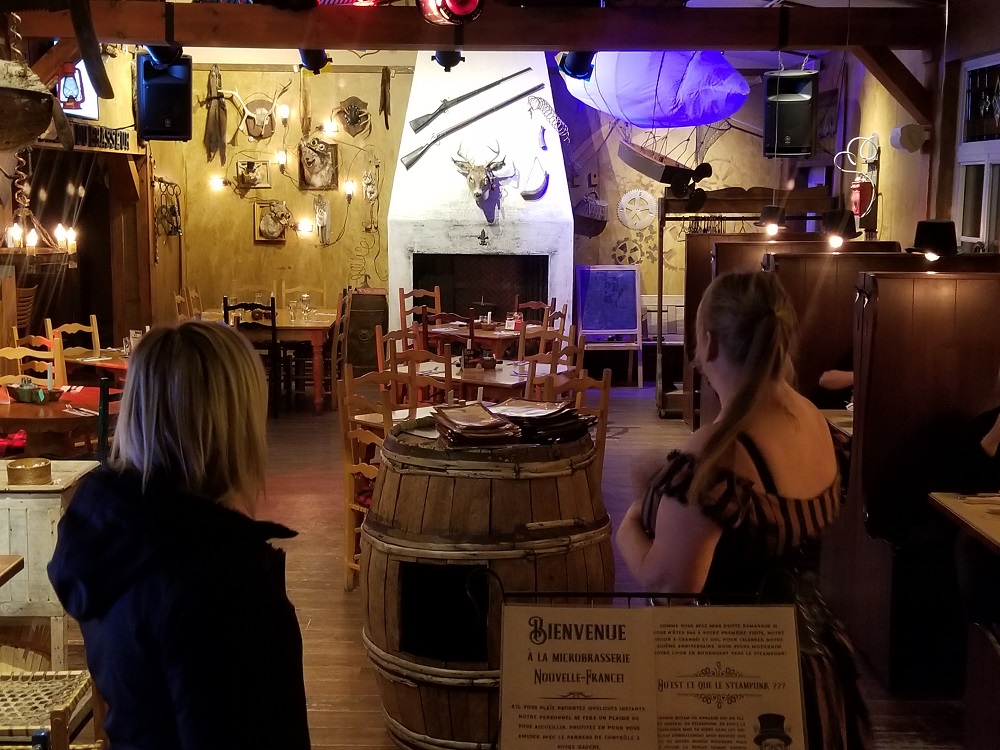 Steve Mirsky
Located in a former textile factory at the entrance to the village of Saint-Alexis-des-Monts, their micro brasserie pairs a rotating lineup with classic pub fares like burgers, poutines, pasta, sandwiches, and nachos. All vegetables on the menu are also organically grown at the Ferme. Steampunk decor incorporating retro-industrialist industrial touches to 19th-century objects and clothing graces the walls.
Coverage made possible by participating in a sponsored visit.