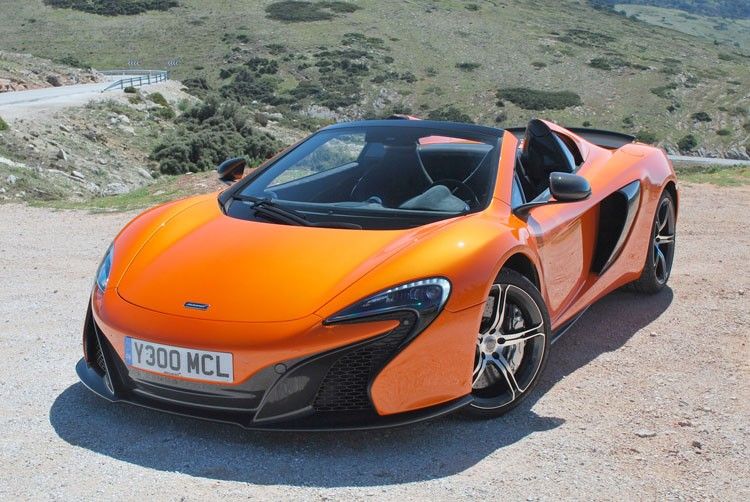 Photos Credit: Noah Joseph
Most luxury automakers in the business participate in some form of motorsport at some level. In fact, you'd be hard pressed to find one that doesn't. It is, after all, a great way for an automaker to promote its brand and demonstrate its engineering prowess. For some, their involvement in racing runs deeper than it does for others, but there is a handful for whom racing is not just a mere afterthought. Instead, more than anything else, it's what the company stands for — its raison d'être. McLaren is just such a company.
The outfit founded in 1963 by Bruce McLaren dominated the fearsome Can-Am series in the late 1960s and soon became a force to be reckoned with in Formula One. In fact, after nearly 50 years on the grid, McLaren has won 182 grand prix's and 12 world championships with famous drivers like Hamilton, Hakkinen, Senna, Prost, Fittipaldi, Hunt and Lauda at the wheel. That places McLaren second in the record books, beat only by Ferrari, and like its arch rival, McLaren eventually followed up on its racing program to produce sports cars you can actually buy (assuming, that is, you have the means at your disposal).
The legendary McLaren F1 put the company on the road-car map in the 1990s, shattering our notions of what a street-legal car could do. McLaren subsequently entered into a partnership with its long-time racing engine supplier Mercedes-Benz to produce the exotic SLR. After splitting with Mercedes, the company set up McLaren Automotive, launching the MP4-12C in 2011 and promising a new model every year. The 12C Spider followed in 2012, the P1 hybrid hypercar in 2013, and this year McLaren launched the 650S. We headed to southern Spain to try it out on some of the best driving roads in Europe!
Our route started at the beautiful Finca Cortesin Hotel, home of the Volvo World Match Play Championship and situated on the Spanish Costa del Sol, which is halfway between Marbella and Gibraltar. Stepping into the courtyard, an array of new McLarens awaited us in various colors and configurations. We took the keys to a 650S Spider in the latest shade of the company's trademark orange, fitted with fixed-back racing seats swathed in grippy Alcantara micro-suede, and hit the road.
The 650S rode smoothly along the sweeping highway, thanks in no small part to its innovative suspension that replaces a fixed sway bar with a magnetorheological damper that tightens under hard cornering and allows independent compliance under normal driving. But once we reached the racetrack at the Ascari Race Resort, the McLaren transformed into another beast entirely.
Ascari is one of only a handful of members-only race tracks in the world. It does not actually host any competitive motor races (at least not officially), but is a private playground for its members to drive their high-performance machinery in a way they couldn't on a public roadway. With three and a half miles of track and a wide variety of corners, it also makes an ideal setting to see what a car like the McLaren 650S can do.
Needless to say, the 650S handled everything we could throw at it with aplomb. 641 horsepower from a 3.8-liter twin-turbo V8 engine means that straight-aways vanish beneath you in the blink of an eye, propelling you hot into the next corner — from which it's ready to spit you back out at the other end. Fortunately the standard carbon-ceramic brakes shed off the speed even faster than it built up and that magic suspension keeps the chassis poised all along. Official numbers quote a 0-60 time of 2.9 seconds, a quarter-mile time of 10.5 seconds and a 207mph top speed (negligibly slower for the almost imperceptibly heavier convertible); we were left with little if any reason to doubt those figures.
After a few laps behind the wheel we traded seats with an official McLaren factory test driver who showed us what the 650S could really do. If McLaren's latest seemed fast from the driver's seat, it emerged as close to a race car as anything we've ever experienced from the passenger seat with a professional behind the wheel. Then it was time to drop the roof and head off for an afternoon of driving the scenic and famously winding Ronda road through the Spanish countryside. Across rough and smooth pavement, sweeping turns and tight corners, narrow mountain passes and wide open roads, the McLaren proved a dream to drive — particularly in such a picturesque setting and under the blessedly blue skies that had opened up just a few days prior.
After a full day behind the wheel (and the next morning en route to the airport), it had become vividly clear that the 650S is far more capable as a driving machine than anyone this side of a professional racer is as a driver — this writer included. Fortunately McLaren has built a car that is not only more powerful and beautiful than the 12C it replaces, but also possesses the rare ability to complement even the average driver. It's a complement that will set you back $265,500 for the coupe or $280,225 for the Spider (which, incidentally, sacrifices virtually nothing in return for the flexibility of letting the wind and engine note in), but one that's worth every last penny.