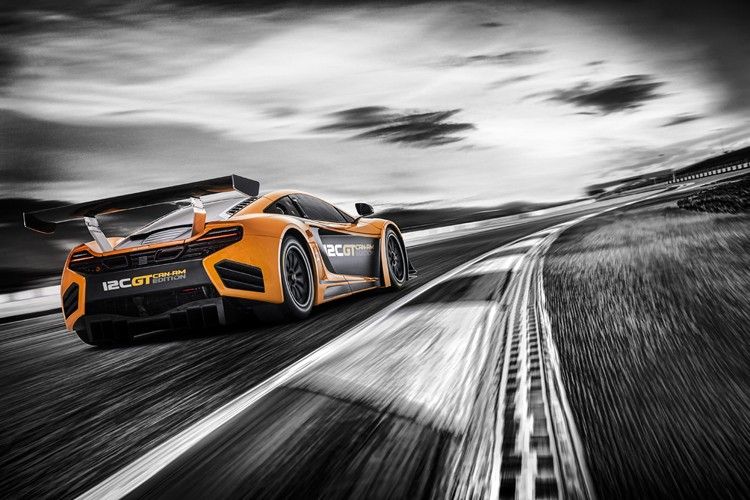 Photo Courtesy of McLaren Automotive
While different people may categorize
luxury automobiles
in different ways, racing fans will tell you there are just two kinds: race cars and road cars. But in recent years a third category has emerged in between.
Those same racing fans will also likely tell you everything you could want to know about a company called McLaren. The British racing team has made a name for itself in Formula One, where it stands as one of the most successful teams in the sport but before that, it competed in a high-speed racing series called Can-Am.
Those are the elements that have come together for the McLaren MP4-12C Can-Am edition. Though based on a street-legal supercar and looking more like a race car, the 12C Can-Am is actually neither. It's a track car, a rarefied category of luxury toy for uber-wealthy playboys who want to play racing driver but who have no patience for the rules involved.
Initially unveiled as a concept car at Pebble Beach during the Concours d'Elegance there this past summer, the 12C Can-Am has now been confirmed for production – albeit limited, with only 30 examples to be made. Each will carry a price tag of nearly $600,000. That's well over twice the price of the "stock" MP4-12C on which it is based. So what do you get for the extra scratch?
To start with, the Can-Am edition stands as the most powerful McLaren you can buy. Its 3.8-liter twin-turbocharged V8 engine has been retuned to deliver 630 horsepower, which combines with the competition-spec aero package that produces 30 percent more downforce to stay glued to whatever track its owner cares to drive it at. Inside it's all business with a full roll cage, F1-derived steering wheel and racing buckets with six-point harnesses. Best of all, unlike a racing car, the Can-Am 12C has two of those seats, so you can take a friend out for a ride. Just don't go for a spin on public streets.