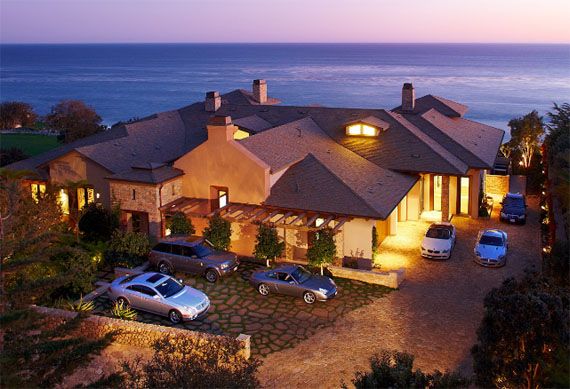 Photo Courtesy of MariSol Malibu
This deluxe sand- and sun-rich enclave along the western shore of Malibu is arguably the best beach spot along the entire
California coastline
.
The ocean waters of the area are so loved by the surfing community that the spot has been forever immortalized in song by the Beach Boys. Directly above that famous surf point about 70 to 90 feet above sea level is the site of MariSol Malibu. This extraordinary $100 million master-planned community of 80 acres has made its showcase estate available for sale.



Award-winning residential architect and author Barry Berkus designed this grandiose single-family residence. It is as luxurious as it is eco-friendly and thoroughly electronically modernized. Looking out from any angle presents a picturesque view, a panorama that takes in the ocean, the mountains and the beaches.

The main room of the oceanfront manor stretches out 60 feet wide and faces the Pacific Ocean. The ceilings throughout the one-story house are 14 feet high. There are two master-bedroom suites and two additional bedrooms in the layout that includes 10,000 square feet of living space. A breakfast room, an open chef's kitchen, a wine cellar, a gym, an office and a theater room fill up the remaining space lavishly. A Creston smart system controls the house's electronics, which includes 10 video cameras. Window treatments also are controlled electronically.



The exterior of the green-certified home is equally amazing with a 4,000-square-foot bluff, an infinity-edge lap pool, a dining pavilion and a barbeque area. There is a three-car garage and sufficient space to park seven additional vehicles along the cobblestone driveway. The Malibu beach house for sale is priced at $17 million.

About the Community
A botanical park and butterfly garden in addition to a park with more than 2,000 indigenous trees are incorporated into the 80-acre layout seamlessly. The luxury property provides myriad outdoor recreational activities in and out of the waters.



Each home site at MariSol Malibu provides an ocean-frontage width that ranges from 130 feet to 210 feet. Including the showcased Berkus-built estate, there will be 17 single-family residential sites throughout the affluent community. The home sites include 13 one-acre lots, three lots of two acres and a grandmaster site of 57 acres.

In addition to the inherent beauty of the land, there are numerous beneficial exemptions to the homebuilding process that could make MariSol Malibu even more appealing. According to the listing agents, it is easier to get what you want built faster and with less red tape than a similar property along the Pacific Coast Highway.

Noteworthy
The upscale beach-house community in the making also is not too far removed from the action and adventure of the less tranquil Los Angeles and the surrounding hub. It is less than a 30-minute drive to the private airport in nearby Camarillo; and the Channel Islands Harbor is also nearby and features several marinas that are close by.