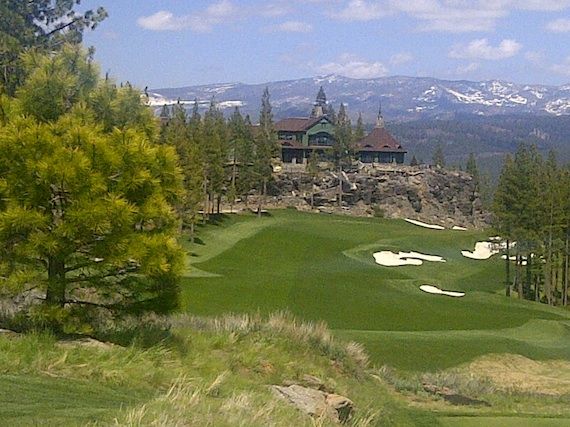 Photo Credit: Susan Kime & Martis Camp
Experiencing
Martis Camp
allows the visitor to feel the unusual combination of past and present simultaneously. For the present, right now, it is one of the few successful significant gated communities, accruing 62 property sales that include 57 developer home sites and five custom homes in 2010 totaling $53.7 million. Sales volume this year is over $40 million and according to Brian Hull, Director of Sales at Martis Camp, 2011 will be more substantial than last.
Why is the volume so volatile? It seems to appeal to both Boomers, GenX/yers as well as
Millennials
. It is a true four season destination, where noteworthy golf, skiing, swimming, fishing, and hiking are available to members and owners of elite enclave. The homes already built here run the gamut of architectural styles, from sturdy log homes and Swiss Chalets, to extremely modern/post-industrial.
This style diversity is due in part to the many famous architects who are building client homes here, including Ron Radziner, Marmol Radziner + Associates (MRA), Los Angeles, Greg Faulkner, Faulkner Architects, Truckee & Berkeley, Calif, RKD Architects, Inc., Edwards, Colo, Ted Brobst,
Ward Young Architects, Truckee and Lafayette, California, among others.
There are over 300 family homes here already, many from San Francisco, the Pacific Northwest, Southern California, Texas and other areas of the country. There are 653 home sites that range from one to five acres, to the smaller cabin sites range from .3 to .6 of an acre. There is also a sense of ease and happy acceptance - very camp-like - of family in all its variegated forms. One of the members told me, "Here is the way it used to be: our family is welcomed, not just tolerated." Priceless!
But there is another reason for the success of Martis Camp and that is its accessibility. Unlike other high-end mountain enclaves, getting to Martis Camp does not take up one of two travel days. From the Reno airport it is about half an hour by car. From San Francisco, it is a three hour drive. From Portland or Seattle, it is also just a two hour plane ride away. It is only a one hour flight from Southern California.
Martis camp lies in the Martis Valley, near the upper end of North Lake Tahoe, about 6,000 feet above sea level. It is situated on 2,177 acres, with a kind of dazzling topography endemic to a rare four season destination. On property, there's a Tom Fazio, 18 hole, par 72 course, with the front nine taking advantage of mountain views; the next seven holes crisscross Martis Creek and wind through the valley forest; and the finishing holes are framed by the Sierra Nevadas, still snowy when we were there last week in June.
There is a lake where members can fish in the summer, and in winter, there is private ski access, via the Martis Camp Express lift to Northstar at Tahoe. And paralleling these sporting focal points, are the multiple architectural focal points, that further endow the sense of past and present, as well as enrich the interests of those who buy lots and build homes here.
The name alone - Martis Camp - is an homage to the great camps and lodges of the early part of the last century, as does the exterior architecture with interior use. The Family Barn, as one example, was built as a multi-use facility, where families come, play basketball, eat breakfast or lunch, involve themselves in curated art and design experiences in the Art Studio on the second floor, bowl in the bowling alley, or just sit by the fire and read. There is a soda fountain and a movie theatre also, all hearkening to a past and present feel together: having the colors and structure of a barn, but with interior uses of present day.
Another building, smaller, yet equally as unique, is about a mile away in the Ponderosa forest. Called "The Lost Library," it is a log cabin full of books and newspapers, where the members can read, or write, or just sit and have coffee, as they hear the peace of quiet, and the soughing of the pines. Nearby is a meditation rock garden.
But the building meant to encapsulate the Mardis Camp vision of past legacy and future bequeathment combined will open on July 4, and is called the Camp Lodge. From its site atop a 70-foot rock outcropping overlooking the 18th hole of the Fazio course, the Camp Lodge features dramatic 270-degree views of the Carson Range, Lookout Mountain and the Sierra Crest.
When I spoke with John Sather, one of the lead architects of Swabeck Partners and the architect of the Camp Lodge, he said the goal was to create a building that will have a lifetime of 100 years or more. He continued, "We searched beyond the development world and went into 100-year-old buildings to understand and create great spaces. This was an opportunity that couldn't be squandered as we had a chance to design a building to stand the test of time."
Sather's idea was to develop a building that conveyed heritage, rather than on latest design style. The intention was to create a real indoor/outdoor feeling through a floor plan that began with the site itself. The west side of the Camp Lodge hangs right over the edge of a spectacular natural rock outcropping and many of the indoor spaces open themselves to bring the outdoors in. The result is a vision design of past and present, creating a basic timelessness. Using asphalt roof shingles in a varied pattern, green stained cedar exterior wall shingles with indigenous grey granite rock walls and copper trim details, make the exteriors look old, yet inexplicably new.
The interior design, created by Kim Anderson of Vallone design in Scottsdale, throughout the Camp Lodge evokes a feeling of a family past with quilted patchwork upholstered ceilings. Yes, I did say
quilted patchwork ceilings
. Then, there is The Cliff, an octagonal dining room that anchors the western point of site.
The Camp Lodge will also feature a full-service day spa with a menu of massage and therapeutic treatments, outdoor lap and vitality pools, men's and ladies' locker rooms, fitness area, golf shop and community post office. In addition, the Camp Lodge will have four indoor dining rooms and five patio areas. The hallway leading to the dining spaces is an art gallery. The Gallery Hallway will be full of original artwork of the Sierras in addition to other original works.
Martis Camp was recently (March, 2011) named in the Top Ten of Barron's Best Places For Second Homes.