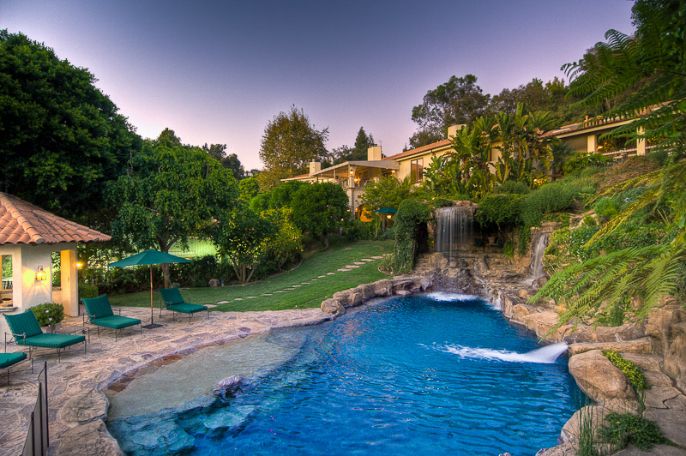 Photo Courtesy of Hilton Hyland
It has been a pretty good year for
luxury real estate
, with great offerings all over the world, but it's been even better for celebrity listings. So many of our favorite famous faces have been putting their homes up for sale, giving you a chance to live like a Hollywood star. Here's our ten favorites, from Mark Wahlberg's Beverly Hill estate to Robin Williams' Napa country home, each one currently still on the market and waiting to be snatched up.
Mark Wahlberg
Mark Wahlberg has been in the spotlight for years, transforming himself from a rapper to a really talented actor. He also has pretty good taste when it comes to landscaping because his
Beverly Hills
estate looks more like a luxury spa than it does a home. On the market for $12,995,000, this gated home sits on Oak Pass Road on almost two acres of land. Within the home you can find high ceilings, a large Master Suite, four additional bedrooms in the main house and two in the Guest House, a Chef's kitchen, a digital projection theater room, a formal dining room, and living rooms perfect for entertaining. Of course, seeing as how Wahlberg is known for his fit body, there's also a huge gym that spans two stories and a sports court where you can play basketball and tennis. While the inside of the home is nice, the backyard is what's truly stunning with its waterfall that flows into a pool grotto. The pool is perfectly sized and shaped for the landscaping, and looks like it belongs on a remote island.
Mark Wahlberg's home is being listed by
Hilton Hyland
.
Michael Jackson
Michael Jackon's French Chateau
is on the market for $23.9 million and is located in Los Angeles in Holmby Hills on 100 N Carolwood Dr. The 17,171-square-foot estate sits on 1.26 acres of land, features seven bedrooms and 13 bathrooms, and is the picture of elegance. The estate's design has a flair for 18th-centure Rococo, as well as Parisian architecture and a stunning courtyard. One can find a wine cellar, library, game room, dramatic theater, spa, gym, and 12 fireplaces within the house, making it great for anyone who plans on entertaining a lot of guests. The landscaped gardens are certainly one of the property's perks, surrounding the home in winding vines and manicured trees.
The listing is being handled by Mauricio Umansky on behalf of
The Agency Real Estate
.
Photo Courtesy of The Agency
Jennifer Love Hewitt
The former teen star has a lot going on in real estate right now, as she's not only selling her home in Toluca Lake, CA for $2,895,000, she's also leasing another one of her property's just a few doors down for $12,500 a month. The home Hewitt is selling is at
10015 Toluca Lake Avenue
and is 5,921 square feet with six bedrooms and bathrooms. The house is gated and features a spacious floor plan that seems open and friendly. Outside you can find a pool with a large patio and built-in bar. The home certainly isn't as grandiose as others on this list, but it definitely seems like a great combination of luxury and comfortable living.
At
10024 Toluca Lake Avenue
is the home for lease, which is 3,216 square feet and has four bedrooms and bathrooms. As Toluca Lake is such a great vacation spot, this home would be great to rent for the summer or fulltime, especially considering the Spanish home opens right onto a lakefront dock.
If you're interested in either buying or renting, both listings are being handled by Kath Fisher on behalf of Gibson International.
Photo Courtesy of Gibson International
Matt LeBlanc
Best known for "Friends," Matt LeBlanc has found his way back on TV through "Episodes" where he plays an extreme version of himself. With his newfound success he's decided to lease his Pacific Palisades, CA home for $12,995 a month. The 3,930-square-foot home has four bedrooms and five bathrooms, as well as a powder room, open beams on the ceilings, and a large patio outside.
The listing is being brokered by
Prudential CA
but information can be found via
Realtor.com
.
Photo Courtesy of Realtor.com
Jim Carrey
As one of the biggest stars on this list, funny man Jim Carrey seems to have gotten tired of his
2,900-square-foot Malibu home
. He's selling it for $13.95 million, giving everyone else the chance to call the contemporary estate their own. With five bedrooms, 5.5 bathrooms, an open floor plan with huge floor-to-ceiling windows, a balcony off the master suite, and a rooftop deck with a hot tub, this Southern California home seems perfect.
Janelle Friedman
is handling the listing.
Photo Courtesy of Janelle Friedman
Alex Rodriguez
The Yankees' third baseman is selling his
single-family home in Miami Beach
, so if you have $38 million to spare, you may want to check this South Beach waterfront estate out. Alex Rodriguez bought the home in 2010 for $24 million, and is trying to make himself a nice profit by selling it for more than 58 percent of the original price. The nearly 20,000-square-foot home has nine bedrooms, 11 bathrooms, and takes advantage of the water views by having an outdoor kitchen and two docks. The modern home also features a home theater, which is in nearly every celebrity home, as well as a guest house and 12-foot high walls of glass that surround the property.
Mayi de la Vega is behind the listing for
ONE Sotheby's International Realty
.
Photo Courtesy of ONE Sotheby's International Realty
Robin Williams
It's safe to say that Robin Williams is one of the funniest people alive, with his spastic behavior and character personas, and for just $35,000,000 you can buy his country home in Napa, CA. With around 653 acres at your disposal, this property has plenty of land for you to explore via nature trails, and even has a natural lake and a solar farm. The home itself features an Italian design and is around 20,000 square feet. It has 25 rooms total, five bedrooms, six full baths, and six partial baths. Among the rooms is a library, theater, and cellars for art and wine. There is also an elevator, as well as a viewing tower that gives a great view of the valley and canyon. For wine lovers, there are established Cabernet Sauvignon grapes on the property, giving the perfect chance to enjoy some wine country living.
The listing is being handled by Donald Van de Mark and Tina Shone on behalf of
Sothebys International Realty
.
Photo Courtesy of Sotheby's International Realty
Joan Rivers
Joan Rivers is known for her cut-throat fashion critiques so it's no surprise that her Upper East Side condo in New York City is designed beautifully. The Rococo style it reflects may not be for everyone, but it's certainly sophisticated and impeccably pieced together. On the market for $29,500,000, the 5,190-square-foot penthouse is set high in the Spender Condominium, a low-rise building just steps from Central Park and Fifth Avenue. The full-service, Pre-War condo has four bedrooms and five baths, and was designed by architect Horace Trumbauer, reflecting a neo-French Classicism. It features 23-foot ceilings, a private elevator, and a sweeping two story gallery that joins with the bright living room. According to Ellimen Real Estate, the penthouse has parquet-de-Versailles floors, 18th century French panels, and original wood-burning fireplaces.
Dolly Lenz is handled the listing via
Ellimen Real Estate
.
Photo Courtesy of Ellimen Real Estate
Rosie O'Donnell
Rosie O'Donnell has been going through a lot lately, from her recent heart attack to her secret marriage, but it seems she's not bothered by selling her Miami Beach estate. It probably won't be too difficult to find a buyer for the $19,500,000 waterfront home that rests on over an acre of land on Star Island. The property comprises of the main house, which has over 11,000 square feet of living space, and two separate guest houses. With 12 bedrooms and 11 bathrooms total, you can certainly have guests over without having to worry about where to put them. One of the neatest features about this property is the massive "Tree of Life" in the driveway, giving the home's facade a very mythical look.
Kevin Tomlinson
is handling the listing.
Photo Courtesy of Kevin Tomlinson
Celine Dion
Celine Dion has been spending her time lately performing in Las Vegas as part of a three-year contract, which may be part of the reason why she's put her mansion in Montreal, Quebec on the market for $29,655,500. Set on a private island that measures around 830,000 square feet, this sprawling stone home was custom built in 2001 specifically for Dion and her family. The island is completely fenced in and has a private gated bridge watched over by security. The 24,000-square-foot mansion reflects a French Normand Chateau design and is dominated by stonework. It also features a neat slate roof and a classic interior design. The main floor has a formal living room and dining room, as well as a custom kitchen, library, family room, and sun rooms. A staircase leads to a master suite and a children's suite, with a guest bedroom and gym found on the third floor. Outside there are stone terraces and great water views, as well as a large pool and pool house that makes outdoor entertaining easy with its kitchen and grill.
The listing is being taken care of by Joseph Montanaro with
Sotheby's Realty
.
Photo Courtesy of Sotheby's Realty