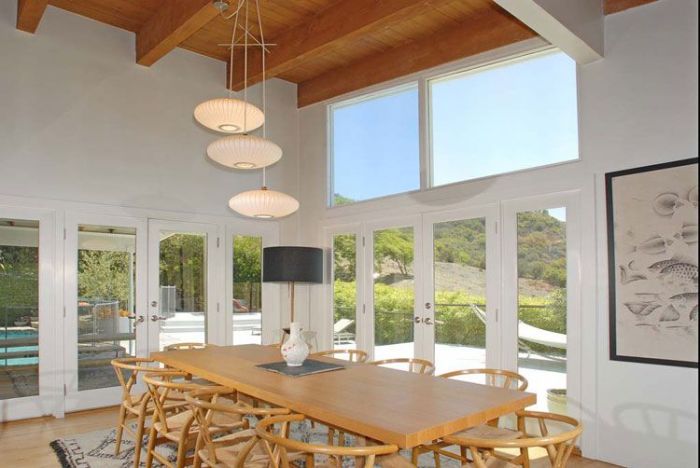 Photos Courtesy of Hilton & Hyland
Funny filmstar Sacha Baron Cohen is renowned for his confrontational antics unleashed upon unsuspecting victims. Hilarious, and at times uncomfortable, the audience never really sees his serious side, but the sale of his
luxury home
in Hollywood is more than likely not a prank. Pictures from the listing show a serene domestic living space with forested views for the outspoken and outlandish comic and his family.
The 2,806-square-foot abode is nestled on a cul-de-sac at 2950 Okean Place in Los Angeles. Previously listed as a rental, Cohen and his wife, actress Isla Fisher, now have it on the market for $2,595,000. According to
Hilton & Hyland
, it is still available for lease, in case anyone wants to sleep in Borat's bedroom for a month or two.
Thanks to 22-foot beamed high ceilings and wide windows, both indicative of its Mid-Century design, the interior of this 1959 residence gives off a spacious feel. We especially love the large river rock fireplace that dominates the living area.
Along with four bedrooms and two-and-a-half baths, comes a modern gourmet kitchen with glossy white cabinetry and stainless steel appliances. We really dig the neutral color palette of it all, which keeps the space light and airy.
Not surprising for a town that is constantly reinventing itself, the home was completely renovated in 2004. Today, it offers a detached guest suite with steam shower. Outside is a gym, a multi-level deck, and a lagoon-style heated pool with a spa and fire pit. The pool area seems to provide a great measure of privacy in the form of ivy-covered walls and lush overgrowth, important for keeping out unwanted paparazzi.
One of the great amenities of the home is its location, as it is perched on a hilltop offering views of the 52-acre Woodrow Wilson Preserve. We can see the view being accessed from all over the home, even from one of its spa baths, with a window opening right into the trees. Although it is in a secluded spot, it's not too far from the action either, being around twenty minutes from the Sunset Strip.
We love that the generous height is maintained throughout the house, including an office which looks out onto the backyard, which might be where Cohen worked on some of his scripts. With its clean design and open space, this home would be great for the private modernist.