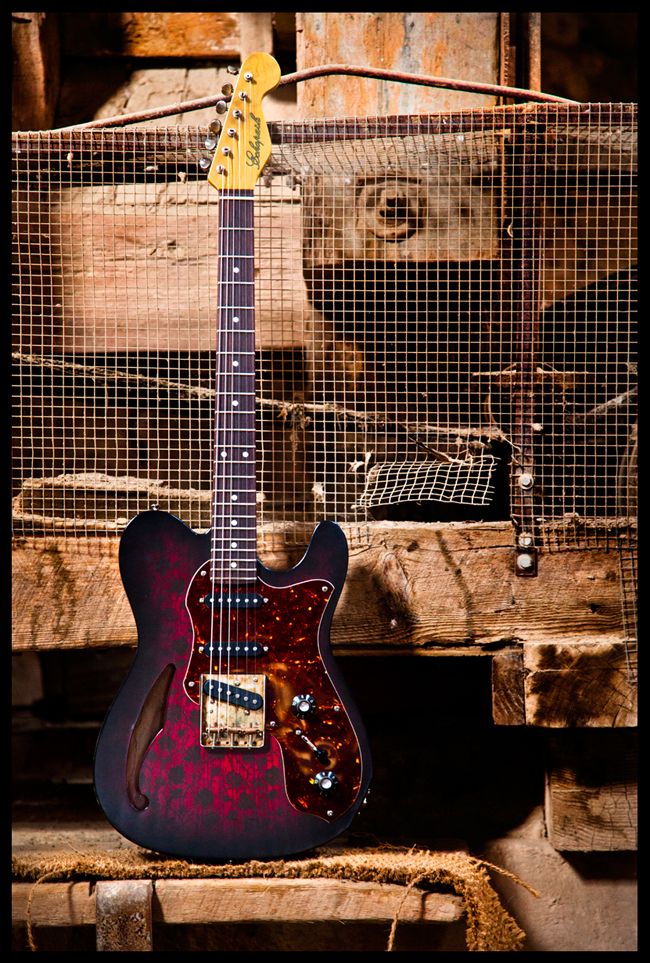 Photo Courtesy of Echopark Guitars
Founded by Gabriel Currie in 2011, Echopark Guitars supplies the world with 100% handcrafted
luxury guitars
that are vintage-toned and styled. With his extensive history crafting for musicians like Jonny '2Bags' Wickersham (Social Distortion), Brad Whitford (Aerosmith), and Monte Pittman (Madonna, Prong), Currie decided to make his high-quality instruments into a business.
Currie first got his start at 10 years old when he disassembled his 1960 Fender Music Master to see the instrument's inner workings. It wasn't long before he was running the body making department at G&L Guitar Company in Fullerton, California.
While at G&L, Currie got to work under the tutelage of music legend Leo Fender, who helped him hone his craft. By 2006 Currie had handmade over 300 unique instruments for a wide range of musicians, giving him the confidence and means to launch EchoPark Guitars.
With the original model line including The '59 (double cut jr.), The Downtowner, The Uptowner, and The Triphonics 'Rose' Series, Currie has since decided to focus his attentions on The Rose Series and The Downtowner. A standard bass (Clarence bass) and a Clarence guitar have also been added to the line, as well as Currie's build-to-order client requests.
Echopark Guitars use only the best materials, including callaham, tonepros, celluloid guitar pick guards, aged bone nuts to fret wire form Jasco, and nickel shielding. Currie employs slab body construction and is very particular about the wood used for the set neck models. "My instruments sound like the trees they are born from - Swamp Ash, Koa, Honduran and African Mahogany, Eastern Hard Rock Maple... I just believe that my calling [...] is to ensure that the trees get to live on," affirms Currie.
For more information visit
EchoparkGuitars.com