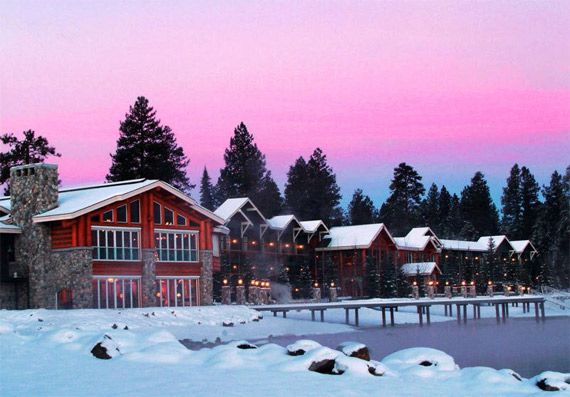 Photo Credit: Shore Lodge/Susan Kime
In the rarified world of resort purchasing, a sentimental purchase is uncommon. Usually resort
real estate
transactions are made because the buyer can see a lucrative possibility in dollars and cents. This method is the norm, with few real exceptions.
One of these exceptions was the purchase of the Shore Lodge on Payette Lake, adjoining Whitetail Club and Resort, in McCall, Idaho. In late 2008 by Joe Scott, grandson of the grocery magnate Joe Albertson, and his partners, purchased both properties, and in 2010, Mr. Scott acquired sole ownership of both.
What makes these purchases so unique was Mr. Scott and partners' scope of a social vision that led them to make changes in the resort for the benefit of all, especially the residents and visitors to this small mountain village. First, they revitalized the historic Shore Lodge, and made it once again available to the public. And then, they re-opened the Whitetail Club golf course, rated among the top 100 courses in American by
Golfweek
, to public play. Prior to Mr. Scott and his partners' purchase, both were available only to a select few for nearly two decades. We recently interviewed Mr. Scott and discussed the consequences of his sentimental purchase.
JustLuxe: How did you become sentimental about the Shore Lodge and Whitetail? What is your history with McCall?
Joe Scott:
My grandparents and parents built a cabin in McCall in 1957, 58. Growing up, spending time in McCall with my family, are the best memories I have. Taking our boats to Shore Lodge for Saturday night BBQ on the patio, having the chef prepare a large Mackinaw trout that my grandfather caught in the lake, learning to ski at the little ski hill. It was important to me, that the sprit, and history of Shore Lodge continued on, and that we create a special place for families to enjoy. It's a special place for me, and I wanted to share it.
JS:
There is this unique beauty here – Payette Lake is a glacial lake, very like Tahoe, but much smaller and without the commerce. Most of the time, McCall has about 3,000 people, in the summer there may be more. There is a sense of sanctuary here as it is unspoiled, quiet, a refuge that so many need. When I saw Whitetail and Shore Lodge becoming more plutocratic than communitarian, we waited. And when my partners and I were given the opportunity to buy, we took it! One of the good things about the resort was the infrastructure was in place.
Shore Lodge
JS:
All we had to do was add what was originally there: that strong aspect of family-friendliness. We wanted families to come; we wanted those who made the trip here to be rewarded with the best service, the best spa, the best food, the best golf, and the most activities for children and teenagers. And we wanted the community to know that we understood the local mindset as we have a family history, and family roots here, as they do.
Shore Lodge
JL: Has your vision and mission succeeded, especially in the mixed use format?
JS:
I would say it is succeeding. We have many more guests at the historic Shore Lodge, established in 1948, on the southern shores of Payette Lake. We completed a major renovation in 2009, and now include 77 suites — 62 with lake views, two dining areas, a private beach and outdoor marina, a lakeside swimming pool and hot tubs, our signature Cove Spa, 13,000 square feet of meeting and events space, and complimentary shuttle services to Brundage Mountain ski resort.
JS:
As regards Whitetail, the development spans 1,300 acres. Besides the golf course and lodge, we have housing lots with many new builds and now, completed contracts; a full-service clubhouse; athletic complex with indoor tennis court, fitness machines and golf training equipment; a marina on Payette Lake; outdoor tennis, basketball and racquetball courts; lakeside meeting and event facilities; 10 miles of paved walking paths and five miles of Nordic ski trails in winter; and a community yurt with a fire pit and great views from its mountaintop perch.
JL: How do you get to McCall?
JS:
McCall is not that far away from anything, but once you get here, it just seems like it. Many airlines fly to Boise, and from there it is a 100 mile drive north. There are charter and private jets that fly into the airport here, from California, Idaho, Washington state mainly.
JL: How much renovation did you do and will you be doing in the future?
JS:
Since the change in ownership in late 2008, we have spent about $12 million plus in capital improvements. One of our more exceptional and most pleasurable renovations was the re-purposing of the Spa at the Shore Lodge, called The Cove. It has been open only for a year. Not only do we have unique therapies, but we created two special environments, one outside, one inside, both having 105 degrees salt water immersion pools, bordered by boulders and timber we took from the mountains nearby.
Whitetail Club and Resort
JS:
Additionally, this year we will spend another $2 million-plus on capital improvements. The recent renovations at Whitetail Club including the improvements at the 6,000-square-foot Fish & Swim Club and the addition of Whitetail Park for children and teenagers have totaled approximately $1.2 million. We also redid the kitchens at the Fish & Swim Club. For us, there is always something to do, and in all cases, they are labors of love. These are the happy consequences of a sentimental purchase, with our wish to have Shore Lodge and Whitetail as again an active part of the McCall community, never again separate from it.
Visit
ShoreLodge.com
to learn more.