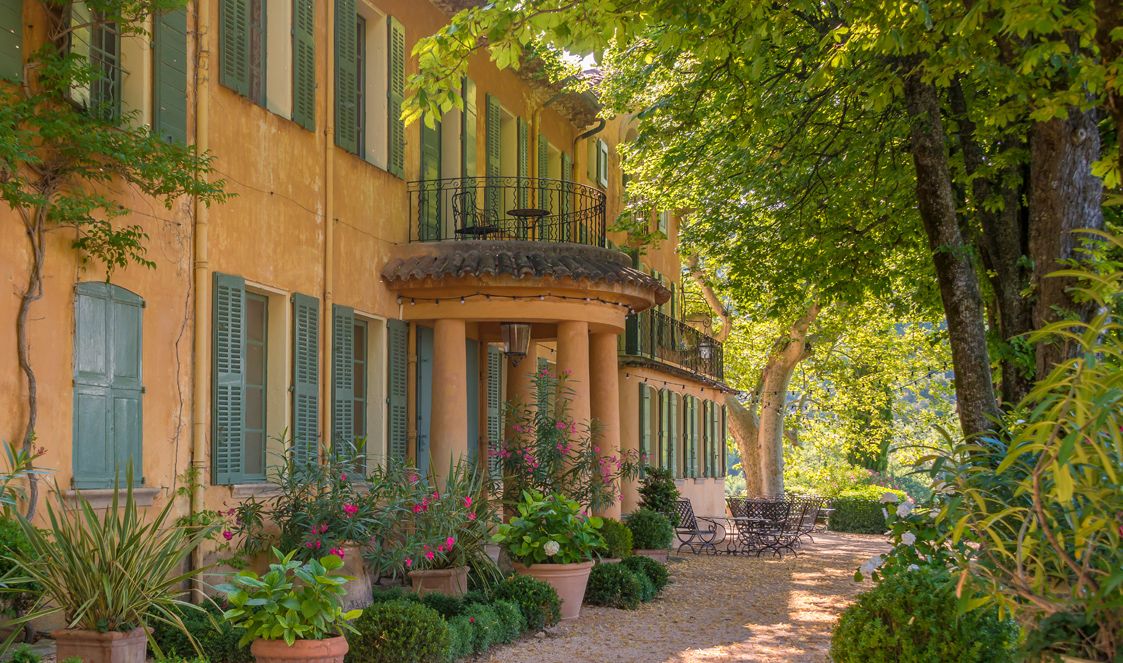 Photo Credit: Domaine de la Baume
Standing high above hazy hills with its dazzling ochre façade, vivid blue shutters and rows of vintage chestnut trees, Domaine de la Baume is a classic portrayal of a Provençal postcard. In many ways, reality outshines images of this 99-acre, 18th century bourgeoisie demesne. Sitting a few miles from the village of Tourtour, it offers a roaring waterfall, Italianate gardens featuring ornate statues and pebble-strewn pathways and an outdoor swimming pool framed by ornamental lions, urns and vases.
Photo Credit: Domaine de la Baume
The interiors are equally as impressive. Our guestroom was a striking palette of crimson wood paneling and duck-egg walls with brown terracotta floor tiles. Furnished with a four-poster bed, the room also includes a tall wooden closet, small table with two soft-back chairs, and a pair of armchairs under a high ceiling of exposed beams. Simple flower prints in silver frames decorate the walls while calico fabrics and patterns of Toile de Jouy create added splashes of color. The bathroom boasts a double sink, an elephant-foot tub and separate shower.
Photo Credit: Domaine de la Baume
A member of Maisons & Hotels Sibuet, this former home of well-known French artist Bernard Buffet opened less than two years ago. It only offers fifteen bedrooms, and each reflects its own individual character. Jocelyne Sibuet, who supervised the interior design, has interspersed Cabriolet and Bergère armchairs with delicately painted antique furniture à la Braquenié, thus creating a reinterpretation of 18th century style. A kaleidoscope of color sweeps through the property ranging from brown to dusky pink, pale jade green to deep blue, and saffron and ochre. Kilim rugs in deep hues adorn parquet flooring with geometrical patterns, and some of the rooms have sparkling arabesques chandeliers.
Photo Credit: Columbia Hillen
Dining is a visual feast. Following the tradition of Provençal cuisine, the menu changes according to seasonal products. On our visit, we were delighted with a light but creamy soup of courgettes and sage, topped with roasted peanuts. We also savored a pigeon duo (magret and confit) served with red wine sauce, artichoke hearts, caper berries, carrots, red basil and sarriette (an herb from the nearby hills). Make sure to sample the homemade olive oil—a combination of three different varieties from over 800 trees—and taste the fresh goat's cheese that the chef sources from a neighboring farm and serves with honey.
Photo Credit: Domaine de la Baume
There are two interconnecting dining rooms that boast a vivid blend of red and gold with decorative blue textile wallpaper and large cupboards displaying vintage plates. Beside the dining area are several lounges featuring finely-engraved wooden wall paneling with inset candleholders. Comfy sofas, baroque armchairs and plush banquettes offer plenty of seating choice. For breakfast there are a diversity of breads, including delicious fig and Brazil nut flavors that are complemented by homemade jams and honey. The cheese and artichoke omelet is superb, as are the four different varieties of tomato soaked in the property's olive oil.
Photo Credit: Domaine de la Baume
Located between the Verdon Gorges and the French Riviera, a stay at Domaine de la Baume encourages scenic drives past vineyards, olive groves and nearby villages. One such stopover is the charming Tourtour which boasts eight fountains, a water wheel at the traditional oil mill (which presses olives from the hotel), two chateauxs and their watchtowers, flower-filled squares and a maze of narrow streets filled with boutiques and cafes to wander through. Domaine de la Baume offers a classic vacation with its idyllic rural setting and wonderful seasonal and locally-grown cuisine.