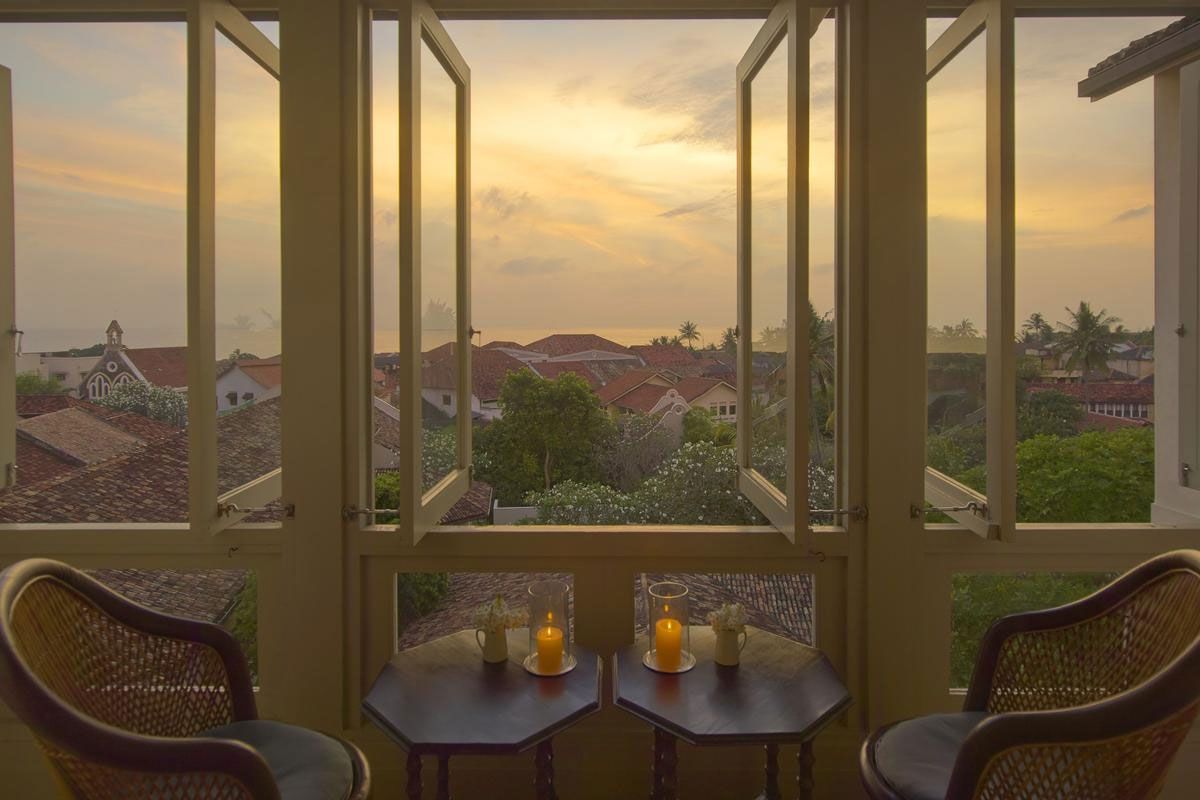 Photos Credit: Amangalla Hotel
Nearly a decade after its civil war ended, Sri Lanka is finally rising to the top of jetsetters' lists. The island nation is now even easier to get to thanks to rapidly expanding routes both on its home carrier, Sri Lankan Airways and other Asian airlines. Not only that, but the country is home to world-class luxury properties, cultural gems, ancient wonders and a breathtaking coastline. If it's not on your itinerary yet, it should be, and Amangalla hotel should be your home base.
Part of the uber-luxury hotel chain Aman, it is one of the only properties situated within the UNESCO World Heritage-listed Galle Fort. The fort is a colonial settlement dating back to the 16th century, when the area was colonized by first the Portuguese, Dutch and the British in the 19th century. It sits along a stretch of Sri Lanka's scenic southern coast, and though its high stone ramparts enclose an area of just 88 acres, you'll find its little streets teeming with shops, boutiques, galleries, restaurants and bars. The hotel occupies two buildings that date back nearly 400 years and were once used as Dutch colonial headquarters and barracks for British soldiers.
Amangalla's history is evident in its original wooden floors (among the oldest in Sri Lanka) and colorful tiling. There are also breezy, colonnaded front verandah that doubles as part of the restaurant that oozes colonial splendor. Just inside is an equally grand space called the Zaal (great hall) where guests can enjoy afternoon tea or an evening aperitif in the various seating areas. However, the best place to start your evening is along the third-floor gallery with a glass of wine in hand as you watch the sun set.
Afterwards, make your way down to dinner, where the night's options will include both Western and Sri Lankan menus in the Dining Room. On the former, you might find dishes like chilled beetroot soup with hazelnuts and a drizzle of creamy buffalo curd, green pea and mint risotto, and pan-fried sea bass with fennel salad and sauce vierge. On the latter, guests can indulge in a full, traditional rice-curry feast with steamed basmati and red rice, mutton curry, dhal, vegetable curries with okra, bottle gourd and long beans, and various sambals and chutneys, with some crispy pappadams to scoop it all up.
The hotel has just 30 rooms and suites, each a study in simplicity and elegance from the whitewashed walls and burnished wooden floors to four-poster beds and colorful shutters. You'll find unique, locally-sourced antiques including old maps and prints as well as ornate pettagama chests and chairs. There are no TVs, but the Wi-Fi is flawless.
Rooms are divided into three categories (Bedroom, Chamber and Suite) and also include the Amangalla Suite and the Garden House. Bedroom accommodations offer views of the 200-year-old gardens or the town's famous Great Church while Chambers include fort or garden views and boast private balconies. Suites include separate bedroom and living rooms as well as the best views of the ramparts and the harbor. Even in the smallest rooms, the bathrooms are enormous, with dual vanities, separate walk-in showers and deep soaking tubs.
Guests also receive complimentary access to the hotel's spa, the Baths. The facility features private hydrotherapy suites containing a steam room and sauna, hot and cold plunge pools and a private shower. There are five other treatment rooms where guests can indulge in sessions like an Ayurvedic consultation and oil treatment utilizing local herbs and spices designed to open up your third eye. Ladies can book salon services while gents can opt for a traditional shave at the one-chair barbershop. Those with a wellness focus can also partake in an intimate morning yoga class in the shaded outdoor Garden Pavilion.
Also tucked away into the lush grounds is the enormous, jade-colored swimming pool with white-cushioned chaises running along its edge. If you plan to spend the afternoon there, reserve one of the shaded ambalamas (cabanas), where you can get private service and while away the day on the double-size lounge bed under languidly-turning fans. It will be the respite you need before a twilight stroll along the ramparts with the throngs of locals and tourists vying for a perfect sunset shot.