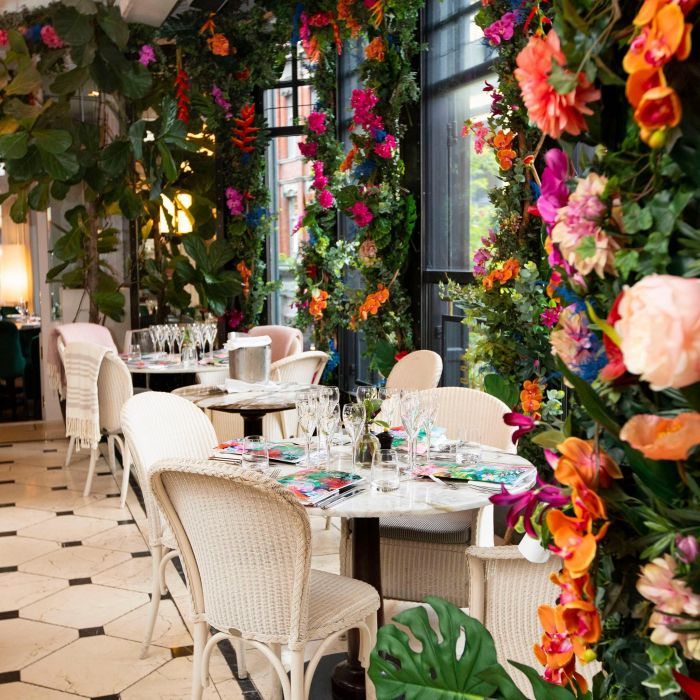 Images credit the Doyle Collection
What was once a forgotten spot on the tourists' to-do list has now become a born again hot destination for jetsetters. Dublin has again become the UK's go-to destination with an exciting offering of cultural activities, shopping, nightlife, and fine dining. The address for the traveling elite and bastion for the upper crust is located a stone's throw away from the best that the city has to offer. Known for its swanky interiors and where sophisticated hospitality reigns supreme, Dublin's most tony retreat is the Westbury Hotel, part of the Doyle collection.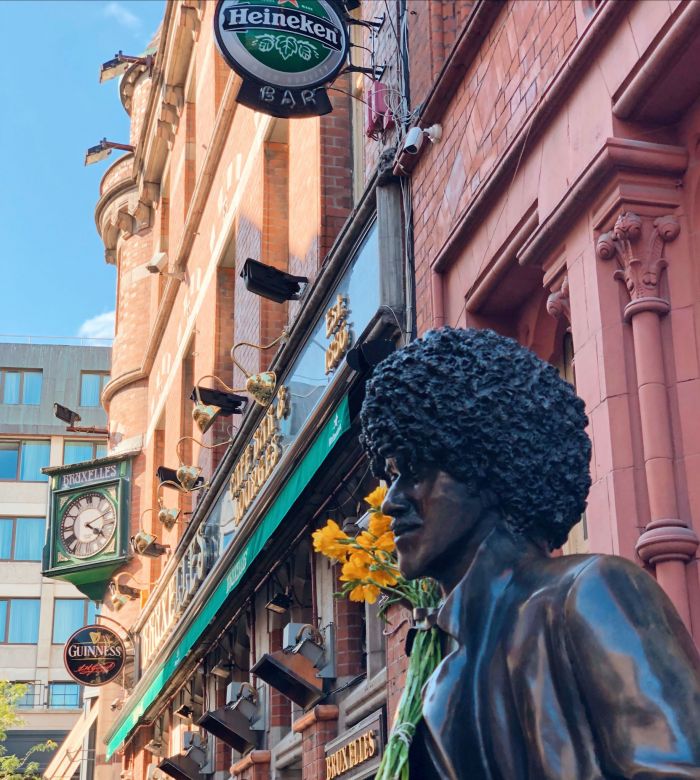 Dublin is the fascinating capital city of Ireland with endless options for tourists of every ilk. There are castles, gargantuan gothic churches, galleries galore, and green lawned parks. Dublin offers museums aplenty to get lost in while admiring the art of Ireland's masters James Swift or James Arthur O'Connor among others. The River Liffey runs through the center of town and flows into the Irish Sea at Dublin Bay creating scenic views throughout the city. On either side of the river are countless sights to see as well as fantastic eateries and of course a slew of proper Irish pubs to while away the night. Ireland has always been a premier source of spirit and in Dublin, a visit would not be considered complete without a stop at the Jameson whiskey experience or Ireland's proudest export, the Guinness factory tour.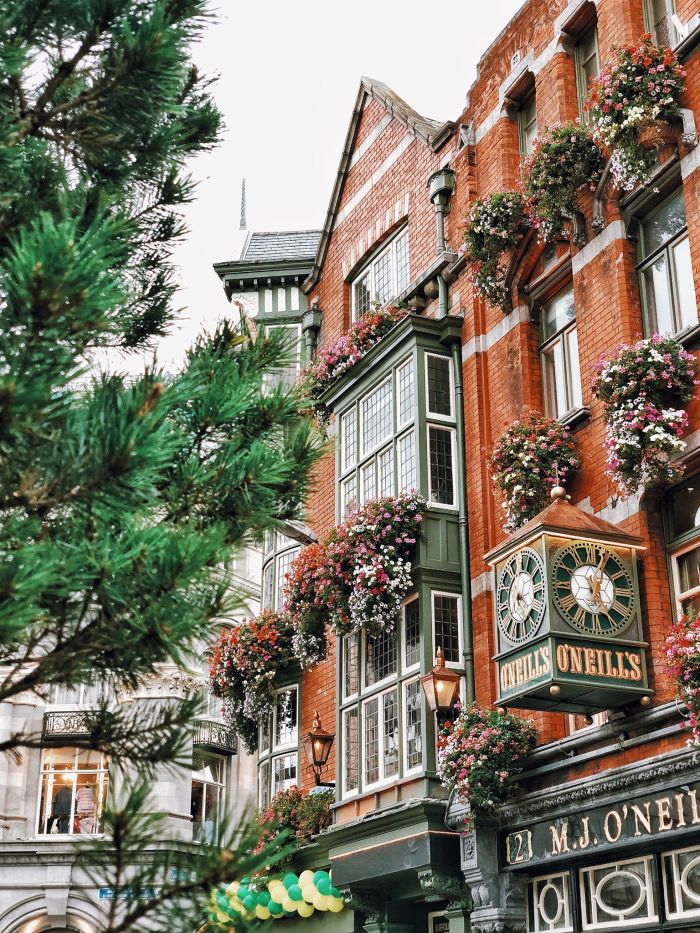 Forget renting a car or relying on Uber. Everything that you'll want to see in the city is literally a short walk away such as the top theatres, museums, and galleries. You'll also want to check out the Trinity College with throngs of visitors there to see the Book of Kells or head over to St. Stephens Green which is a well-coiffed park in the middle of the city. For a little retail therapy, Giffon Street is the Rodeo Drive of Dublin and literally in front of your hotel's door with its tony shops filled with bespoke clothing, lavish jewelry, and other high priced accessories. Around the corner from the Westbury is Grafton Street, which has become the art district with street artists, vibrant colors, and more lively bars. The hotel located at ground zero for Dublin's vibrant nightlife with the Temple Bar area a few blocks away with countless touristy bars, restaurants as well as some quirky off the beaten path boltholes to check out as well.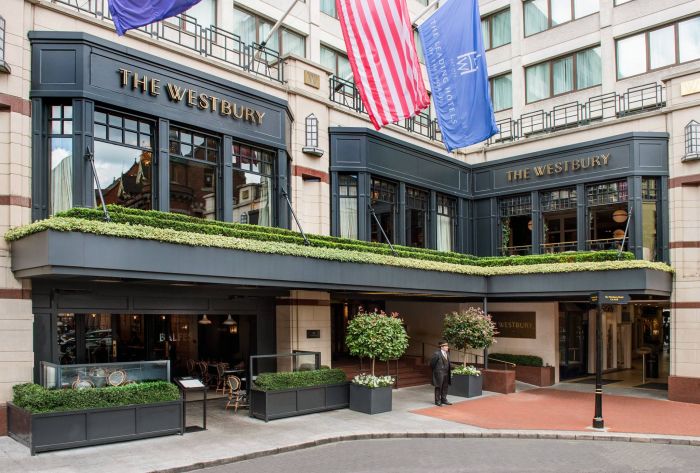 The Westbury Hotel is, without a doubt, a national treasure. Celebrities, heads of state, and titans of industry make it their bastion of solitude when in town. Posh comes to mind as you enter the lavish lobby on the mezzanine floor with floor to ceiling windows overlooking the bustling city scenes below. The expanse is nothing less than a design showpiece replete with a grand piano, brilliant Waterford crystal chandeliers, plush armchairs, gorgeous fresh flower arrangements, and striking architectural details throughout. The hotel is also renowned for having one of the finest privately held art collections in Ireland, with priceless paintings and sculptures and pieces by Sir John Lavery and Louis le Brocquy among others.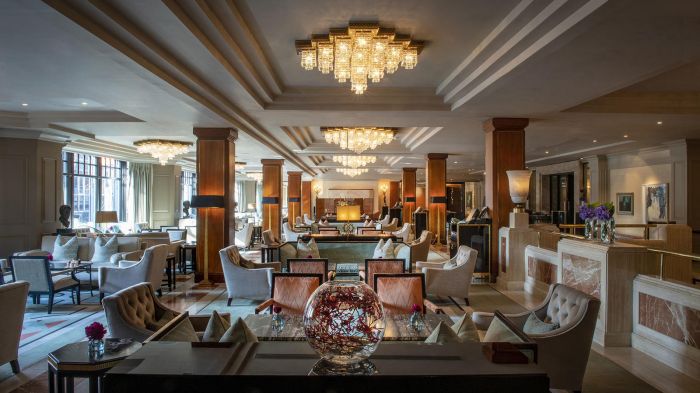 The lobby is so much more than a mere place to gather. It is known as the Gallery, a business and social hub where Ireland's upper crust go to see and be seen. Afternoons in the Gallery are filled with an elegant high tea that has transcended to be more than a mere late-day nosh to become an institution for high society.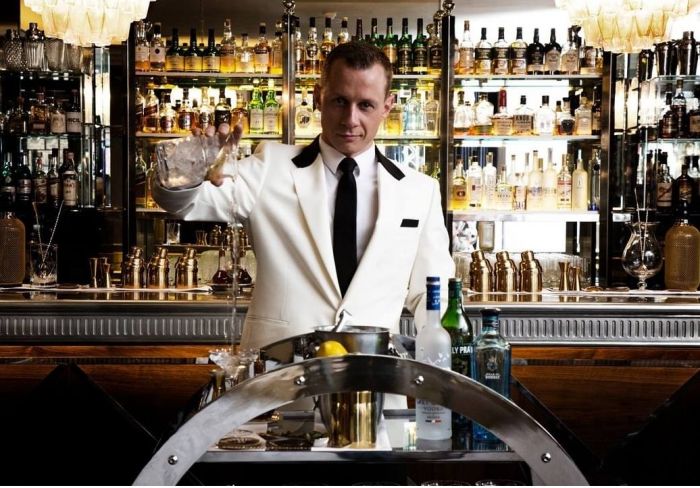 Adjacent to the Gallery is the hotel's well-known watering hole, the Side Car, a swanky Art Deco-styled bar with rich furnishings, a roaring fireplace, and a long bar serving all types of fancy concoctions. The highlight of this 1930's inspired cocktail bar is the martini cart whipping up bespoke martinis made to order at your table.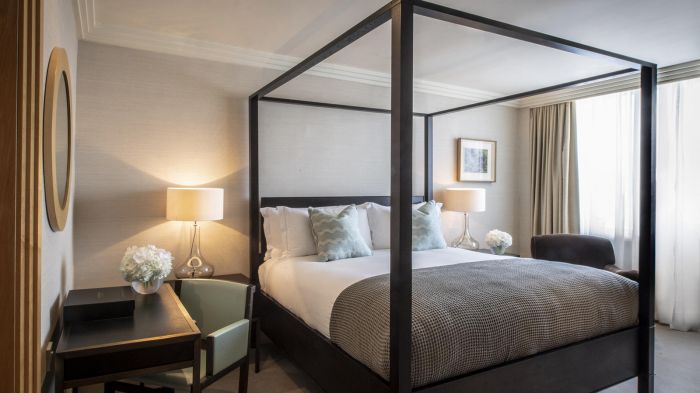 Accommodations are a haven ensconced away from the bustling city of the surroundings. 205 rooms range from pied-à-terre to palatial sized suites. The sleek well-furnished accommodations include the five-star hotel amenities one would expect with a calming color palette of light hues, walls adorned with original Irish art pieces, crisp white linens, and uber-comfy duck-down duvets with many offering a sumptuous King Size four-poster bed. The bathrooms are awash with marble with clawfoot bathtubs, a separate shower, and Malin+Goetz toiletries.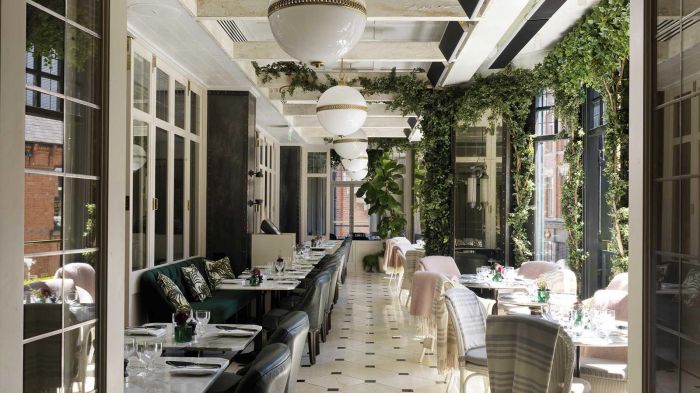 The dining experience at the Westbury is a culinary must when visiting Dublin. Their signature restaurant is Wilde, aptly named after the country's favorite son Oscar Wilde. The setting is dramatic with a 1930 Art Deco café vibe and a terrace drenched in verdant trellises around the floor to ceiling windows that overlook the active city scenes below. On occasion, there are spectacular floral displays bursting with color and fragrance that seems more like a movie set than a place for an exquisite a la carte meal. The fare is standout as well with a seasonal menu created to menus showcase Irish ingredients as well as classic international dishes.
On the ground floor of the hotel is a second option that appears more of a Parisienne café. Balfes is an ideal option for all-day meals or a drink at the bar.
The endless list of accolades from purveyors of luxury travel are well deserved and evidence by the steady stream of heads of state that choose the Westbury for their stay in the Fair City. The Westbury Dublin is a fabulous hotel in a fabulous city and assures an unforgettable holiday experience for the well-heeled traveler.