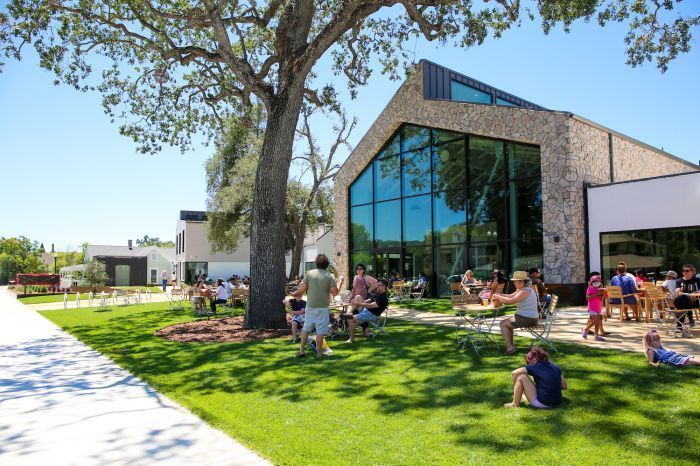 Paso Market Walk. Photo courtesy of Paso Market Walk
To visit Paso Robles is to take a step back in time to a simpler and slower pace. This quaint, central coast town in San Luis Obispo County was once primarily a ranching and farming community and home to fruit and nut orchards. A relaxed, rural feel is well maintained, and the classic California vibe is one of Paso's greatest attractions. But these days, the region's proliferation of wineries, wine tasting rooms, haute cuisine, and luxe accommodations provide Paso Robles with a posh profile that is sure to gratify the most well-traveled visitor. Here are some of our favorite spots: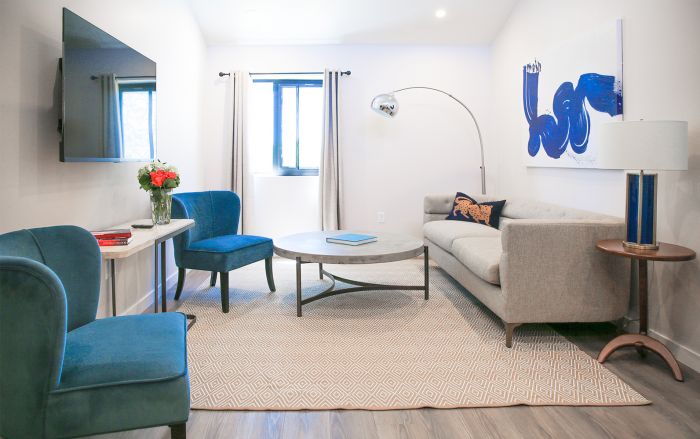 Living room, The Lofts at Paso Market Walk. Photo courtesy of The Lofts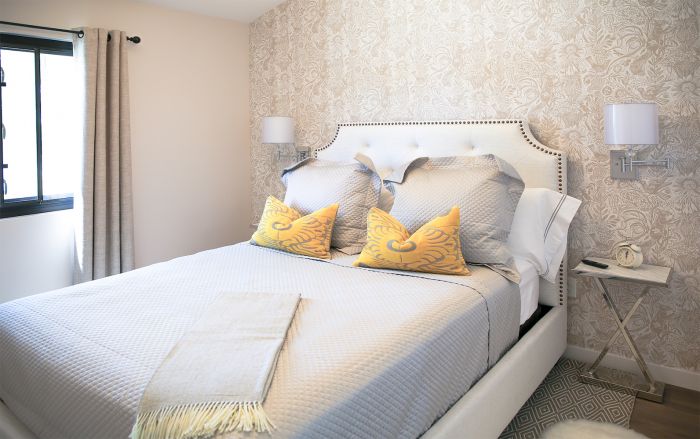 Bedroom, The Lofts at Paso Market Walk. Photo courtesy of The Lofts
STAY: Until recent years, Paso's hotel options were both limited and outdated. A new crop of sophisticated choices has emerged, including the 'invisible service' The Lofts at Paso Market Walk. The Lofts believes that the best way to help its guests get the most out of their stay is to simply get out of their way. Rather than a standard check-in process, it provides unique access codes. Six spacious and exceedingly stylish rooms (two two-bedroom, two one-bedroom, and two studios) offer thoughtfully appointed accommodations. Each features fully stocked kitchenettes, a welcome basket of treats from the adjacent Paso Market Walk, luxe linens, and a full menu of televised entertainment options.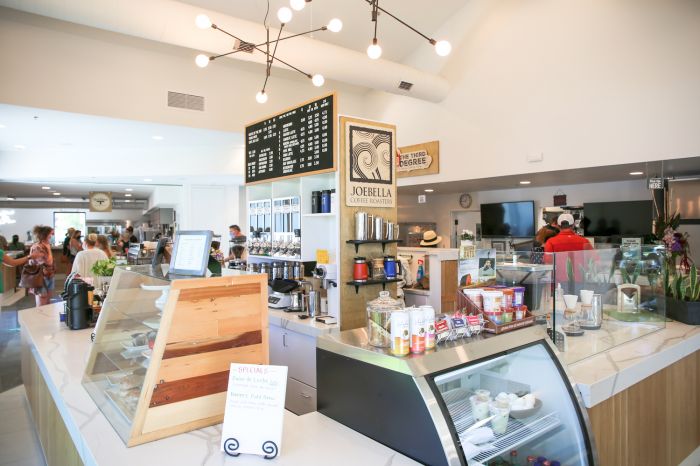 Interior, Paso Market Walk. Photo courtesy of Paso Market Walk
Just downstairs, the new Paso Market Walk features 16,000 sq ft. of mixed-use goodness such as local coffee, fine cuisine, wine, and regional culinary products. Merchants include GATHER | Urban Agriculture, Joebella Coffee, Third Degree Grill, Hog Canyon Brewing, Paso Robles Wine Merchant, Momotaro Ramen, Leo Leo Gelato, Just Baked Cake Studio & Bakery, Montello Tasting Room, and The Vreamery featuring vegan cheeses. Grab most of the offerings and go back to your comfy room, or grab and stay, and enjoy your items on the large, street-facing patio where tables and chairs are safely spaced.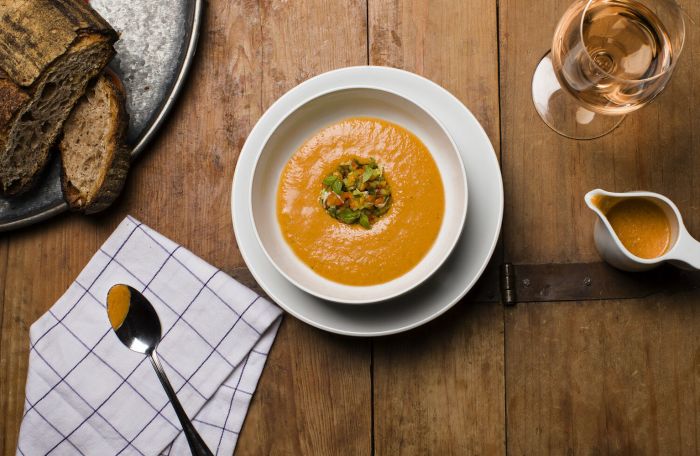 Les Petites Canailles Gazpacho. Photo courtesy of Les Petites Canailles
DINE: Hotels are not the only industry to increase the luxe level. Restaurants too are elevating Paso's hospitality options. French-born Julien Asseo has returned to the town in which he spent his formative childhood years, and with his wife Courtney, opened Les Petites Canailles where his Lycee Hotelier de Gascogne training and time spent in some of the country's best restaurant kitchens is on full display. The talented, Michelin-star Chef Asseo serves French-influenced, seasonal, comfort food in a cozy setting designed by Courtney. A delicate Tarte Flambée features Fromage blanc, gruyere, and lardons. His Wild Pacific Monkfish features sunchoke, gourmet mushrooms, and fumet. A selection of Butcher Cuts, best accompanied by a choice of five sauces, includes a Bistro Filet, Prime Hanger Steak, 18 Day Dry Aged Prime Flannery Beef NY Strip, and a Kurobuta Pork Tomahawk. And don't miss his homage to mentor Joël Robuchon, the buttery Pomme Puree. Homemade Fries with Bearnaise and Mamoune's Crème Brulee are also musts. Asseo's wine list features local favorites, such as bottles from his father's celebrated L'Aventure label, as well as some obscure French wines, for which his French connections provide an inside track.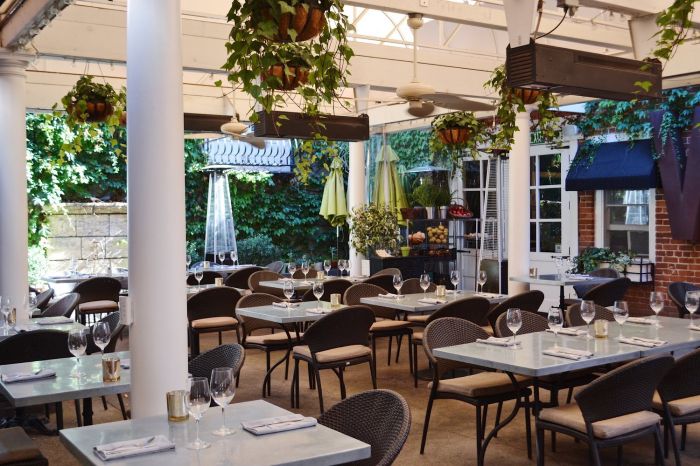 Patio at Thomas Hill Organics. Photo courtesy of Thomas Hill Organics
At Thomas Hill Organics, long considered one of Paso's best restaurants, what began as a humble, organic CSA showcasing the Central Coast's bounty quickly evolved into a popular destination for creatively prepared, honest food. This celebrated farm-to-table restaurant serves organic, imaginative dishes and highlights unique wines from the Central Coast. Chef Libry Darusman sources poultry, fish, beef, lamb, and exotic meats from local purveyors. Nearby farmers provide fruits and vegetables, which are always straight-from-the-earth fresh, and their breads are crafted by celebrated local bakers. Darusman spent his younger years in Bogor, Indonesia and was exposed to the exotic tastes at a very young age. His youthful exposure to many cultures, and later to many Michelin Star restaurants and chefs, is reflected in his creative cuisine. Lunch here features delicious items like the Cured Smoked Salmon & Avocado Toast or the Warm Grain Chicken Salad. Even traditional comfort food options feature flair, such as his Fried Chicken paired with classic mac & cheese with bacon crumbs, grilled cabbage, kale & pickled celery seed slaw, and sauce remoulade.
kukkula Wine vineyards. Photo courtesy of kukkula Wine
WINE: Paso Robles' hills and valleys are home to more than 250 wineries, most with tasting rooms. Many claim that Paso wine country is like the Napa of old, a place where winemaking mavericks and visionaries break all the rules. In Paso's wine world, it's not about what's been done, but rather what can be done. One such innovator is Kevin Jussila of kukkula Wine, set high in the hills off of Chimney Rock Road in the Adelaida district. (The winding, picturesque drive is alone worth a visit.) The self-taught Jussila purchased his 80 acres in 2004 where he organically dry farms 54 acres of vines that produce his Rhône-cen­tric blends. A one man show, Jussila does most of the farming, harvesting, winemaking, and marketing. Book a tasting and Jussila himself will lead you through his delicious portfolio.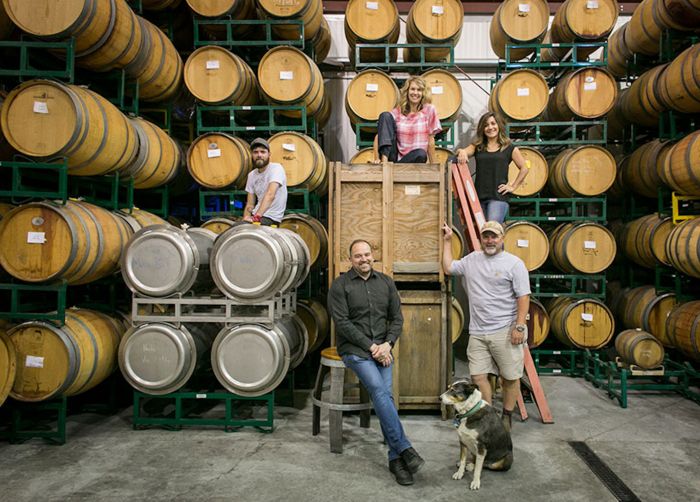 The Thacher crew. Photo courtesy of Thacher Winery & Vineyard
History buffs will appreciate Thacher Winery & Vineyard, where the property's former life as a horse ranch is evident. Sherman and Michelle Thacher own 52 acres of what was once a 4,000-acre quarter horse facility; the original Nordic barn is now theirs, site of wine club member parties. Thacher and his assistant winemaker Daniel Callan are considered by wine aficionados to be the leaders of Paso's new school wine movement thanks to their acclaimed work with often-unsung varieties, such as Cinsault, Negrette, Valdiguié, and their bready and bright sparkling made with Viognier.