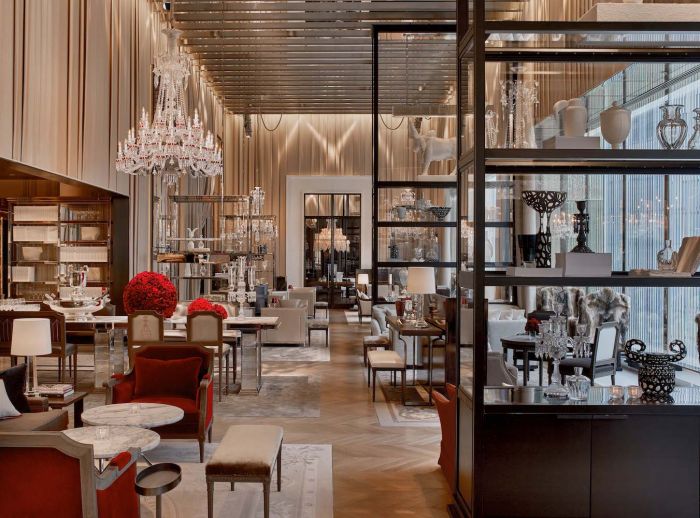 Baccarat Hotel New York Grand Salon
In addition to its undeniably stunning barware, Baccarat crystal adorns some of the most beautiful and iconic hotels and restaurants in the world. In the George V Paris, for instance, a Baccarat Helios chandelier dangles above the one Michelin-starred Le George restaurant. On the French Riviera at Le Negresco, a monumental custom Baccarat creation commands center stage within the hotel's stylish Salon Royal. And in New York City, an entire boutique hotel is devoted to the alluring illumination of the French-made crystal. This is the Baccarat Hotel, where noble heritage and perfect craftsmanship combine to create a hospitality venue of modern flair and unexpected charm.
Baccarat Hotel New York was imagined by hospitality industry titan Barry Sternlicht, conceived by Paris-based interior design firm Gilles & Boissier, and built by acclaimed architecture firm Skidmore, Owings & Merrill. Ethereal in its design, the hotel melds French décor with the dynamism and vitality of contemporary New York.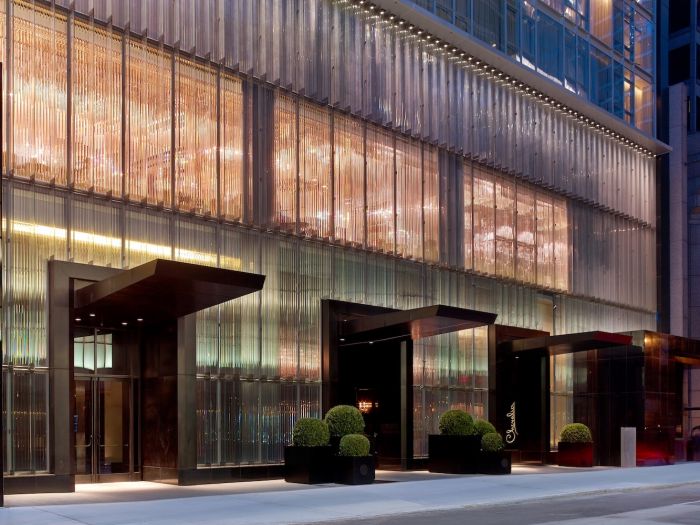 Baccarat Hotel New York Exterior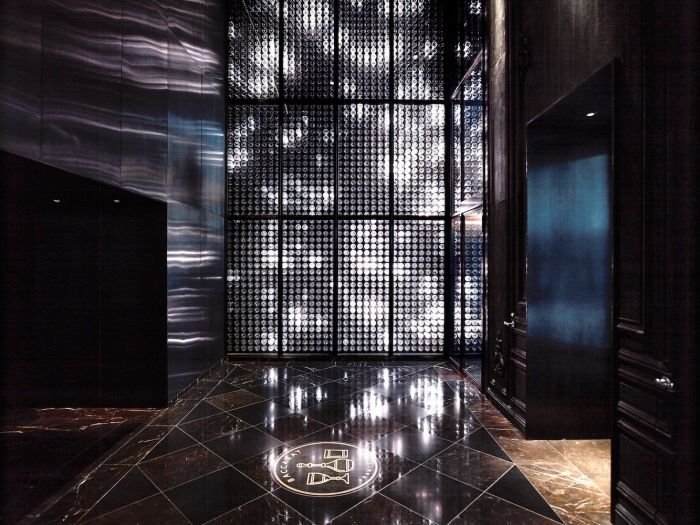 Baccarat Hotel New York Entrance
The hotel's prismatic glass facade reflects and refracts light and is a mere suggestion of the wonders within its 12 stories and 114 luxurious guest rooms. Interiors pay tribute to the refined aesthetic of 18th century France while incorporating the vibe of a private and welcoming 21st century home. Gilles & Boissier custom designed most of the furniture and accessories, utilizing to utmost effect the mesmerizing quality of Baccarat crystal, and in doing so, they tell the story of the legendary brand's 250-year evolution.
That story begins on the ground floor entrance where a four-foot-tall, dual-sided fireplace welcomes guests; it's an homage to Baccarat's furnaces, which are stoked 24 hours a day to produce the world's most coveted crystal. Behind the entrance is a wall featuring nearly 2,000 Harcourt glasses, the brand's most iconic crystal piece. Laid horizontally and illuminated with LED lights, the installation subtly flickers day and night. No less than seventeen custom-produced chandeliers hang in the hotel's public areas. Selected classic and reinterpreted pieces from the brand's archival and contemporary collections are also displayed in towering vitrines. The Grand Salon's 35-foot ceiling and plush, platinum-and-champagne-hued palette create a glamorous backdrop for all-day lounging, while the Petit Salon's smoked oak walls and velvet settees beckon guests desiring a more private and tranquil environment.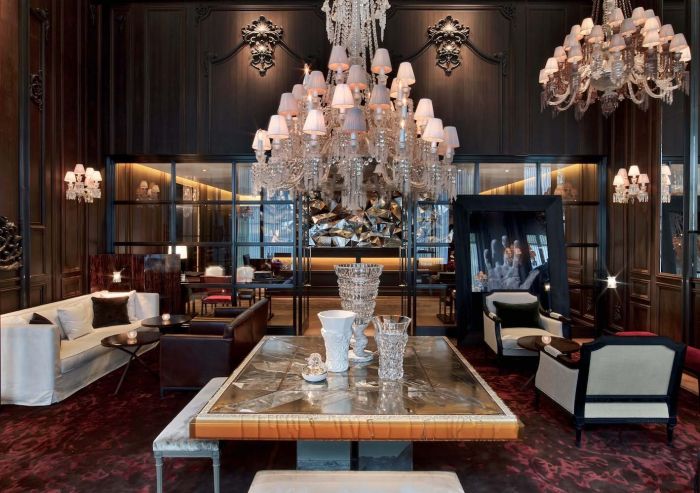 Baccarat Hotel New York Petit Salon
The sanctuary-like guest rooms and suites are designed in the likeness of cosmopolitan pieds-à-terre and feature custom desks, sconces, and table lamps by Baccarat. All rooms feature floor-to-ceiling windows, plush four-poster beds, custom jacquard linens by Mascioni and glass showers concealed by hand-painted French doors. Marble bathrooms feature amenities crafted exclusively for the hotel by Parisian perfumer Maison Francis Kurkdjian. A lavish, custom-designed Baccarat-red enamel minibar features Baccarat glasses and stemware for guest use, as well as delicious treats from French gourmet house Ladurée.
Baccarat Hotel New York Grand Classic King Guest Room
In addition to its abundance of crystal, the hotel is filled with art; in some cases, the crystal has become the art, as with the commissioned pieces showcased in vitrines at the landings of each guest room. 11 artists were asked to create statuettes using Baccarat's Harcourt glass. Each is beautifully unique. The rest of the hotel's private collection was specially curated by French husband and wife team Stéphanie and Frédéric Chambre who gathered a museum-quality collection from artists such as Robert Longo, Ellen von Unsworth, Joaquin Ferrer, Slim Aarons, Jean-Philippe Aubanel, Segui, Nan Goldin and Eduardo Arroyo, Gilles Barbier, Bardula, François Houtin, Armand Jonckers, Eva Jospin, Mathieu Mercier and Meret Oppenheim. More than 100 custom designed works of art are displayed throughout the hotel, including at the whimsical 60-foot bar, inspired by the stables at Château de Versailles.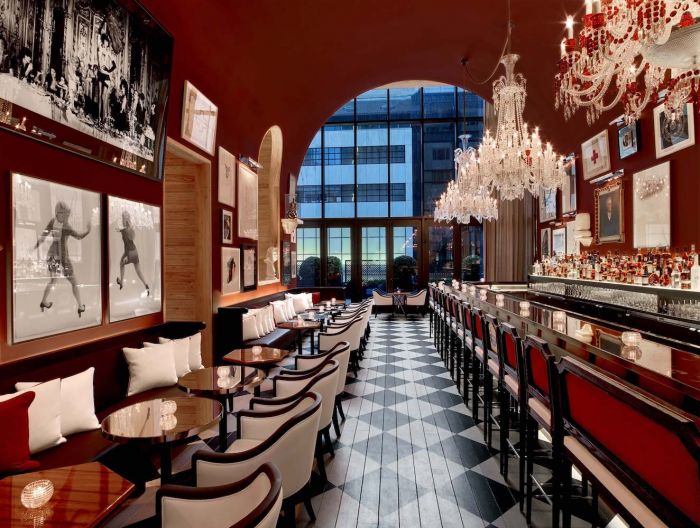 The Bar at Baccarat Hotel New York
The Bar boasts a dramatic barrel-vaulted ceiling, three monumental chandeliers, and tracked stage set lighting giving the space a theatrical or cinematic feel. Its one-of-a-kind art collection, spans important aesthetic movements since 1764, the year of Baccarat's founding. Crimson velvets, dark leathers, and a black-and-white checked floor set a daring and slightly seductive scene for after-work, after-dinner or late-night cocktails. Oversized French doors lead to the hotel's beautiful landscaped terrace, dotted with topiaries and comfortable seating, and overlooking the Museum of Modern Art.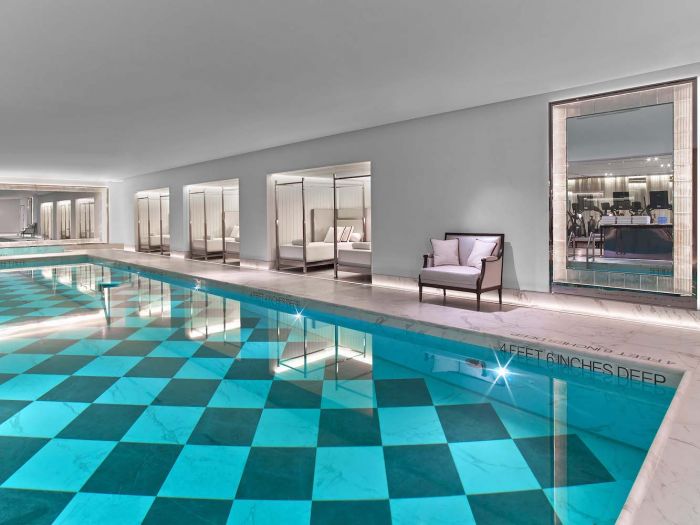 Baccarat Hotel New York Swimming Pool
The subterranean Spa de la Mer (the first in the United States), hidden below the hotel's entrance, brings the La Mer brand to life in warm tones inspired by the signature ingredient found in all La Mer products, 'The Miracle Broth.' Adjacent to the spa and the state-of-the-art gym, Gilles & Boissier installed luxurious canopied day beds and lined the bottom of the 50-foot swimming pool with black and white tiles, reminiscent of a sunken ballroom.
And finally, the cuisine. Two Michelin-starred Chef Gabriel Kreuther, of Gabriel Kreuther Restaurant in New York City, influences the Alsatian-inspired culinary programming for the property, while Executive Chef Ali Dey Daly oversees the kitchen which serves the Grand Salon, The Bar, Le Jardin, and in-room dining. Chef Kreuther's menus feature dishes created exclusively for the property, along with several signature dishes from his namesake restaurant.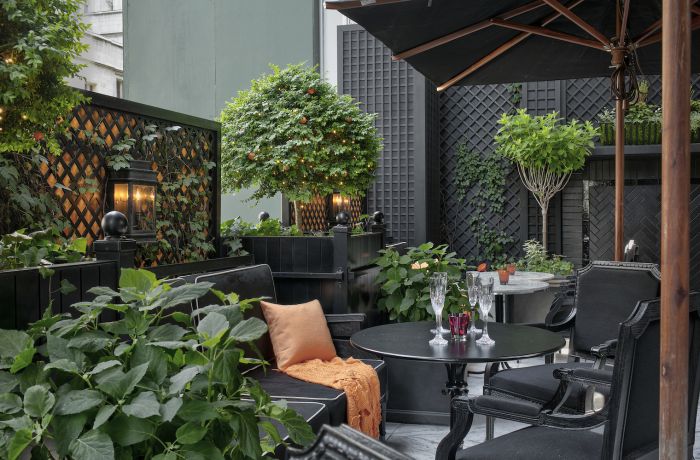 Le Jardin at Baccarat Hotel New York
"Every visit to Baccarat New York becomes a reason to celebrate," said Pradeep Raman, Baccarat Hotel New York general manager. "Here, guests find elements of happiness, surprise and delight. Baccarat has an indelible place in the hearts and minds of all our guests be it local New Yorkers or those traveling from out of town. Guests are often taken aback and have extremely positive sentiments on how they are made to feel while here. Baccarat New York is truly an exceptional hotel where our aim is to make a guest feel at home through our thoughtful gestures and creative offerings."
28 W. 53rd St., New York, New York
Photos courtesy of Baccarat Hotel New York