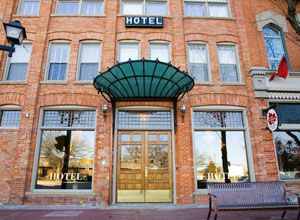 Luxury Hotels:
Where can one stay in either a suite from a grade school racing fan's dream, an architect's fantasy, or a Western retreat — and everything in between? These are but a few of the
boutique decor
choices at the unique Retro Suites Hotel in historic Chatham-Kent, Ontario. These rooms greet business and vacation travelers with the thoughtful touches of the couple who founded the hotel, Rob and Cathy Myers. This property is as impressive as any
Manhattan boutique
, in that each of the 26 rooms boast an individual theme developed by the Myers. They come by their eye for detail honestly — Cathy is an artist, Rob has restored classic cars for the likes of Jay Leno and David Letterman. He not only knows legendary sportscar designer Carroll Shelby (of "Cobra" fame), he named his son after him. Rob's auto company is called RM Auctions.
This downtown building has been home to a hardware store and a Victorian hotel called The Merrill — exposed brick, vintage posters, and art deco radios and TVs welcome lobby visitors. The suites generally feature wet bars, high speed Internet, and climate control. Enjoy fine dining at its ground floor restaurant, Chilled Cork. Sample the rack of lamb, the Forest Mushroom Penne, or the generous ribs (think "Fred Flinstone"). Within a short afternoon stroll, are a scenic park, boutiques, a coffee house, and a chocolatier.Return to the calm of your suite, and take in more of the eye candy courtesy of the Myers. Catch up with the rest of the world in the lobby's business center. And be sure to check out the boardroom- it looks like something out of a Lana Turner flick.

The Myers have brought influences from their world travels to this friendly establishment. Though the creativity in the suites is quite impressive, one feels at home in not only the Retro Suites, but this quiet Southern Ontario town. American businesses often set up shop here, and Toronto and Detroit are convenient commutes. Bill Cosby will headline at the new Capitol Theatre here in September. Suites such as Chardonnay and Sunset make ideal romantic getaways, while "Refresh" is just what the solo business traveler ordered.

Chatham-Kent, pop. 108,000, is an Anglophone town as the name implies. Tourism attractions include the Uncle Tom's Cabin Historic Site near Dresden, home of the character Josiah Henson upon whom novelist Harriet Beecher Stowe based her "Uncle Tom". The nearby village of Buxton was also a key Underground Railroad terminus for freedom-seeking Black Americans.

History, entertainment, design and comfort for vacationers or conference goers — the artsy Retro Suites Hotel offers all of the above — with a surprise behind every door.