By Jill Weinlein Dec. 10th, 2019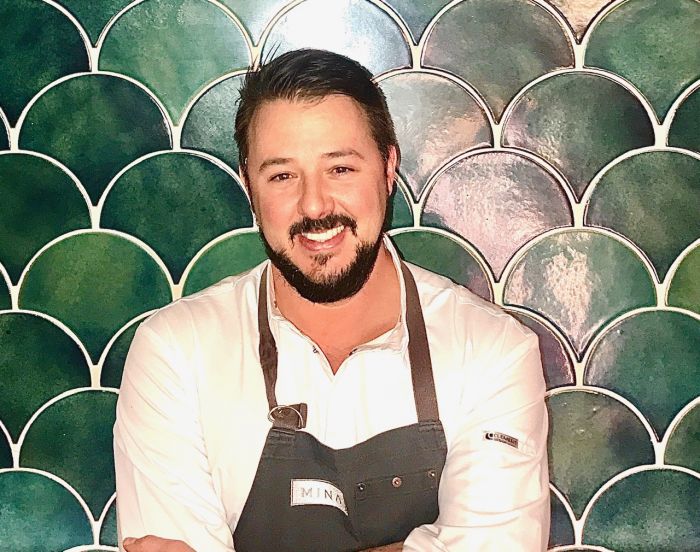 Jill Weinlein
Owner and Executive Chef Adam Sobel is an affable talented chef who has a gift for giving. He first started cooking with his grandmother "Nana Lu" when he was four years old inspiring him to earn as degree from the Culinary Institute of America in Hyde Park, NY.
He helped open Chef Bradley Ogden's namesake restaurant in Caesars Palace in Las Vegas, and was the chef de cuisine at Restaurant Guy Savoy, earning two Michelin stars after his inauguration. Moving to Washington, DC, Sobel became executive chef at Michael Mina's Bourbon Steak, and was so well liked, that he soon became partner and executive chef at MINA group.
Last year he opened Osteria Cal Mare in Beverly Hills and is offering a five-course Bona Furtuna menu with a portion of the proceeds going to the worthy organization No Kid Hungry to help feed hungry children during the holidays.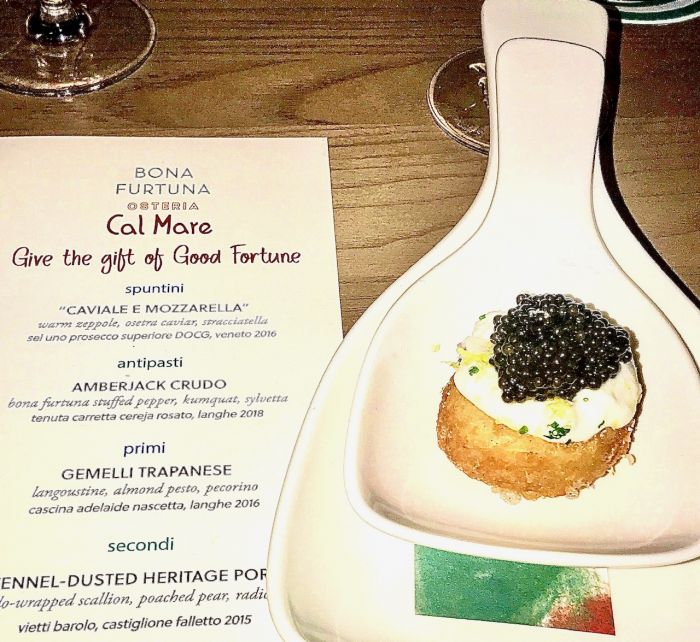 Jill Weinlein
Diners in Los Angeles can enjoy a Taste of Sicily with Chef Sobel's special prix fixe Bona Furtuna $75 menu during the month of December. Chef Sobel marries California ingredients with herbs, olive oil, tomatoes and peppers from a unique farm in Western Sicily, named Bona Furtuna, which means 'Good Fortune' in Sicilian.
The evening begins with a glass of sparkling SEI UNO Prosecco offering an intense pale yellow color, and bouquet of apple and hazelnut, with an essence of mint. It's crisp, clean and pairs nicely with a warm Italian airy dough sphere topped with a soft and creamy egg and cheese stracciagetella, and generous heap of deep brown osetra caviar.
Next a bowl of amberjack crudo is served with organic stuffed red peppers and wild rocket arugula. Chef Sobel had a tear roll from his eye the first time he tasted these peppers growing at the farm.
The primi dish is Gemelli Trapanese made with hand rolled twin DNA spindle looking noodles served with langoustine, toasted almonds and an almond pesto made with Buno Fortuna olive oil. Shredded pecorino cheese finish this dish that pairs nicely with a glass of Cascina Adelaide Nascetta, from Langhe 2016. The pleasing funkiness of the orange wine has lovely floral and stone fruit notes.
Next the hearty secondi includes two fennel-dusted pieces of Heritage pork loin on top of a lardo-wrapped scallion, and poached pear and grilled radicchio underneath. The marinated pork chops are rubbed with the farm's Sicilian herb blend, and brined in the farm's olive oil and some balsamic vinegar. A soft red Vietti Barolo by Castiglione Falletto in 2015 offers a demure and elegant expression with the dish.
Two Sicilano desserts include a pistachio, chocolate and ricotta cannoli, and bowl of blood orange sorbet with almond and vanilla cream. Sobel serves his favorite digestive - an artisanal liqueur Amara amaro d'arancia Rossa. Known as a "farm to bottle" spirit, amara is made from hand-picked Catania, Sicily blood orange peels and herbs. It's smooth, sweet and very satisfying.
Jill Weinlein
Chef Sobel became friends with retired Seagate CEO and founder of Bona Furtuna farm, Steve Luczo. When Luczo purchased land where his grandparents were born in Corleone, Sicily, he created a sustainable farm for growing heritage olives, tomatoes, and wild herbs. The name of the farm 'bona furtuna' is what Luczo's grandfather would say to Luczo when he said goodbye.
Chef Sobel imports directly from the Bona Furtuna farm and is offering their products to purchase as gifts during the holidays. A percentage of the sale benefits No Kid Hungry.
There is a 'Taste of Bona Furtuna' box that includes Bona Furtuna Heritage blend EVOO olive oil and two branded cobalt blue tasting glasses, and two La Furtuna Dove Watch glasses. 'The Corleone' box has Heritage blend extra virgin olive oil, original marinara pasta sauce, Sicilian sea salt and organic herb blend, Sicilian sea salt with basil, and Mamma Rose's herb blend.
For a unique culinary gift, give that chef in your life 'The Riserva di Nonna Rosa' custom wood box holding the finest olive oil made from the fruit of 1,500 year old olive trees. Only a limited select number of bottles are made offering flavor notes of green fruit, vanilla, green almond, red apple, and wild herbs. This extra virgin olive oil pays tribute to Nonna Rosa, the original matriarch of La Furtuna Estate.
Enjoy the good fortune of a Bona Furtuna five-course dinner at Osteria Cal Mare before Dec. 23. This prix fixe menu is $75 per person and reservations begin nightly at 5:30 p.m.
Jill Weinlein
Los Angeles based Jill Weinlein covers travel, food and lifestyle destinations for multiple newspapers, magazines and websites. Her areas of expertise include, luxury travel, culinary reviews, cruising and family travel destinations. Born in Los Angeles, Jill studied Communications and Theatre Arts at UCLA. She has a a Dine and Travel blog - www.dineandtravel.me and she writes a weekly restaur...(Read More)