By Shaena Engle Nov. 2nd, 2022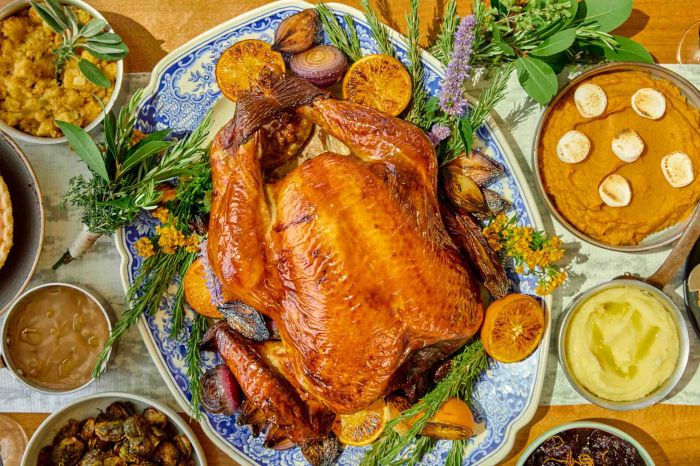 Fairmont
November in Los Angeles is filled with holiday feasts and festivities, here is a roundup of what's happening this month in the City of Angels.
Harriet's Rooftop Offers New Brunch and Dinner Menus
Harriet's Rooftop restaurant at the top of the 1Hotel West Hollywood offers stunning views as well as new brunch and dinner menus, including Brioche French Toast, Lobster Rolls and Grilled Fish Tacos.
Celebrate Dia de Los Muertos at El Pollo Loco
The Hollywood location of El Pollo Loco will celebrate Dia de Los Muertos by covering the restaurant with a custom mural by LA artist Sam Flores. The experience is open to the public on November 1 and 2 from 4 to 8pm, located at 5319 Sunset Blvd.
Thanksgiving Dining
The Hilton Los Angeles Culver City's West & Co. is offering dine-in and pre-order menus for Thanksgiving starting at $36 per person. Pre-orders should be placed by Tuesday, November 22 and can be picked up on Thanksgiving Day beginning at 11am. Pre-orders can be placed online or at 310.649.1776.
1 Kitchen at 1 Hotel West Hollywood is offering a Thanksgiving Day Prix Fixe Menu and a limited edition "Give Thanks" sandwich benefitting the LA Mission. The Prix Fixe Menu is $95 and includes an apple, endive and kale salad or squash soup; roasted turkey, salmon or wild mushroom risotto with sides and Dutch apple pie, pumpkin spiced pot de crème or a black berry crisp. Proceeds from the "Give Thanks" turkey sandwich, available Nov. 14-25, will benefit the LA Mission and is priced at $22.
Shutters on the Beach is offering a 3-course menu at their oceanfront restaurant 1 Pico. There's also vegan options and festive cocktails, $125 per person. For reservations, call 310.587.1717.
Loews Santa Monica Beach Hotel is offering a Thanksgiving Getaway Package including room accommodation, $100 food and dining credit, parking, and access to the seaside Cinema and Hot Cocoa Bar, prices start at $544. They are also offering Thanksgiving at their Blue Streak Restaurant with turkey and all the extras for $95. Seating from 1 to 7pm.
Jar is offering a Thanksgiving Dinner Take-Out menu for pick up on November 23 inspired by chef Suzanne Tracht's favorite holiday recipes. A meal for four runs $400. Diners can order prepaid through TOCK.
Have a Magical Night at the Geffen's Mindplay
Can you trust the voice inside your head? Find out at the Geffen Playhouse's Mindplay with mentalist Vinny DePonto, Tickets start at $30, at https://www.geffenplayhouse.org/shows/mindplay/.
"Clyde's" Coming to the Mark Taper Forum
Hungry for entertainment? Head to "Clyde's" at the Mark Taper Forum beginning on November 16 . The play takes place in a truck stop sandwich shop where the formerly incarcerated staff are on a mission to create the perfect sandwich. Tickets start at $35, available at https://www.centertheatregroup.com.
2:22 – A Ghost Story Opens at Ahmanson
2:22 – A Ghost Story is now playing at the Ahmanson through December 4. The supernatural thriller has a stellar cast and is perfect for a fun filled evening at the theatre. Tickets start at $40, available at https://www.centertheatregraoup.
San Diego Bay Wine & Food Festival Week
San Diego Bay Wine & Food Festival will host its fun food and wine festival from November 9 through 13 including a huge Grand Tasting, private dinners, wine tastings and more. Get tickets at https://www.sandiegowineclassic.com.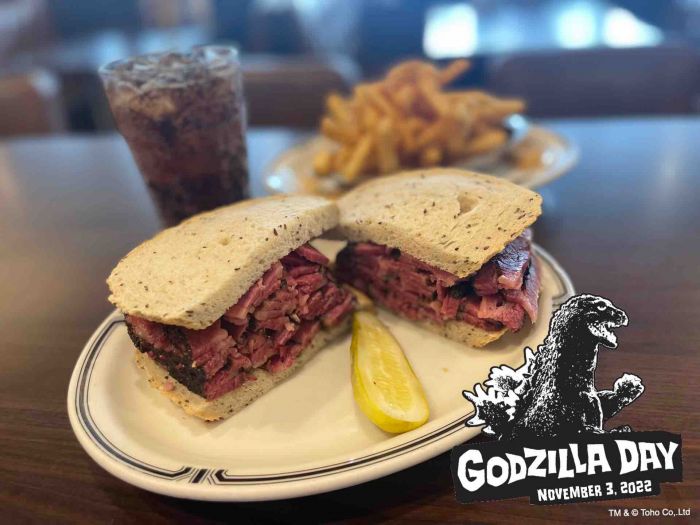 Langers
Celebrate National Sandwich Day and Godzilla Day at Langer's
Head to Langer's on November 3 to celebrate National Sandwich Day and Godzilla Day. The famous eatery is partnering with Toho International to bring diners a Godzilla sized sandwich promotion through November 5. The special includes a monstrous version of the deli's pastrami sandwich with unlimited chips and soft drinks.
Celebrate Veterans Day at El Torito and Acapulco
This Veterans Day El Torito and Acapulco will offer veterans free meals on November 11. . They can choose from a 3-item combo for lunch or dinner including rice, refried beans and a sweet corn cake. A valid military ID must be shown in order to receive the offer.
BJ's Restaurants and Dr. Pepper Offer Free Meals on Veterans Day
BJ's Restaurants and Dr. Pepper are teaming up to offer a complimentary meal and Dr. Pepper beverage to all military personnel with a valid military ID on November 11.
Lacoste and Erewhon! Offer New Green Juice Collaboration
Lacoste and Erewhon! Have teamed up to create the ultimate west coast green juice. Exclusively available at Erewhon's Beverly Hills and Beverly Blvd. locations and the Lacoste Café at the Bandier's Melrose boutique, the juice retails for $13.
Burke Williams Offers Holiday Spa Packages
Burke Williams luxury day spa is offering a variety of holiday gift card packages. Additionally, they are offering a special promo offer Nov. 25-28, where guests can treat themselves and loved ones to a prepaid three-month membership for $330.
Special packages include the seasonal sanctuary package, $175, 80-minute massage or facial with an enhancement; wellness wonderland, $1200 for three 80-minute massages, three 80-minute facials, a 20-minute spa bath and a 3-day pass. For more details, go to https://www.burkewilliams.com.
Fairmont Century Plaza Offers Holiday Apres Style Chalet Experiences
The Fairmont Century Plaza is offering a new après style chalet dining experience for the holiday season, as well as new holiday spa treatments. The new après style chalet enables guests to dine on the outdoor patio of The Bar within three beautifully built wood chalets with cozy décor and private fire pits. Diners can enjoy s'mores, chocolate or cheese fondue and a curated selection of cocktails, beginning November 14. Also, the spa will include special holiday cookie scrub and candy cane nourishing hair wrap treatments.
Pots & Co Has Upside Down Pumpkin Cream Pie Pots
Just in time for the holidays, Pots & Co is offering a delicious Pots & Co upside-down pumpkin cream pie dessert. Available at grocery stores and Costco's, four pots for $10.89.
The Cat & The Fiddle Offers New Afternoon Tea
Hollywood's The Cat & The Fiddle is offering a new British-style afternoon tea service on weekends from noon to 4pm with tea sandwiches, scones, teas and sweets, call 323.468.3800 for reservations.
The Lounge at Ugo is Open in Culver City
The new Lounge at Ugo is now open in Downtown Culver City. This new drinking and dining space includes a cozy lounge and a pretty patio with firepits. The new lounge is located at 3865 Cardiff Avenue.
McConnell's Offers Thanksgiving Pumpkin Ice Cream Pie
McConnell's Fine Ice Creams is offering a special Pumpkin Ice Cream Pie featuring a browned butter shortbread cookie crust with pumpkin pie ice cream topped with pecan pralines and caramel sauce, to reserve a pie, go to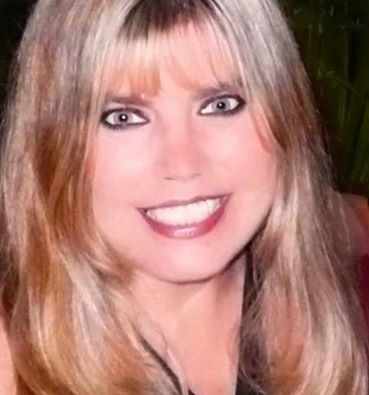 shaena engle
Shaena Engle is the food/travel editor for The Daily Meal Los Angeles. She also writes for the Los Angeles Times, Pasadena Magazine, M Magazine, Los Angeles Times Las Vegas Magazine, AOL, yummly and other outlets. She has authored The Best Places to Kiss in Southern California, The Cheap Bastard's Guide to Las Vegas and other outlets. She writes about travel, food, wellness, lifestyle and entertai...(Read More)