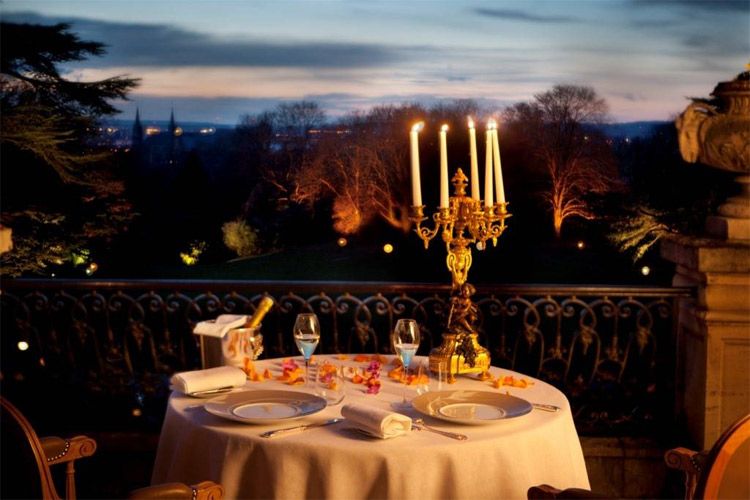 Photo Credit: Le Chateau des Crayères/Reims Tourism
More than Burgundy, more than Bordeaux, the wine that France is most known for is that bubbly elixir called Champagne—a heady blend of Chardonnay, Pinot Noir and Pinot Meunier that can only come from the region of the same name, and which is synonymous with celebration and luxury.
What you might not know about Champagne, however, is that it is just a 45-minute train ride from Paris, making it the perfect spot for a wine-tasting day trip or an overnight excursion for some more serious tippling over the course of several days.
Getting There
Catch the TGV, France's high-speed train, from Paris's Gare de L'Est to the city of Reims or the Champagne-Ardenne station near the town of Épernay for about $40 each way. Non-stop trains run several times daily in each direction and take just under 45 minutes.
Tasting the Stars
Dom Perignon, a blind monk at the Abbey of Hautvillers outside Épernay, is credited by legend for discovering Champagne in the 18th century when a bottle of wine accidentally fermented a second time, producing bubbles. Upon tasting champagne for the first time, Dom Perignon is said to have exclaimed "I have tasted the stars!"
You can have your own palate-dazzling moment at your choice of famous Champagne houses, but here are a few top picks both for the quality of their wines and their tours. In Reims many of the cellars are in close proximity each other, clustered around the Place des Droits de L'Homme, and provide guided tours and tastings. Just be sure to call for an appointment as far in advance as possible since tours operate on set schedules and are limited in size.
Taittinger
Taittinger, one of the few Champagne houses that is still family-owned, makes its home in a former 12th century abbey in Reims, which was actually originally built by the Romans in the 4th century. This venerable house is known for its Chardonnay-driven style of wine, which lend its Champagnes an extra elegance that's hard to find elsewhere.
Veuve Clicquot
Nearby, you can visit the massive underground crayeres, or excavated chalk cellars, of Veuve Clicquot, one of the most famous Champagne houses in the world. Tours here are fascinating blend of winemaking methodology and biography of the remarkable woman who transformed champagne into a global industry back in the 19th century.
Pommery
Those who enjoy the brut style of Champagne should visit the winery where this style originated, Pommery, also close by. The impressive underground cellars here display rotating art exhibitions, so no two visits are the same. While there, see if you can try the Apanage rosé, which has hints of fresh summer strawberries on the palate, and the flagship Cuvée Louise.
Ruinart
Make some time to visit the oldest Champagne house in Reims as well, Ruinart, which was founded in 1729 and whose wines are still some of the area's most coveted.
Perrier-Jouët
If Épernay is your destination, take some time to stroll the famous Avenue de Champagne, and then make an appointment at Perrier-Jouët, which recently celebrated its bicentennial, and whose Art Nouveau-style bottles are recognized the world over.
Beyond Wine
Of course, with a history that dates back to ancient times, Champagne has riches beyond its Champagne cellars. Reims first achieved significance back in 496 when Clovis was crowned the first king of the Franks on the spot where the UNESCO World Heritage site of St. Remi Basilica now stands.
Thirty two of France's kings were later crowned in the city's massive Cathedral de Notre Dame, which boasts several interesting features including stained-glass windows by Marc Chagall and a rear double rose window.
The city's other points of interest include the museum inside the former bishop's palace, the Palais du Tau, and the Carnegie Library, a beautiful example of Art Deco architecture in the Egyptian style. After lunch at the 19th century Brasserie du Boulingrin, which serves local Champenois specialties like grilled andouillette sausage, take a stroll along the pedestrianized shopping street radiating off Place Drouet D'Erlon, where you can buy traditional gifts like rose cookies and other local gourmet foodstuffs.
Les Hotels
Le Chateau des Crayères
For a truly deluxe experience, book a multi-course lunch or dinner and a night's stay at Le Chateau des Crayères, a Relais & Chateaux property just outside of Reims which houses one of France's most famous restaurants, the two Michelin-starred Boyer les Crayères. (
Photo courtesy of Le Chateau des Crayères
)
L'Hostellerie de la Briqueterie and Chateau de Courcelles
As for lodging options, there are a few other great Relais & Chateaux properties in the nearby countryside including L'Hostellerie de la Briqueterie, which is set right in the vineyards outside Épernay; and the baroque Chateau de Courcelles, whose past includes visits from literary greats like Racine, Dumas, and Jean Cocteau. Both have excellent restaurants as well. (
Photo courtesy of Chateau de Courcelles
)
L'Hotel Jean Moët

For a more low-key experience, try the adorable little L'Hotel Jean Moët right in the heart of Épernay just steps from the Avenue de Champagne and another renowned local restaurant, La Cave à Champagne. Be sure to start your evening next door to the hotel at the almost-hidden wine bar and store C Comme Champagne, where you can taste through a variety of rare, small-production wines. (
Photo courtesy of L'Hotel Jean Moët
)