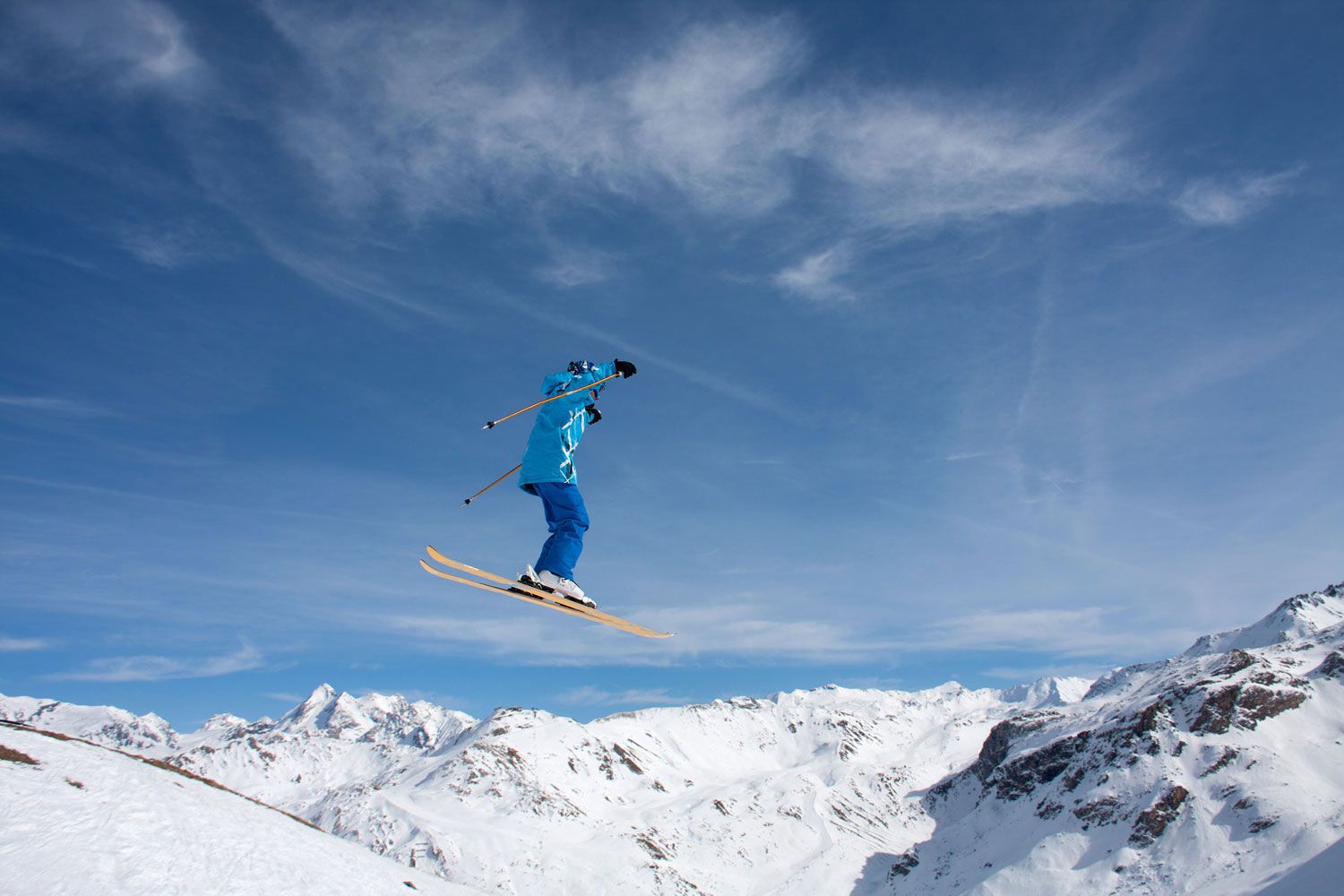 Photo Courtesy of Shutterstock
Spring is officially less than a month away and soon these dreary, bone-chilling days will be a thing of the past (even though East Coasters may beg to differ). But before we say goodbye to winter, there's still plenty of time to hit the slopes for to enjoy late season skiing. With extended daylight hours, warmer weather, fewer crowds and longer lift opening times, this is one of the best times to pack up your gear and head to the mountains. Here are five ski resorts for March and April ski holidays:
Photo Courtesy of Shutterstock/Yolanta
Val Thorens, France
Part of Le Trois Vallées, Val Thorens is Europe's highest resort, meaning that the snow keeps cooler longer and their season runs until May 10, 2015. Val Thorens' terrain is also great for both novice and expert skiers. Since its recent renovations, guests can find larger gondolas and up-to-the-minute ski lifts. From its highest mountain point, you can take in a spectacular 360-degree panoramic view of more than 100 Alpine summits.
Average Snow Depth: 66 inches
Elevation: Summit, 10,597 ft; Base, 7545 ft.
Where to Stay: Hotel Fitzroy
Photo Credit: Beaver Creek Mountain
Beaver Creek, Colorado
Like its well-known sister resort Vail, Beaver Creek is a luxury ski destination whose M.O. is, "Not Exactly Roughing It." Since Vail is so highly favored, many snow bunnies are now heading to Beaver Creek instead to avoid the large crowds. This year, the resort was home to the 2015 FIS Alpine World Ski Championship from February 2-15. As a part of the championship games, it opened a new trail for the women's speed course that now gives guests access to 17 additional acres of terrain. Centennial Express, the resort's new lift, now carries 3,400 people per hour, alternating between 10-person gondola cabins and open-air chairs. Beaver Creek also welcomes all levels of skiers from avid racers to the more leisurely/recreational types.
Average Snow Depth: 49 inches
Elevation: Summit, 11,440 ft.; Base, 8,100 ft.
Where to Stay: The Osprey
Photo Courtesy of Shutterstock
Zermatt, Switzerland
As if you needed more reasons to ski Zermatt, the famous Swiss resort is open until early May and is considered one of the best ski destinations in the world. Surrounded by 38 summits and some of the best mountaintop views, the town is busy with visitors all year long. Zermatt's skiable areas face north away from the sun and at altitudes between 6,600-9,800 feet, thus ensuring plenty of ski days. During the second half of March, travelers can expect good skiable conditions above 5,900 feet and above 6,500 feet (85 percent of Zermatt's area) during the first half of April.
Average Snow Depth: 59 inches
Elevation: Summit, 12,792 ft.; Base, 5,315 ft.
Where to Stay: Mont Cervin Palace
Photo Courtesy of Shutterstock
Tignes, France
Tignes is just about a year-round ski resort, with its slopes only closing 10 weeks out of the year in the summer. It also shares the same space as neighboring Val d'Isere, but it is considered the more upscale destination, with quick access to the Grande Motte glacier and better intermediate terrain. But take note, Tignes is a destination for serious snow enthusiasts, the kind who will spend hours on the slopes each day and forego a night of heavy drinking to do it all over again the next day. However, while it is a favorite among skiers, it is also known for its long, slow chairlifts and lack of trees (hence, no woodland runs).
Average Snow Depth: 53 inches
Elevation: Summit, 11,318 ft.; Base, 5,085 ft.
Where to Stay: Les Campanules
Livigno, Italy
Since many of us don't have Olympian-level abilities, Livigno's pistes is a great destination for those of us who are still learning to ski. Most runs sit above 6,500 feet, and its array of nursery slopes makes it a favorite among families. Among its 78 trails, its longest is 100 miles, which averages around a four-minute run. It also offers one of Europe's largest terrain parks and recently introduced heli-skiing to its lineup of activities.
Average Snow Depth: 48 inches
Elevation: Summit, 9,514 ft.; Base, 5958 ft.
Where to Stay: The Bivio Hotel