Photo Credit: Conrad New York
Shop the Holidays Away in the Heart of New York City
One of my favorite annual trips is to New York City during the holidays. The "winter village" in Bryant Park, the Rockefeller Christmas tree, the skating in Central Park: I love all of it. I also love bundling up for a shopping excursion and the cozy moments post-trip with high tea time and delectable treats. To prep for my December trip this year, I scouted out my NYC game plan this fall and have the winning itinerary ready to deploy.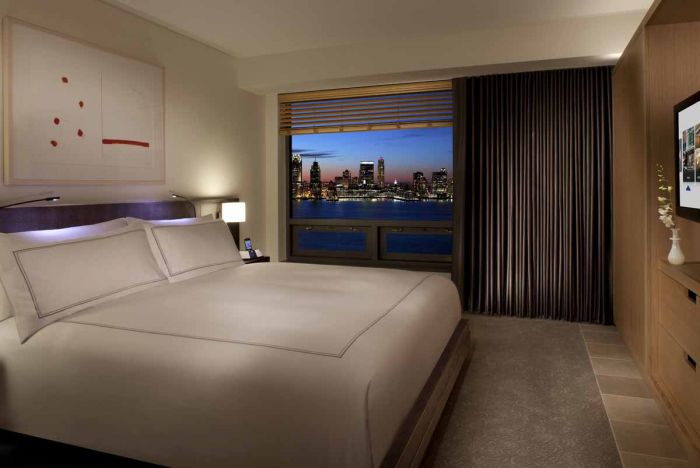 Photo Credit: Conrad New York
Fifth Avenue is legendary for its row of designer mega stores, but Lower Manhattan is having a moment. Saks Fifth Avenue opened its second location in New York City downtown with a novel concept store last year. The so-called "Saks Downtown" is nearby the futuristic Westfield Oculus Mall and new Condé Nast offices. Nearby, the stunning Conrad New York hotel is partnering with another Lower Manhattan destination, the Westfield World Trade Center, with a holiday package that is irresistible. The Holiday Shopper Escape Package includes a Hudson River suite, a $200 Westfield gift card, a turndown gift box with luxe goodies from Westfield retailers and VIP concierge services. One can also take advantage of a private tour of the architectural marvel that houses the Westfield World Trade Center, the gleaming white Oculus by Spanish architect Santiago Calatrava.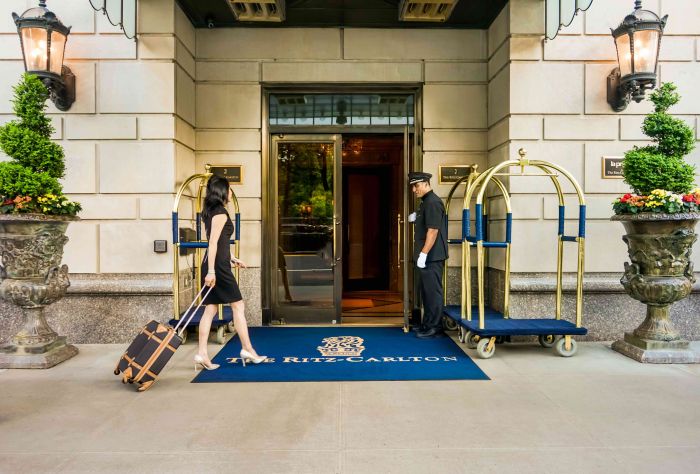 Photo Credit: Ritz Carlton
Shopping in Lower Manhattan is reason enough to come downtown, but the Conrad New York is its own destination. The Hilton property has snatched up numerous accolades since its opening in the spring of 2012 including "Best New Hotels in the United States" on Condé Nast Traveler's "Hot List" in 2013 and 2014. Conrad New York also earned a prestigious LEED Gold New Construction Certification, the first LEED New Construction hotel in an existing building to be certified Gold. Most impressively, the 463 all-suite property houses more than 2,000 contemporary artworks. The most striking piece, a slightly squiggly purple and blue 13-story painting by noted minimal and conceptual artist Sol LeWitt, consumes nearly the entire 15-story lobby atrium. The work, titled Loopy Doopy, is breathtaking and oddly soothing to take in, a lovely respite from the bustle of New York just outside. Once I heard Conrad New York was a beacon for modern art lovers, I spent nearly two hours roaming the event space and hallways of the property one afternoon. I spotted a Richard Nonas bold, block oil painting as well as Pat Steir's playful Topsy Turvy painting that fills a wall by the Gallery Ballroom.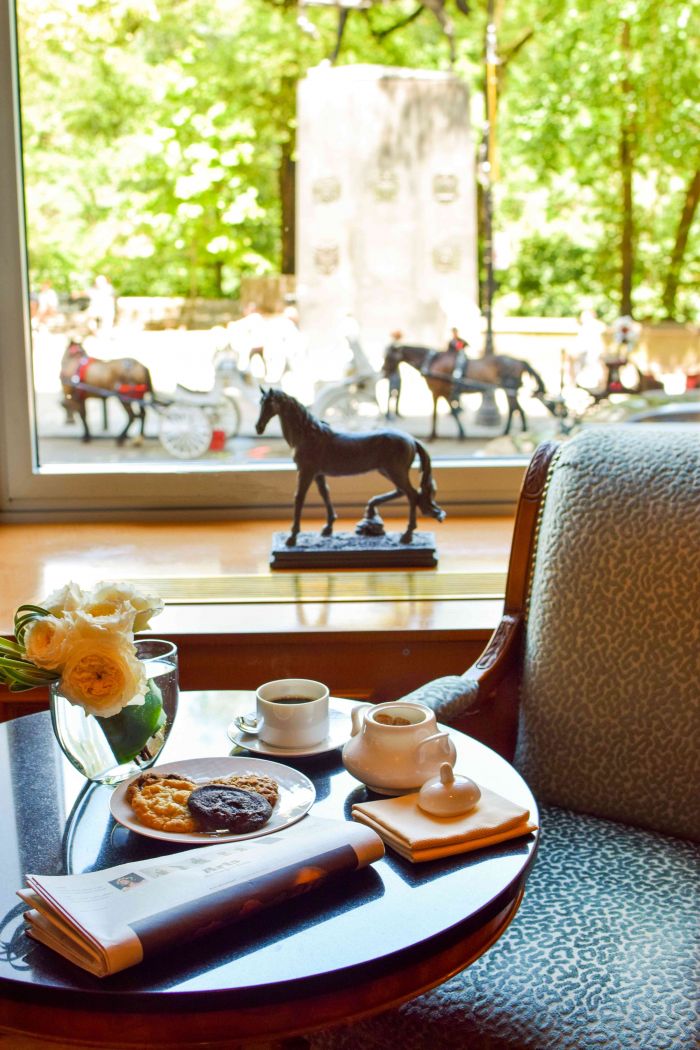 Photo Credit: Ritz Carlton
After touring the Conrad and shopping for most of the day, I took a respite and headed to Central Park for a stroll and then high tea at the Ritz Carlton New York, Central Park. This Ritz property is one of the city's "grande dames," a 1930s-era regal property that overlooks Central Park and rests just steps away from the original shopping avenue New York is famous for: 5th Ave. Ushered in by gloved doormen, I stepped into the handsome lobby of the Ritz and right into the Star Lounge, the richly cozy and wood paneled area still ran, 40 years later, by celebrity bartender Norman Bukofzer.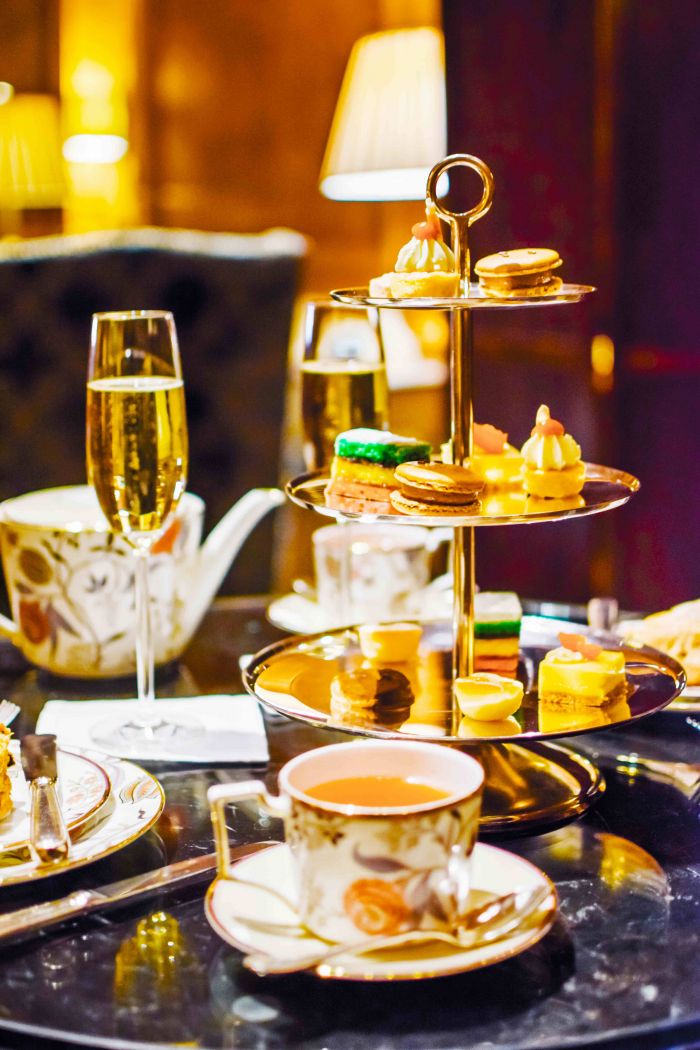 Photo Credit: Ritz Carlton
The autumn team menu is a standout, particularly for tea lovers like me. This Ritz property has its own dedicated tea sommelier, and I sprung for the organic pear tree green tea, a luscious Chinese tea with crisp finish. I admired the fanciful and elegant Wedgwood dishes my tea pot and cup came in—an extra bonus of classic luxury that Ritz Carlton never skimps on. A savory treat tower came first, followed by scones and then an elegant presentation of petit fours. I purposely skipped lunch, knowing I'd like to devour each bite, and I happily did. The pumpkin macaroon was fall in one delectable bite.
Art, tea, and shopping options scouted from Lower Manhattan to Central Park, I look forward to returning in December to the Conrad, the Ritz Carlton, and the Big Apple.