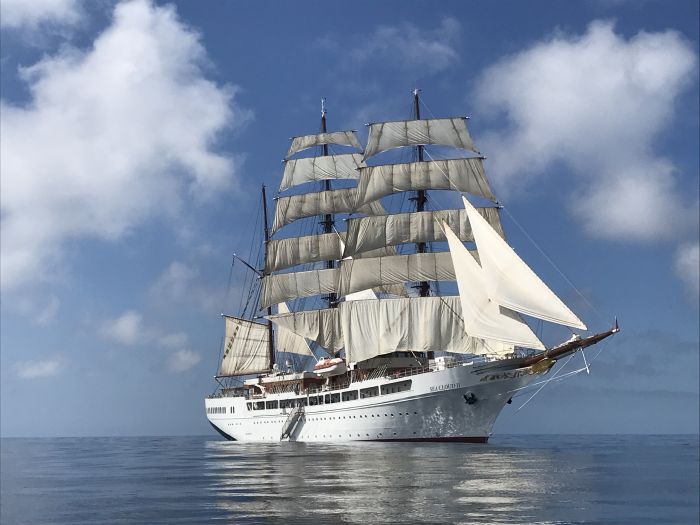 Cynthia Dial
Docked in port like a regal royal, it is upon first sight that the multi masts of Sea Cloud II, an old-fashion-style sailing vessel, set it apart. Though greeted with a champagne welcome and a hardy handshake from each of the ship's officers, stepping across the threshold into Cabin 402, one of the ship's two Owner Suites, fast forwards one from reality to the lavish life of the moneyed. Punctuated by four full windows (not portholes), a four-poster bed, plush seating around a fireplace and a marble bathroom with an oversized tub and separate shower, the only problem with this temporary home is that it's "temporary."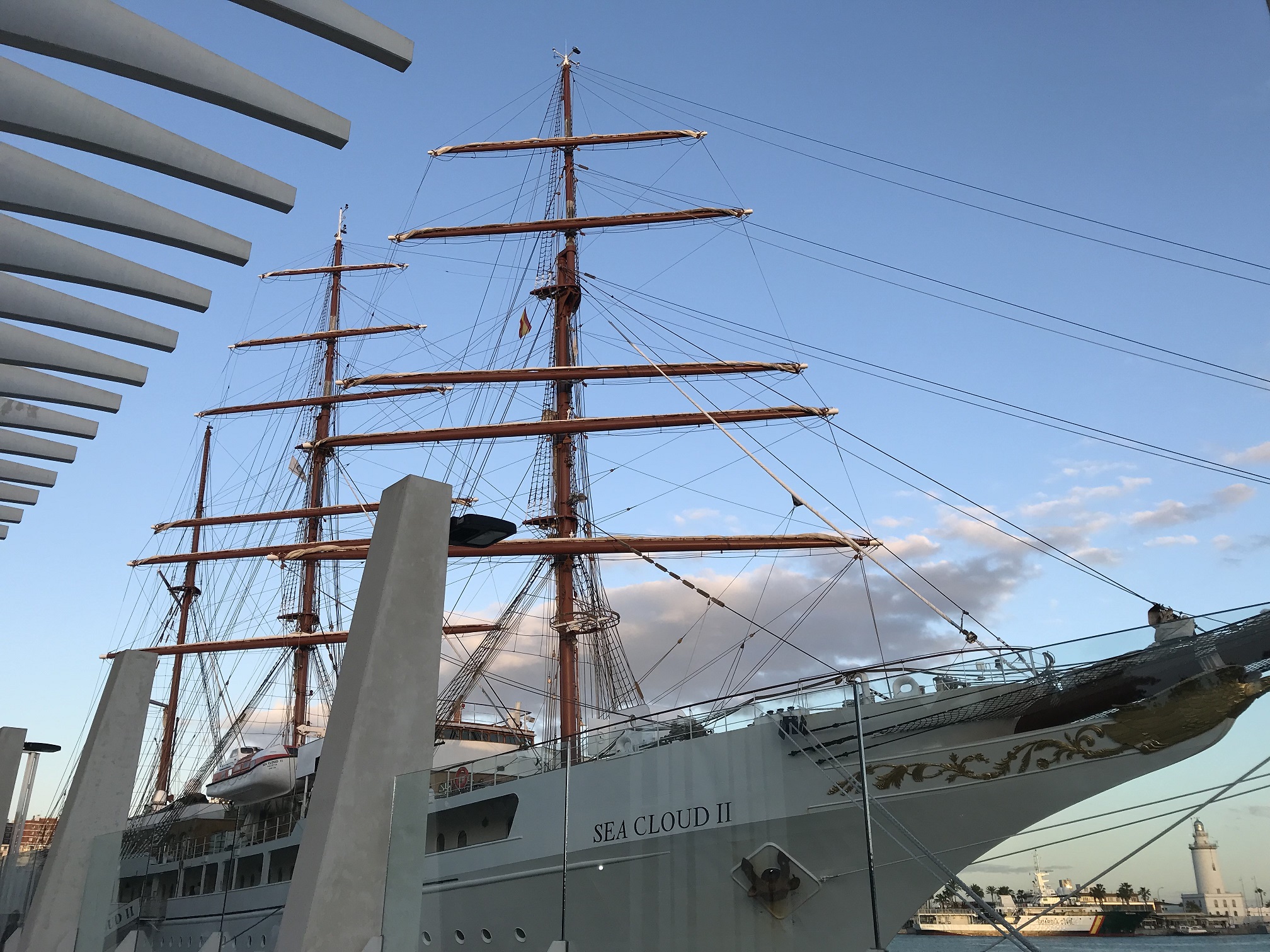 Cynthia Dial
With origins as exclusive as any on sea, this tall-mast windjammer is the sister ship of the 1930's-built Sea Cloud. The one-time treasured vessel of cereal heiress Marjorie Merriweather Post and her husband, Wall Street financier E.F. Hutton, it pays homage to their flawless taste and back-in-the-day wealth. It's said that when furnishing the vessel, Ms. Post never asked the price of a single item. With its storied history as a private yacht – entertained royalty, served in wartime and traveled the globe – nowadays Sea Cloud is a boutique cruise ship which continues to impress guests as it traverses the seas. So successful was this original vessel in the world of cruising that its look-alike namesake, Sea Cloud II, was commissioned in 1998 and christened February 2001.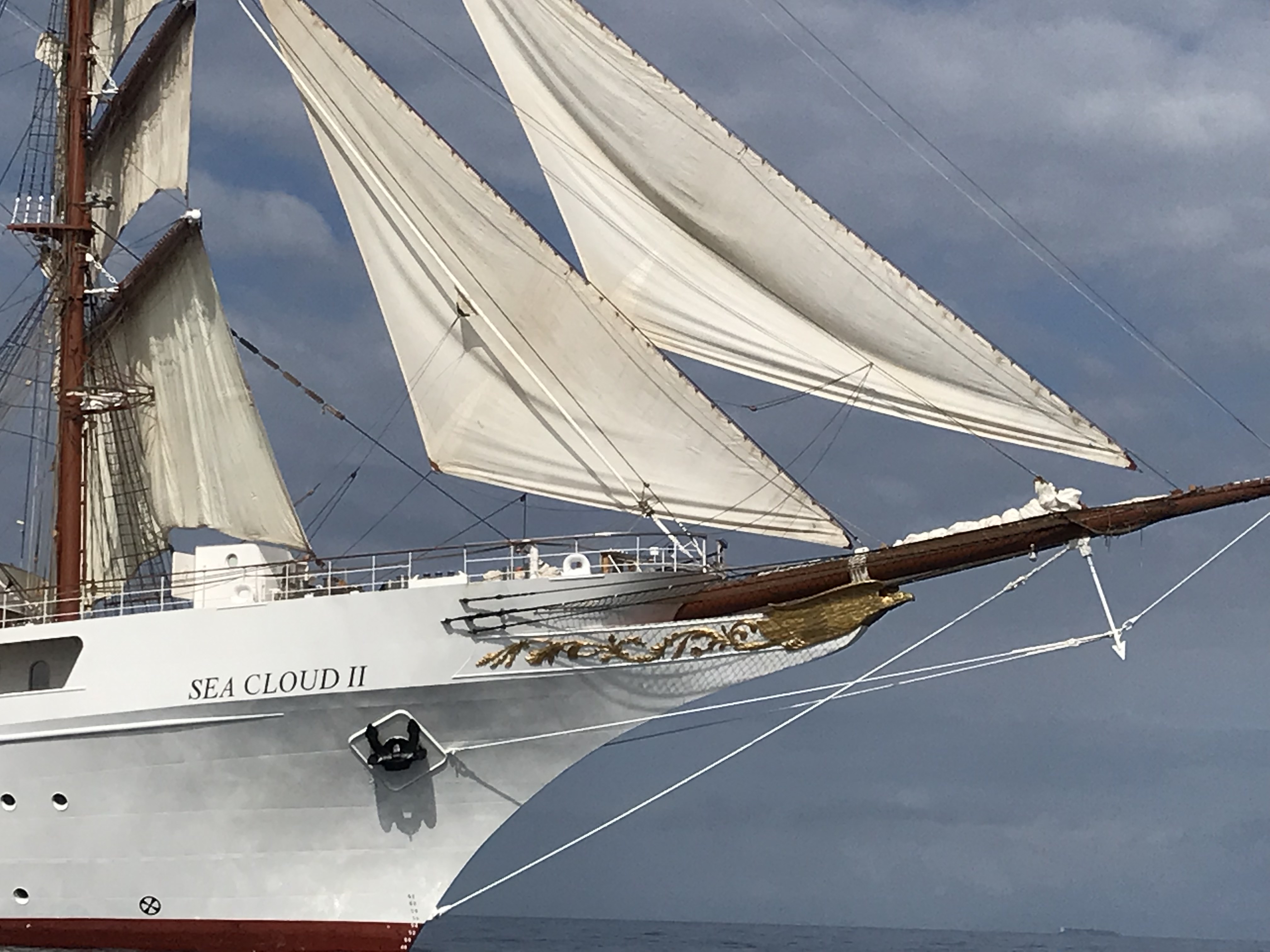 Cynthia Dial
A perfect combo of the nostalgia of yesteryear and the technology of today, Sea Cloud II has been described "slightly longer and beamier than the original 64-passenger Sea Cloud." You'll know her by her white hull flanked at its bow with two golden eagles – one positioned starboard and the other portside. With an overall length of almost 350 feet, five decks, three masts (the mainmast reaching more than 170 feet above deck) and 24 sails comprising a total area of approximately 30,000 square feet, physically she is impressive. Sailing primarily in Europe during summer and the Caribbean in winter, Sea Cloud II accommodates 94 guests and a crew of more than 60. However, unlike most passenger sailboats, her sails are handled manually by a crew of 15 dedicated deck hands who climb the masts and release the sails of this square-rigger. And at times, able-bodied and willing passengers are invited to participate in the impressive ritual, making it a genuine all-hands-on-deck experience.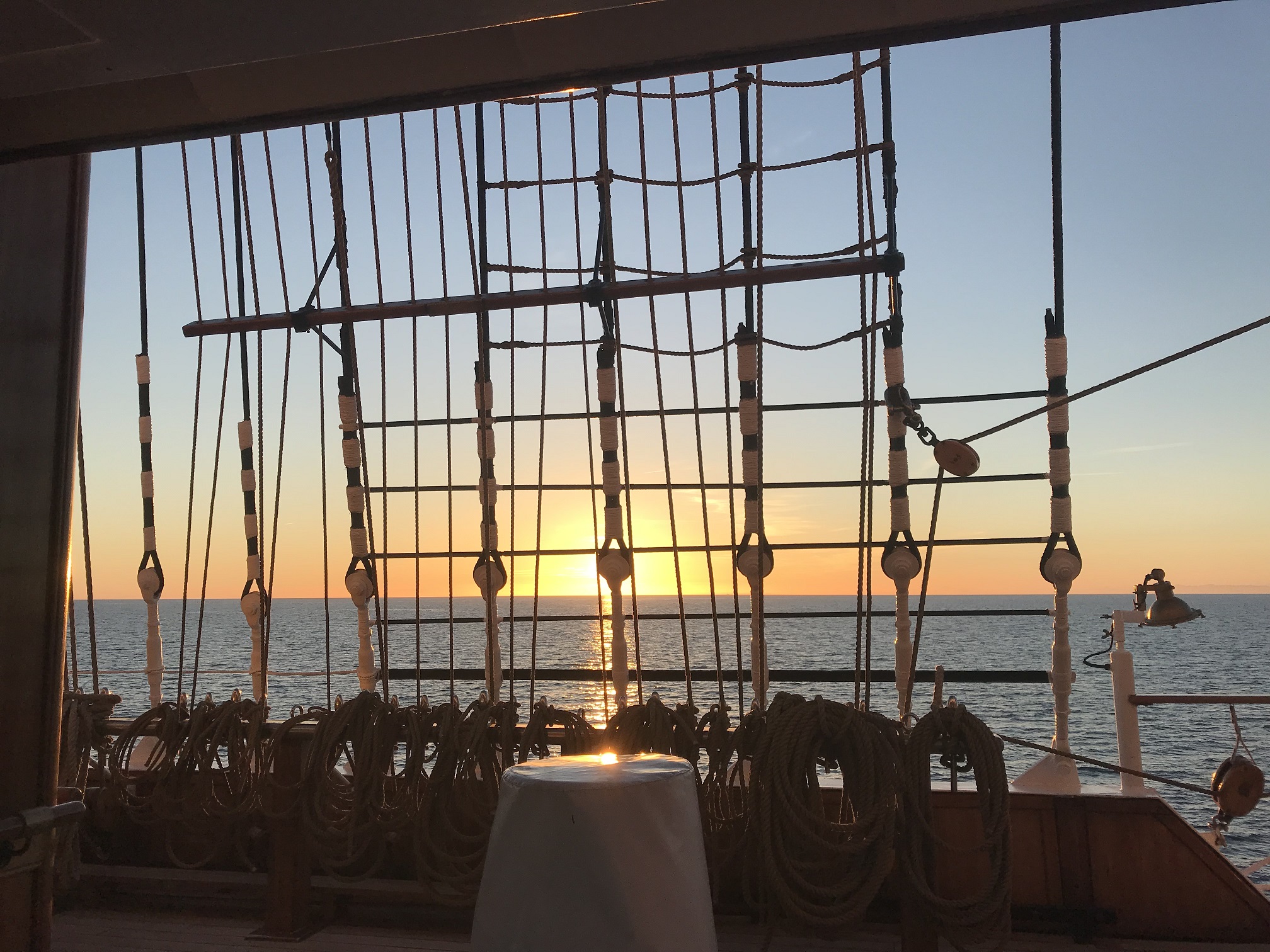 Cynthia Dial
Early morning, before dawn, the ship passes the Rock of Gibraltar, only the beginning of this Spanish sampler journey – Cadiz, Malaga, Valencia, Palma de Mallorca and Barcelona. Having begun the voyage on the Atlantic side of Spain from Cadiz, let's just say, smooth sailing it is not during the first night. Attired traditionally in a black sweater, white pants and white shoes like his fellow officers, Captain Christian Pfenninger speaks of the week's forecast: "The weather should be nice for the next few days. I won't promise but that is the forecast." But his words are as good as a promise, for the remainder of the cruise is under perfect conditions. When asked what sets Sea Cloud's vessels apart from colleagues, he is quick to respond: "the crew and their longevity." Expounding, he explains that it is the crew's allegiance to the company and to their ship that makes the difference, citing one staffer who has been with the Sea Cloud organization for more than 30 years.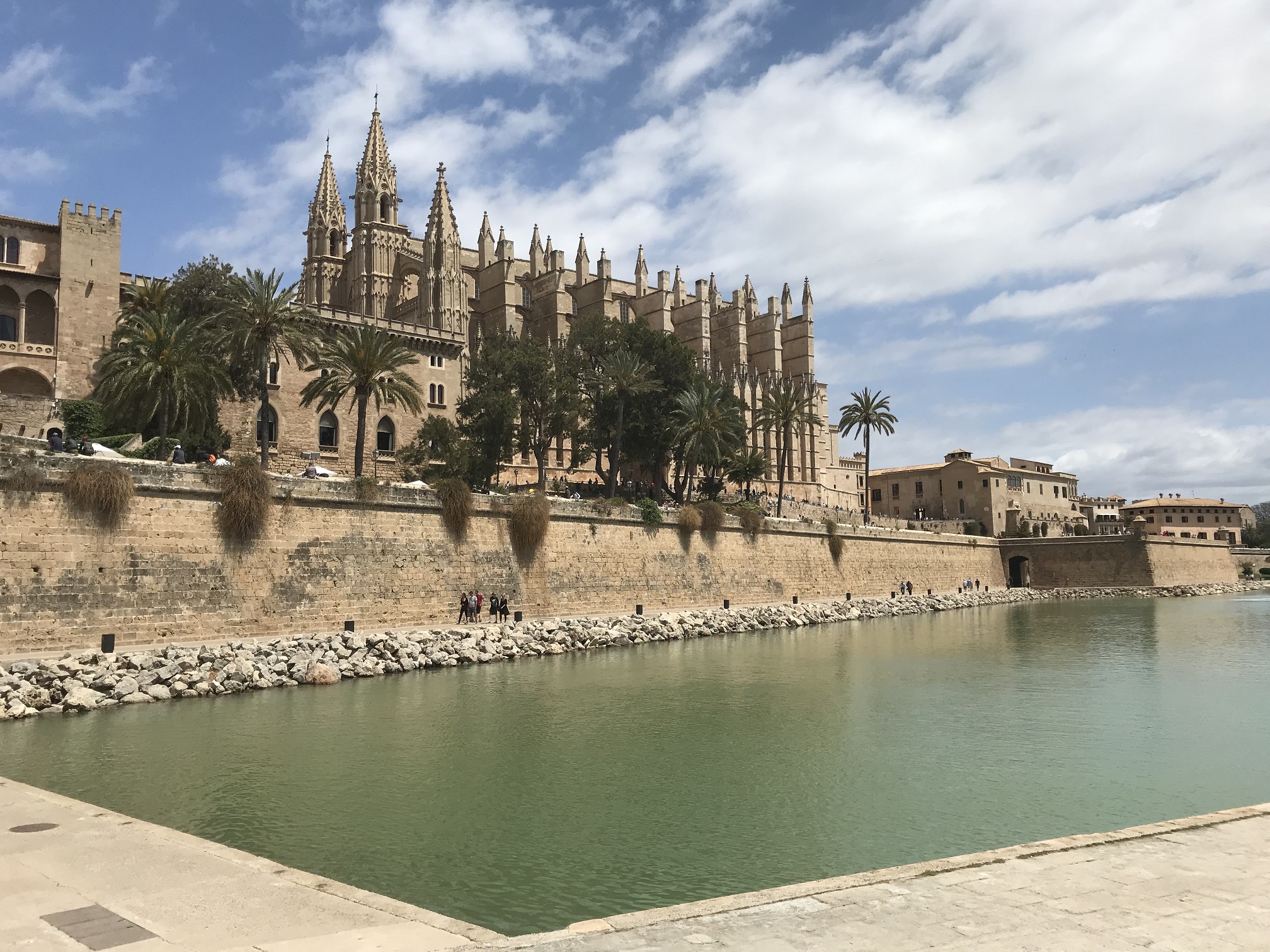 Cynthia Dial
"Good wonderful morning," says cruise director Heike Diefenbach in greeting over the speaker the first morning at sea. "Are you always this energetic and positive?" she's asked. "I like to be happy and smile and if I am not, it is because I am concentrating." Speaking to guests in both English and German, whether over the speaker or in separately conducted lectures, the explanation is simple: With the company based in Hamburg, a large portion of Sea Cloud Cruise Line's passengers are German.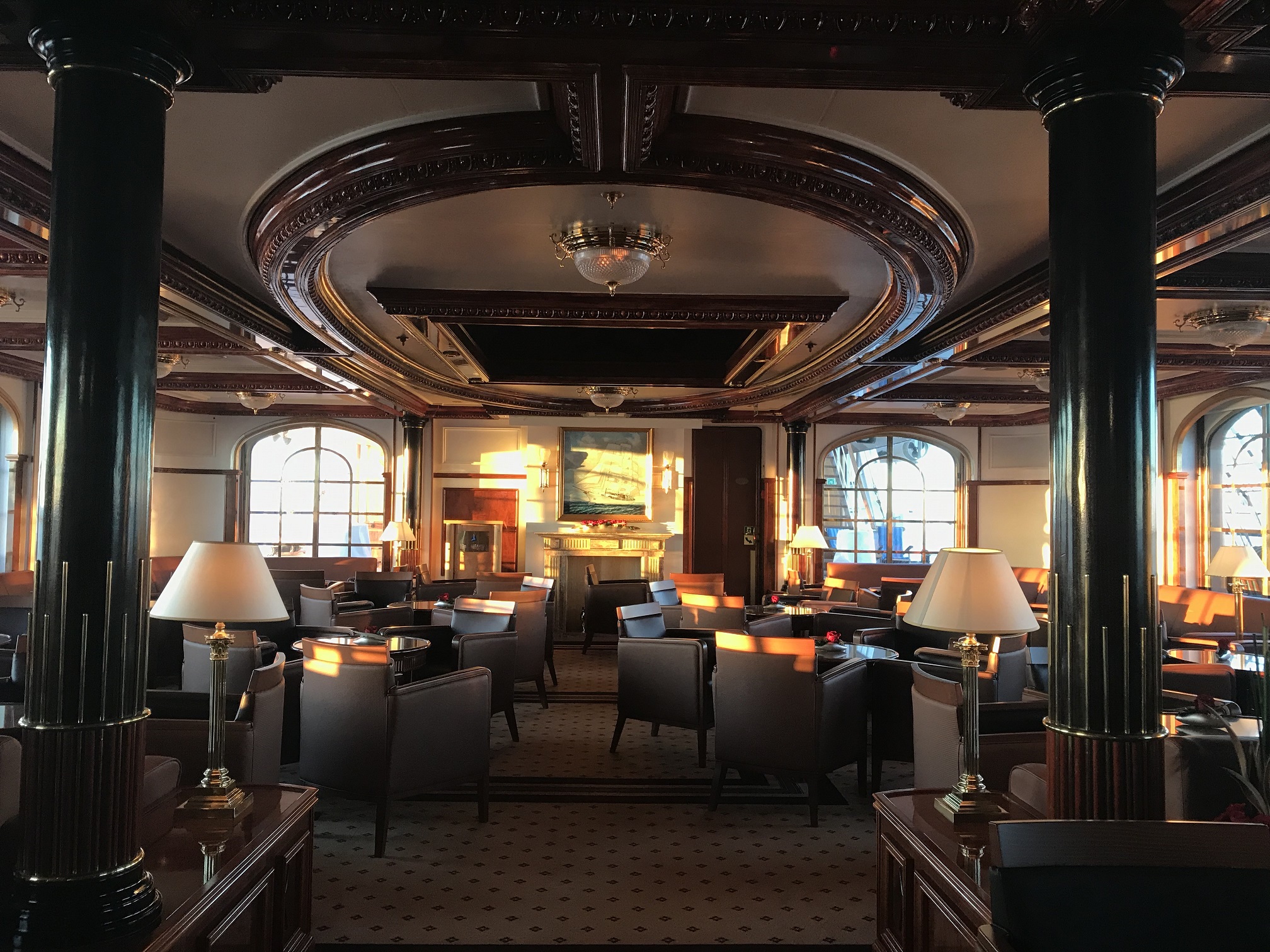 Cynthia Dial
Here's the layout of this ship. With lavish attention given to detail – lustrous wood paneling, molded white ceilings, polished brass accents and original Maritime paintings – the result is a sophisticated retro style and an ageless seafaring atmosphere for both solo sojourners and gregarious groups. Home to a library, a lounge, a bridge deck used as a sun deck and the Lido, an open-air bar located aft, there is no shortage of hideaways. Though there are no balconies, deck chairs are leisurely scattered about the several decks; and though there is no pool, a foldable platform accommodates assorted watersports, including a swim in the world's biggest pool – the sea. So, when the hotel manager/lifeguard announces, "The pool is open!" passengers know the gangway has been lowered into the water.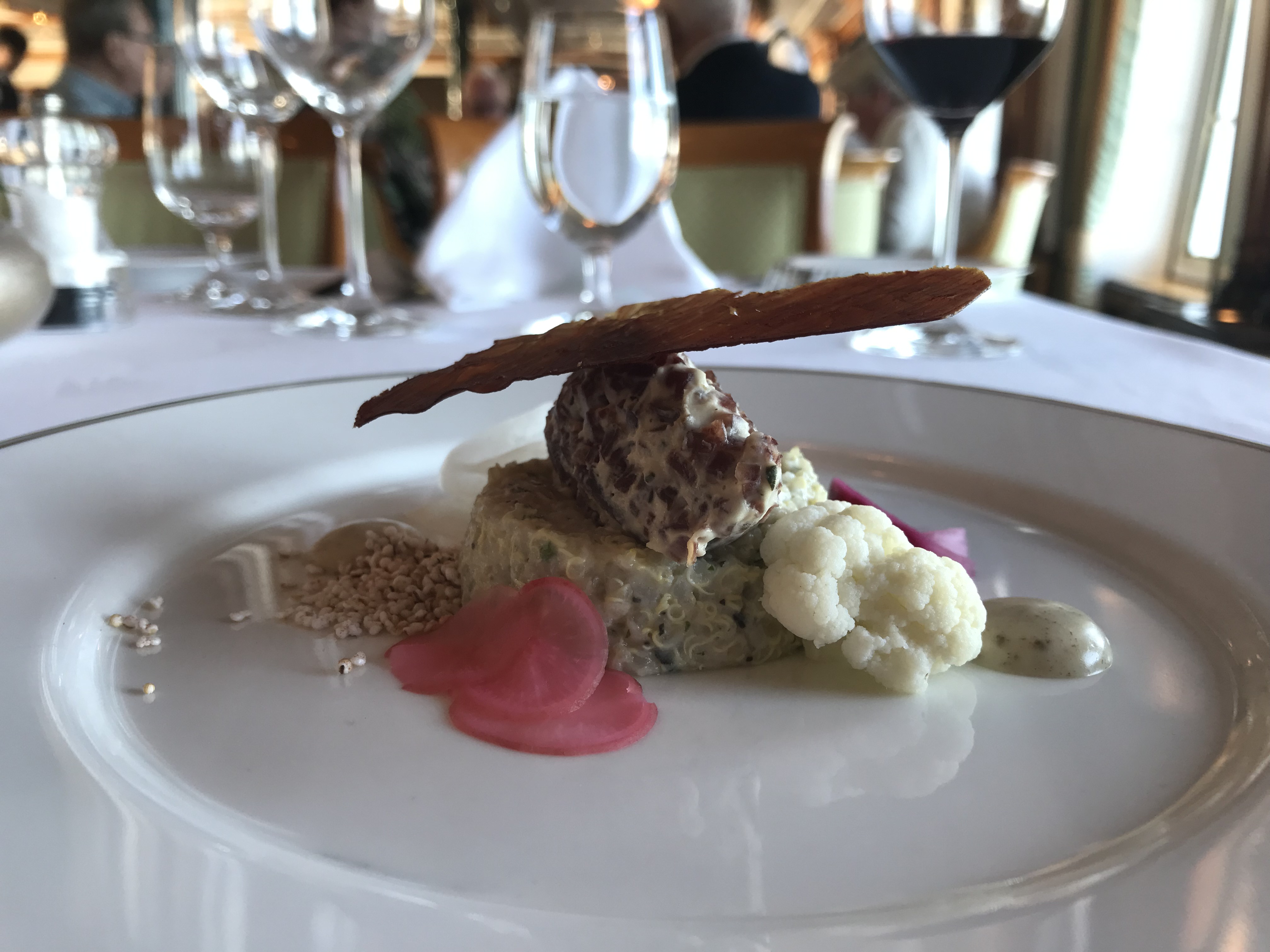 Cynthia Dial
The Lido is the center of activity – early morning for food, mid-day alfresco lunch, pre-dinner aperitifs and after-dinner entertainment. Imagine lounging amid the surrounding Mediterranean, sipping a glass of rosé and listening to the music of pianist Joachim Kuipers play (appropriately) "Spanish Eyes" and you've visualized at day aboard Sea Cloud II. Using locally-sourced foods whenever possible, passengers are never more than minutes from their next meal: 6:30 a.m. early-risers breakfast; 7:30 a.m. full breakfast buffet; mid-morning late-risers coffee, tea, fruit and pastries; 12:30 p.m. lunch buffet; 4–5 p.m. tea time (including such sweet specialties as made-from-scratch crepes and fresh waffles courtesy of Pastry Chef Remo); 7 pm four-course dinner in the main dining room; followed by the dessert buffet and ending with the 10:30 p.m. late night snack. And with respect to price, wines from well-known regions are included in the price, as are tips (effective 2019).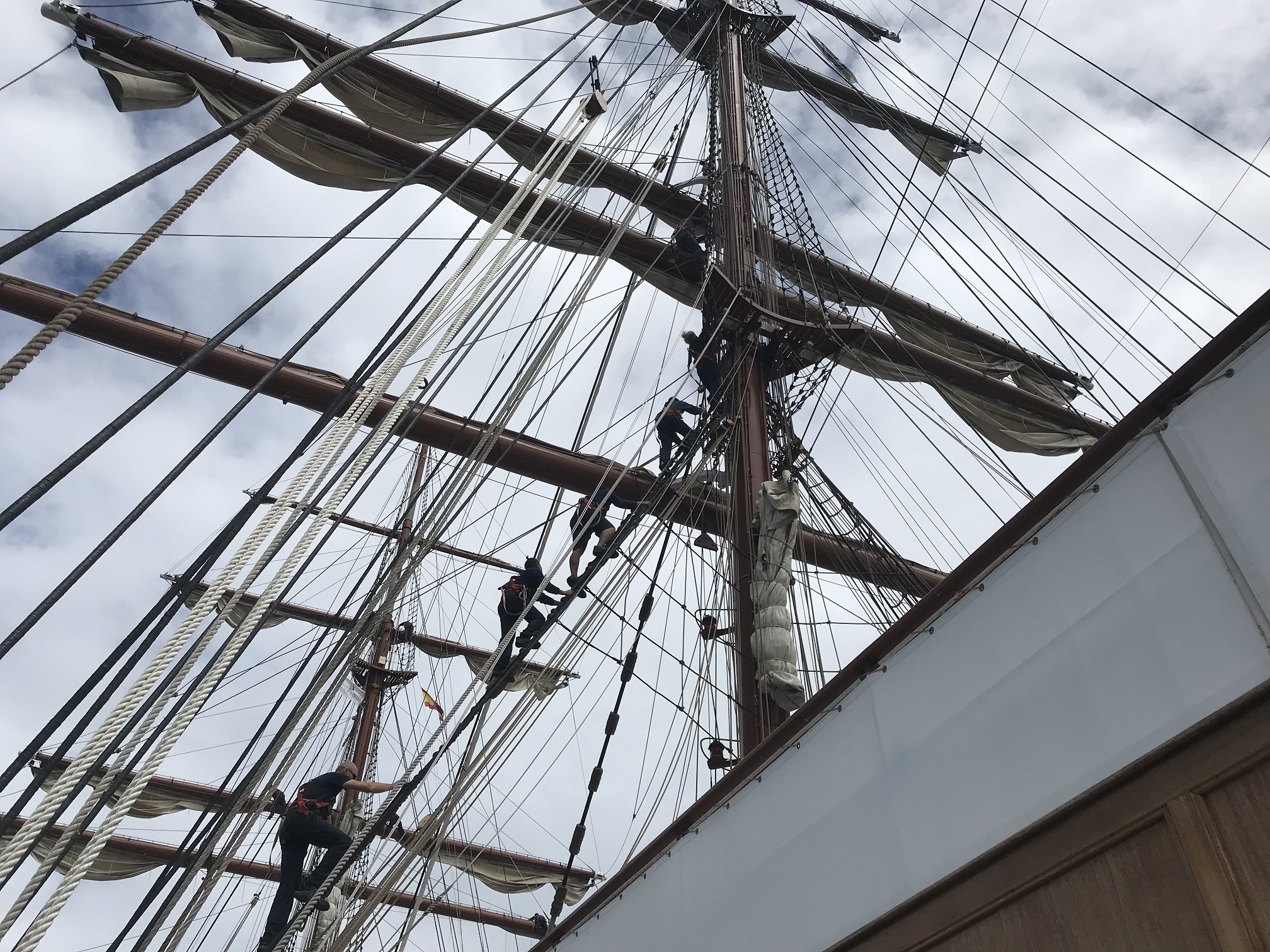 Cynthia Dial
A not-always-possible highlight is described in the daily bulletin: "Sail stations! We set sails!" This is the day to sit it in the comfort of a deck chair and watch the crew go aloft amid the labyrinth of riggings to handset the sails – typically taking the team almost one hour to do so. But the highpoint for the most passionate of passengers comes with the over-the-speaker announcement that photo excursions are departing from the lower deck (translation: passenger-accommodating zodiacs will circle the ship for away-from-the-boat photo ops of it under full sail). On the occasions when Sea Cloud and Sea Cloud II meet at sea and sail together (an event acknowledged on the cruise calendar), it's the personification of the golden age of sail when majestic tall ships ruled the waves.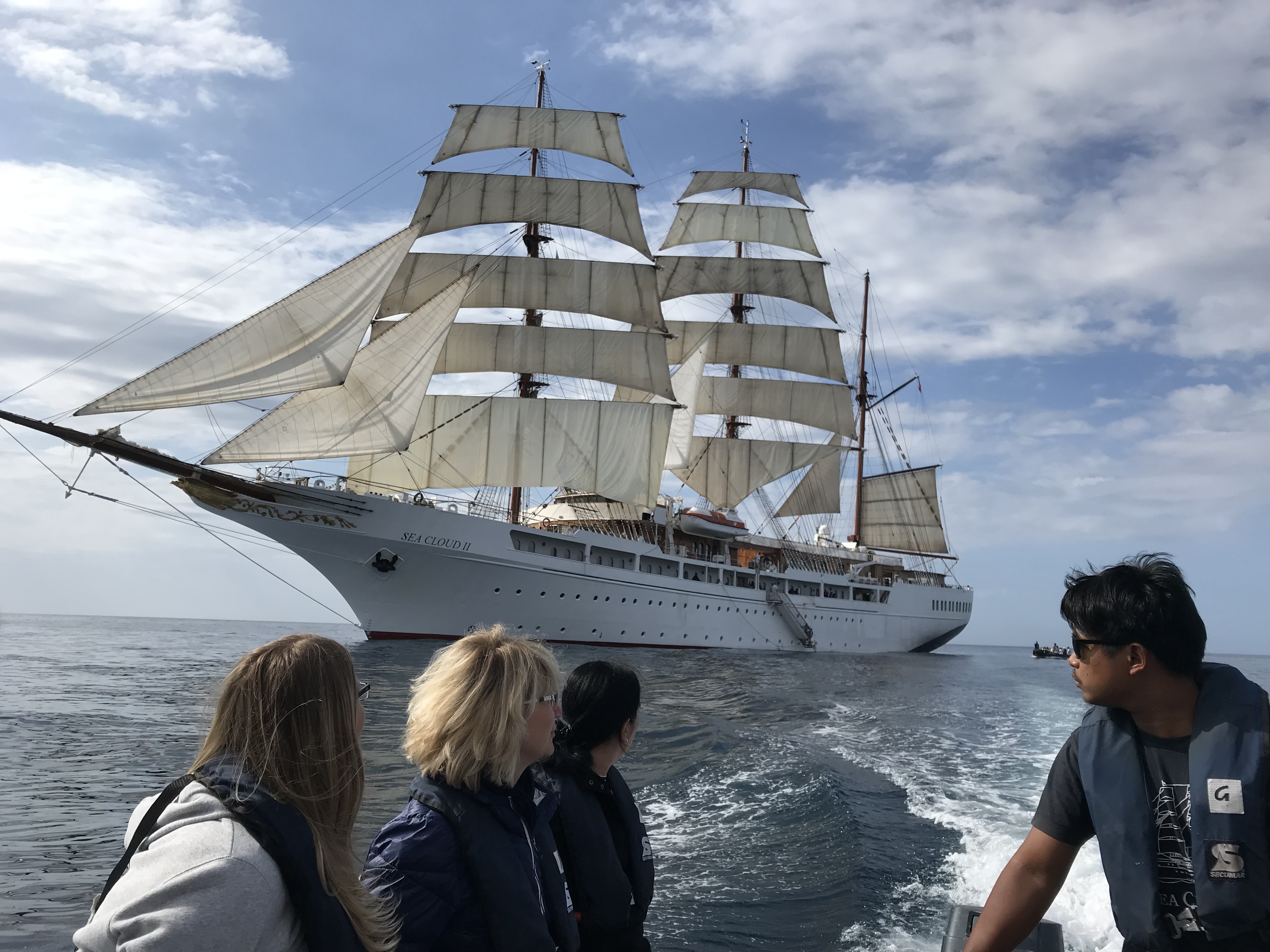 Cynthia Dial
It is all of this and more that attracts passengers again and again – passengers like Colin and Angela Milne, residents of Great Britain and cruise aficionados. "With Sea Cloud we have completed seven sailings – two in the Caribbean Sea, two in the Baltic Sea and three in the Mediterranean Sea," says Colin who deems Sea Cloud's receipt of his repeat business as a testimony to the organization.
Cynthia Dial
The Sea Cloud promise: "In a time when everything claims to be bigger than ever before, we have made a conscious decision to keep our cruises small and exclusive." One pledge, two ships, a lifetime of memories.