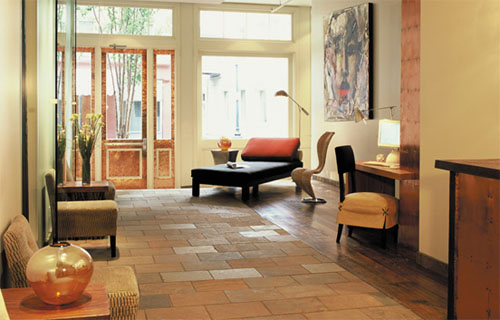 Hotels
Loft 523 is the quintessential loft hotel. It is a sexy, sophisticated sanctuary. It is New Orleans' newest boutique hotel, and it just raised the design bar substantially. Its understated design stimulates the spirit and heightens the senses. The Loft 523 is a cool, sophisticated and unique lodging experience.
Accomodations
The guest rooms at the Loft 523 are loft-style rooms that combine existing architectural artifacts with high-tech furnishings and cutting edge design. These spacious rooms start out at 600 square feet and are equipped with state-of-the art amenities, including wireless Internet services and five-speaker surround stereo systems. Most lofts include glass and limestone showers with 2 showerheads, "contemporary elegant".
Modern Electronics
In addition to open space, great design, and artifacts, Loft 523 is a high-tech playground. Sony cd/dvd surround-sound systems are standard features. A flat panel plasma television graces the penthouse wall. Thanks to carefully positioned antennae, from anywhere in the hotel, bar, and even around the corner at the state-of-the-art conference center that Loft 523 shares with International House, one can access the internet at more than 3 megabites on Loft 523's blazing wireless network-significantly faster than dial-up and DSL access. For travelers whose laptops do not have wireless capability, Loft 523 provides the necessary programming on a CD, as well as a special PC card to rocket onto the net. The lobby showcases Apple's new iMac, a visually stunning signal that this is a hotel replete with high-tech toys.
Design Lab
Loft 523 is also about design, lasting style, and edge. The rooms are in harmony with natural structure, a "shelter" for the soul, as well as for the body. As one critic wrote, "Design must seduce, shape, and perhaps most important, evoke emotional response." From Modern Fan Company's 52-inch opal-glass ceiling fans to legendary photographer/painter/chemist/Renaissance man Mariano Fortune's acclaimed 1907 Fortuny lamp, to Agape's acclaimed "Spoon" tubs in spacious spa-like bathrooms in all Superior room types accessories and king beds by Mondo, Loft 523 is a joyous celebration of design and the emotional response it elicits. The bed and its wenge sidetables, like all of the furnishings, are low to the ground - anchors of stability set to a scale that accentuates soaring space. The headboard is covered in textured mocha and cream intreccio fabric, while the bed itself is a divine combination of triple-sheeted Frette linens, king-size pillows, and one decadently luxurious throw. Arranged in harmonious seating areas, a variety of different chairs of Italian design and a custom-made ebonized pecan wood desk with an award-winning Herman Miller desk chair contribute to the uniqueness of each guest accommodation.