By Sean Hillen Aug. 8th, 2017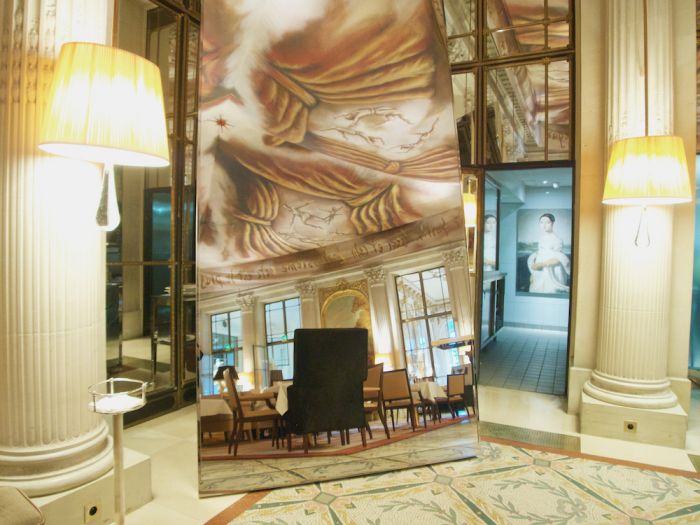 Photo Credit: Columbia Hillen
An icon of the French hospitality sector for almost 200 years, the recently-remodeled Le Meurice in Paris is located on the fashionable rue de Tivoli, between Place de la Concorde and the Louvre. With views across to the Tuileries Garden, the property has been propelled into the 21st century with a raft of physical and service changes, including inspired furnishings by Philippe Starck.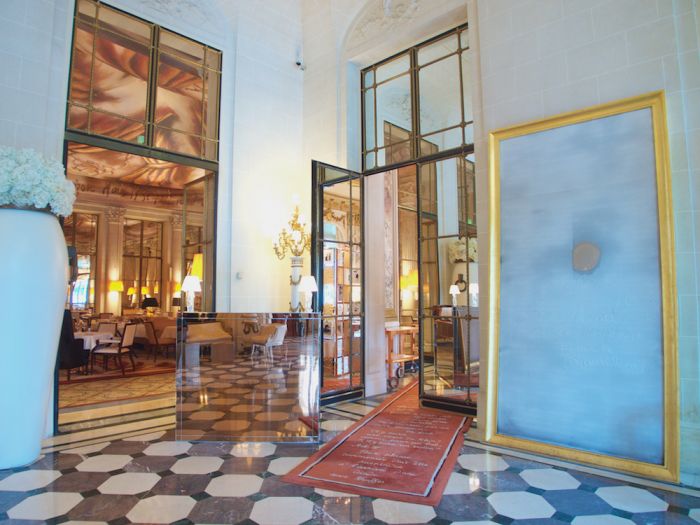 Photo Credit: Columbia Hillen
Classic elegance and contemporary spirit go hand-in-hand at this seven-floor hotel with each of the 160 rooms, including 32 suites furnished with iPhone docks alongside elegant 17th-century style furniture and top-of-the-line fabric decorations by Rubelli and Braquenie.
In many ways, Le Meurice is a lived-in museum, with craftsmen from the Scuola Mosaicisti having restored the marble flooring, antiques and art from Sotheby's and Christie's.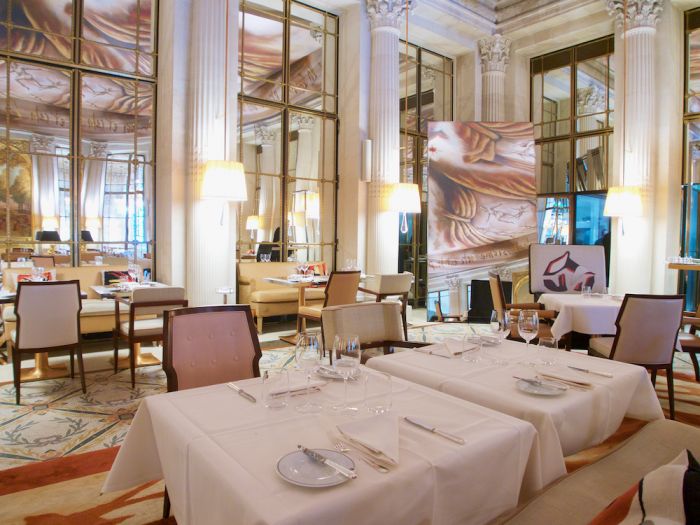 Photo Credit: Columbia Hillen
Besides the modern touches and pristine doormen in black tuxedos, there is also the graceful design of the side-by-side restaurants Alain Ducasse and Le Dalí, comprising a gold and ochre ceiling mural painted by Ara Starck, mosaic floors, hand-carved moldings, friezes and melted-glass sculptures resembling icicles, as well as a tribute photo collage to the famous Spanish surrealist artist himself. Even the armchairs are beguiling, with faces of dignitaries adorning them, including Madame de Pompadour. Other chairs have feet in the form of ladies' shoes.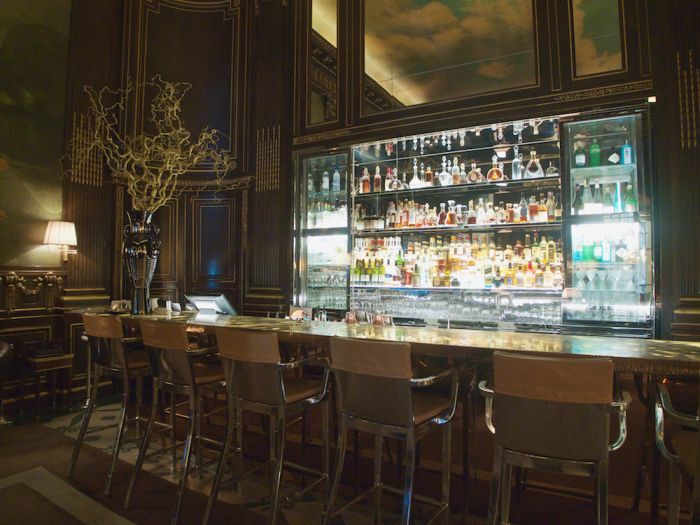 Photo Credit: Columbia Hillen
To demonstrate its support for the arts, Le Meurice also hosts an annual international competition, the Meurice Prize for Contemporary Art.
With its dark varnished woods, shades of tobacco, smooth leather armchairs and sky painted ceiling, Bar 228 (the hotel's address on rue de Tivoli) oozes the cozy atmosphere reminiscent of 19th-century private gentlemen's clubs. Three restored Lavalley paintings adorn the walls depicting a festive night scene at Château de Fontainebleau and live piano or jazz can be enjoyed here every evening. The bar offers a wide range of specialty drinks, and we chose the Le Meurice in Love (Cognac, Chambord, ginger, lemonade and soda) and Tiger's Eye (brandy, fresh lime juice and hibiscus served with a confit hibiscus flower) —which certainly helped put us in the mood for relaxation.
Photo Credit: Columbia Hillen
Now a member of the Dorchester Collection, Le Meurice developed over many years a reputation for lavish entertainment, with one guest once reputedly describing how he enjoyed hard-boiled eggs from various assorted birds, including partridge and swan. Tchaikovsky, Queen Victoria, Franklin D. Roosevelt, Rudyard Kipling, Ginger Rogers, Coco Chanel, Richard Burton, and Dalí himself, (who reportedly asked staff to catch flies in the nearby garden and bring them to him in a glass) are among many celebrities who have stayed at the hotel.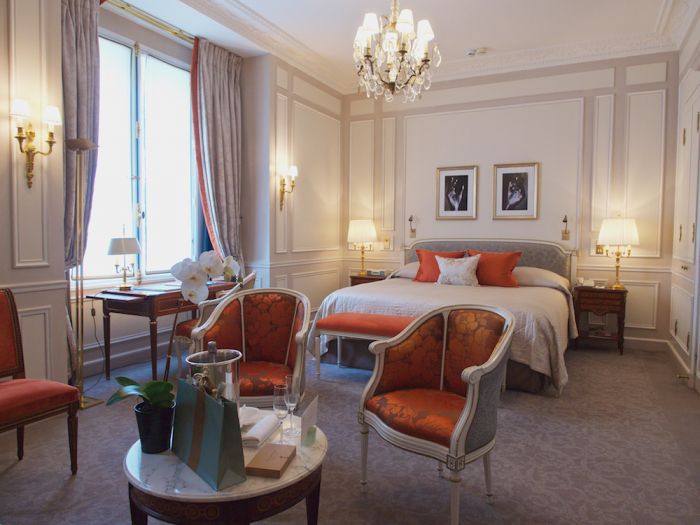 Photo Credit: Columbia Hillen
Our room, 223, with an eggshell color scheme, reflected classic design with high ceiling, a marble-topped coffee table, decorative wall lamps, cornices and a magnificent grey-veined marble bathroom with ample tub and separate spacious rain shower. Elegant furnishings also included a mini chandelier, Louis chairs, a settee and a walnut writing table. A single fresh orchid in a pot and two simple black and white photographs of human hands added a touch of subtlety.
Photo Credit: Columbia Hillen
Dinner in Le Dalí restaurant, with a pianist playing soft melodies such as Moon River, was a most relaxing affair, made so as much by the ambience as the food, with intricate mosaic floor, tall Corinthian columns, colorful canvas-draped ceiling, a huge mirror creating a multi-dimensional effect and lamplights designed in such a way as it seemed they shed tears. Can any other ambience create a greater sense of romance than the Louis XIV's Versailles style Starck has imposed upon it?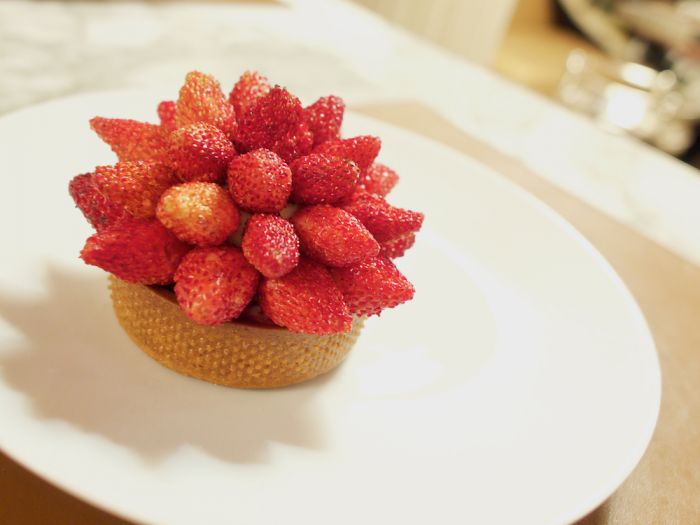 Photo Credit: Columbia Hillen
Chef Joselyn Herland offers a Mediterranean menu with items such as gratinated razor clams, butter and breadcrumbs and marjoram, red mullet stuffed with herbs, socca and cooking jus and grilled veal piccata with early vegetables and sage condiment. The highlight of the evening, however, were pastry chef Cedric Grolet's creations, including a delectable silver lemon and his wild strawberry tart.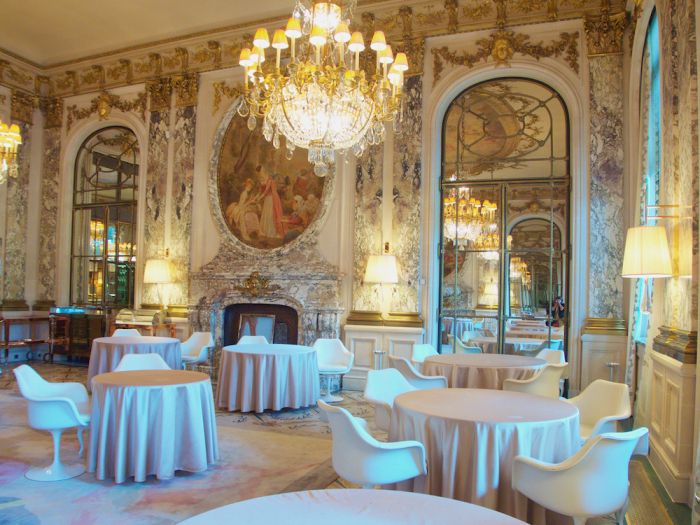 Photo Credit: Columbia Hillen
For a change of atmosphere, we requested breakfast in the Alain Ducasse restaurant. Inspired by the Salon de la Paix at the Chateau de Versailles, its 18th-century grand siecle-style décor is dreamy on the eye, with a wealth of bronze, marble, gilded glass and frescos, all bathed in brilliant light flooding in from floor-to-ceiling windows. Start with a smoothie of tomato, raisin and Worchester sauce and then take your time enjoying every bite of eggs benedict with black truffle or with salmon followed by Alain Ducasse hot chocolate or coffee and freshly-baked brioche with apricots jam.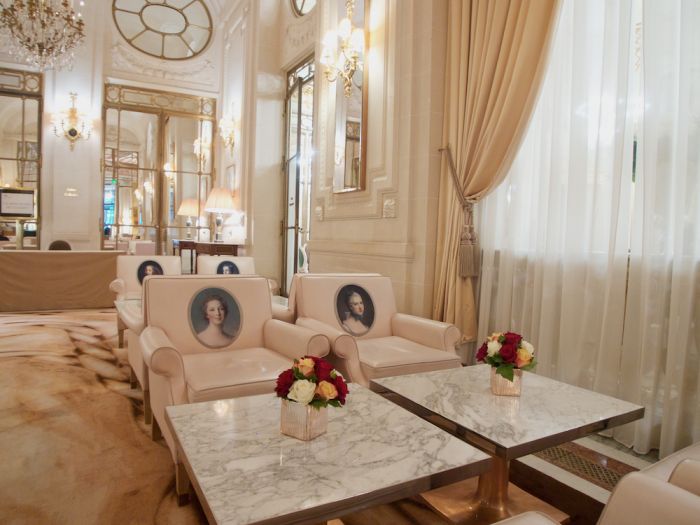 Photo Credit: Columbia Hillen
Le Meurice boasts artistic Parisian elegance and an illustrious history to match, only made better by fine touches of art and design throughout the property. From the design to the food and the central location, the hotel is a great spot to call home on your next trip to Paris.
Sean Hillen
Sean Hillen has been an international journalist and editor for over 30 years and published author. His contemporary novel, 'Pretty Ugly' is an intriguing ride through the murky undercurrent of the lucrative cosmetic industry http://www.seanhillenauthor.com/  Sean's writing experience spans several continents - in Ireland, for the national daily The Irish Times and in England, as foreig...(Read More)