By JustLuxe Feb. 27th, 2020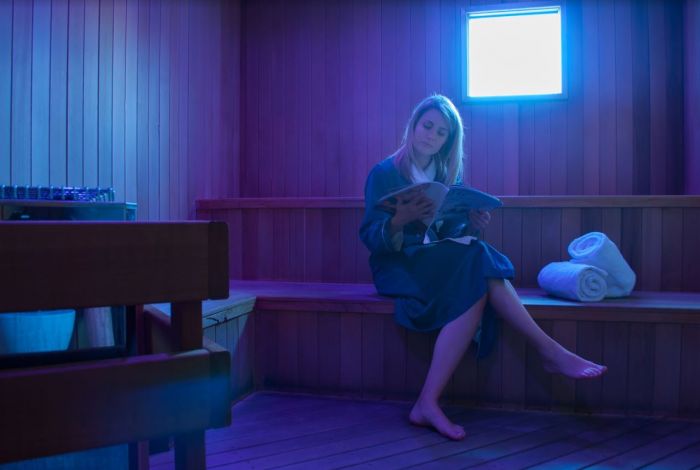 Experience revitalizing benefits for body and soul with VH Spa's saunas featuring chromotherapy. Dry heat detoxifies while raising core body temperature less than steam. Choose your own color of chromotherapy light, with benefits ranging from improved circulation to emotional balance and calm. THE POWER OF COLOR: Light is made up of seven fundamental colors: red, orange, yellow, green, blue, indigo and violet. Each color awakens different stimuli, positively affecting both body and soul.
Red – Activates circulation, awakens the senses and promotes a sense of groundedness.
Orange – Stimulates the immune system and soothes muscular and emotional discomfort by enhancing your sense of self-worth. It also promotes balance and calm.
Yellow – Promotes mental activity and aids digestion and elimination. Stimulates emotional awareness and release. A powerful catalyst for deep creativity.
Green – Relaxes the entire body and stabilizes emotions. Promotes humility and empathy.
Blue – Reduces blood pressure and relaxes the soul. Fosters awareness of self and affirms originality.
Violet – Stimulates the immune system, eliminates toxins, and reduces stress. Fosters joy, peace and a profound appreciation for life
Hotel Valley Ho
6850 East Main Street
Scottsdale, AZ 85251

JustLuxe Team
The JustLuxe Team strives to bring our members and readers the very best in luxury news and conversations. We love to hear your opinions and suggestions, but most of all, we love to interact with you. ...(Read More)