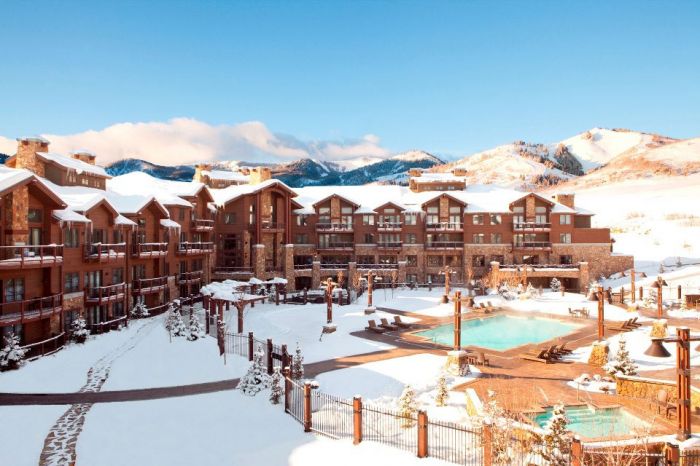 Photos Credit: Waldorf Astoria Park City
Californians love their fresh powder, especially when it comes to the slopes of Park City, Utah. The Golden state's residents account for nearly a fourth of the historic town's annual visitors. Add in the Sundance International Film Festival, the dozens of artisan culinary shops and restaurants that complement a few stunning resorts, and Park City becomes an alluring escape for any and all snow bunnies.
The area is home to the Waldorf Astoria nestled at the foot of the sweeping Wasatch Mountains within the Park City Mountain Resort. Like a chic lodge with 175 rooms, the Waldorf's interior spaces are enviable and inviting. The lobby is awash with several stunning elements, such as wrought iron chandeliers with Baccarat crystals, a massive 300-year-old fireplace mantle, and a duo of century-old hand-carved, wood stag statues.
The furnishings, comfy deep set chairs, couches, and a wood game table, are elegantly refurbished antiques. I spent a few afternoons on those couches, sipping hot chocolate and watching the snow flutter down through two-story windows that framed the fireplace. Another lovely spot to savor the winter wonderland is just outdoors where complimentary s'mores are roasted around a massive fire pit in the evenings. Adults may favor Moët Champagne served by the glass, flight or bottle in the arctic lounge, an outdoor space surrounded by massive, hand-cut ice sculptures.
The property's aptly-named Powder restaurant entices guests to feast throughout the day in a cozy setting. Chef Ryker Brown's Bison Pastrami Melt, Buffalo Chili and Timberline French Toast with orange mascarpone are daily favorites, as are the bar's après ski elixirs such Maple Spiced Manhattan and Bobsled Bramble. Many of the herbs and greens of Chef Brown's creations are notably fresh, as the kitchen's pumpkins, zucchini, strawberries, cilantro, stevia herb and more are foraged from the on-property garden. The honey in the desserts and teas come from the garden's nearby beehive, also attended by Chef Brown.
Immediately accessible from the lobby and restaurant is the Waldorf's 16,000-square-foot spa adorned in polished light beech wood paneling. The effect of the warm wood coloring is an enticing draw that lures guests to work out in the decked out kinesis room, the well-equipped gym area, and the private STOTT Pilates studio. As a fitness fanatic, I love uncovering a great gym, particularly when heavy snow fall prevents running outdoors. Health and wellness classes and talks are also organized throughout the week.
Rates begin at around $179 a night.