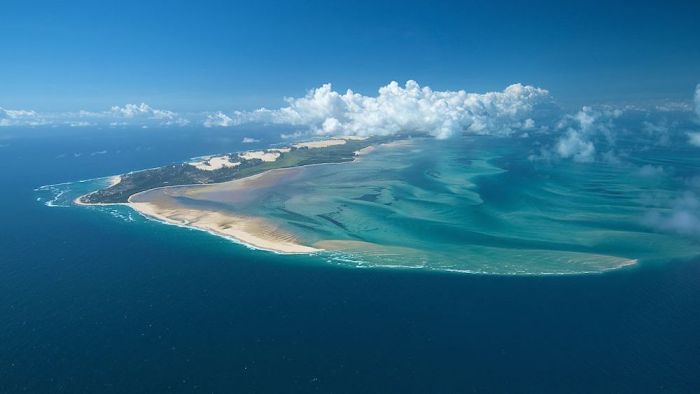 Photo Credit: Anantara
1. It's easier to get to than you think. Mozambique; easy to get to? Yes, that is, in fact, the case. Even in this day and age of near-supersonic jet travel and proliferating airlines, some countries still seem so exotic and so distant. But Mozambique lies just to the north of South Africa along the east coast of the continent with a shoreline that stretches along the Indian Ocean. The flight from Johannesburg, South Africa, to the beach town of Vilankulo, which is the gateway to the Bazaruto Archipelago National Park, is just 80 minutes with several frequencies a day on South African Airways and LAM Mozambique.
Photo Credit: Anantara
2. No one you know has been there. Remember the whole exotic-distant thing? For that very reason, as well as a long-lasting civil war that the country is still recovering from, very few Americans have ventured here. Their loss. Mozambique boasts a fascinating colonial history, pristine stretches of coastline, some phenomenal luxury resorts, including the Anantara Bazaruto Island Resort & Spa, and plenty of opportunities to experience wildlife and adventure.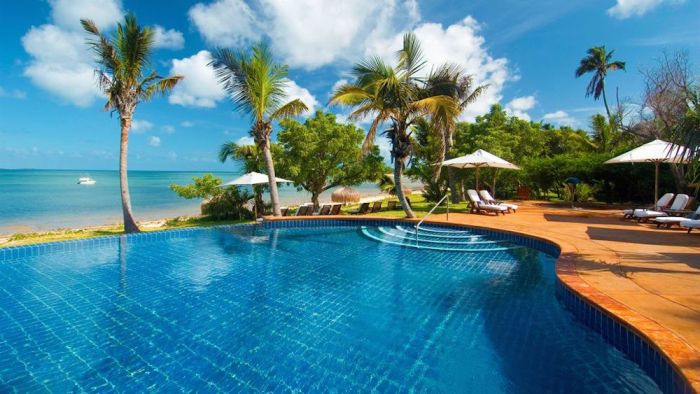 Photo Credit: Anantara
3. The adventure starts at once. It's time to get into the groove even before you reach the resort. That's because, in order to do so, you must slip off your shoes, wade into knee-high water, and climb aboard Anantara's private launch for a cruise from Vilankulo to the resort. The journey is a 45-minute jaunt through aquamarine channels where you might spot dolphins, manta rays and the manatee-like dugongs that call these waters home. Along the way, you pass islets and specks of land that dot the waters, protecting the land from the currents of the open Indian Ocean, as well as local fishermen out practicing their craft.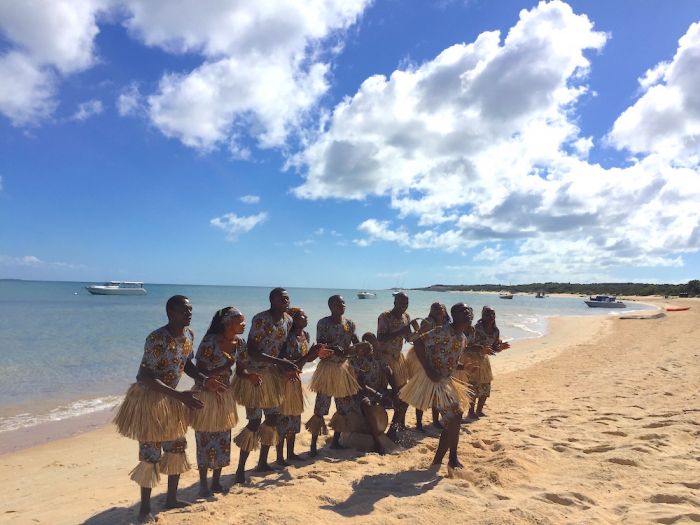 Photo Credit: Eric Rosen
4. The warm welcome. The cruise might be exhilarating enough, but to set the proper tone, a full choir will be waiting for you up on arrival, singing, dancing and clapping as they welcome you musically to the resort and put on a full display of the warm hospitality for which these parts are known.
5. The Robinson Crusoe vibe. Some of the resort's 44 villas, complete with thatched roofs, perch along the hilltops, but many lie along raised wooden walkways, hidden amongst the trees. The ambiance is like having your own desert island paradise. Only this one comes with enormous villas and luxurious touches like hardwood floors and outdoor decks, four-poster beds, palatial bathrooms with deep soaking tubs (there's a menu of in-room bath rituals to choose from) and outdoor showers, and even private plunge pools in some categories. The accommodations are currently undergoing renovations, so many will feature all-new décor and amenities in the coming months as well once their refreshed look is unveiled.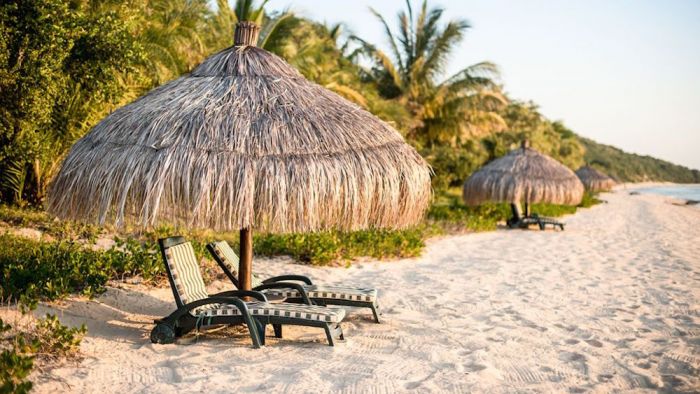 Photo Credit: Anantara
6. Dhow delights. No trip to Bazaruto would be complete without taking a cruise at sunset in one of the traditional sailing dhows with their signature triangular sails that still ply these waters. It's a sedate way to end the day, bobbing along with a drink in hand as the sun sets behind the mainland.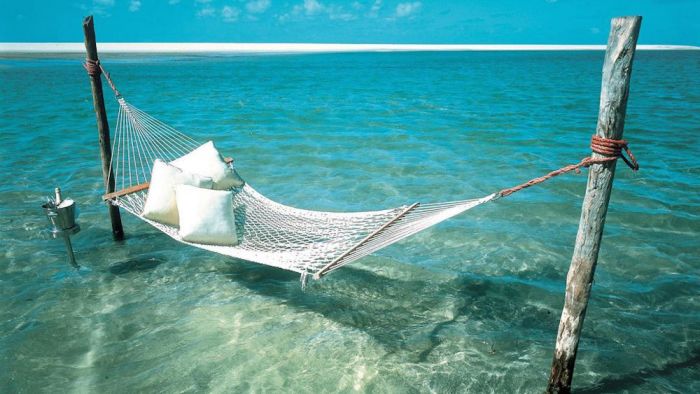 Photo Credit: Anantara
7. Water world. Of course, there are more high-octane thrills to be found in the waters around here as well. The resort caters to sportsmen and women alike with activities such as scuba diving, game fishing, sailing, whale watching, swimming with turtles, dolphins and dugongs, and private boat charters. Guests can also book a half-day excursion to nearby Paradise Island to snorkel its gorgeous coral reefs, tuck into an alfresco barbecue lunch and even walk through the ruins of the once famous Paradise Island Hotel, which was a celebrity favorite in the 1960s.
Photo Credit: Eric Rosen
8. Dune it yourself. Back on land, the signature excursion is a ride up into the sand dunes behind the resort. Driving through small villages and settlements, guests can learn about local life and even visit a school that's supported by the resort. There are small lakes that are home to crocodiles and myriad species of birds. Those up for a more strenuous experience can hike up the massive dunes with a guide. The views of the Indian Ocean and neighboring islands are almost as mesmerizing as the red dunes themselves, their faces coursed by rivulets of sand blown here by the wind.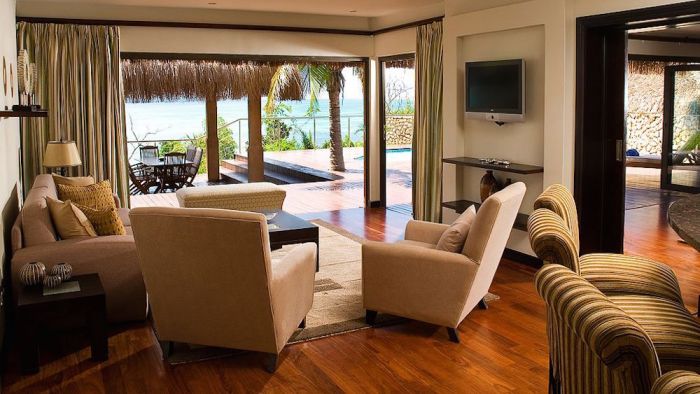 Photo Credit: Anantara
9. It's spa-radise. Anantara, based out of Thailand, is as much known for its spa offerings as its accommodations, and this resort is no exception. The spa here sits atop the resort's highest point, with uninterrupted views of the rest of the property and the beach. It has just five treatment rooms (three of which have ocean views), so it is never crowded, and guests can even come up here to relax in the infinity plunge pool or to sip a quiet cup of tea while enjoying the vistas. The spa features singular amenities such as a Moroccan Rhassoul for clay-infused body treatments and an ice room for cooling off after the sauna. Treatments run the gamut from traditional Thai massage and an after-sun body treatment that utilizes aloe vera gel and a black tea-mint poultice to crystal chakra massage. Not to miss, however, is the 90-minute Mozambique Sand Compress Massage, which incorporates an African massage oil blend and heated sand compresses to stimulate blood flow, release tension and reenergize the muscles.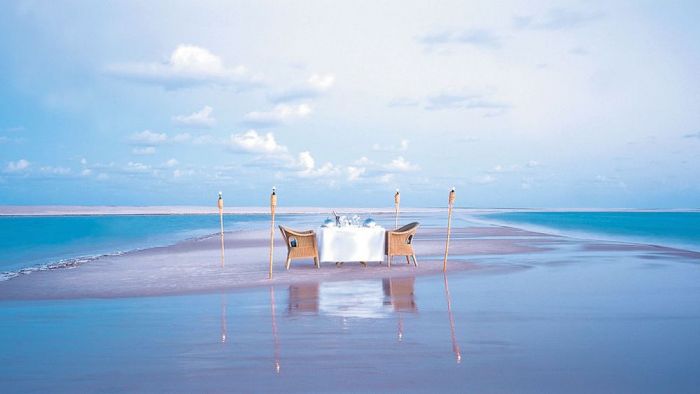 Photo Credit: Anantara
10. Starlight dining. More casual meals are served in the resort's various restaurants including the beachfront Club Naval and the poolside Golfinho (there are two pools, incidentally; one for families and one with a swim-up bar for adults). However, the hotel's signature dining concept is called Dining by Design, and is a more singular affair. After consulting with the chef on a bespoke menu, guests arrive to their private, candlelit beach cabana along a flower-strewn path illuminated by hanging lanterns. Dishes might include local specialties like fresh-caught prawns in a spicy red sauce, which taste even better while being serenaded by a local choir. Only this time, instead of saying hello, they are wishing you a good night before another day spent exploring paradise.