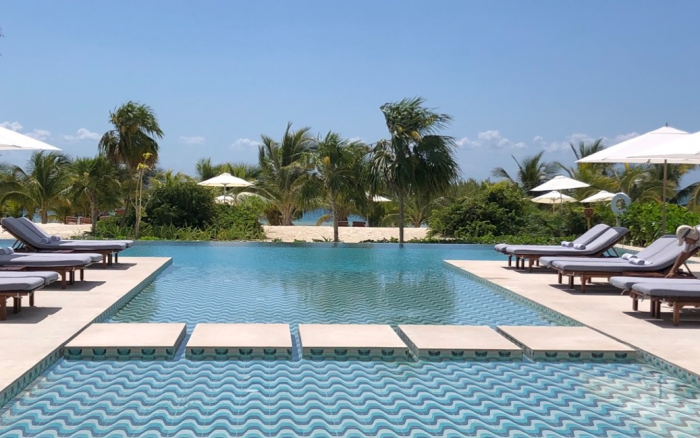 Whitney Spielfogel
On the Riviera Maya in Mexico, where hotels announce themselves through massive signage along the highway, the super exclusive Chablé Maroma stands splendidly apart. Your driver has to know exactly where to turn off on the Carretera 307 to travel to this haven (which is surprisingly only a mere 30 minutes – or less – from the Cancun international airport). Even then, you have to navigate several winding roads and the area's illustrious mangroves before arriving upon the uber-zen reception area at the five-star Chablé Maroma, where you're welcomed with a refreshing drink and equally revitalizing cold towel.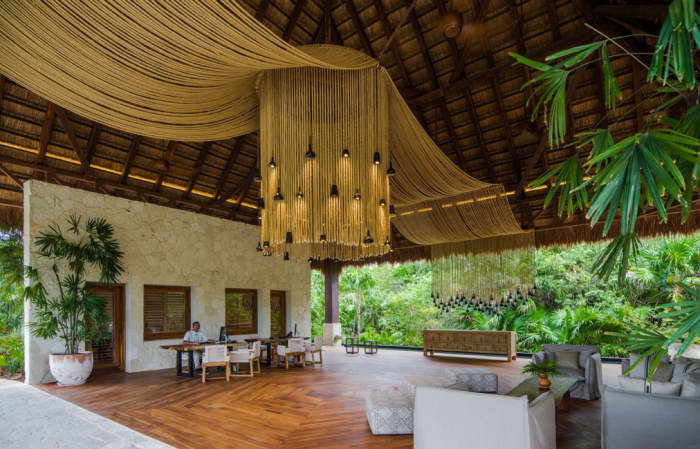 Chable Maroma
This ultra-luxury resort will provide you with an unforgettable travel experience through its service, design, amenities and a true sense of serenity. Chablé Maroma, which recently opened in September 2018, is a new wellness retreat in Mexico's buzzing Riviera Maya region, brought to the Caribbean coast by the original Chablé model (the other property is situated inland in the Yucatán area). Maroma is home to one of Mexico's best beaches (constantly ranked top in the world!) and has an authentic, destination-specific vibe. The Chablé Maromais already a member of the Leading Hotels of the World group, a distinction well-earned for this newcomer. The stunning property is set between the lush tropical jungle, which the area is known for, and the splendid white powdered sand beaches, offering a seamless blend between the natural landscape and top-notch luxury.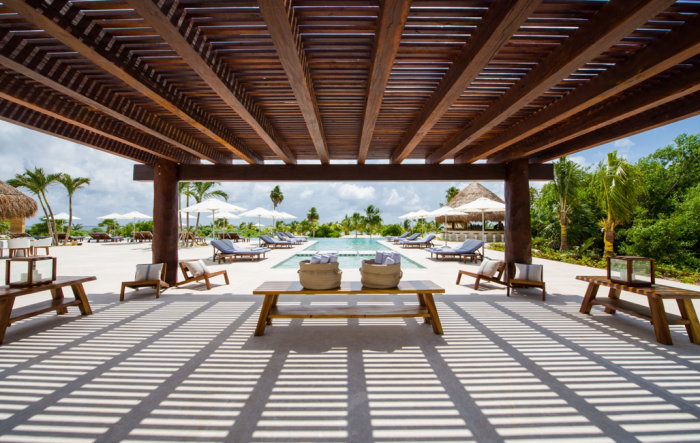 Chable Maroma
This beautiful beach resort features 70 well-appointed deluxe casitas dotted throughout the verdant jungle evoking a very intimate feel all throughout. The lavish accommodations are generously sized freestanding villas built with indigenous materials such as limestone and native woods. The interiors are sleek with glass paneled sliding doors and windows and luminous bathrooms that have indoor/outdoor showers. All suites come with private plunge pools and relaxing patios, the ultimate oasis for the body and mind to unwind. Another perk to staying at Chablé Maroma is that the beach is just a five-minute walk from each of the guest suites – so no need to call ahead for a lift around the property. Staff members are also happy to help usher baby strollers around and assist guests at all times.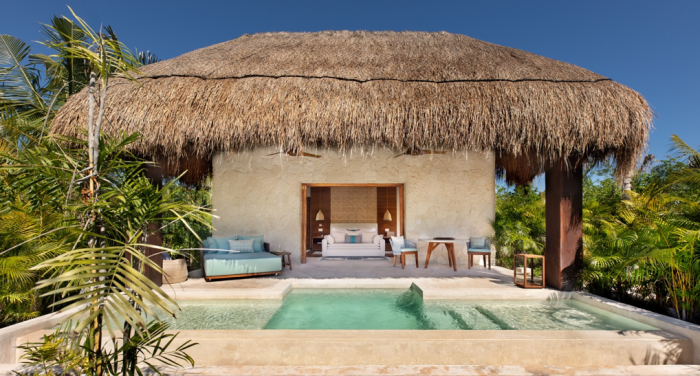 Chable Maroma
The staff to guest ratio is beyond impressive, where around-the-clock butlers and a full-service concierge team wait on your every whim and cater to your every need (beachside head massages… morning deliveries of freshly-baked pastries and just-brewed coffee… these niceties are just a few of the many complimentary amenities provided during your stay). Chablé Maroma is a refuge of complete tranquility and unabashed pampering.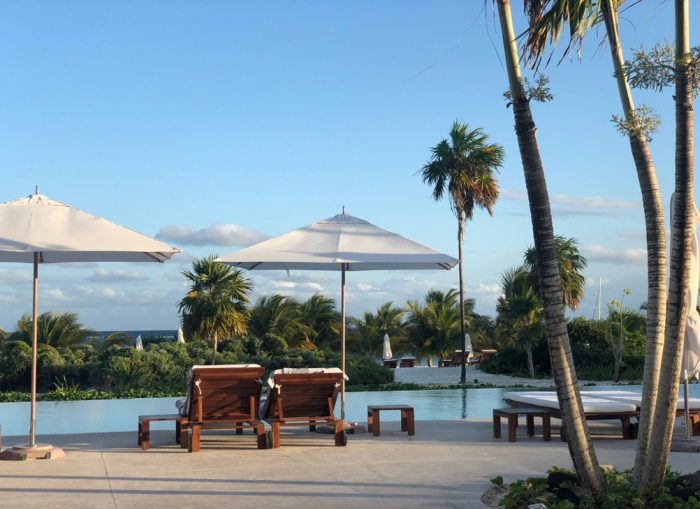 Whitney Spielfogel
Another standout on this property is the vast 17,000 square foot palace of pampering – the spa – which features eight massage rooms, a hot tub and steam bath. For those looking for some serious relaxation, the spa is a beautiful sanctuary for both physical and spiritual rejuvenation. The spa menu goes far beyond typical salt scrubs and back rubs, rather, the treatments connect guests with the local Mayan traditions in the most authentic way possible.
Chablé Maroma has two Instagram-worthy pools. One is a heated infinity pool overlooking Playa Maroma with friendly servers ferrying around delectable light bites and mouthwatering tropical drinks – and where you won't have any trouble scoring a sunbed. The second is an adults-only heated Jacuzzi, part of the massive spa complex. The private beach area, a third prime location to catch some sunshine (but in no particular order), is blissfully underpopulated, where, again, guests will have no issues claiming the most coveted lounge chairs.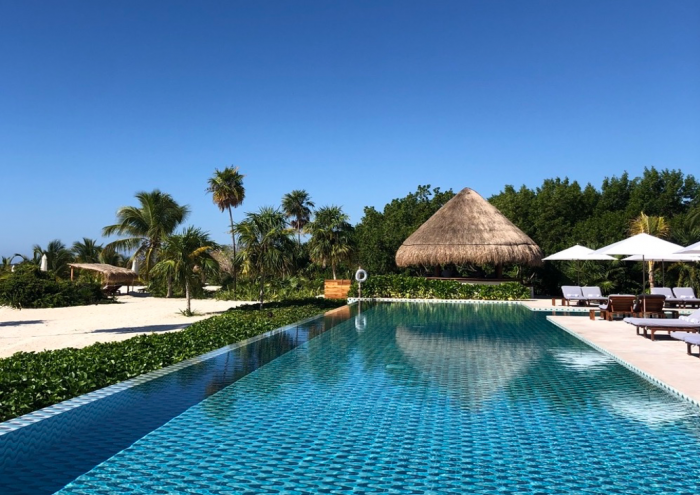 Whitney Spielfogel
The retreat's culinary program is led and crafted by the world-renowned Mexico City chef Jorge Vallejo. Chablé Maroma offers three contemporary restaurants all with a unique dining experience. The menus feature dishes that rotate depending on the catch of the day and locally sourced ingredients that are often grown on property. Kaban, the casual poolside eatery, where all three meals of the day are served, offers inventive and tasty Mexican cuisine and can be enjoyed in the restaurant or poolside. Bu'ul is the resort's signature upscale dining venue, showcasing a gourmet tasting menu that's sure to wow your taste buds. Then there's the Raw Bar by Bu'ul which serves a delightful seafood selection with rooftop dining overlooking the ocean. No matter where you dine on property, you won't be disappointed by the innovative and delectable dishes.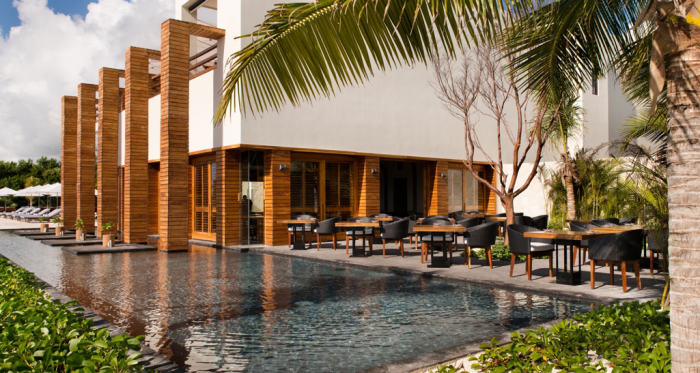 Chable Maroma
Chablé Maroma is a very special place – an oasis of tranquility with many unique and memorable experiences to fit your specific needs. Between the ultra-private villas, exclusive service, top-notch amenities, personally-tailored spa treatments, unforgettable meals and the tranquil walks on the beach and through the property's jungle, there's no better time to book a getaway to the Chablé Maroma, especially before this in-the-know property becomes a hard reservation to secure!