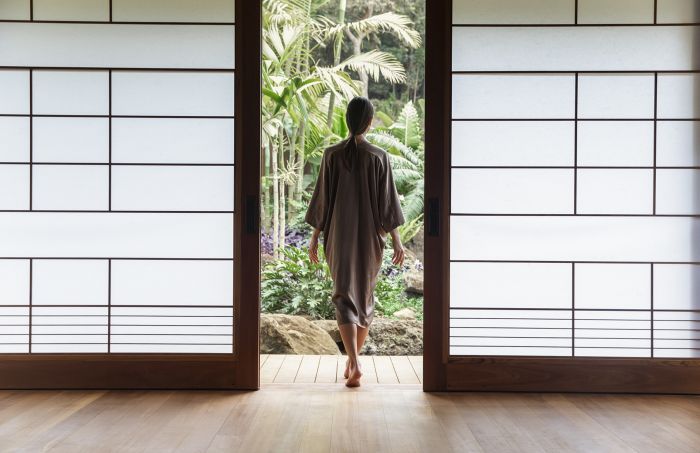 Robb Aaron Gordon
Just nine miles from Maui, the Hawaiian Island of Lanai is known for its natural beauty and laid-back small-town charm – until 1992, the land was almost entirely dedicated to growing pineapples. Today, it's an under the radar idyll favored by celebrities (A-listers like Jessica Alba and Cindy Crawford have holidayed there) and enchanting escape for travelers searching for seclusion and natural distancing.
The perfect setting, then, for tech billionaire Larry Ellison's exceptionally private wellness retreat, Sensei Lana'i - A Four Seasons Resort. Debuted in November and reopened to Hawaii residents on July 1, as the islands ease quarantine restrictions, the property will open (per state and local guidelines) to trans-Pacific travelers from September 1.
So, good news for stressed-out souls in this ongoing age of Corona. According to a recent survey conducted by MMGY Global on behalf of the U.S. Travel Association, almost sixty percent of travelers are interested in visiting a wellness resort to destress and unpack recent events.
Robb Aaron Gordon
The Sensei Way
According to Sensei CEO Kevin Kelly, wellbeing now feels more important than ever before, and people are seeking evidence-backed wellness brands they can trust. But at Sensei Lâna'i it's much more than just massage, meditation and yoga (although there are plenty of all three).
Co-founder, scientist and leading physician Dr. David Agus, worked with Ellison to create the Sensei Way - a philosophy that distills preventive health science, data, and technology into three simple paths for everyday living: move, nourish and rest. Rather than a one size fits all approach, Sensei's perspective is highly personalized, creating bespoke plans that allow guests the freedom to explore - and map out - their own wellbeing journeys.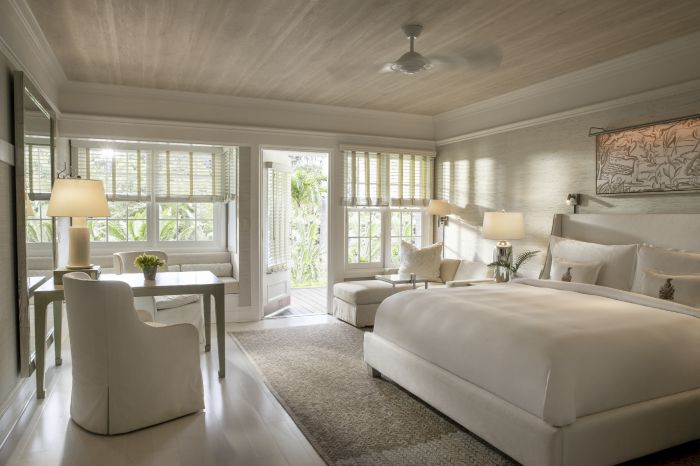 Robb Aaron Gordon
Immersive Wellbeing
The curated Guided Sensei Experience (from $1,610 a night) matches guests with a personal Sensei Guide for a complete wellness immersion and ultimate lifestyle reset. Also included are $1,200 in daily wellness credits, which can be used toward the Experiences Menu of spa services, a variety of one-on-one consultations, plus off-site activities around the island.
As part of its re-debut, Sensei Lâna'i added a second Select Choice option (from $650 a night) that allows guests to create an à la carte style retreat best suited to their passions, goals and interests. Highlights include access to a dozen daily complimentary wellbeing classes and the option to reserve spa treatments and other activities from the Experiences Menu.
Whether facials and bodywork or private sessions taking a deeper dive into nutrition, exercise physiology, and meditation are a priority, there are plenty of modalities to help reconnect with path and purpose.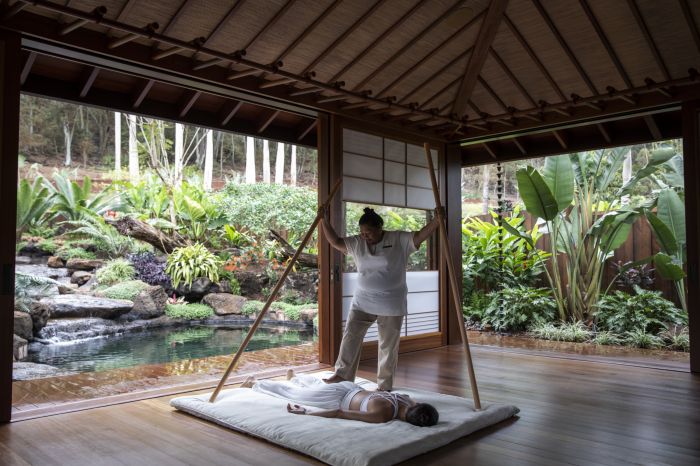 Robb Aaron Gordon
The Secluded Island
As expected from the distinguished Four Seasons brand, attention to detail at Sensei Lâna'i is impeccable. Set amongst Cook Pine forests and palm trees, the 25-acre property in Koele is home to 96 luxe accommodations, a sculpture garden, yoga pavilion, and ten private spa hales all connected by winding pathways. Hawaiian for "home," the 1,000 square-foot personal spa sanctuaries come with outdoor rain showers and infrared saunas.
And, when guests feel like venturing beyond the heated soaking tubs, swimming pool and koi-filled Gazing Pond on property - which, admittedly could be tough - activities like horseback riding, hiking, a round of oceanfront golf, or open-water swim at Hulopoe Bay are just moments away.
When it comes to dining, alongside Sensei's team of nutritionists, world-renowned Japanese chef Nobu has created the entire range of menus at Sensei by Nobu where dishes showcase locally grown produce from the nearby Sensei Farms.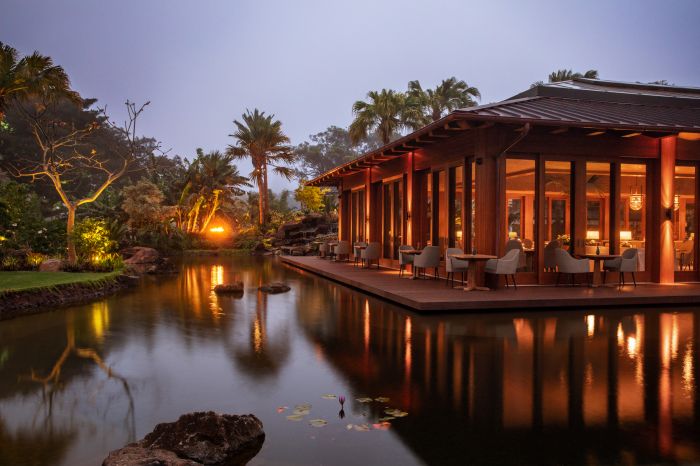 Robb Aaron Gordon
Getting There & Away
It's a 35-minute flight from a private terminal at Honolulu's Daniel K. Inouye International Airport to Lanai and concierge transfers with charter air service Lanai Air (owned by Sensei co-founder Larry Ellison) are included. A waiting Tesla then whisks guests off to the resort, ten minutes away. Those coming from Maui can also choose to make the one-hour ferry ride across Auau Channel to Manele Harbor instead. Visit www.Sensei.com to find out more.
COVID-19
Updated protocols regarding Sensei's Covid-19 response and the new Four Seasons health and safety program, Lead With Care, are available at the Sensei.com/COVID-page. For the latest information regarding safe travel guidelines instituted by The Hawaiian Islands, visit GoHawaii.com.