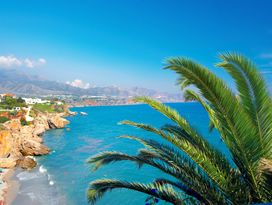 Spain proves itself to be an unparalleled choice for a honeymoon, especially for those interested in layering their sun-filled days with equal parts of fascinating history and indefatigable culture. Our 12-day adventure started in Barcelona, and our home base was the five-star
Hotel Arts
by the Ritz Carlton, easy to locate next to Frank Gehry's iconic "El Pez" one of the world's largest sculptures built as a focal point for the 1992 Barcelona Olympic Games. Hotel Arts is an outstanding choice to explore Barcelona's unique wealth of cultural and culinary attractions, especially if sun soaking at the beach and/or a trendy pool is a priority. The staff is uncommonly friendly, knowledgeable and accommodating -- from a welcome Champagne toast, to the excellent concierge recommendations for dining and nightlife, as well as a crack bell-hop staff.
The rooms are modern and plush with top-of-the-line fixtures including a Bang and Olufsen sound system, and ours included panoramic views of the man-made Barceloneta beach as well as the cultural old city. With its four top notch restaurants as well as newly opened Champagne bar, the Arts provides a bevy of on-site culinary and nightlife options catering to the well-heeled international jet set as well as discriminating locals. In fact, our stay was bookended by a Ferrari convention attracting the graceful performance autos from all over the continent. Overall, Hotel Arts is the choice for Catalan bound travelers who appreciate a seamless combination of effortless luxury, contemporary style, and five-star service.
Our next stop brought us to the heart of the Costa del Sol. Marbella and the nearby Puerto Banus are famed as exclusive destinations for wealthy tourists from Northern Europe in search of bikini-clad beaches, high-end boutiques, and nocturnal nightlife. Nestled in Marbella's famous Golf Valley a few miles above the sandy coast, we stayed at
The Westin La Quinta Golf Resort & Spa
. Evoking the rich Andalusian style, our tastefully decorated room accented with blue and gold tiles opened onto a private balcony with views of the rolling golf course and post-card perfect Mediterranean Coastline. The nearby beaches are highly developed, smallish and generally crowded with pale sun seekers. However, the adjacent Casca Antigua, or "Old Town" Marbella provides an excellent balance with its ancient narrow streets, quaint churches, and bustling Plaza de Naranjas.
For the active travelers, La Quinta Golf offers 27 championship holes to challenge and inspire, while the lush tropical gardens, crystal clear swimming pool and rejuvenating spa treatments beckon to those who wish to recharge and transform -- without leaving the resort grounds. The Westin La Quinta offers ample charm and luxury while providing a welcome respite from the yachts and nightlife of the coast.
From Marbella, we drove north through the historic and picturesque "White Hill Towns" on the way to the historic, cultural, and financial capital of southern Spain, Sevilla. We chose another Starwood property,
Hotel Alfonso XIII
-- a landmark since 1928, the hotel symbolizes the city's Moorish influences and provides unsurpassed access and proximity to nearly all of the city's cultural gems including The Cathedral, Alcazar, and Guadalquivir River. The hotel itself could easily be mistaken for a tourist destination with its richly appointed interior paying homage to various Spanish eras past, and rooms varying between Isabelline Baroque, Castilian, and Moorish-style, all house authentic antiques and vibrant walls covered in a luxurious blend of silk and linen (the hotel is scheduled for a working renovation over the next two years, to provide a welcome but not essential update to the building infrastructure as well as in-room furnishings).
Hotel Alfonso's staff is top notch providing effortlessly attentive service and local guidance to explore the cache of cultural treasures just steps from the hotel's grand lobby and courtyard. For in-house cuisine, look no farther than the prestigious Restaurante San Fernando, which often hosts Sevillian-themed entertainment including iconic Flamenco guitar and dance. And the garden pool provides an urban oasis in which to escape the midday heat often pushing 100 degrees in mid-summer. The Hotel Alfonso evokes the timeless charm of a bygone era, but effectively meshes the modern conveniences and service expected of a world class hotel. It's easy to understand why the Hotel Alfonso is regarded and consistently ranked as the top luxury hotel in this vibrant regional capital.
Taking the convenient AVE express train whisks you from Seville to Madrid in a tidy 2.5 hours, depositing you in the world-class capital of Spain teeming with energy and an amazing lust for life. One could be quite content to wander the streets of this brilliant city for days -- occasionally popping into various plazas and restaurants to sample the bite-sized culinary delights of course known as tapas.
For accommodations, we hung our hat another historical Starwood gem. Built at the direction of King Alfonso XIII in 1912,
The Westin Palace
was recently restored to its original splendor. Set adjacent to the world renowned Museo Prado, Museo Reina Sofia, and multiple historic monuments, it was ranked as the #1 hotel in Spain in Condé Nast Traveler's 2008 Gold List. The distinguished building, highlighted by an central stained glass dome, has been an epicenter of Spanish culture for decades -- and the staff does their best to make each guest feel akin to local aristocracy during their stay.
The guestrooms are handsomely decorated with antique furnishings and original mahogany and plaster details, most of which have been recently redecorated and stocked with modern conveniences. It's an easy stroll across the street to the Prado where one can consume his or herself in one of Europe's finest artistic institutions. A leisurely paseo, or stroll, in the other direction quickly leads through the vibrant Plaza Santa Ana and onward to the city's logistical and commercial heart, the Puerto del Sol. The hotel's staff from top to bottom provides a level of service expected of a five star resort, and adds a touch of personalization that makes a stop in Madrid even that much more magical.
Two weeks in Spain encourages a traveler to down-shift and embrace an environment defined by a rich zest for life. It embodies the culture and history indigenous to all of Europe, but adds a sun-soaked Mediterranean element providing a beachy respite to the abundant ancient cathedrals and world-class museums. Spain proves to be a decidedly wonderful choice for newlyweds who seek grand history intertwined with a presently vibrant "love of life."
For
JustLuxe
Andrew Fischer
Barcelona
Barcelona
Barceloneta Beach
Costa del Sol
Costa del Sol
Puerto Banus
Marabella
Sevilla
Guadalquivir River
AVE Express train
Madrid
Plaza Santa Ana
Museo Prado
Hotel Arts
Hotel Arts
Hotel Arts
The Westin La Quinta
The Westin La Quinta
The Westin La Quinta
The Westin La Quinta
Hotel Alfonso XIII
Hotel Alfonso XIII
Hotel Alfonso XIII
Hotel Alfonso XIII
The Westin Palace
The Westin Palace
The Westin Palace
The Westin Palace
The Westin Palace

Related Articles